'RHONY' RECAP: Ramona Singer Tells Dorinda Medley John's A Cheater!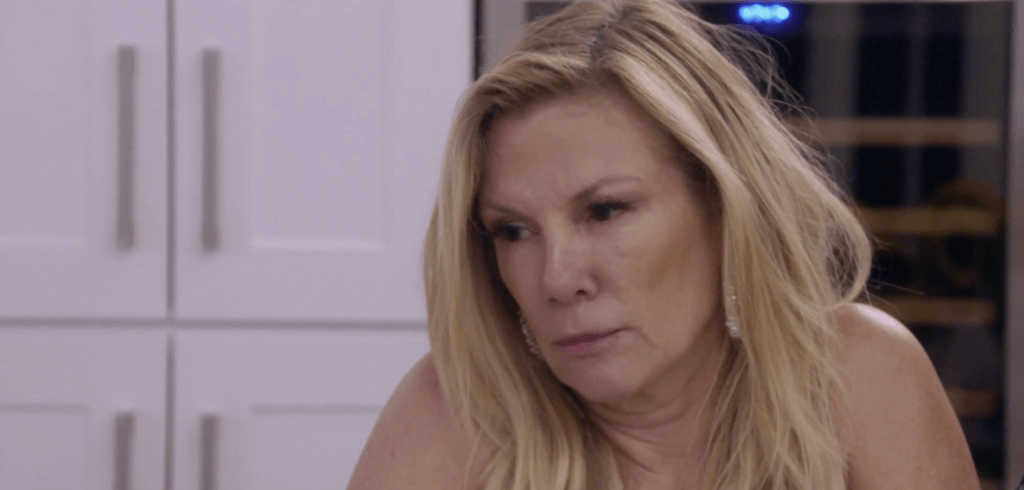 Welcome to this week's episode of the Real Housewives of New York City. We're still at Ramona Singer's house in the Hamptons. And if these past three weeks are anything to go by, I say these women should film the entire season in the Hamptons, because it's been crazy.
Last week, we left off on Luann de Lesseps' angry text, sneering at Ramona for sticking her in the basement suite. After Ramona sends an apology text, Lu calls and complains that no one considers her feelings regarding room assignments. Ramona tucks her tail between her legs and begs Lu to come back. Lu agrees to come back for a game of tennis, but will stay overnight in her own home. 
Ramona Singer  wants to take the ladies to a birthday party that night for one of her fab friends in Sag Harbor. Dorinda Medley, Tinsley Mortimer, Sonja Morgan and newbie, Leah McSweeney aren't that eager to meet any more of Ramona's snooty friends. They opt to stay in for the evening. Ramona reluctantly agrees.
Tinsley Mortimer confronts Sonja for calling her a trophy wifex. But Tinsley sat at home or shopped. That's the very definition of a trophy wife, according to Sonja. Whereas she didn't shave her pussy and spent time in the garden. That's proof she wasn't just an accessory to her ex-husband!
Ramona Singer's Italian tennis pro stops over to hit a few balls before she Luann arrives. According to Ramona, everybody wants to play with Adriano and his man bun. Luann steps onto the court and zeros in on him. They speak in Italian for a few minutes. Dorinda steps onto the court as a spectator. For all her lessons, Ramona kind of sucks at tennis. But she does manage to flash her underwear at Adriano. He pretends not to notice. Lu easily wins the half-assed match.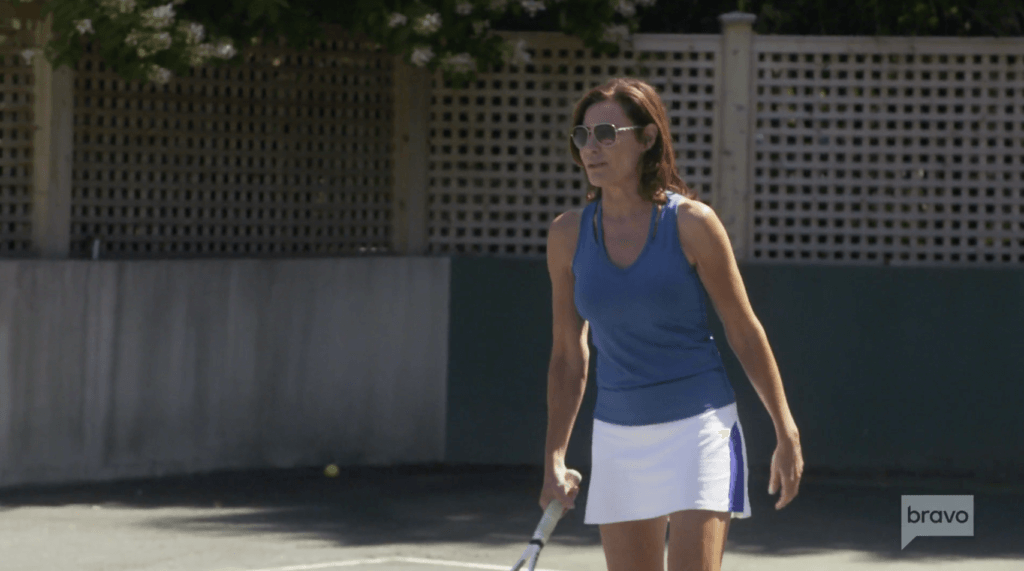 Inside, Tinsley and Leah sit together and discuss Sonja's habit of repeating herself. Over and over again. Because there's never been a dead horse Sonja doesn't want to whip. The night before, she told Leah she married the bank. Not the man, the Bank, people!!! Leah thinks Sonja needs to get over he past already.
On the court, Luann is flirting with Adriano. She asks if he's single, and he is! Is he open to finding a partner? Yes! She hints that today might be the day he meets his dream woman. Adriano doesn't think so. Luann chastises him for shooting her down. 
Ramona Singer plays with fire as she lights the grill. Inside, Dorinda plies the women with frozen rose. Luann wants a drink, but abstains. Dorinda doesn't believe Luann was ever an alcoholic, she just got a little stressed and acted out of control while being drunk. Um, Dorinda. I think that's the definition of an alcoholic, no?
Ramona gives the task of setting the table to Leah. Then she steps in from the patio and sarcastically thanks Leah for her efforts, saying Leah didn't do as she was told. She forgot the silverware! But the maid already put forks and knives in the napkins. So, take that, Ra-moan-a.
Leah McSweeney leaves the kitchen to check on silverware status. After she's out of earshot, the women tell Ramona she's being extra rude to the new girl. Leah is a guest, not her domestic.
When Leah steps back into the kitchen, the women tell her not to put up with Ramona's bullshit. The ladies complain that they're houseguests, not employees. Sounds like Ramona needs some unpaid interns. Maybe Sonja can hook her up. But Leah keeps a cool head and tells us she was brought up to respect her elders.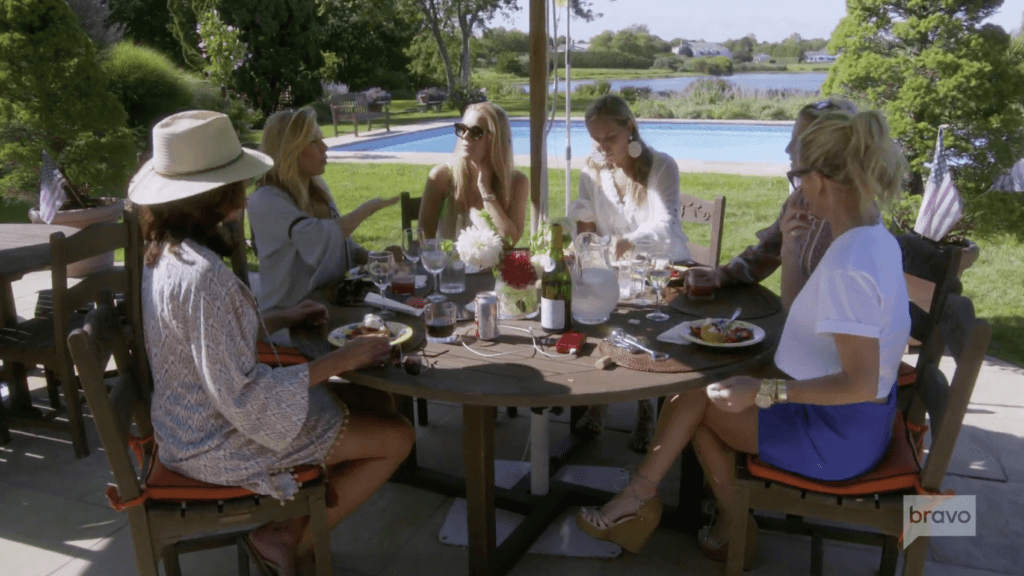 At the grill, Ramona complains that she needs help and demands that Sonja get a platter. Sonja, who's lounging in a nearby chair, tells Ramona she's being rude. 
There are certain things Ramona misses about not having a man around the house. A penis and grill knowledge, mostly.
Over lunch, Luann admits that going home alone in an angry huff the night before made her crave alcohol. She misses boozing it up with the girls. Ramona is proud of the Countess for sticking to sobriety.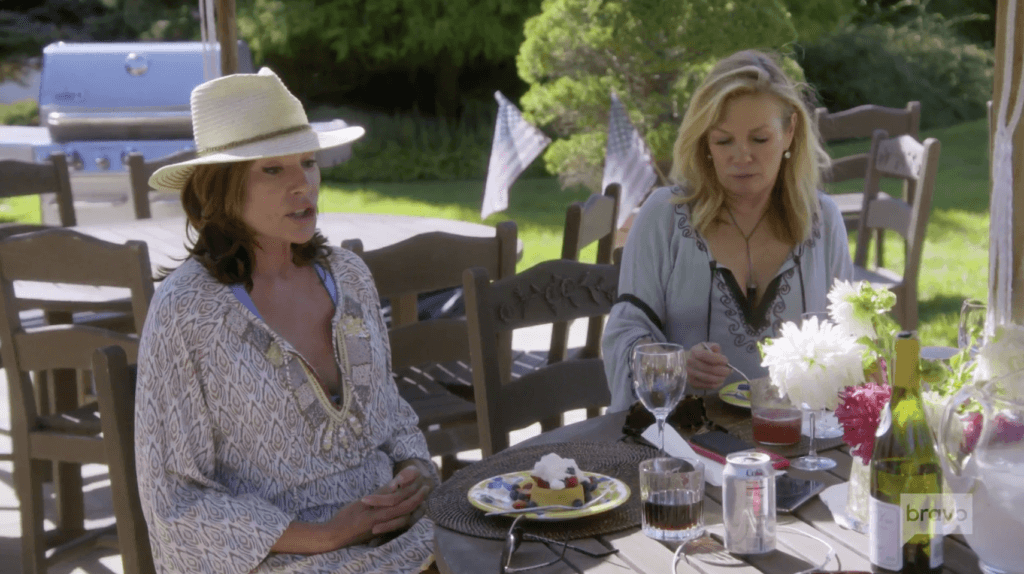 The dog groomers stop by to trim Sonja Morgan's dog — not her pussy, as we've already established. And the dog trimer is cute and has lots of muscles. Luann found herself a flirt buddy. She helps him bathe the dog in the kitchen sink.
When Luann sees the dog getting a massage, she asks if she can have one, too. So while the handsome blond man's less attractive partner takes care of Marley, the cute one works on Luann's shoulders. Meanwhile, Sonja is getting her booty blown with the industrial hair dryer. It's absolutely ridiculous, and I'm here for every second of it.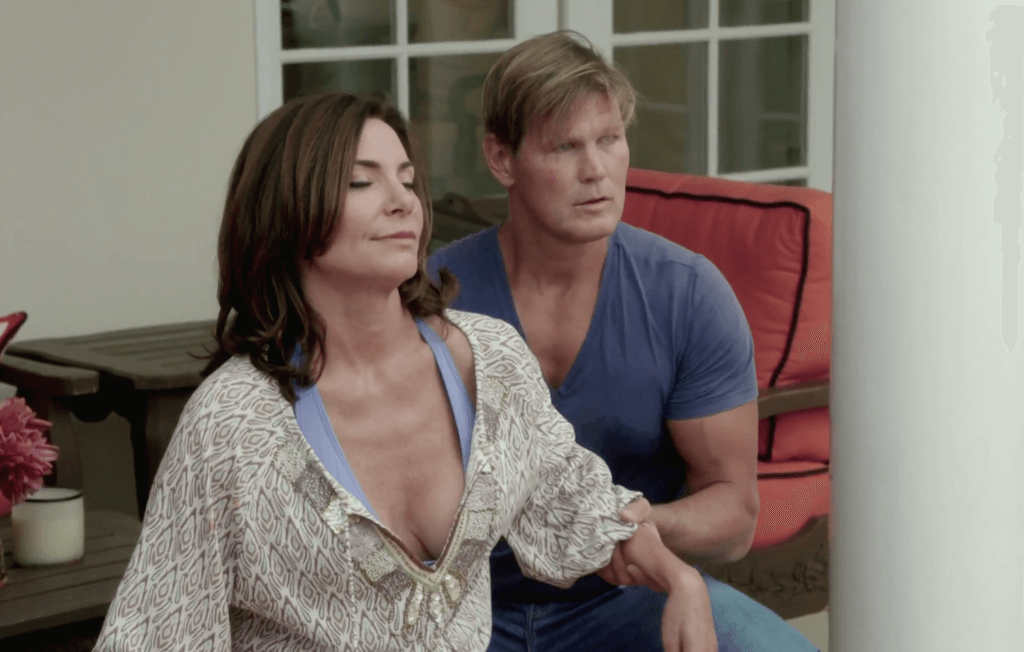 That night, the women are getting ready for dinner. Leah offers to help Ramona set up, but for once, Ramona lets her off the hook and takes care of the prep herself.
Ramona Singer's friend, Jeff, stops by. She tells us he makes lasagna and plays the piano. Since everyone wanted to stay in, Ramona invited people over for dinner. Jeff was the only person who wasn't going to the swanky birthday party. Basically, Jeff's a loser with nothing better to do. 
Ramona lights the tiki torches around the pool. (This will come into play later.)
Tinsley Mortimer and Sonja play beer pong, but with champagne glasses. Sonja winds up getting sauced before dinner. And she drunkenly wonders if Lu brought the vibrator like she asked. (This will come into play later.)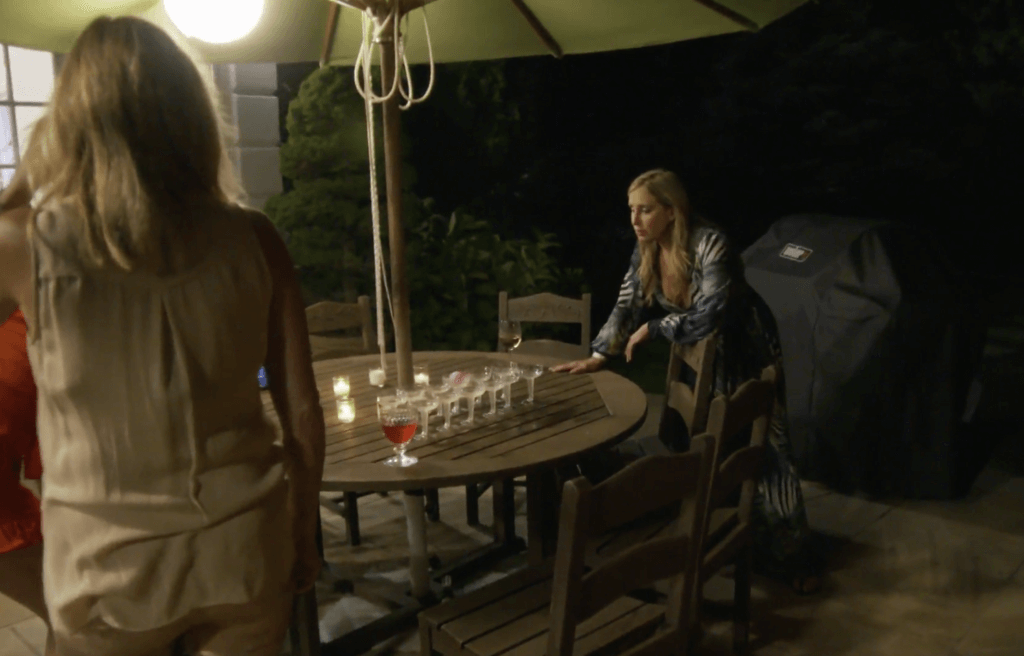 Jeff, being the only sausage at a taco party, is asked to leave. Sonja manages to find the vibrator in question and is pointing it at Jeff. Elyse—the woman who accused Sonja of being a trophy wife last week—stops over. As the party heats up and more drinks are consumed, Luann looks at everyone's antics and wonders if this is what she looks like when she's drunk. Lu? Remember toppling over in the bushes in Mexico? Yes, this is exactly what you look like.
At one point, Sonja and Tinsley are rolling around on the floor, poking each other with the vibrator. At this point, Jeff realizes he's not going to get laid and no one cares about his mad skills on the ivories. So, he leaves.
Dorinda Medley has a few drinks in her by now and takes Ramona to task for saying something offensive the night before. When Dorinda admitted to a mutual friend that she and John are still an item, Ramona said Dorinda will have another man within two years. Rude! Why would she say something like that? Ramona conveniently forgets saying anything of the kind.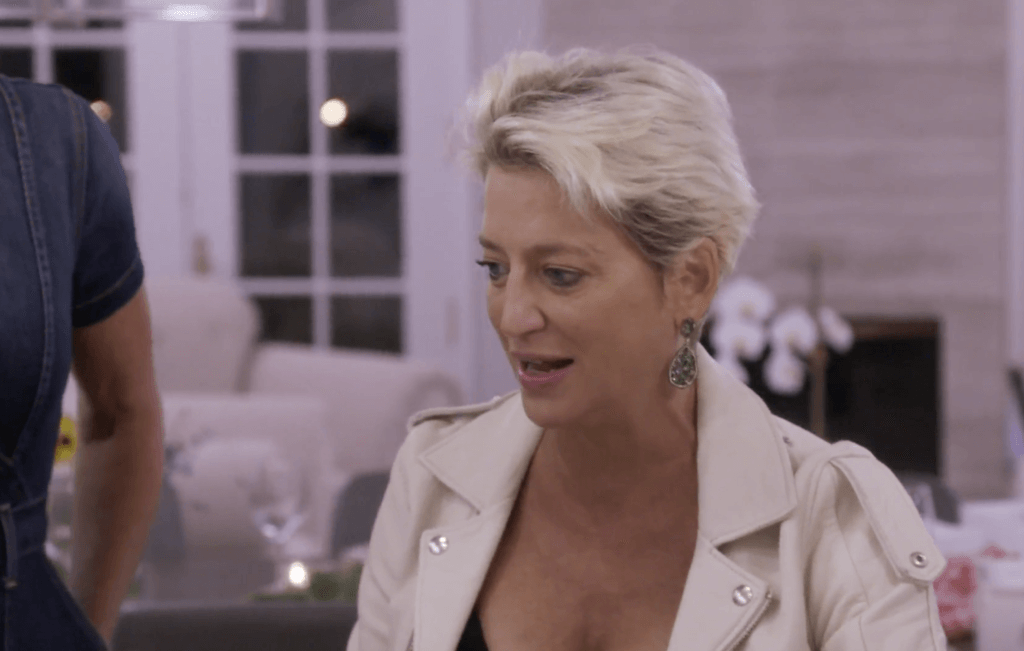 Meanwhile, Tinsley and Leah sneak out to the pool. They strip down and hop in, along with a bottle of champagne. In fairness, Tinsley leaves on her underwear and becomes upset when her eyelashes get wet. Leah is disgusted with the tiki torches and pours champs on them in disdain.
Inside, Dorinda tells the girls how John has weathered storms with her. He's rock solid as a partner. But, Ramona has heard he hits on other women all the time. She wants Dorinda to breakup with John.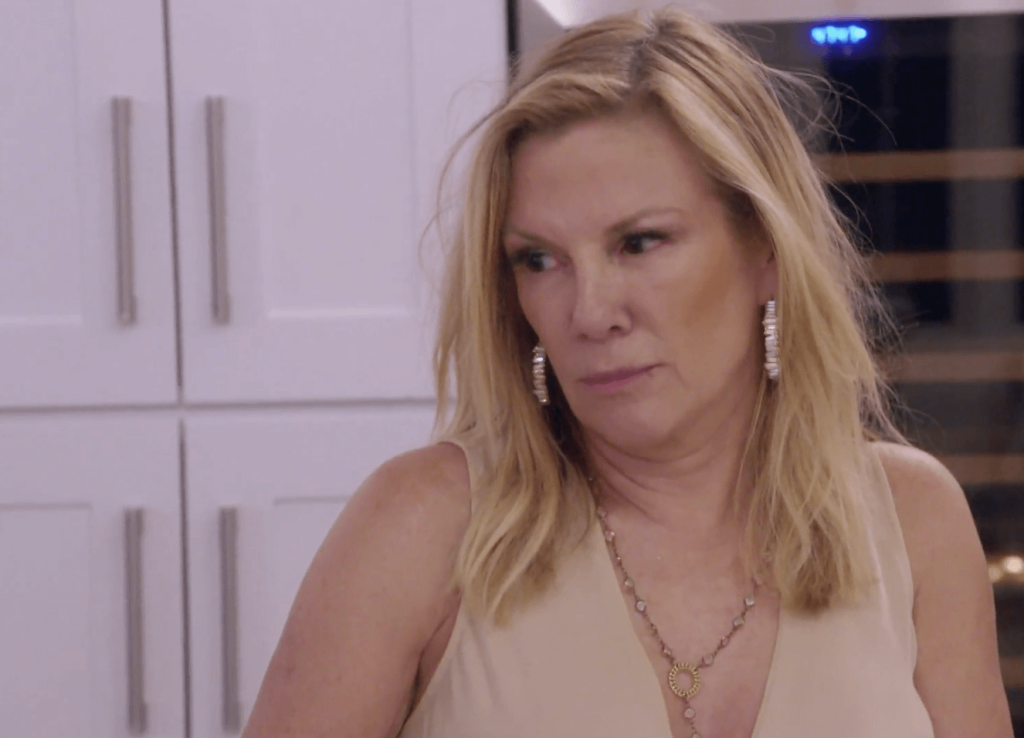 Sonja Morgan has had enough John talk, so she goes out to the pool. Leah hops out and tosses a tiki torch across the yard. Sonja imitates the move. Then she strips down joins Leah and Tinsley.
The women in the kitchen are eating, drinking, and still discussing John. Ramona remembers Dorinda's husband, Richard. He was smart and refined. John is the opposite.
In the pool, Sonja and Leah taunt Tinsley until she takes off her bra. At this point, Luann wanders outside. They urge her to join them, but that denim pantsuit isn't coming off. She goes back to the kitchen and reports on the skinny dipping. The naked trio come inside and get dressed. Leah dons a sheer blouse, and Dorinda tells her to cover the girls. Sorry, party pooper, there will be no body shaming here! And Leah drunkenly slurs that sentiment as she presses her boobs against Dorinda's back.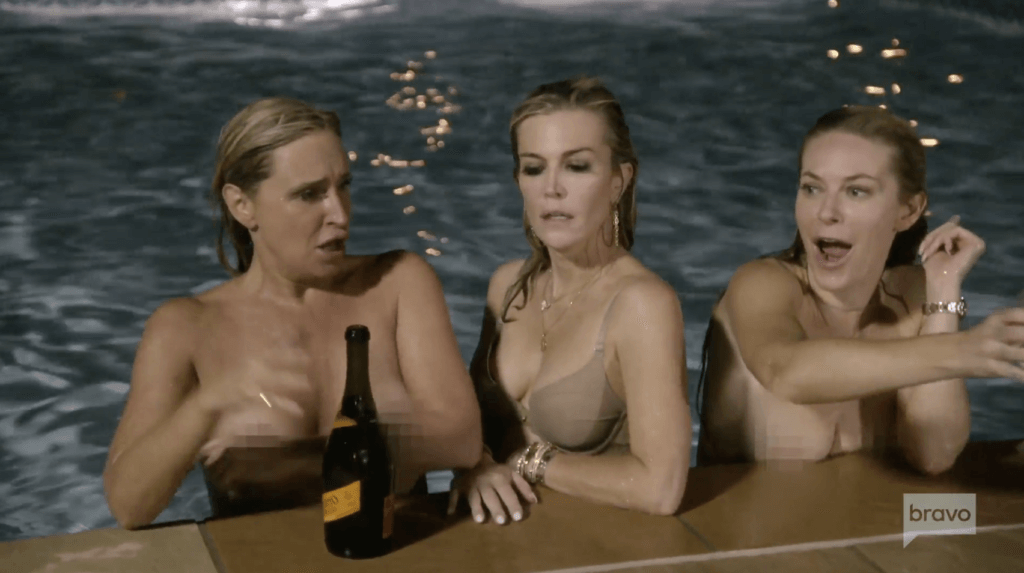 Dorinda Medley takes Leah into the bathroom with a leopard print bandeau. We overhear Dorinda ask why Leah has wings on her vadge lips. Because they can fly! "No, no, no, they don't fly," Dorinda says. She tells us she's speechless by the sight of wings on Leah's hooha. I can only assume they're tattooed wings?
Ramona decides to leave her guests and go to the birthday party. Everyone will drink themselves into a stupor, so why shouldn't she have some fun and look for a man? Sonja follows her to the door, berating Ramona at the top of her lungs. Luann goes home too, with a parting comment about Ramona being a bad hostess. 
When Sonja sees Elyse in the kitchen, it sends her into a spiral. She's no man's accessory! Oh, no. Not again. Leah says Sonja is more powerful than her husband's last name. 
Leah McSweeney tries to tell Tinsley and Sonja the past is over. Live in the now. Lose the Morgan and Mortimer names. We see a flashback of Dorinda harassing Sonja about using the Morgan family crest on a pair of slippers. Sonja yells that her name appears in the Blue Book, damn it! For those not familiar, I took a dive into Wiki. The Blue Book is the collected names of those who make it on the social register. And what does that mean? Well, and this is a quote, "enrollees need plenty of green (money), blue (blood), and lily white". Gross.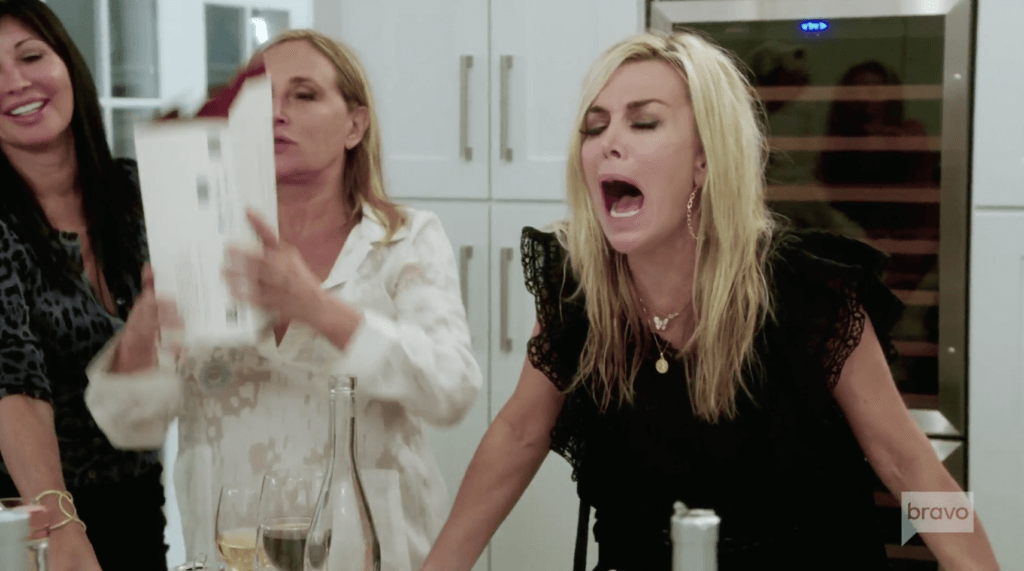 Leah screams, "Sonja, the Morgan fucking yacht has sailed." Then she tells Tinsley not to get all socialite on her. Tinsley stands up for Sonja — who is tinkling in the bathroom with the door open.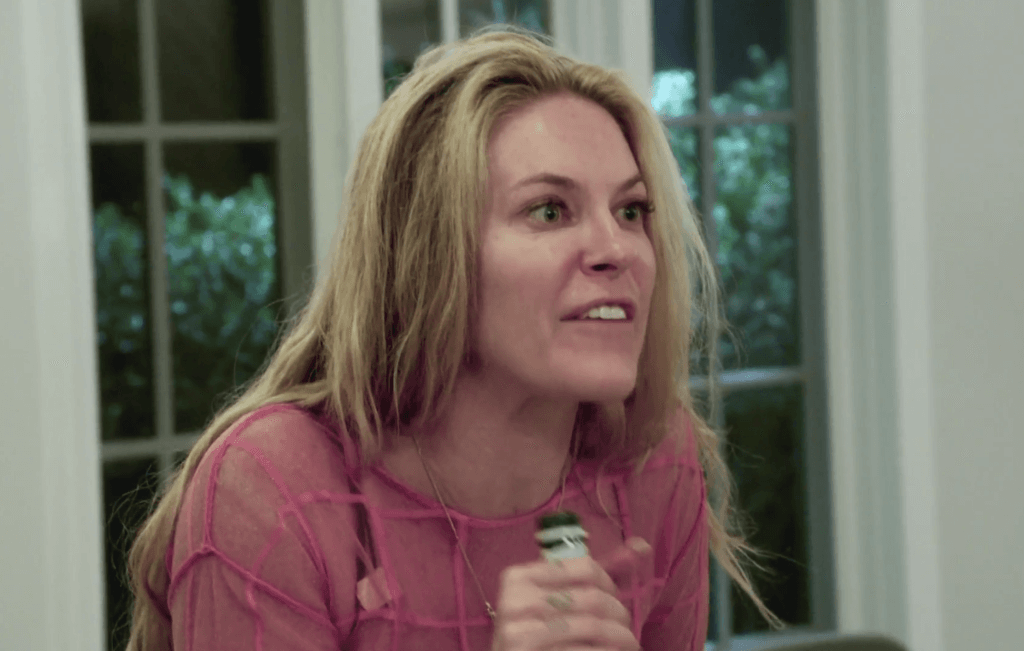 Leah goes into the bathroom and squats down in front of Sonja, who declares she's more than some bitch who married a Morgan. Sonja stands, without wiping, and backs Leah up against the wall. They kiss and grope each other for a minute, and things are fine.
The next morning, Dorinda wants to do face masks with Sonja. Sonja is still upset that Leah made assumptions about her marriage. Leah is talking to Ramona, who's trying not to spaz out over the state of the kitchen. There's a vibrator in the chicken platter. (I told you that would pay off later.)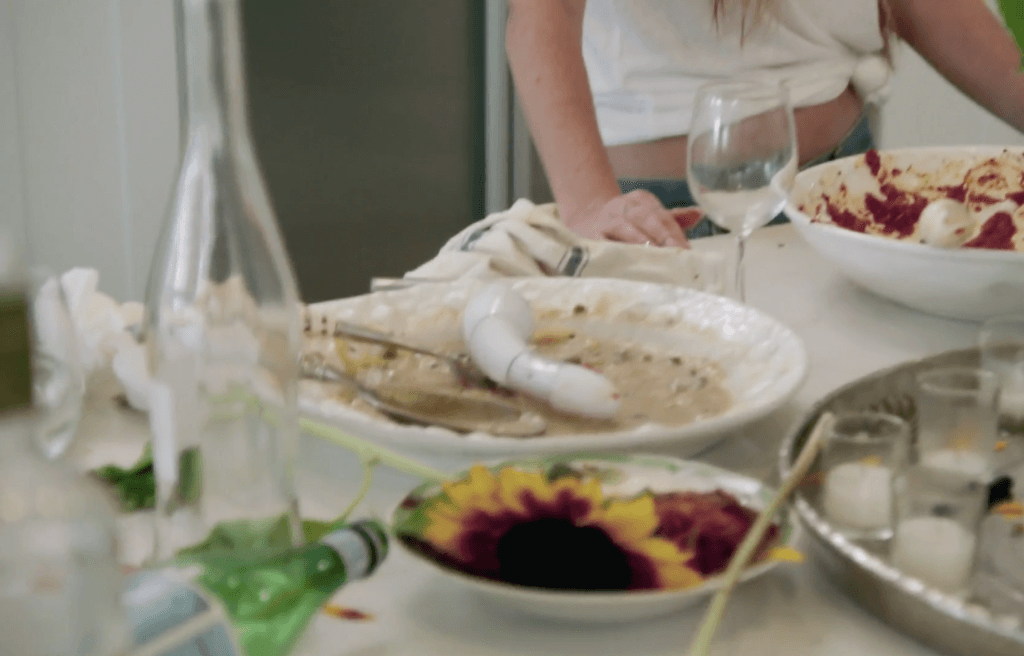 Ramona keeps her smile as she looks over the carnage. But then she goes out back and freaks out. Tiki torches are everywhere. Broken wine glasses litter the grass, and bottles float in the pool. Leah has vague memories of being angry at tiki torches.
Ramona  starts shouting for Dorinda and Sonja to join her outside. They ignore her and Sonja uses Dorinda's hairbrush to groom Marley. When Ramona steps into the room, Dorinda and Sonja hide under the covers. They tell her she should have stayed home to supervise. Sonja admits that she and Leah were the tiki tossers. But Leah redeemed herself by cleaning the kitchen.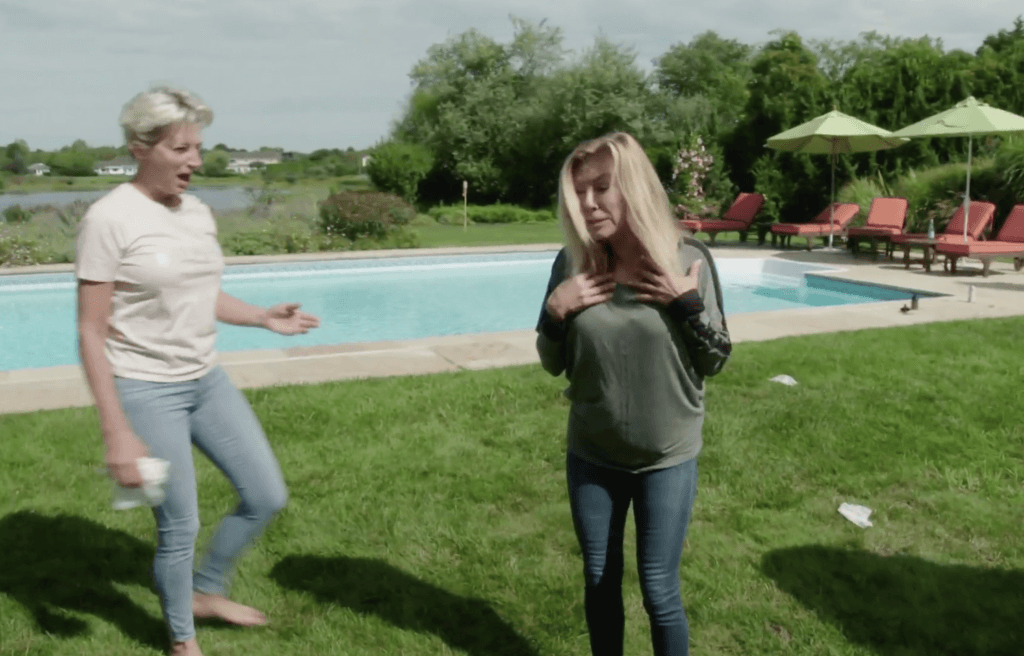 When Dorinda gets dressed, she's ready to face Ramona. Singer says she's had people over every weekend during the summer, and no one left the place a mess. Dorinda doesn't expect her guests to clean the kitchen. That's what help is for. And what kind of hostess leaves her guests unattended anyway?
Dorinda Medley thinks this is karma. Ramona ripped the paint from the walls of Blue Stone Manor a few years ago. Payback, baby. Leah ignores their argument and sniffs the candle she brought as a gift for Ramona.
Once Dorinda sees the backyard, she understands Ramona's anger. Tinsley is still asleep, sharing her bed with a plate of uneaten pasta. And that's our insane episode.
So, do you think Ramona Singer should have stayed with her guests? Will Sonja ever get over her Morgan past? And were these three Hamptons episodes even better than episodes set in the Berserkshires?
Stay Connected With All About The Tea: Twitter Ι Instagram Ι YouTube
I'm a fiction writer by day and a reality TV addict by night.