Exclusive
EXCLUSIVE: 'RHONY' Newbie Elyse Slaine Addresses Rumors About Her Past & Fight With Sonja Morgan!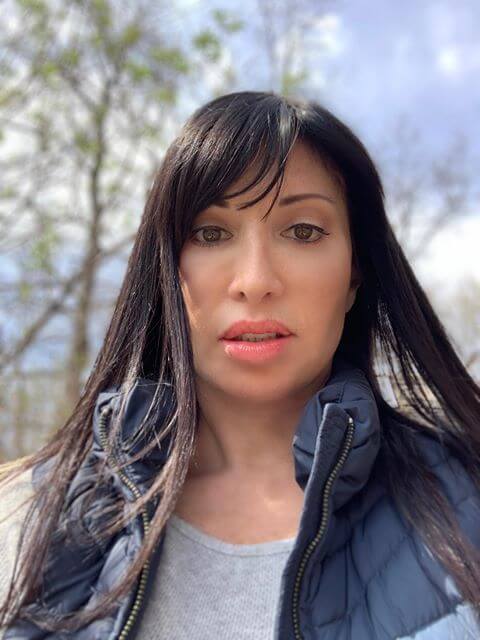 Elyse Slaine has made quite an impression on Real Housewives of New York City fans after causing a stir on last week's episode. From arguing with Sonja to being Ramona's shoulder to cry on, this New York gal is ready to bring the heat to the hit Bravo show. Even though you may have heard a lot about her in the press, Slaine is setting the record straight on all of the rumors. 
Check out AllAboutTheTEA.com's exclusive interview below to find out what Elyse Slaine had to say.
Q: Why did you decide to join the show this season? 
"Well, it actually happened by accident! Some blog falsely claimed that I auditioned for Season 1 of RHONY. This is not true. I never auditioned for Season 1 or any other season of the show. I was meeting Ramona for drinks when she was filming at TBar with Missy and Maria for the first episode of Season 12. I was just going to catch up with them when they were done filming. The producers spontaneously asked me to jump in with the girls. Afterwards, the producers said they loved me with Ramona, and Ramona asked if I was willing to film again. I was  going along with it a little at a time, never really thinking about being on the show in any real capacity… It just sort of evolved. I'm not  thinking of the future, I'm just taking it one day at a time." 
Q: Which of the ladies (past and present) did you know prior to being on the show? 
"I have history with Ramona Singer, Jill Zarin, Bethenny Frankel, Sonja Morgan, Dorinda Medley, and Heather. Luann de Lesseps and I have crossed paths many times, but I wouldn't say we were ever  friends. I'm actually closest with Leah now… I talk to Leah almost every day. We were both the newbies and I think when Tinsley left, Leah and I got even closer. Leah is the perfect combination of gangsta and intellectual. I hope fans get see how smart she is in between her running amok."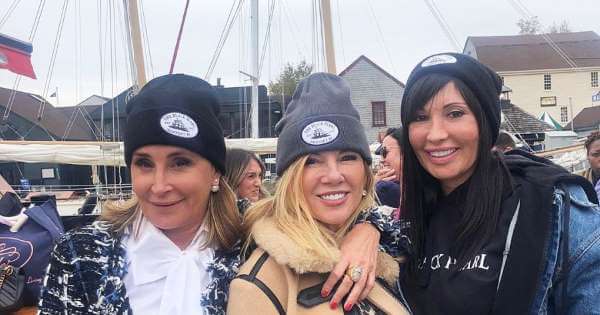 Sonja Morgan, Ramona Singer, and Elyse Slaine 
Q: Rumor has it that you introduced Bethenny to Jill, how did that happen? 
"I knew Bethenny way before anyone else did. Around the time she was auditioning for Martha Stewart's Apprentice,  she and I met at a restaurant. My ex brother-in-law said she was adorable, so I brought her over to the table. After getting to know her, I thought that she and Jill would enjoy knowing one another, so I arranged a dinner for them to meet. The rest is RHONY history!" 
Q: What did you mean when you called Sonja an accessory? 
"I was trying to make the point that there are certain men who buy gifts for a woman and/or dress her up, yet he's not really doing it for her. He's accessorizing her because she accessorizes him. I was trying to empower Sonja, which was not evident in that scene. She was a powerful woman before she was a Morgan and she continues to be powerful. It came across as a negative, but I meant it as a positive. While I did not mean to trigger her, I admit that it was a little fun."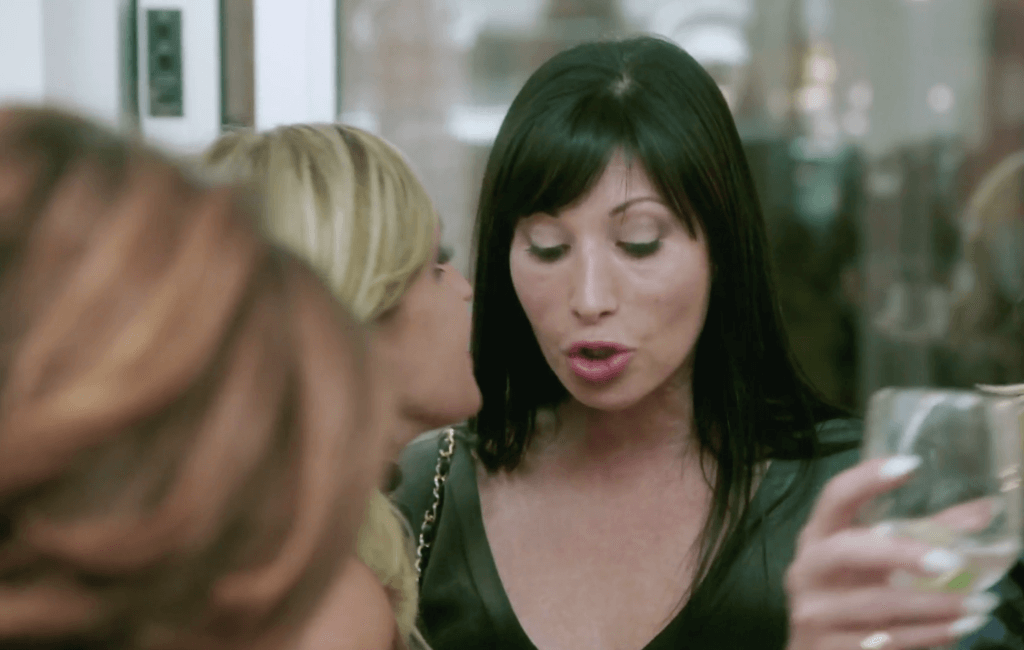 Q: What did you think of Sonja calling Ramona's friends at the party "Rent-a-friends" and critiquing her "snooty" behavior at the party? 
"Ramona is a bit of a chameleon, but I think everyone is. We all have different groups of friends and we sort of pick up on the vibe of that group. I think Ramona was doing the same thing."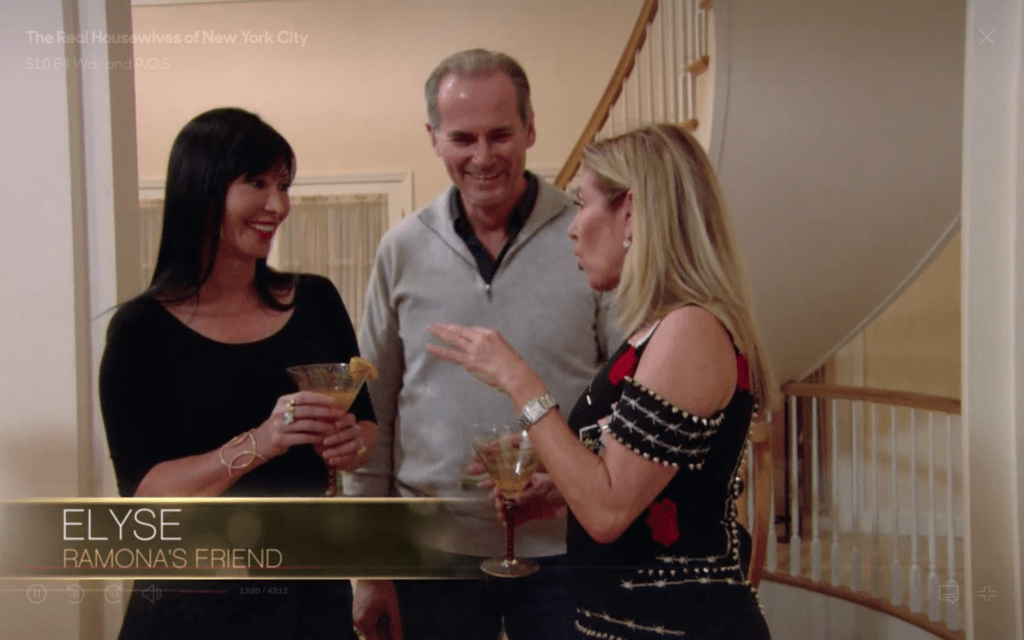 Q: What are some things that you would like fans of the show to know about you? 
"I got married about a year and a half ago, and my daughter, Nicole  introduced me to my husband and even officiated our wedding! My background is Wall Street. I was a bond trader at Cantor Fitzgerald. I started my career as a Financial Journalist at Reuters, and now I day trade." 
"I want people to not always believe what they read about me in the press. There's a lot of false information out there. The press has never let facts interfere with a good story. Then the blogs pick it up, and before you know it, perception becomes reality. The same reporter who wrote that very one-sided story about the housekeeper lawsuit also wrote the fake story about my lawsuit against my former boyfriend's estate. What I find most upsetting is that this reporter actually had the facts available to her, as they were made public in both lawsuits; yet she chose to ignore them and write something spurious." 
"As far as the housekeeper suing me for overtime, my lawsuit against her states that not only are her claims fabricated, but she actually stole over fifty thousand dollars from me, in addition to jewelry, handbags, and clothes. This housekeeper was very close to retirement, and asked if she could stay and do light work until she figured out her retirement. I accommodated her. She worked just a couple of hours per day, while the second housekeeper did the cleaning.  As stated in the court documents, the disgruntled housekeeper aligned herself with well-known anti-Semitic groups, and along with her pro-bono attorney from the Urban Justice Center (who have been accused of paying protestors,) organized these groups to protest in front of my building, handing out hundreds of fliers around my neighborhood, and flooding social media, disparaging me, in an attempt to extort me. It is noteworthy to mention that many of the groups who protested against me also organized a protest in Time Square, in which they held up signs with swastikas and burned the Israeli flag. I am the daughter of a Holocaust survivor. This housekeeper lived with me for fourteen years. As stated in my lawsuit, she had unlimited sick days with full pay. She would often tell me that she needed the day off to go to the doctor, and I later found out that instead she would work for someone else, and then collect pay from both employers. I had caught her in numerous lies, and we parted ways. She wanted to come back to work, and I declined, which is when she decided that she would file a claim for overtime. She went from asking me for fourteen hundred dollars, to demanding half a million dollars." 
"Many people do not know that in the second circuit, judges can pick their cases. The judge who picked my case, is married to the co-head of the Human Rights department at NYU who had a  partnership with the Urban Justice Center. As if this was not enough for the judge to be conflicted, the judge's spouse also wrote a handbook with the groups who protested in front of my home, which details how "migrant domestic workers" can publically humiliate their employers. We asked the judge to recuse herself, and she refused. The sole arbiter who determines if the judge is conflicted is the judge. The judge initially rejected my counterclaims, but my evidence was so strong, we just resubmitted. She then accepted them, but refused to rule on them. I also had two affidavits from two women who worked with my disgruntled housekeeper, both stating that she was lying and never worked overtime. . The judge sent us to mediation. During mediation, the judge asked if we would agree to take lie detector tests. I immediately said yes, but the housekeeper and her four attorneys said no. The case was settled. It still amazes me that the reporter did not find any of the above information worthy of including in her story." 
"As far as my lawsuit against the Drapkin Estate over my apartment: My then-boyfriend, Donald Drapkin and I were buying my current apartment together. We were splitting the purchase price and the cost of the renovation. Our contract was "Time of the essence," which simply means that we had to close by a certain date or lose the deposit. I decided that I would buy the apartment for myself and paid for it in full. However, the coop board could not get Don's name off the title on time for the closing. Thus, I had to close with Don's name still on it. Don and I signed a contract which stated that I was paying for the apartment, and he had zero ownership and zero rights to it. I had power of attorney, and as soon as the coop board was ready to remove his name, he had to sign over the shares that he held in nominee status for me. (This just means that he held shares that are mine.) Don passed away in an accident before the transfer was finalized. I gave his children all of the documentation, along with proof that I, and I alone, paid for the apartment, and that they just needed to sign the title transfer. Two of his five children refused to sign and demanded from me several hundred thousand dollars to do the transfer. After waiting a full year, I finally sued them. Within days, they transferred the shares and also paid my legal fees, which was stipulated in the nominee agreement. The reporter who wrote the story in the New York Post had all of this information, yet chose to bogusly claim that the Drapkins had some stake in my apartment. I call that defamation and libel." 
Q: What can fans expect from you for the rest of the season? 
"You will see a lot of me this season. I am usually the calm voice of reason…but these women can make anyone lose their mind." 
Real Housewives of New York City airs Thursday nights, at 8:00 p.m. ET, on Bravo.
Stay Connected With All About The Tea: Twitter Ι Instagram Ι YouTube