RECAP: Stassi Schroeder GOES OFF on Beau For 'F–king Weird' Friendship With Kristen On 'Vanderpump Rules'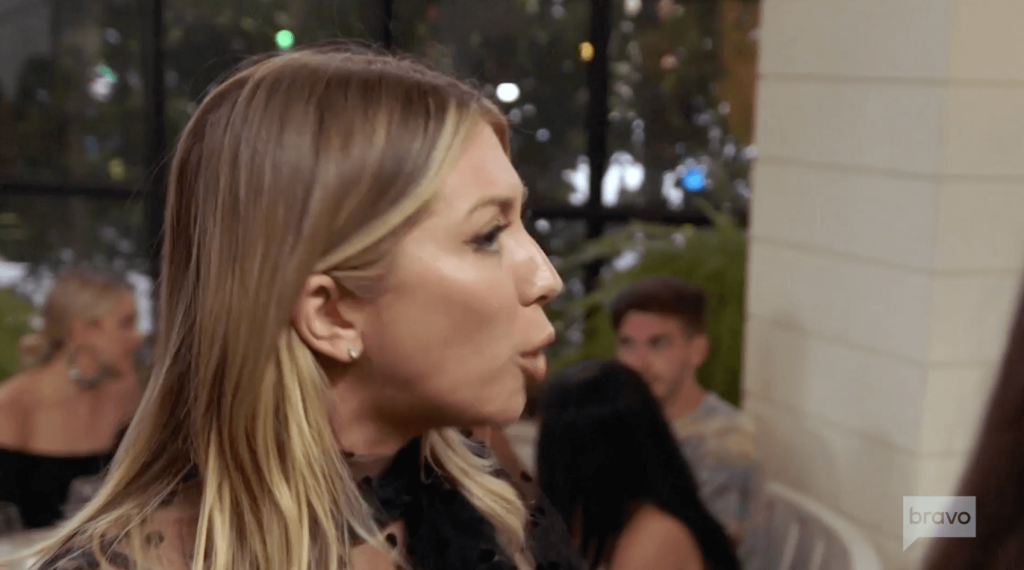 Welcome back to an all-new episode of Vanderpump Rules. Settle in, grab a glass of wine (preferably Witches of Weho Potion #2) and let's get started!
The episode opens with Dayna Kathan and Brett Caprioni attending bartending school before their shift at SUR. Brett casually enlightens Dayna on her ex-boyfriend, Max Boyen's extracurricular activities in Vegas with a Vanderpump Cocktail Garden waitress, aka Scheana Squared.
Meanwhile in Valley Village, we learn that Tom Schwartz has once again dropped the ball and lost the marriage certificate. Is this a direct result of "wet brain." I'm not being snarky. I'm being serious. All of that blacking out is bound to take a toll on the brain at some point…
Stassi Schroeder and Beau Clark pay "the newlyweds" a visit and Stassi drops a bomb when she reveals that she and Beau "are not not trying to have a baby." According to Stassi, if Beau won't give her a ring to seal the deal, she'll just pass GO and head straight to baby-making. Sounds awfully like entrapment to me, but hey, at least it's not an ultimatum following a ring on a string scenario.
Stassi Schroeder seems to enjoy watching her boyfriend squirm as she continues to berate him for not giving her a ring yet. After all, her bestie has not only one but two rings now. Never mind the fact that she's not legally married. Minor details…
Speaking of rings- can we all take a moment to discuss the heart-shaped ring Tom Schwartz gifted Katie Maloney Schwartz with at their Vegas nuptials?! I was SURE that it formerly lived inside of a bubble gum machine at the nearest Dave & Busters before Schwartzy got a hankering for a big fat piece of Hubba Bubba. However, recent reports reveal that the ring could easily be valued at 35 MF'N THOUSAND DOLLARS. Who's gonna tell Schwartzy he got ripped off? That ring is U-G-L-Y, YOU AIN'T GOT NO ALIBI (like the time Schwartz was caught making out with some random in da club) UGLY.
The conversation swiftly turns to the third member of the Weho coven when Katie passive-aggressively states, "I feel like we had the perfect crew" in Vegas.
Tom Schwartz brings up the sore subject that is the Witches of Weho wine event and Katie and Stassi collectively let out a few dreadful sighs. According to Stassi, she's about as done with the joint wine brand as Beyonce is done with Destiny's Child.
Cut to Kristen Doute, rolling up her sleeves and doing all of the actual work for said party. THE NERVE. How dare she step up and plan the entire party herself while the other two sit back and criticize her for breathing.
Back at SUR, Scheana Shay has an awkward conversation with Lisa Vanderpump. Scheana eagerly divulges that the egg retrieval surgery is behind her and she was able to yield seven viable eggs. Lisa then pointedly asks who she intends to fertilize those eggs. Scheana is adamant that she's still having fun being single. Lisa calls BS on that and then suggests that Scheana set her sights on SUR manager, Peter Madrigal, whom she refers to as "a loyal old dog."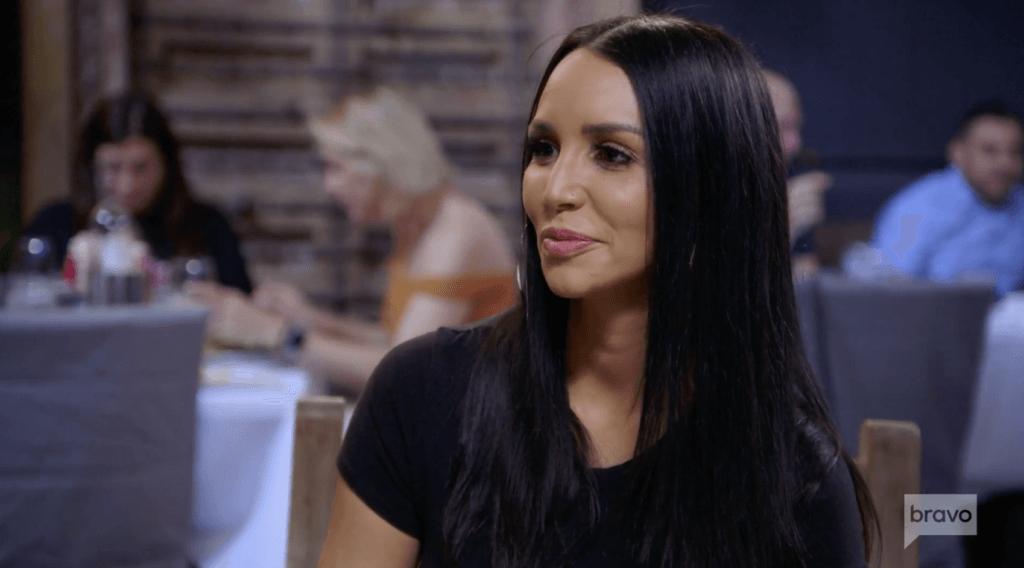 Cut to Scheana visiting Dayna at her apartment. This scenario is already a bit weird seeing as how they JUST made up for the 75th time this season on the previous episode. But the devil really is in the details when it comes to reality TV, huh? After exchanging niceties and making small talk, Scheana cuts right to the chase. She informs Dayna of her plan to bring a psychic over so she can connect with her late mother. The catch- she's actually on her way, or ya know outside in the apartment breezeway waiting to come in. Scheana quickly rephrases it as the psychic is "available" when Dayna makes it clear she's not down with talking to her mother from the other side while Scheana awkwardly stares on.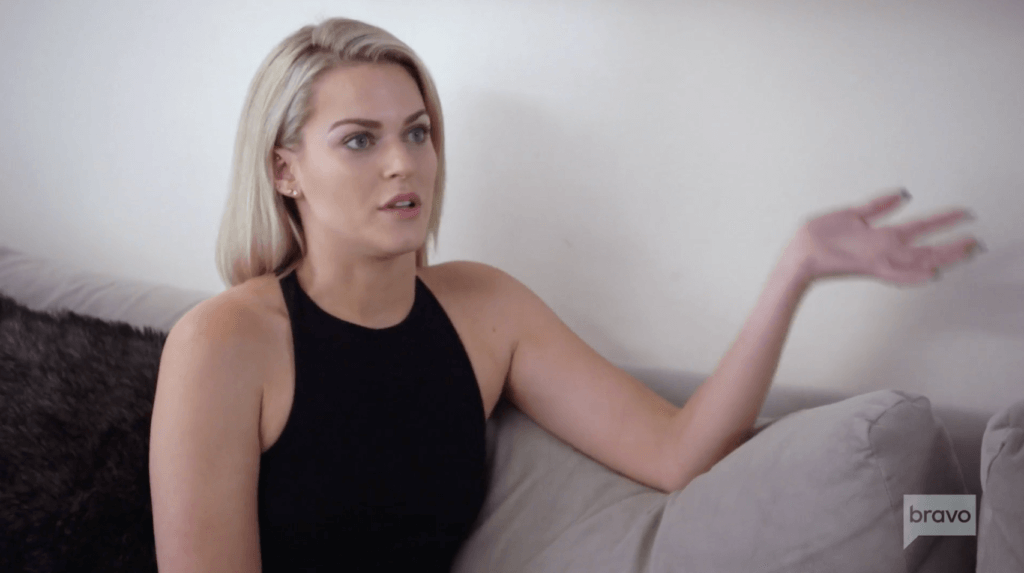 The crocodile tears start rolling down Scheana's carefully contoured face as she apologizes for overstepping. However, I'm still not convinced ol' Sheshu actually knows what she did wrong. Once again the two are at odds. Surprise surprise. This could, in fact, be the most tumultuous relationship Scheana Shay has ever been in and that's saying A LOT.
Beau visits Lisa at Villa Rosa to go over the details for the engagement party. Poor Beau looks like a fish out of water as the perspiration slowly rolls down his forehead. Is he more nervous to propose to Stassi or to be inside the Queen of West Hollywood's palatial hillside palace? The world may never know.
Lisa Vanderpump graciously overlooks Beau's anxious demeanor as she shows him around her pretty pink compound and casually points out the opulent 24 person table in her courtyard where she plans to host the affair. Think luxury ghost chairs sitting around an extremely long table adorned with florals that look they came straight out of The Secret Garden and chandeliers twinkling in the sunlight. Now, THIS is the place to be quarantined.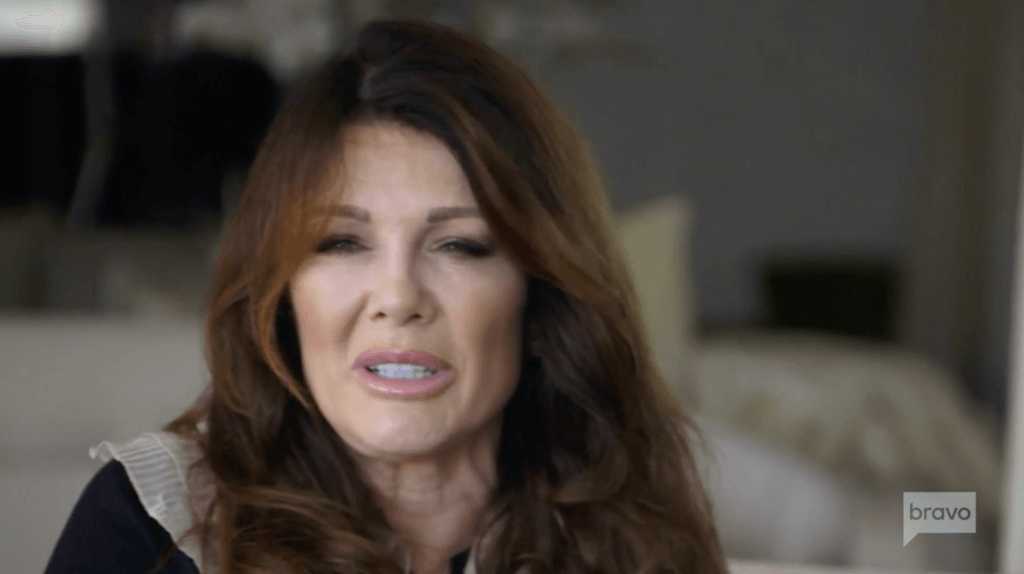 Lisa Vanderpump and Beau sit down to discuss the guest list and the subject of Krazy Kristin rears it's ugly head for the second time this episode. In a surprising turn of events, however, even Lisa believes that Kristin should be invited to such a "momentous occasion." Beau agrees and says that he plans to use the wine event as a temperature check. If the ladies get along there, maybe she'll be included on the guest list after all. Oh, Beau. Such a sweet but very naive soul.
Later that evening VPR's second string (aka James Kennedy, Raquel Leviss, Danica Dow, Charli Burnett, Dayna and Brett) meet at Nightingale Plaza for an uneventful night out on the town. Perhaps the most interesting part of this entire scene is witnessing a stone-cold sober James interact in a club but even that falls flat. He genuinely seems comfortable not partaking in the debauchery.
Brett has an extremely produced conversation with Danica in which he confronts her for essentially trying to sabotage his new romance with Dayna. Unfortunately the conversation is over quicker than it started and ends somehow with Scheana being the villain behind it all. Go figure.
The next day Lala Kent and James meet in the studio and bond over their sobriety. They trade stories about having nightmares in which they relapse. James reveals that he's made way more music now that he's sober. Lala praises James on his sobriety and extends her support. It appears, for now at least, these two are in a better place.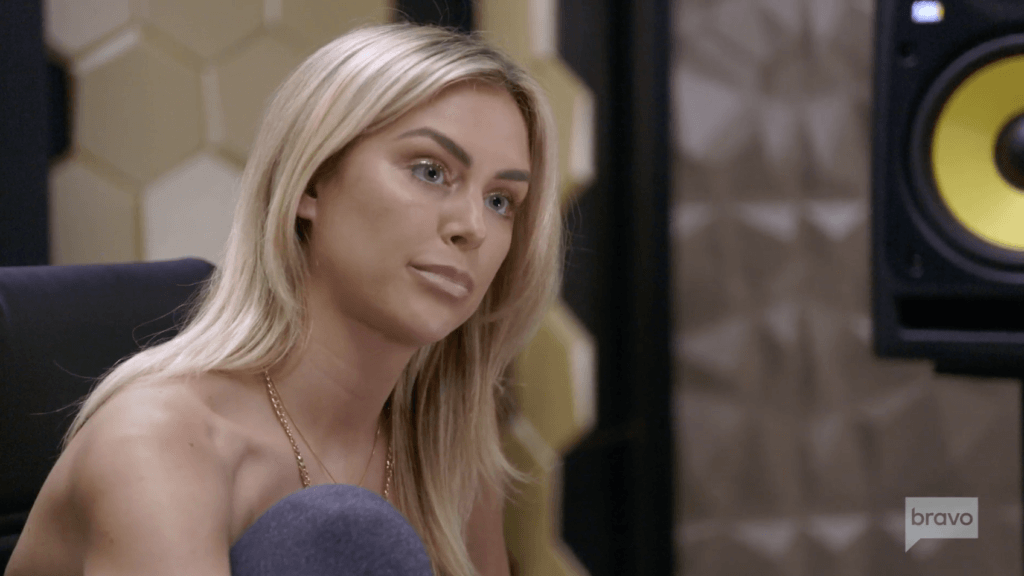 It's finally the night of the wine event and Kristen arrives early to take care of all of the finishing touches. Stassi and Katie casually roll in mere minutes before the event starts and Kristen gives them the rundown of everything. Cut to Kristen's talking head interview where she reveals that Katie will pop in and out every now and then contributing to the workload but that Stassi has done "absolutely nothing" for the brand. According to Kristen, all Stassi has to do is post about the brand on her social media once in while but "she can't even be bothered to do that."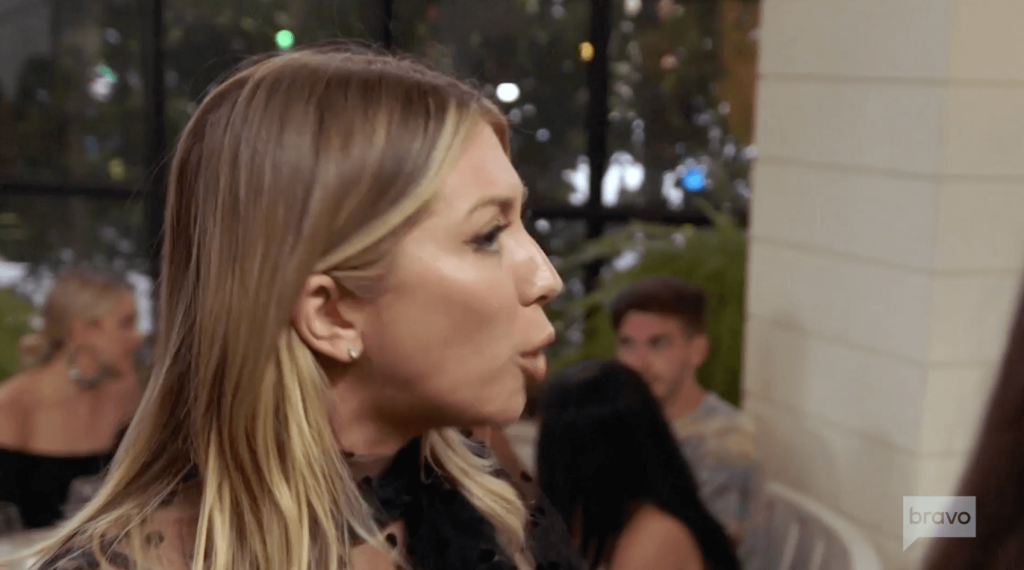 Right before the event gets started, the ladies make an awkward toast to the fruits of Kristen's their labor- all while Stassi's back is turned to Kristen. Cheers!
The event goes from bad to worse when Beau approaches the lone Witch of WEHO. Kristen cuts to the chase and asks Beau, "Are we still friends?"
Beau responds, "Of course we're still friends" but quickly adds, "Can I come up and give you the biggest hug as I would normally do? Maybe not."
Kristen Doute then accuses Beau of being afraid of Stassi. Poor Beau. Before Beau has a chance to respond to the accusation, Stassi interrupts them asking what the problem is.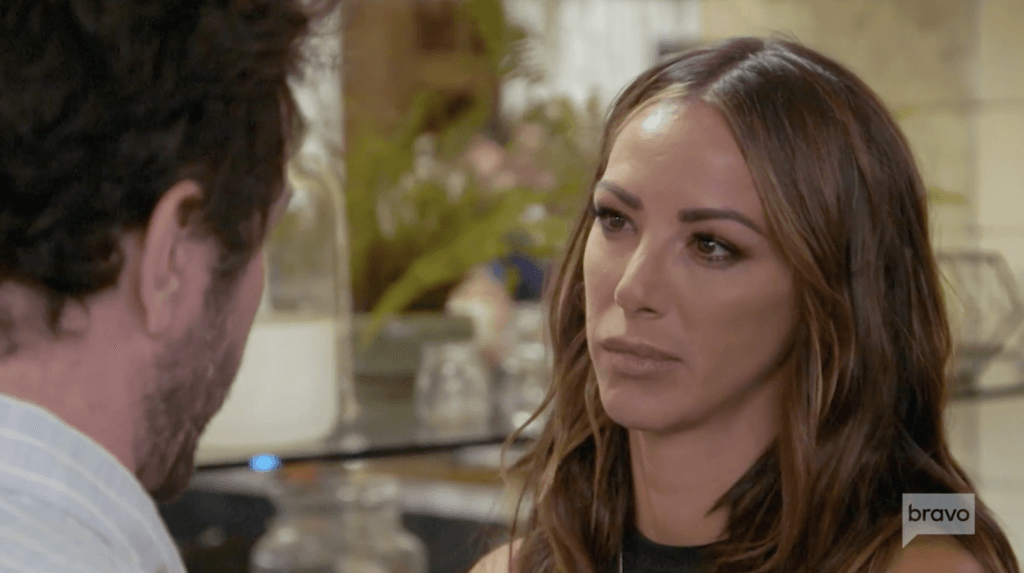 Kristen storms off, citing this is not the time or the place to have an argument. Stassi then sets her sights on Beau. She accuses Beau of choosing Kristen over him and then proposes an ultimatum. "You can either go home with Kristen or you can go home with me."
Beau refuses to look at her as Stassi continues to unleash her wrath, while screaming, "I'm your F'ing person. Am I not? Am I not? Am I not?" She then promptly storms out of her own business event- as one does.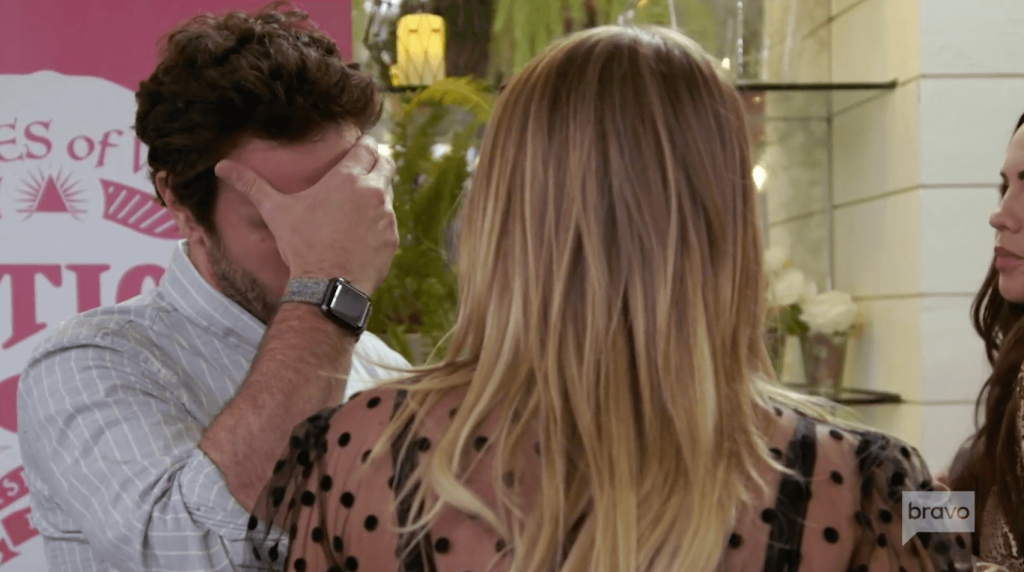 Will Beau still go through with his carefully thought out proposal or has he had enough of his girlfriend behaving like a petulant child? Tune in next week to find out!
Stay Connected With All About The Tea: Twitter Ι Instagram Ι YouTube
Amanda Byerly focuses on Reality TV recaps for All About The Tea. Amanda is a 30-year-old wife, mother and self-proclaimed Bravo TV junkie. When she's not watching Bravo, she's writing about it, reading about it, or listening to podcasts about it. "I get by with a little help from Bravo TV."