Kenya Moore Posts Receipts That Prove She LIED About Shamea Morton's Water Breaking!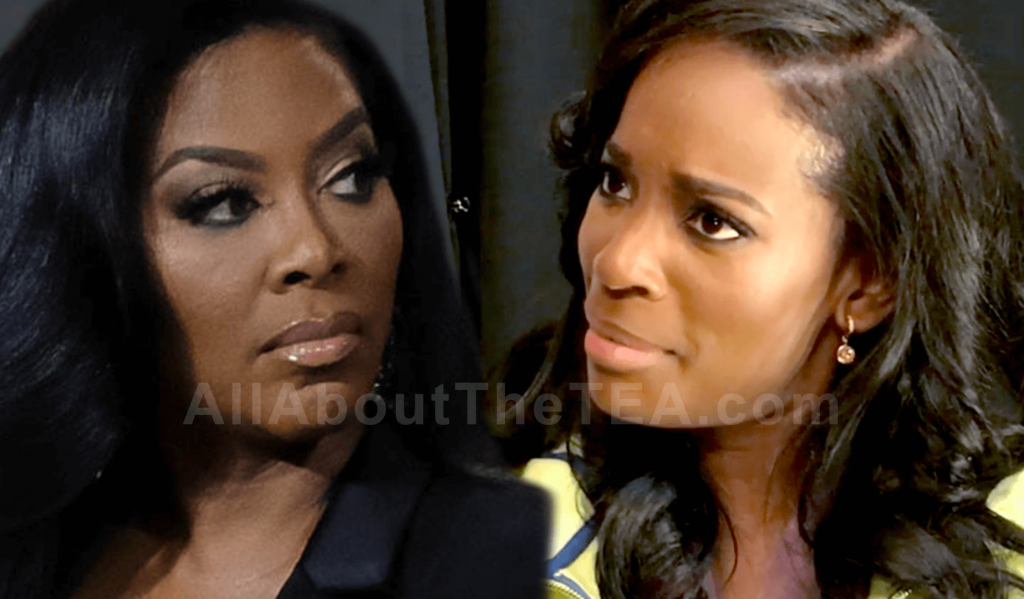 Kenya Moore hopped on Twitter Sunday night while the Real Housewives of Atlanta season 12 finale aired to address claims that she lied when she claimed Shamea Morton called her when her water broke.
The drama started when Porsha Williams hosted a March of Dimes charity event — an opportunity for the ladies to bond as mothers.
"I remember you [Shamea] texted me, and you were like 'I think my water broke' and I said, 'Do you need me to come to the hospital?' …I don't know where Porsha was…I think Porsha was doing something else…working that day," Kenya Moore said to Shamea and the group, during the charity event.
According to Porsha, Kenya Moore used the event to mention that Shamea Morton, a close friend of Porsha Williams' — communicated with her after her water broke — but her comments included some shade towards Porsha.
Kenya Moore has denied that she was being shady and doubled down on Shamea reaching out to her — not the other way around. "She called me so that's a question for Shamea. I have nothing to do with their relationship clearly they love each other. To infer that means "I don't care for her"…that's a reach sweetie. Thanks for your input." Kenya tweeted in response to a fan accusing her of shading Porsha and Shamea's friendship at the charity event.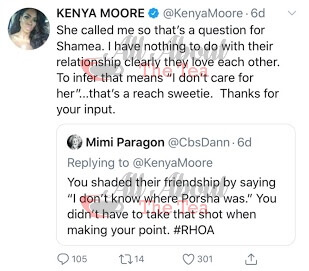 Porsha Williams exposed that Shamea told her that Kenya Moore's story was bogus — making it clear that Shamea did not reach out to Kenya when her water broke. 
"This girl is making it look like I don't even care for my best friend who's the closest to me," Porsha told NeNe in the April 12 episode. "I was like, 'Damn, why would Shamea call her?' So I'm really feelin' a little way, but [I kept my face straight]," Porsha stated. "Later on, Shamea walked up to me, pissed. She said, 'I did not call that girl when my water broke."
Kenya Moore took to Twitter on Sunday, April 19, to post what she calls "receipts" in the form of a text message to show she was telling  the truth.
"I supported Shamea & Porsha throughout their entire pregnancy OFF CAMERA. I was pregnant & panicked when I got the text about her water," Kenya captioned a screenshot of their text exchange.
In the message, Kenya was texting Shamea about having hiccups during pregnancy and Shamea told her afterward that her "[amniotic] sac might be leaking."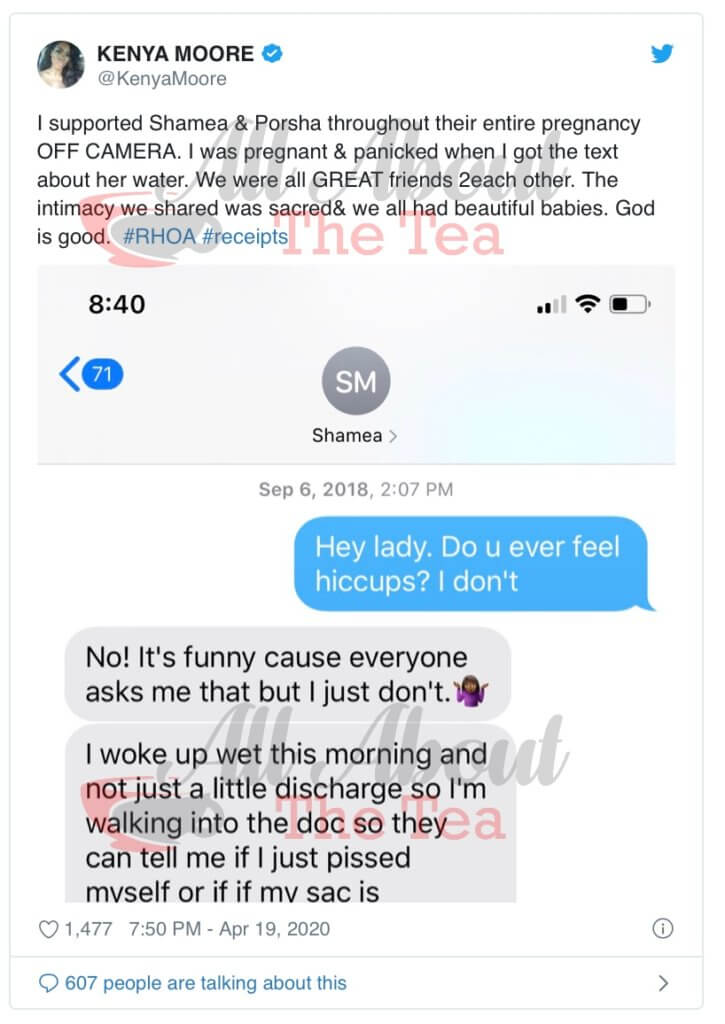 See the text message in full below.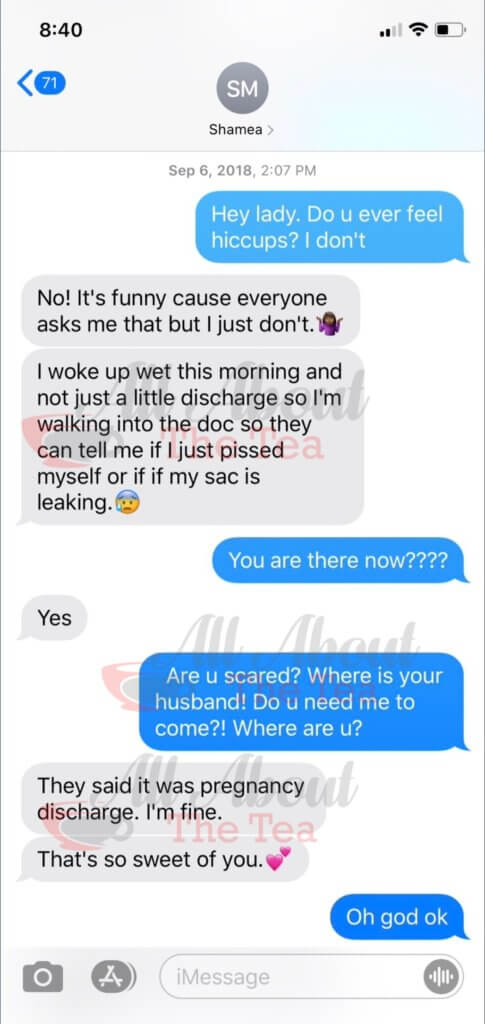 It's quite obvious that Kenya Moore's "receipts" do not prove Shamea Morton texted the former Miss USA when her water broke. On the contrary, the text message shows Kenya Moore initiated the entire conversation and Shamea simply responded.
During a recent appearance on the RHOA After Show — Kenya Moore said she was "hurt" that Porsha Williams and Shamea Morton would accuse her of being shady.
"That was some made-up drama," said Kenya Moore. "It was something about I tried to make up that she called me when her water broke. We did have a conversation, you did text me about something happening with your water. So I was really concerned."
"Shamea I supported her throughout her entire pregnancy and Porsha," she added. "I was hurt that they tried to turn that around on me. I felt betrayed by Porsha, this was all when I wasn't a housewife, I was home pregnant alone. I was livid and really, really hurt by that."
The Real Housewives of Atlanta season 12 virtual reunion date is TBD.
Stay Connected With All About The Tea: Twitter Ι Instagram Ι YouTube
Avigail is an Entertainment blogger at All About The Tea, who specializes in The Real Housewives of Atlanta and The Real Housewives of Potomac. Avigail has a background in marketing. She's a Brooklynite living in the Bahamas, with a passion for travel, writing, reality TV watching, pop culture and spoken word.