'RHONY' RECAP: Sonja Morgan Spirals Out of Control In Drunken Outburst!

Sonja Morgan Spirals Out of Control In Drunken Outburst!
Welcome back to the Real Housewives of New York City, where the ladies are still in the Hamptons. 
It's a new day, and Ramona Singer plans on taking the ladies to a vineyard. She's in a hurry to view the "grape trees". 
Luann de Lesseps woke early to complain about her room assignment in the basement. To be fair, it's not just a room, but more like a suite. Nevertheless, the Countess doesn't appreciate being so far away from the others. Then there's the spider problem — and by problem, Lu means she saw one spider. Anyway, she claims she's heading to see her chiropractor, but Dorinda Medley tells us that Luann is probably relaxing on her boat.
The ladies, including Sonja Morgan, Tinsley Mortimer and Leah McSweeney, all climb into one car to head out to the vineyard. But it's a rainy day, so they sit in the crowded dining area. Leah decides to indulge in a glass of wine. She's sober on and off. These past six months, she's been off the wagon.
Ramona Singer gets a text from Luann, saying her chiropractor told her to take it easy. You know how difficult it is to drink virgin cocktails after getting your neck cracked. Leah thinks inviting Lu to a vineyard when she's newly "sober" isn't a great idea in the first place.
Ramona Singer asks the women to share something personal with the group, something that makes them feel vulnerable. Ramona says that when was fifteen, she wondered where life would take her. And now that she sold her house and divorced Mario, she feels the same way. She wants to find her person. She wants to feel safe.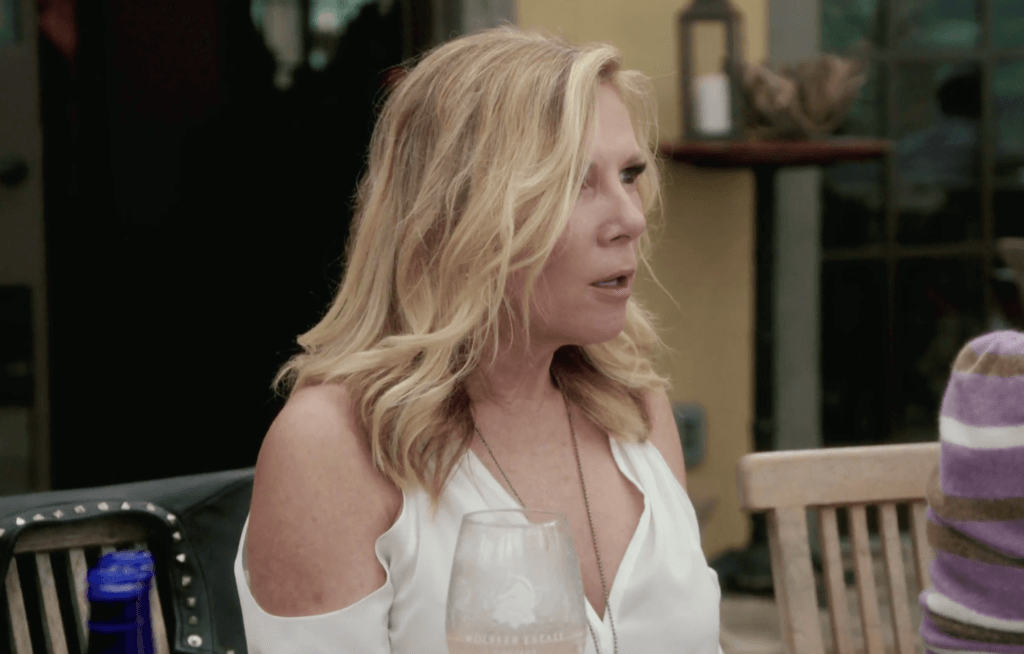 Tinsley Mortimer says that at least Ramona had a long, mostly happy marriage and has a daughter. Tinsley just has a handful of frozen eggs. 
Dorinda thinks Tinsley wants to tick off boxes. Does she actually want to have a husband, children? She likens Tinsley to an iceberg. Only ten percent shows. The rest of her life is below water. For example, the ladies didn't know about her new boyfriend, Bruce.
There's not much to tell. Tinsley has never been around kids, and he has two. She feels like she's juggling this new man, his kids, and his ex-wife. She feels overwhelmed by all his family and friends. They never have any time alone as a couple. 
Next, it's Leah McSweeney's turn. After high school, she went to rehab. Her parents wouldn't let her come home after she got out, because she had younger brothers and sisters in the house. Instead, they took her from her Connecticut home to a nunnery in upstate New York.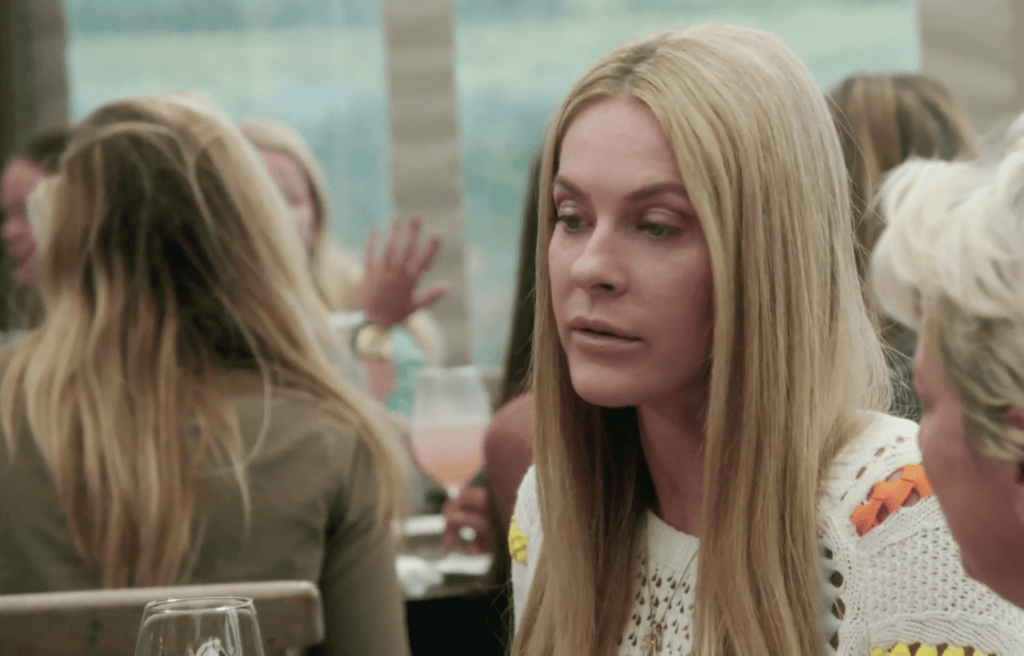 Dorinda Medley admits she's been crying for a month. She lives in fear every day. Ramona rounds the table and hugs Dorinda as she cries. Dorinda can't always be the strong one. Though she loves John, she realizes she needs a partner. Ramona thinks this is a wakeup call for Dorinda — to stop being in charge of everyone else and put herself first.
Sonja feels like she has one foot in the nursing home. She has bills to pay. And her complaints devolve from there. She talks about getting run out of the house with a shotgun and getting her share of dick before she dies. Basically, she rambles.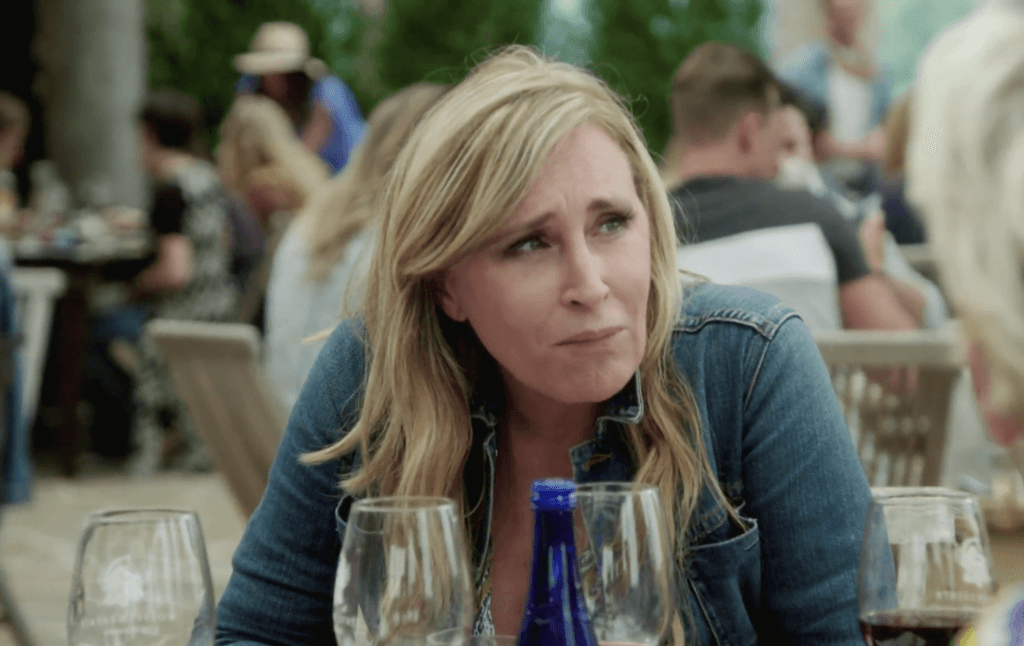 After the vineyard, Ramona sends everyone back to her place, while she goes to check on the house where she's planning to bring her friends to a party later that night.
Leah McSweeney and Tinsley discuss what to wear. Tinsley admits that the house owner, Joe Farrell, is a short man who knows Ramona and Bethenny Frankel. Tinsley went on a date with him — to a basketball game — and she didn't want a repeat performance. Ramona Singer tells Dorinda that she didn't just check out the venue for the party. She actually went on a date with a hot, flirty Persian man.
Luann arrives back at the house and brings her makeup to Ramona's bathroom to get ready with the her and Sonja. They criticize Luann's floral dress and wrangle her out of her cardigan, which is a slight improvement.
In the car, Lu thinks the women all look like they're ready for a New York party. Sonja, who's still drunk from lunch, thinks Ramona is too much of a social butterfly and needs to be knocked down a peg. The people she's been surrounding herself with are surface friends. Or party fillers, as she calls them.
When Ramona enters the house, she's greeted by her interior designer. And we get a look of Joe Farrell's house. It's for sale, by the way, so if you have a cool thirty-nine million, you can buy it!
Luann de Lesseps, Sonja, Tinsley, and Leah all ooh and ahh at the house, wondering if they'll be allowed inside. After all, each of them has arrest records. It's good they can laugh about it. But Sonja realizes she's going to have to behave herself, and you know how much she hates that.
This isn't Leah's type of gathering. She thinks these old white dudes must have seen Eyes Wide Shut one too many times. Sonja has her own problems. She doesn't want the wine that's offered. Why doesn't the server have gin? Who doesn't have gin on hand for a party?! So, she follows him to the bar and asks for a Tito's on the rocks. And that turns out to be a big mistake.
Ramona tries to introduce a couple to the women, but Sonja mocks her for being so formal. Tinsley points out that Sonja had the life that Ramona is now pretending to live. Sonja accuses Ramona of acting fancy.
Ramona Singer takes the time to reprimand Leah for chewing gum. You don't chew gum in a thirty-nine-million-dollar house! Leah quickly swallows it, then skedaddles out to the pool to keep away from judgy Ramona.
Inside, Sonja tells Ramona's friends that her new pal, Leah, is a classy girl. She just doesn't look classy, and Sonja told her so the night before. All those tats? Gasp!
Tinsley Mortimer goes back inside and chats up Joe. He says that living in one home for eleven years is too long, which is why he's selling the place. Ramona starts sucking up, telling him how wonderful he is to host her party. 
Tinsley thinks Joe and Ramona would make a good couple. Leah takes stock of Joe while he continues to flirt with Ramona. She isn't impressed with this short, older man who's wearing very tight pants. But since he has money, he gets pussy. It's not fair, but that, my friends, is the way of the world.
Joe takes Ramona downstairs to the basketball/game room. Sonja tells him the house makes him hotter. There's even a bowling alley down there.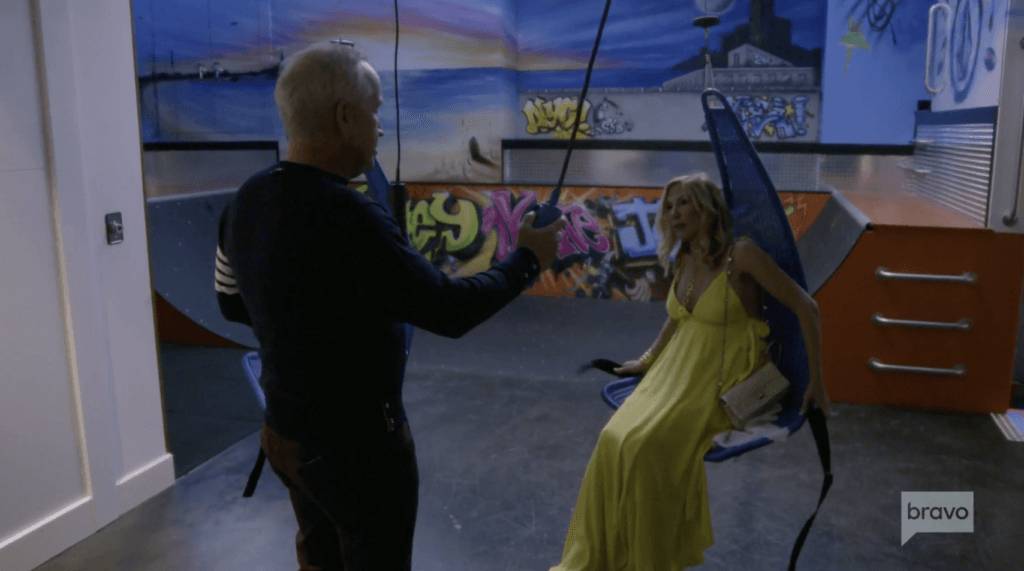 Lu and Dorinda follow the others to the basement, but Dorinda thinks touring a home is tacky. It's such an American tradition. 
Luann wants a drink. And since Leah isn't abstaining, she feels alone. Besides that, the party is pretty dull, and the only thing that would help is a big old glass of wine.
The women bowl — badly — except for Luann. Sonja is being loud and rude. Dorinda tells her to pace herself, because it's going to be a long night, but Sonja continues criticizing Ramona. How can she be interested in Joe? Ramona just wants to get banged. Hard. Joe just isn't ready for those kinds of sexual demands.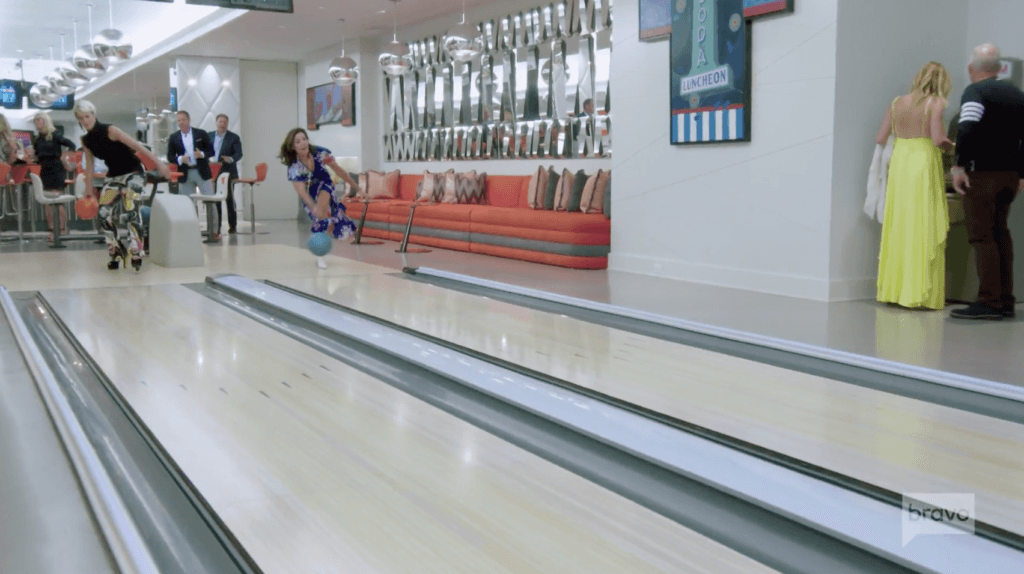 Joe continues the tour, showing Ramona a half pipe for the kids. There's a DJ booth. Then Ramona sits in a chair that has a remote control lift that spins her up to the ceiling.
He shows her the hot tub next to a fireplace. Ramona offers to be his captive, which Joe thinks is weird. And I'm right there with him. You're creeping me out, Ramona!
An old friend of the group, Elyse, stops to chat with Dorinda. Elyse used to be married to a hedge fund guy. She likes to party, just like our ladies. She's wearing an old Cavalli shirt, and admits she doesn't like to shop.
Sonja Morgan, who's still downing the booze, says her ex used to make her buy clothes and it embarrassed her. Elyse nods in understanding, saying Sonja was her husband's accessory. Sonja argues with Elyse, nose to nose, that she's a boss bitch. She was no trophy wife.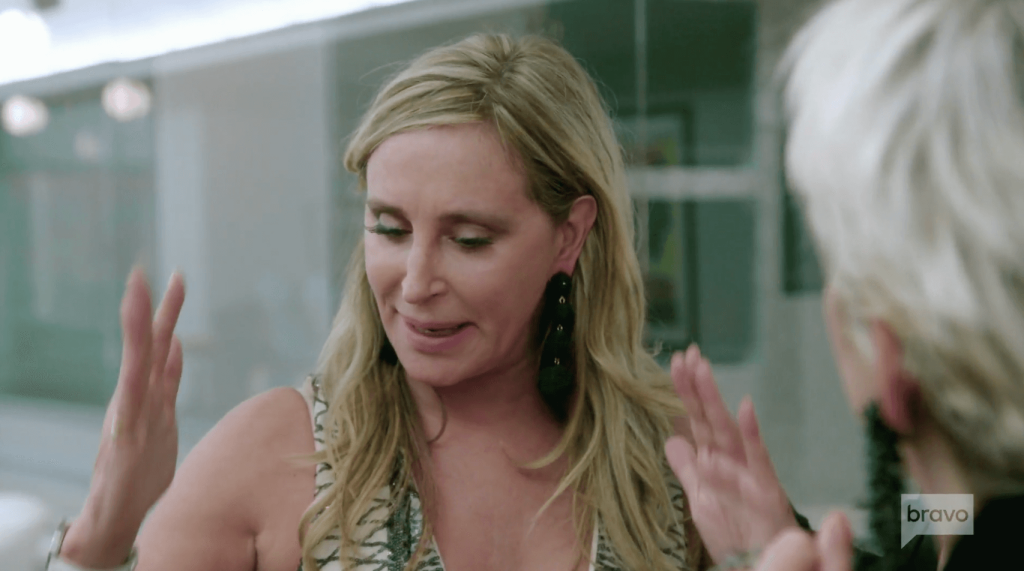 Then Sonja turns on Tinsley, saying if anyone was a trophy wife, she was. Tinsley checks Sonja and walks away. Tins points out that she met Topper when they were both in boarding school, whereas Sonja was a hostess who married a much, much, much older man. That marriage might have been a lot of things, but let's be honest, it was never a partnership.
Then Sonja starts yelling that she doesn't shave her pussy. Therefore, she could never be a trophy wife. Um…okay. Dorinda says Sonja's marriage is no one's business.
Luann, Dorinda, and Leah wander upstairs, unable to take Sonja's outbursts any longer. Leah and Luann congregate, and Luann complains again about her accommodations at Ramona's house. Not only does the basement smell like dog piss, the fridge is loaded with booze. 
Sonja Morgan is still yelling, but now she's upstairs, insulting Ramona's other guests. She points out that Ramona's richer friends are getting all of the attention and her old friends are being treated like shit.
There's a younger guy at the table, and Sonja claims he wants to sleep with her. He looks like he stepped out of a Ralph Lauren ad from the mid-nineties. But Sonja keeps eye fucking him like he might be interested. Because men love her vagina, you know. Well, now we all know, because she repeats it several times in front of everyone.
Leah can't get enough of Sonja making an ass out of herself. It's the most entertaining thing about the party. 
Ramona tells Sonja it's time to go, but Sonja refuses. She gets in the way of a portly man, rubbing bellies with him, asking who he is. He refuses to give his name as he tries to move around her. Sonja gets right up in his face. Luann says the man she's flirting with is William — who's married and has a baby.
Ramona Singer tries to gather everyone so they can leave. Sonja is the hardest to corral. Ramona practically shoves her out the front door. Fortunately, Ramona finds Sonja's antics amusing.
The next morning, Dorinda wakes up Ramona by reading a text. Luann sent it to Ramona and cc'd Dorinda. The text went something like this: Lu's shocked she's always on the bottom of the totem pole. How dare Ramona stick her in the smelly basement.
Dorinda Medley doesn't understand why Luann can't just say she's lonely downstairs and doesn't like it. When Ramona calls Luann, she leaves a message, saying she hopes Lu got home safely. She apologizes for not being aware of Luann's feelings. 
Sonja, who can't remember the night before, thinks Luann is being a diva. That arrest humbled her for a minute, but now she's back to being The Countess.
All the women stand around, reading Luann's text. Then they head downstairs to see where Luann was staying. It's a nice little suite. What's the problem?
Luann calls. But the contents of the call will have to wait for next week's episode.
So, do you think Luann de Lesseps was being reasonable or ridiculous? Does Sonja need AA? And what's your definition of a trophy wife?
Stay Connected With All About The Tea: Twitter Ι Instagram Ι YouTube
I'm a fiction writer by day and a reality TV addict by night.