'RHOBH' RECAP: Denise Richards Cries As Cast Alleges She Has a Secret!
Dearly beloved, we're all gathered here today to get through this thing called life. Luckily, Real Housewives of Beverly Hills season 10 premiere came just in the nick of time to lift our spirits and provide some much-needed distraction.
While it appears the season has tiptoed in like a lamb, the teasers for the rest of the season are proof that it will indeed go out roaring like a lion. Buckle up, b*tches.
The Real Housewives of Beverly Hills  premiere was more or less an hour-long episode dedicated to setting the scene for what is to come- and trust me, what's coming will make the hair on the back of your neck stand up. But before we get into all that, I'd be remiss to leave out Kyle Richards half-hearted attempt to play fashion designer with the big dogs at New York Fashion Week. WOOF. That was bad.
First, we learn that not only is Kyle Richards NOT responsible for any of the actual designs, we also learn that the creative process goes a little something like this: Kyle sends "snapshots" of things she likes to her business partner Shahida aka the actual brains behind the operation, "and then poof, it shows up in my mailbox with a sample." From Kyle's mouth to Shahida's ears.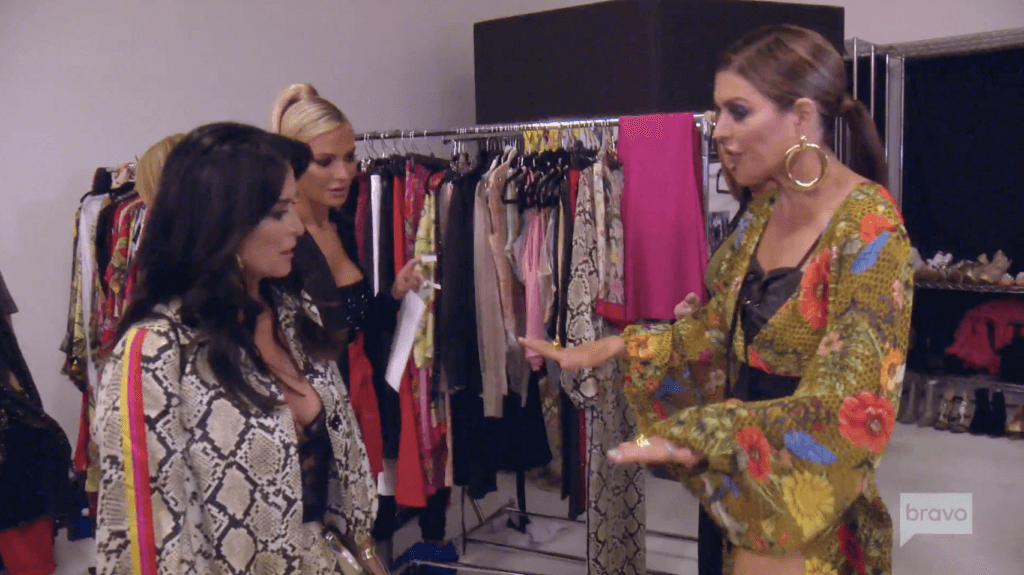 No one seems to be in more shock than Dorit Kemsley, who stands there dumbfounded at the lack of awareness Kyle really has about her own "brand." Kyle not knowing is actually very on-brand for her, so the irony is not lost on me there. Once Kyle Richards musters up the courage to enlist Dorit's help with the fashion show — a mere 24 hours prior mind you- Dorit's mission is quite clear. "I've gotta save Kyle's fashion show- from Kyle." Good luck, girl. To quote Britney Spears, "You better work b****."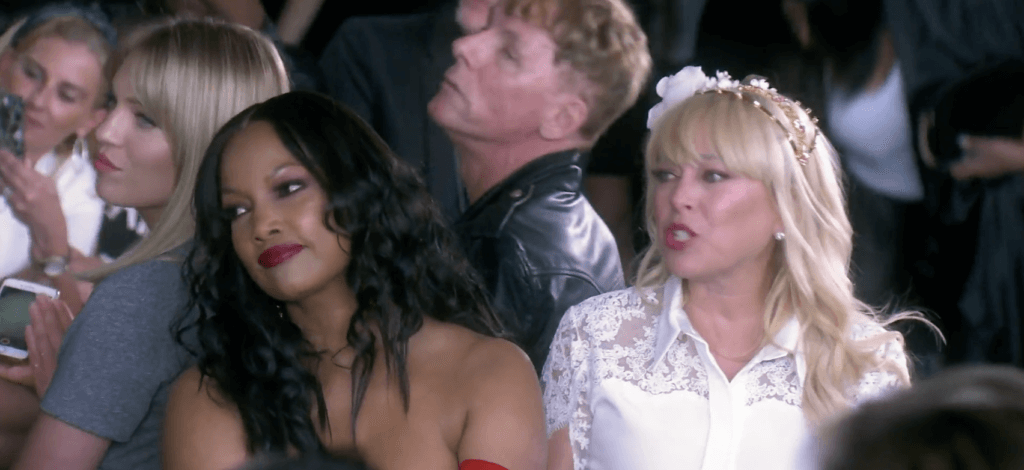 We're treated to an interesting lunch that may have actually been a thinly veiled attempt by Bravo to condition us all for our fan-favorite, Denise Richards' tragic fall from grace. Yep, ladies and gentlemen, it's becoming apparent that the humble, mid-western woman who shows up to a fancy dinner in a penthouse suite wearing a wife beater is going to take on a whole new persona this season.
After Denise Richards is done berating the waiter for bringing her a "blanco" tequila instead of the "reposado" she ordered, we learn that Denise is now in a nasty feud with her ex-husband, Charlie Sheen, over back child support she's allegedly owed.
"Sorry, this is getting me all fired up now," Denise said. "He hasn't paid me child support in over a year," she alleged, "and he's very lucky because I never took him to court."
The women all rally around her and Erika Girardi immediately calls up her husband Tom Girardi for legal advice. Tom advises Denise that she must be proactive and even offers to go to court with her. Denise, however, seems completely disinterested in accepting the free legal advice or bothering with the matter at all. Okay. Cool talk.
"It is such a toxic road and it brings up so much anxiety," Denise tells the ladies. 
Erika Girardi enjoys a trip down memory lane when she drags the ladies to a Go-Go Bar that she used to work at in New Jersey. Everyone seems impressed, except for Denise that is. According to Denise, she prefers to frequent strip clubs where the ladies actually, ya know, strip.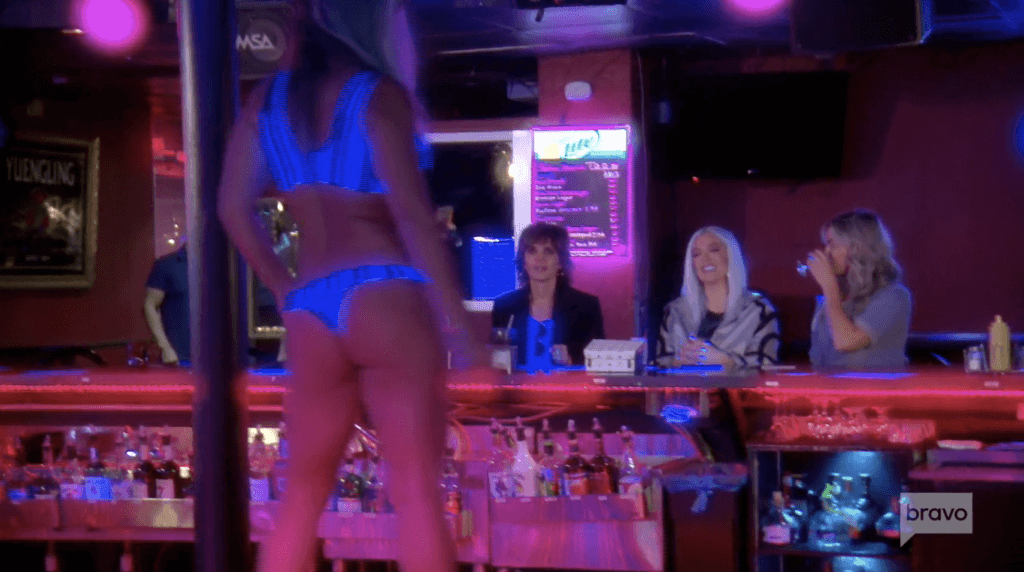 We're also treated to two new very bright lights in this episode: Garcelle Beauvais, a model turned actress, and professional socialite Sutton Stracke. Not sure what Sutton Stracke's actual claim to fame is other than being filthy rich and instinctively knowing her way around a couture piece.
Garcelle Beauvais is the classic all-American success story. Born in Haiti, immigrated to the United States as a little girl, learned English by watching Sesame Street and eventually moved to New York City to make it all on her own. This woman is GOALS.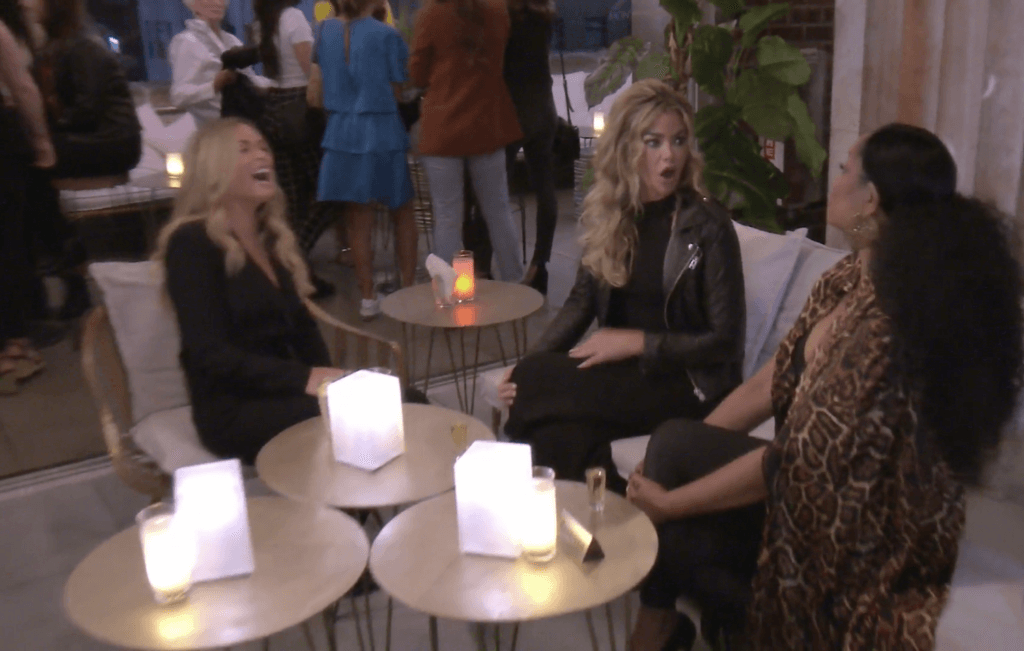 Sutton Stracke, however, seems to be the antithesis of all that Garcelle Beauvais is. Lisa Rinna alludes to the fact that Sutton came into her "stupid rich" lifestyle by way of divorcing her ex-husband. She now spends her days traveling abroad and collecting custom pieces by Dolce & Gabbana- even if they are completely ill-fitting and atrocious to look at. Sorry, not sorry Dolce…
Perhaps the biggest piece of news we're all supposed to feign shock and awe over is Teddi Mellencamp Arroyave blurting out that she's pregnant, but this is 2020 and anyone who has an Instagram account already knows that. SURPRISE!
Now, for the tea we've all been waiting for… Once the fashion show wraps, the ladies all swarm around Kyle Richards and praise her for the lackluster production that she did not produce. Suddenly we're treated to a voice-over by Kyle saying, "We were all so happy that day," adding "it's actually hard to even imagine how terrible things would soon become." DUN DUN DUN.
Cut to a dramatic caption that reads, "In December, Denise Richards stopped shooting with the group." Then we're treated to a montage of Denise storming out of various scenes and refusing to speak on camera. Presumably, this all stems from the alleged rumors circulating that she and former Beverly Hills Housewife, Brandi Glanville, carried on a sexual affair outside of her marriage with husband, Aaron Phypers. YIKES.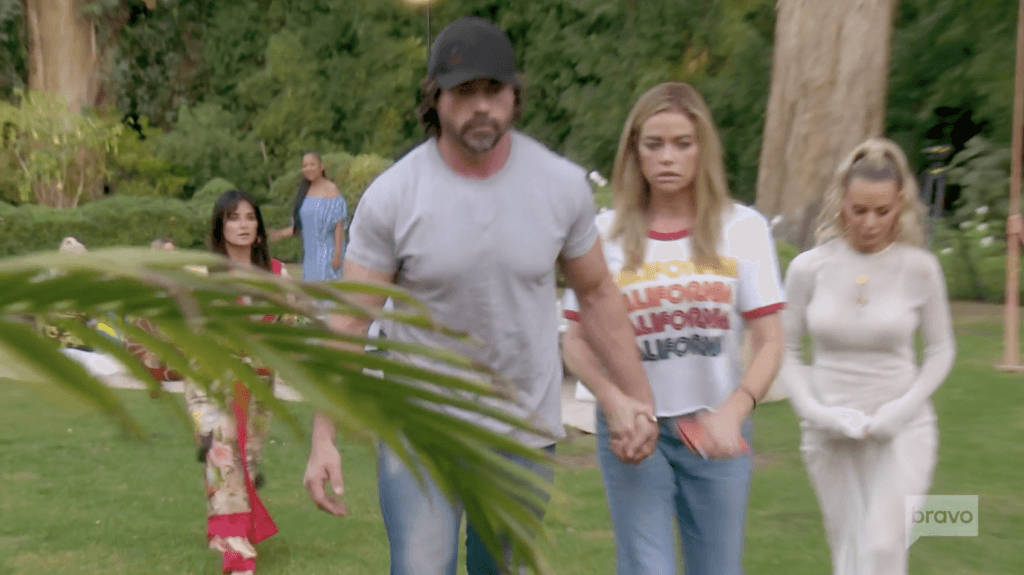 Cut to a phone conversation between Kyle Richards and Lisa Rinna where they all too eagerly predict they've seen and heard the last of Denise. BUT WAIT. Don't these dumb broads women remember who Denise was married to?! Surely, if she can hold her own with the lunatic that is Charlie Sheen she can handle two bored housewives manufacturing a self-serving storyline.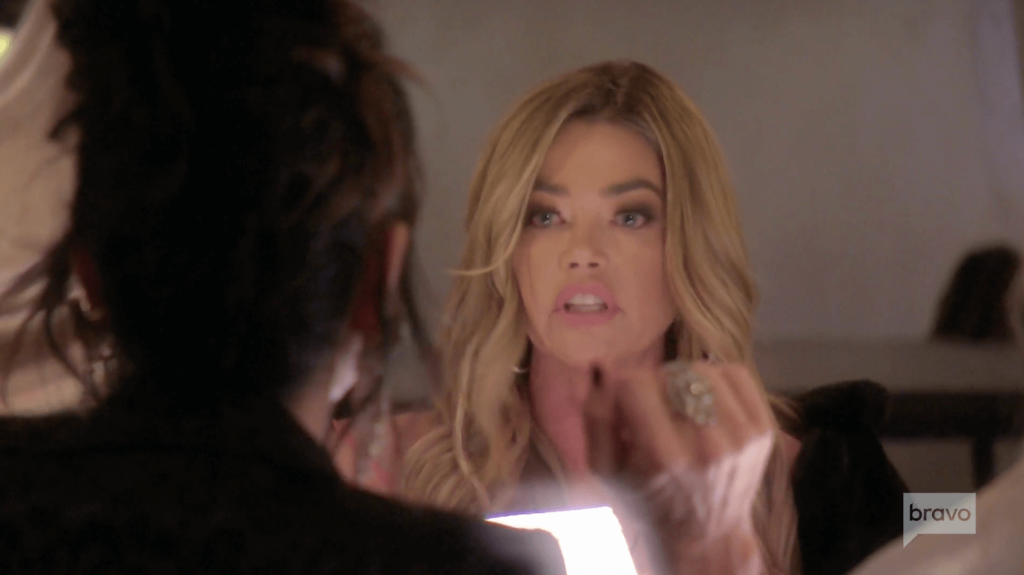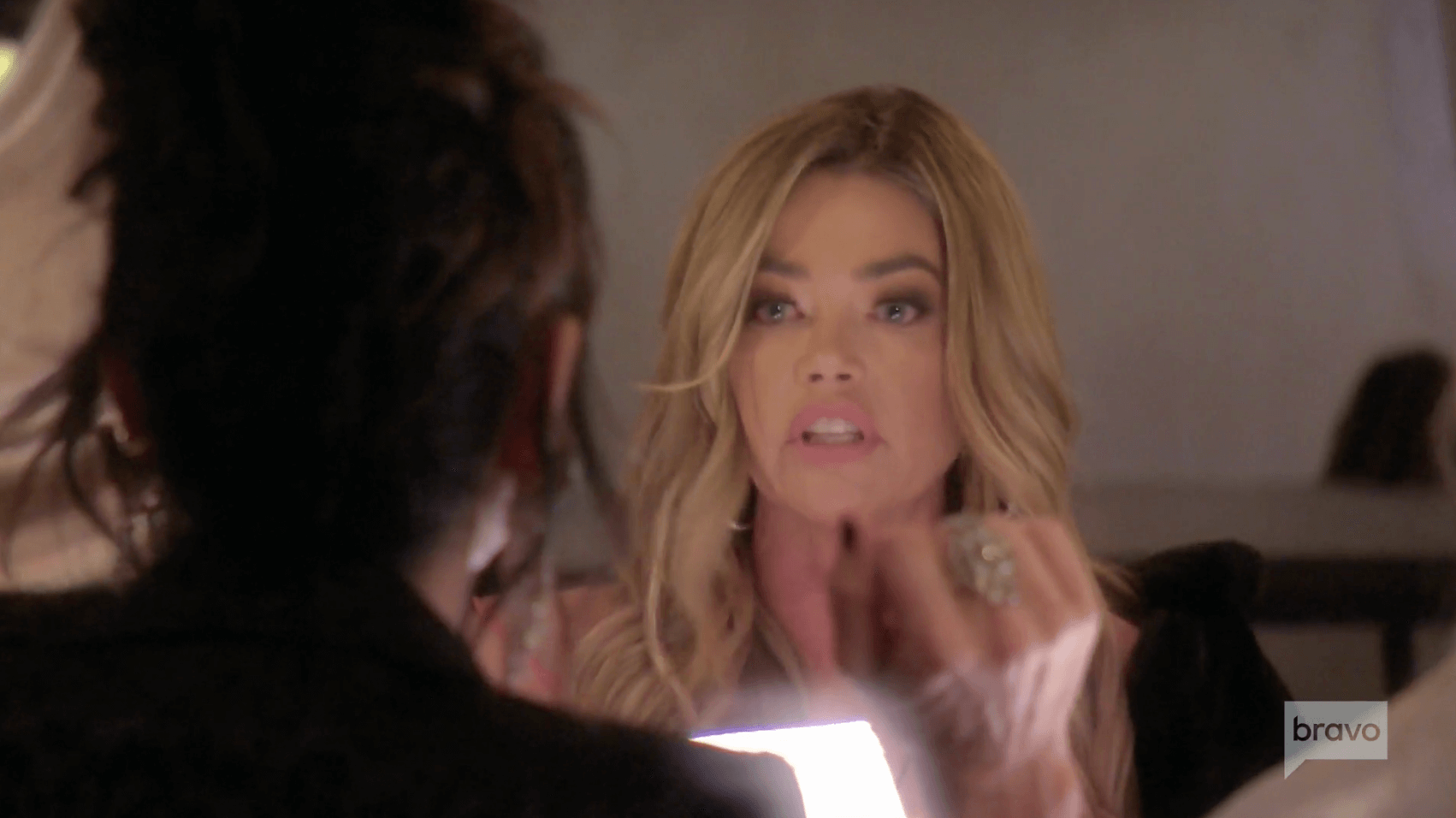 Suddenly the lights are lifted, the curtain is pulled back and we're treated to footage of Denise Richards in front of a green screen ready to SPILL THE TEA all while serving us this creepy, crooked, upturned smirk on her face. Or maybe that's just her botox and filler gone bad… who knows really.
Tune into The Real Housewives of Beverly Hills next week as the drama continues to unfold.
Stay Connected With All About The Tea: Twitter Ι Instagram Ι YouTube
Amanda Byerly focuses on Reality TV recaps for All About The Tea. Amanda is a 30-year-old wife, mother and self-proclaimed Bravo TV junkie. When she's not watching Bravo, she's writing about it, reading about it, or listening to podcasts about it. "I get by with a little help from Bravo TV."