Vanderpump Rules
RECAP: Katie Maloney-Schwartz and Tom Schwartz Get Married Again On 'Vanderpump Rules'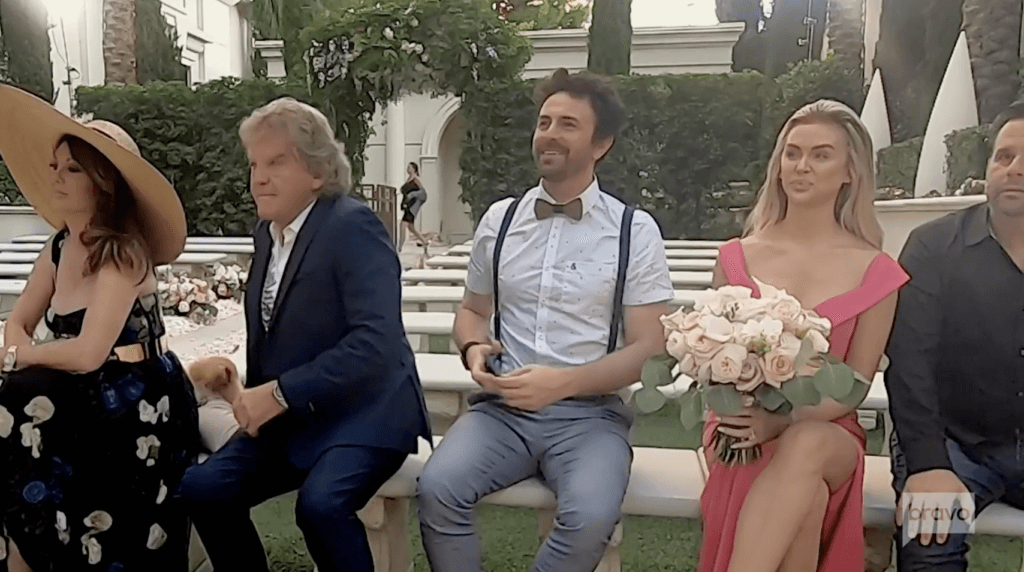 Welcome back to an all-new episode of Vanderpump Rules!
This week's episode opens with Stassi Schroeder and Tom Sandoval butting heads over who gets to serve as the officiant at Tom Schwartz and Katie Maloney Schwartz's second wedding in Las Vegas. Schwartz eventually settles the great debate by asking them to share the duties. "Of course," Sandoval says as he grits his teeth and pretends to not be pissed about being forced to share the honor with his arch-nemesis.
Meanwhile, a very 'hormotional' Scheana Shay catches up with two members from the VPR second string, Danica Dow and Charli Burnett. The three waste no time getting down to it and discussing the drama that went down at Dayna Kathan's birthday party. In an effort to save face, Scheana chalks up the drama between her and Dayna as a simple misunderstanding. According to Scheana, the egg freezing process was to blame for her outburst, "I was hormonal, emotional and sick." Okay, sure Scheana. Whatever helps you sleep at night.
Down the street, Max Boyens is training Brett Caprioni behind the bar at TomTom. During the training session, Max can't seem to help himself as he slides in a little dig about Brett's budding romance with Dayna.
Brett cops to making out with Dayna at her birthday party but blames it on the fruity drinks he hastily consumed. Max swipes a page right out of Scheana's handbook and pretends as if he's unbothered by the news. Cool talk, bros.
The next day, Scheana Shay appears to still be on damage control as she swings by SUR to pick up her tips before her egg retrieval surgery. Dayna is sitting down polishing glasses just like Scheana taught her. Scheana beats around the bush before finally apologizing to Dayna for going behind her back and commiserating with Max. Once again, Dayna is all too eager to forgive and forget.
Meanwhile, in Vegas, Stassi Schroeder and Sandoval rehearse their lines as officiants. Stassi stokes the fires between Sandoval and Ariana Madix when she casually mentions that maybe they should get married too while they're there. Ariana looks disgusted while Sandoval creepily mutters that Ariana would have to be convinced first.
Back in the Bubba's room, Tom Schwartz looks like a deer in headlights when he pulls a mysterious bra out of his suitcase. He's adamant it must Katie's but Katie swears it's not hers. Mystery Bra: 1, Schwartzy: 0.
Beau Clarke is struggling with his own personal demons as he musters up the courage to call and ask Stassi's father, Mark, for permission to propose. The phone call is as agonizing and awkward as you can imagine with Mark hemming and hawing around before eventually giving Beau his blessing. Near the end of the call, Beau promises to be a good son in law when the time comes but Mark quickly points out, "the problem is, I can't promise Stassi will make a good wife." YIKES.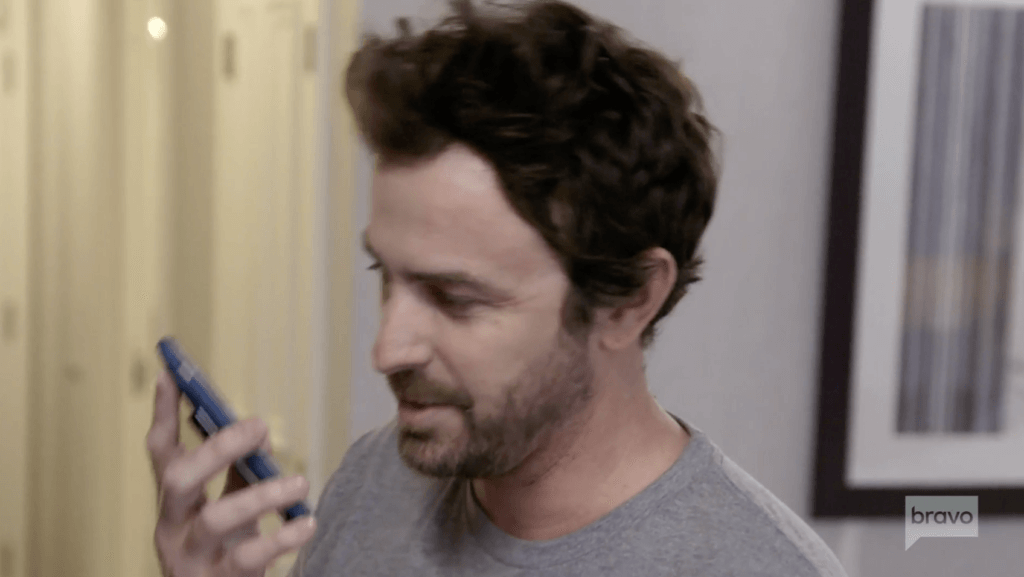 Later that evening back at SUR, Charli and Raquel Leviss catch up in the kitchen at SUR. Raquel reveals that sex with James Kennedy is way better now that he's sober. According to Raquel now that James is no longer sloppy and drunk she doesn't have to worry if it's gonna work or not. Hey, maybe that's why Katie said that Schwartz's you-know-what doesn't work. Hmm…
A very pitiful Kristen Doute appears to be unraveling at the seams when she pays Scheana a visit after her surgery. Scheana reveals to Kristen she received a text from Katie saying she missed her and wished she was there for her and Schwartz's ceremony. Kristen takes the news as well as one would expect, admitting she's "devastated" at the current state of her friendship, or lack thereof, with Katie and Stassi.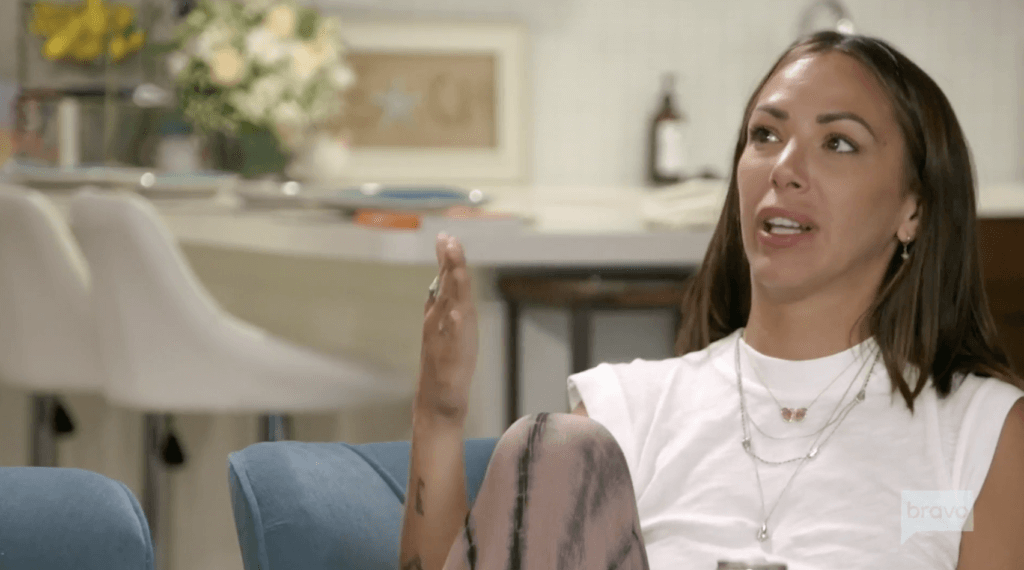 The group celebrates the eve of Katie and Schwartz's Vegas wedding at the Vanderpump Cocktail Garden. While there, Lisa Vanderpump pulls Katie aside and confesses that her luggage got mixed up with Schwartz's and the mysterious bra really belongs to her. She then persuades Katie to keep the mystery bra drama going and to let Schwartz continue to sweat over it. DONE AND DONE.
The evening wraps with the entire crew (including LVP) ziplining over the Las Vegas nighttime skyline. Sorry, Jax and Britt. Schwartz and Katie win the title for the number one wedding in the group. I don't recall you having any ziplining activities at your rehearsal dinner.
Finally, it's the big day… for the second time around. Sandoval and Stassi officiate the nuptials dressed as Elvis and a nun and the ceremony goes off without a hitch. The Bubbas say I do for the second time around and Stassi catches the bouquet that Katie tosses straight at her. All's well that ends well.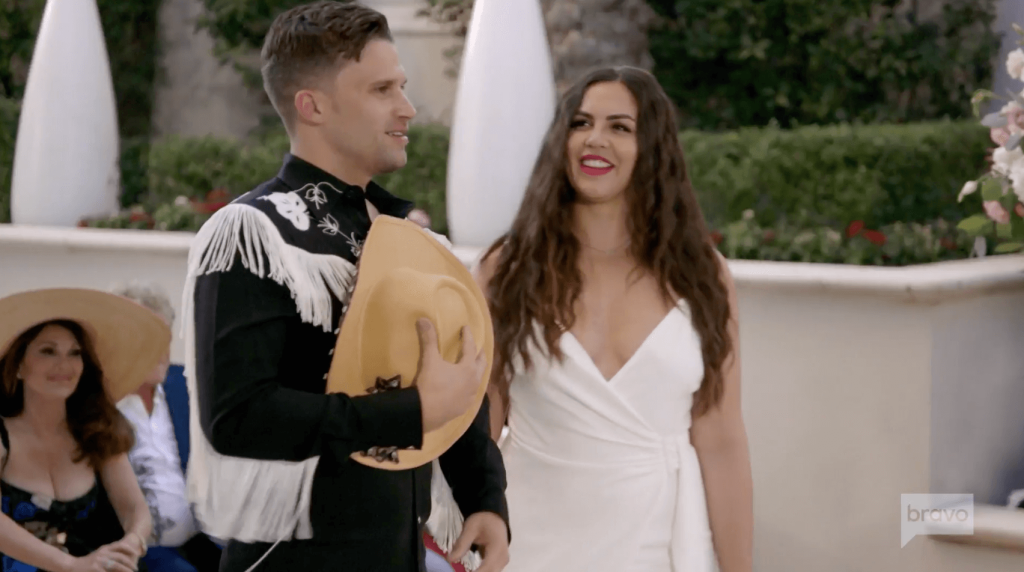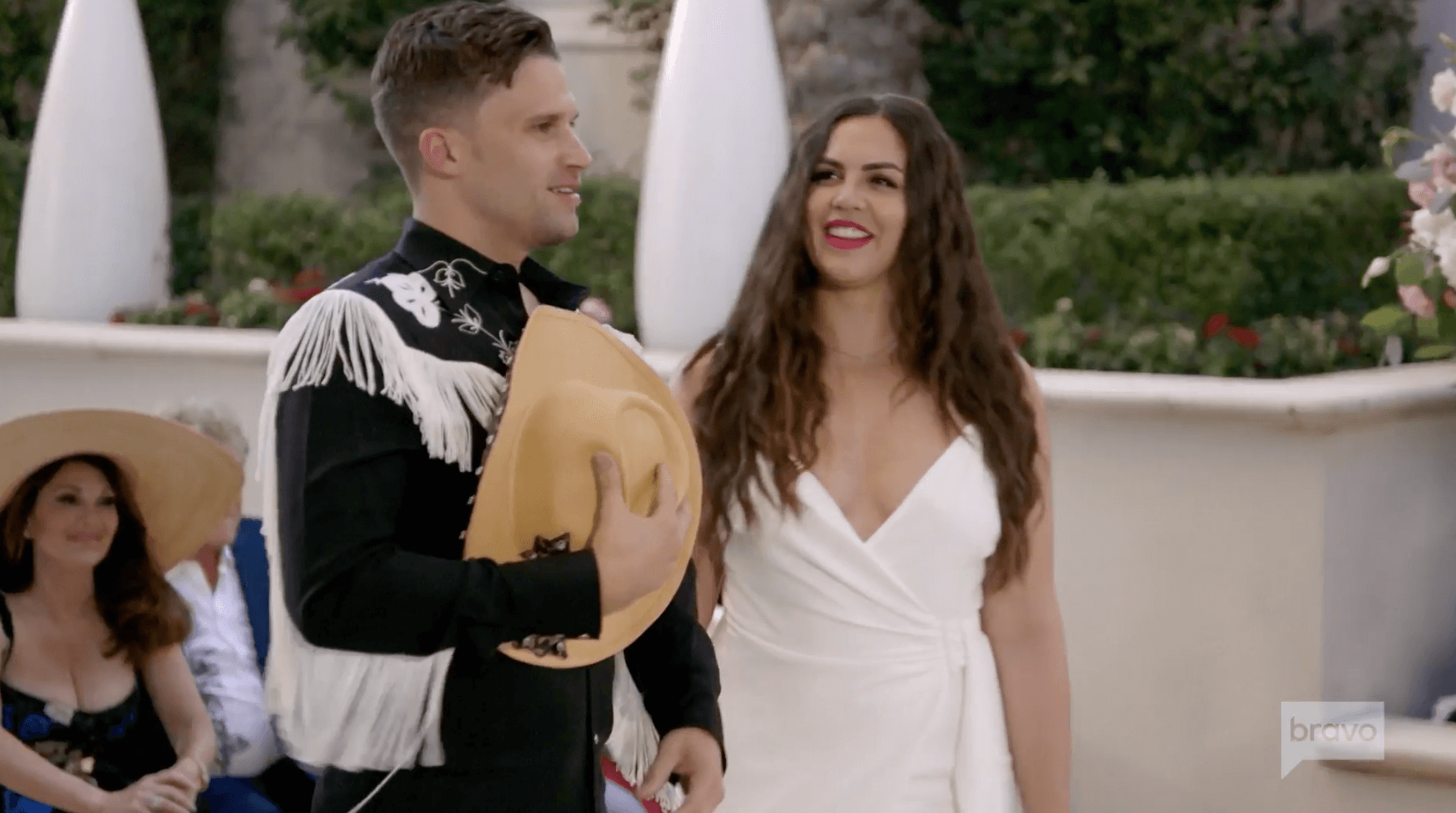 The group heads back to the Vanderpump Cocktail Garden to celebrate. Once at the table, Jax Taylor makes a toast to the bride and groom and everyone proceeds to eat, drink and be married merry.
Everyone except Beau, that is, who is over in the corner trying to work up the nerve to clue Lisa in on his plan to propose. He finally works up the courage to tell her and Lisa can hardly contain the excitement. She immediately offers to host a celebration for the couple once the deed is done and Beau gratefully obliges.
Will Stassi take a chill pill and allow Beau to execute his proposal or will the Dark Passenger rear its ugly head and derail his carefully thought out plan? Tune into Vanderpump Rules next week to find out!
Stay Connected With All About The Tea: Twitter Ι Instagram Ι YouTube