'RHOA' RECAP: Todd Tucker Tells Kandi Burruss She Values Career Over Family!
Welcome back to an all-new episode of The Real Housewives of Atlanta! Let's get started!
This week's episode opens with an overly emotional Kandi Burruss paying ice queen Kenya Moore a visit. The two commiserate and trade stories about their struggling marriages. Kandi reveals that Todd Tucker was already feeling some type of way about her acting out sex scenes on the set of The Chi, but now her chaotic work schedule is creating tension too. She breaks down into tears confessing that everything she does is for her family.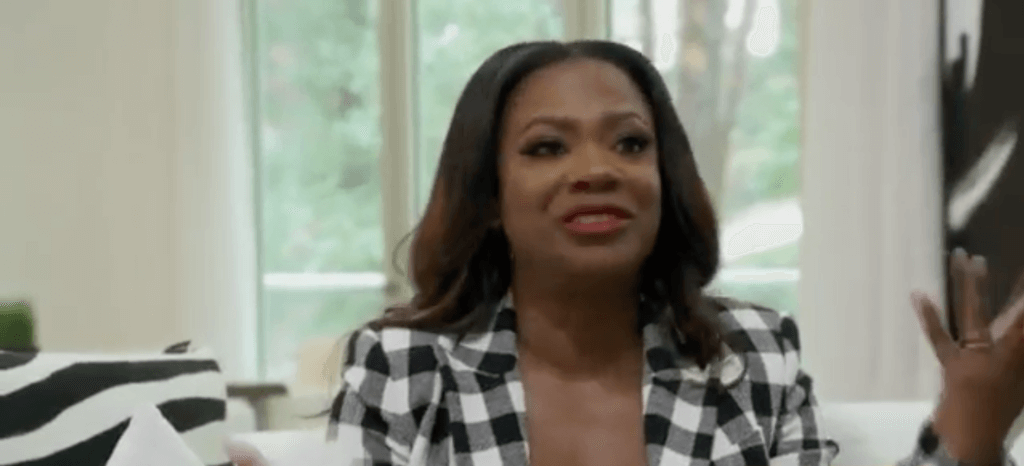 Kenya Moore appears to take Todd's side reminding Kandi, "You are his wife and you're simulating sex with another man." Well, when you put it that way…. YIKES. Kenya later admits in her talking head that sometimes she wishes Marc Daly was like Todd adding, "How often does a great love come around?" Apparently for Kenya, not at all. Oops, did I say that? Kenya Moore divulges that she and Marc Daly haven't spoken but Kandi quickly reminds her that they probably haven't spoken because she still has him blocked. Kenya brushes that off as minor details.
Meanwhile, across town at the Bailey Wine Cellar, Cynthia Bailey and her sister Mal, are butting heads as they navigate their new relationship dynamic as employer and employee. Later Cynthia confesses that the power struggle is weighing on her and sometimes Mal just needs to let her be the boss.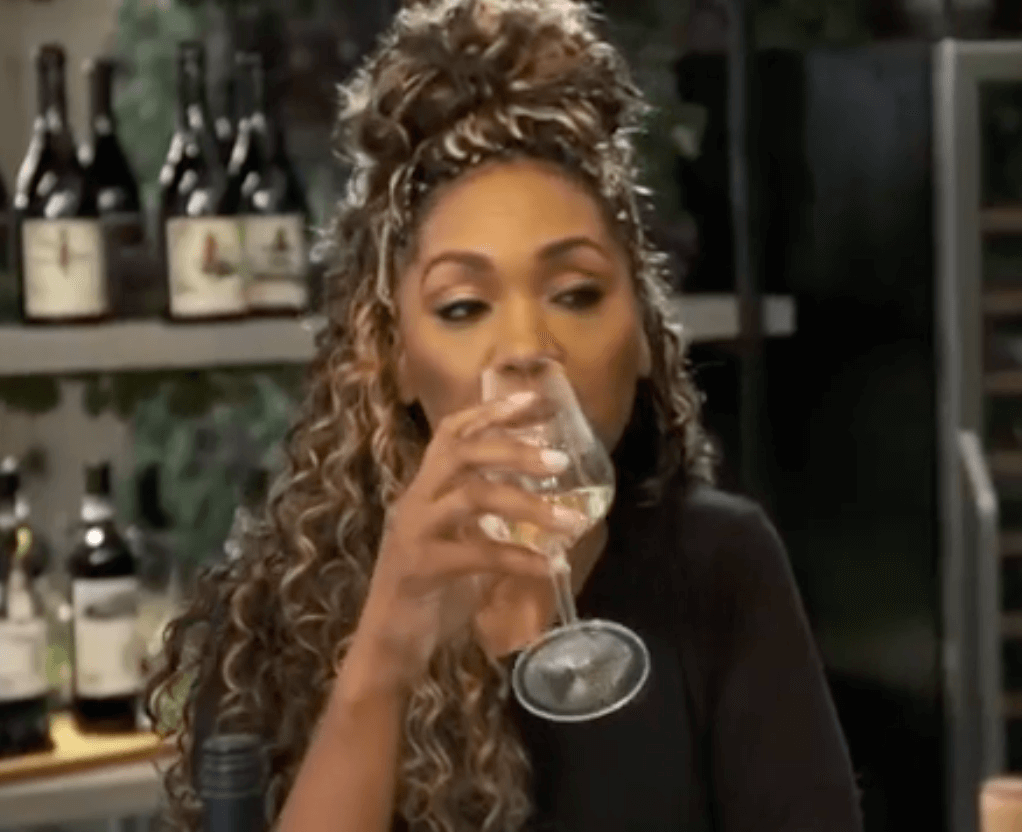 We learn that Cynthia's daughter, Noelle, has officially dropped out of college and is staying with Mike Hill in Los Angeles while trying to pursue a career in acting. Cynthia admits that it's a little strange that even Noelle has moved to LA and she's still in Atlanta. Cynthia confesses that she still has no idea what her living arrangement will look like once she and Mike are married. According to Cynthia, she's just not ready to give up Lake Bailey yet as that was the first thing she did completely for herself.
Trouble is also brewing for Porsha Williams and her on-again-off-again fiance Dennis McKinley. While baking a fresh batch of cookies the two discuss their day and Dennis expresses his displeasure with his commute back and forth from Porsha's home to The Original Hot Dog Factory in the city.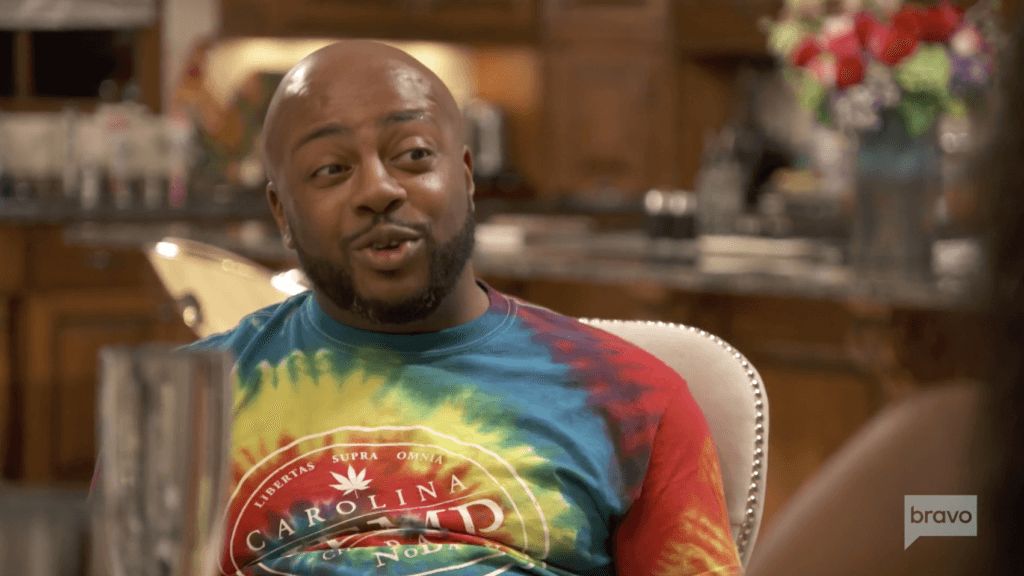 It becomes apparent that the couple are on two separate pages…in two completely different books when Dennis announces that he no longer wants to have a wedding. Dennis pleads his case from a financial standpoint stating that he's "not paying for people's plates that don't really care whats going on." Porsha calls BS on that and says it's really just because he's worried about people passing judgment on him for having a big wedding after cheating on her. DING DING DING.
The conversation goes to hell in a handbasket when Dennis brings up the ugly P-word, prenup. Dennis is adamant that there will be no more talk of a wedding until they can get the details of a prenuptial agreement ironed out. We then learn that after the "cheat breakup" Porsha threw Dennis and all of his belongings out of her house. Ooh spill that tea, hot dog man!!! According to Dennis, this is a prime example of why a prenuptial agreement is needed. Honestly, the man's not wrong.
Porsha Williams, however, refuses to have any part of the conversation. Instead, she storms out of the kitchen but not before taking every single cookie with her. Porsha, girl, have you learned nothing from the Kenya vs Tanya vs infamous Cookie Lady drama?! Ol' Cookie Lady lives right down the road. You better give him ALL the cookies if you don't want him straying again.
Gregg Leakes appears to be the only man on the show tonight who gets to have his cookie and eat it too as his wife Nene Leakes has prepared a night of romance complete with rose petals, champagne and lingerie. The Leakes are celebrating 23 years of marriage and Nene has pulled out all of the stops to make the evening special for her husband.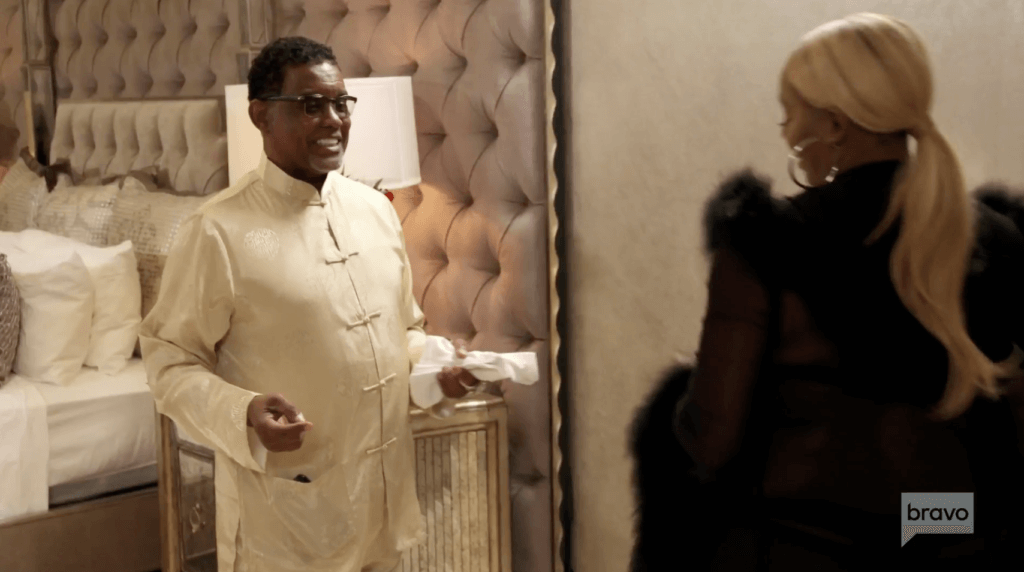 NeNe Leakes confesses that the past year of their marriage has been especially difficult with Gregg's cancer diagnosis. His illness took a toll on many aspects of their marriage including their intimacy as they were no longer able to share a bed together.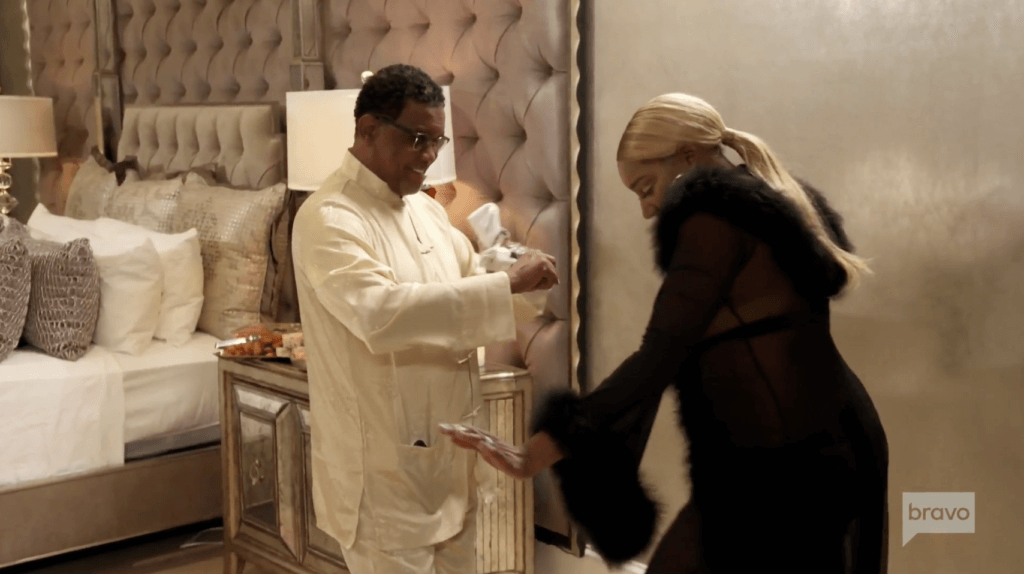 Luckily, the Leakes were able to endure the storm as they have many others over their 23 years together and they're now able to look back at it from the other side. Cheers to the Leakes!
While Kandi Burruss is back in Chicago filming The Chi, Todd is hard at work planning the details for Kandi's themed baby shower. The theme: A Star is Born- complete with a movie set, a red carpet and even "the media." Kandi FaceTimes with Todd and the rest of the Kandi Factory as they complete a walkthrough for the shower. Kandi reveals she feels a little hesitant being away while Todd puts the finishing details on the event, but confesses when all else fails, she knows Don Juan will be there to catch all of the balls.
Meanwhile, Cynthia pays Kenya a visit while Kenya is contemplating what do with all of her estranged husband's belongings. Cynthia comes in and appears shocked to see the amount of clothing Marc had at Kenya's home, citing that she didn't realize he was in Atlanta that often. Yeah Cynthia, you and me both.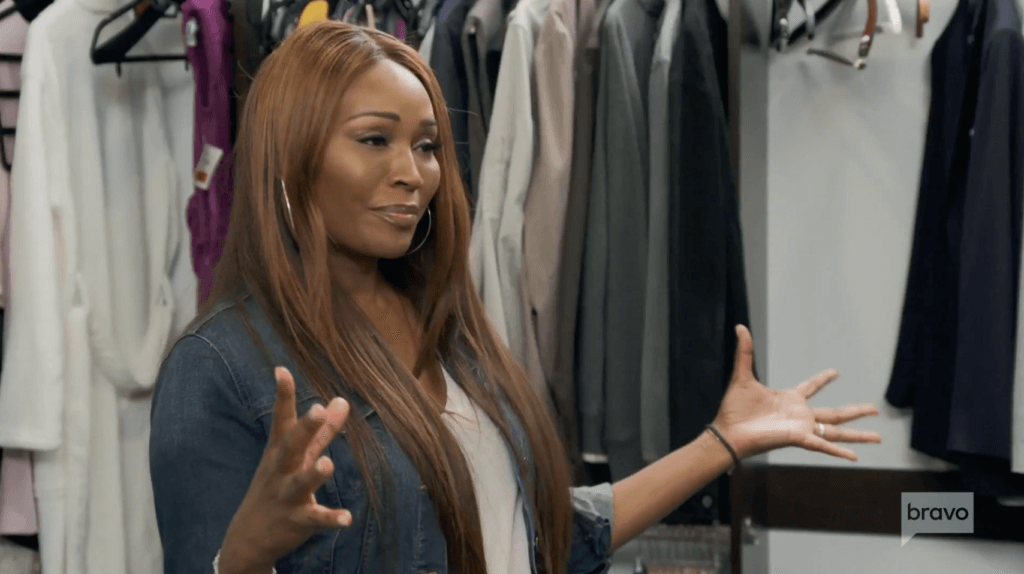 Kenya Moore reveals that she and Marc only communicate through their nanny and that he asked for his clothes but she was ultimately leaving it up to him as to whether or not he actually wants them shipped back to New York. Cynthia gently reminds Kenya that she can't be the only one willing to try and make the marriage work.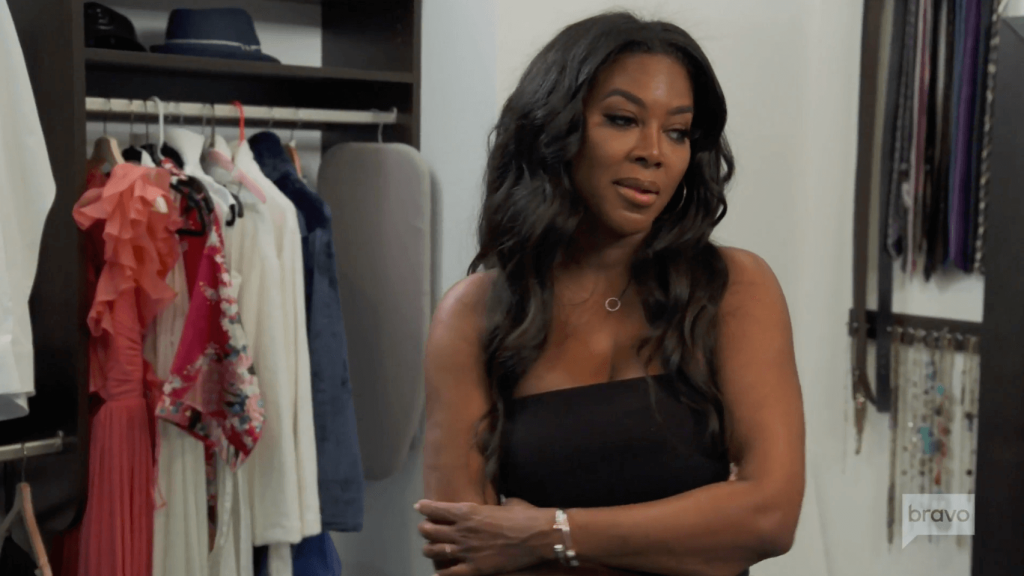 It appears reality is finally starting to sink in for this rather delusional woman and in a rare moment, we witness Kenya break down, sobbing that she had no idea this is what a fake marriage would be like.
Later that evening Cynthia Bailey pays Eva a visit to her new home. Eva appears to be on cloud nine as she eagerly refers to Cynthia as her "new neighbor" but Cynthia makes it a point to mention they live three exits away from one another. Well, that's awkward.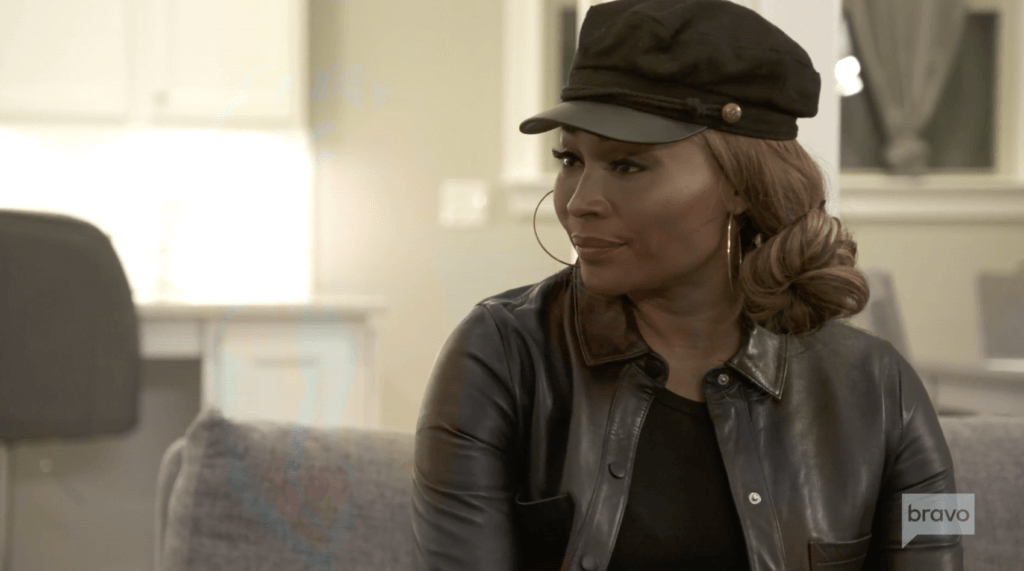 Eva Marcille wastes no time recounting the latest drama with "Marley's donor" aka Marley's biological father, Kevin McCall. According to Eva, Kevin is now pursuing legal action to reverse Marley's legal name change as well as petitioning for custody of Marley. Cynthia feigns shock and surprise, but we know good and well she's already read ALL about it in the blogs. Quit playing, Cynthia.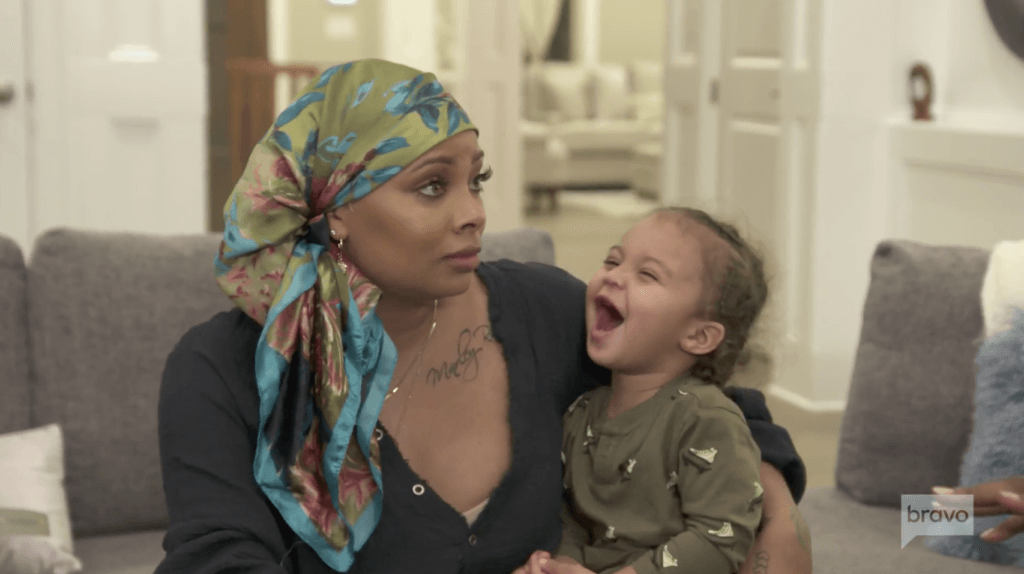 Back at the Burruss/Tucker residence Kandi and Todd meet with a psychologist to discuss their marital issues. The psychologist is quick to point out that their problems stem from lack of communication and advises the couple to make a deliberate attempt to spend more work-free time together.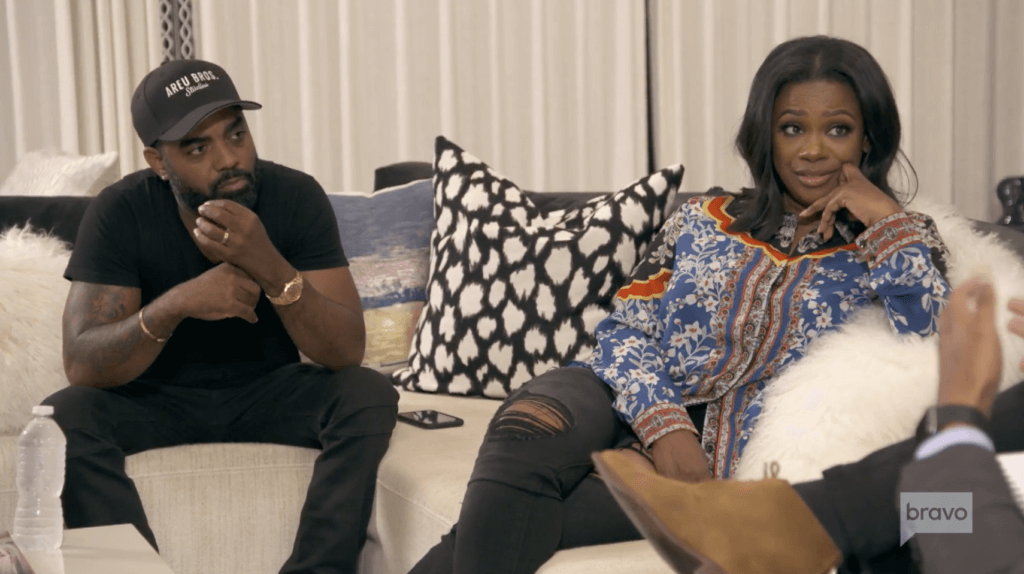 Will Kandi Burruss and Todd Tucker make good on their attempt to save their fledgling marriage? Tune into The Real Housewives of Atlanta next week to watch the season finale.
Stay Connected With All About The Tea: Twitter Ι Instagram Ι YouTube
Amanda Byerly focuses on Reality TV recaps for All About The Tea. Amanda is a 30-year-old wife, mother and self-proclaimed Bravo TV junkie. When she's not watching Bravo, she's writing about it, reading about it, or listening to podcasts about it. "I get by with a little help from Bravo TV."