NeNe Leakes Instructs Kandi Burruss To Call Her Lawyer As Their Feud Heats Up!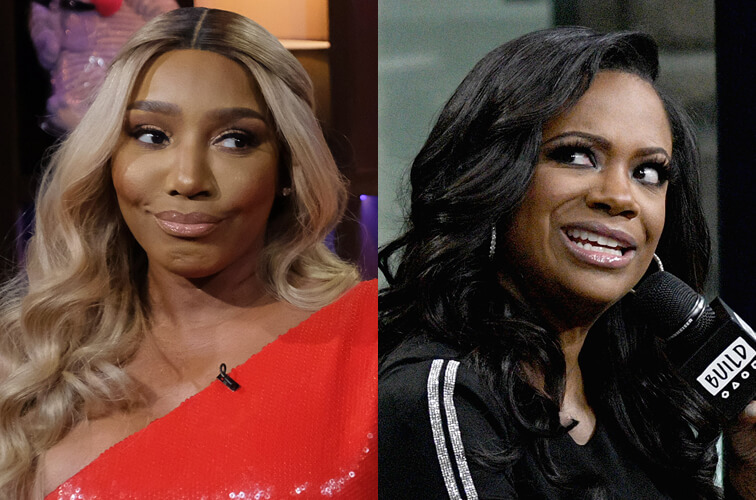 Real Housewives of Atlanta co-stars, NeNe Leakes and Kandi Burruss, have been slugging it out on social media, as the virtual reunion taping edges closer.
As previously reported, NeNe Leakes accused Kandi Burruss of blocking Bravo spinoff opportunities — sparking the online drama.
Kandi Burruss has landed five spinoffs over the years, with a sixth one on the horizon. Kandi's latest project is a new show called "Old Lady Gang," where cameras will follow the ups and downs of her Atlanta restaurant. NeNe's only spinoff project was titled "I Dream Of Nene:The Wedding." 
READ ALSO: Porsha Williams & Kenya Moore No Longer Friends Amid NEW Beef!
NeNe Leakes pointed to a dishy YouTube video during an Instagram Live event with Tamar Braxton — where she hinted that Kandi was thwarting her spinoff ideas. 
"I think me not having my own show has been due to certain people not wanting me to have a show," Leakes said. "I have gone to Bravo about different show ideas. Why only one person gets to do a show every season after our show [RHOA], is weird."
NeNe Leakes never referenced her co-star by name — even denying that Kandi was her target — but Kandi is the only cast member to score numerous projects. 
"To me, it looks really shady for one person season after seasons after season, gets to do a show and none of these other girls get to do anything," NeNe added. "It really isn't my choice. There's definitely a reason why someone is trying to hold you back from not doing something. It feels like somebody is afraid that you will be bigger than they are. A threat, basically, which is so ridiculous, so thirsty of them. It makes no sense to me."  
READ ALSO: Kenya Moore Labels Marc Daly A Violent Monster With Stringent Custody Restrictions
Word got back to Kandi Burruss — and she wasted no time in firing off a response. 
"This video won't be up long but I wanted to address this," Kandi wrote in a since-deleted post. "So Nene Leakes said on her Live with Tamar Braxton that I misunderstood what she said on her YouTube… Now I don't know about y'all but on this video it sounded like a bunch of hating and blaming of a 'certain person they keep giving a show to' as the reason her show ideas aren't happening."
"Am I trippin'? Who is she talking about in this video then? FYI: I don't have the power to stop anyone from doing anything on Bravo," Kandi Burruss continued. "I show support to every project that my castmates do. TV, business, or whatever they are doing, I always post for them even if we don't get along. I don't understand the shade towards me. I stay in my lane and I'm not blocking anyone."
"Anyway Nene, we can discuss this at the reunion but since you talked about it on your Live, I figured I'd help the people get a little clarity on why I feel the way I feel," she added.
NeNe responded — and denied that she was sounding off about the Grammy winner.  
"You love watching my videos," NeNe Leakes  wrote. "If I were talking about you, I wouldn't have a problem telling you. You ain't got no power to stop me from getting anything. Yes, they have [given] you a few commercials (3 episodes). If you feel that this has anything to do with you, contact Lisa Bloom and we can go from there."
"Also, I have been offered many spin-off shows and even gave a million dollars back. If you don't believe that, call Tru Entertainment and Bravo. Bye Kandi man. I'll see you at the reunion."
The Real Housewives of Atlanta airs on Sunday nights, at 8 pm, ET, on Bravo. 
Stay Connected With All About The Tea: Twitter Ι Instagram Ι YouTube