'RHONY' RECAP: Leah Reveals She Was A Drug Addict & Sonja Doesn't Shave Her P*ssy!
Welcome back to the Real Housewives of New York City. We begin with Sonja Morgan and Tinsley Mortimer going to a rooftop bar for cocktails. Tinsley Mortimer complains that Dorinda Medley says she's hard to know. Tinsley thinks of herself as an open book. But Sonja agrees that Tinsley isn't always forthcoming about her private life. For instance, when Tinsley said she and Scott had broken up, she still went on a trip with him. Tinsley insists she's not Scott's mistress. Even if they went on vacay together, they weren't a couple. But Sonja has done the math. Who gets jewelry, dresses, and shoes from her boyfriend after a breakup? Sonja accuses Tinsley of not being truthful. (And she lowkey shades her for being a whore, too.)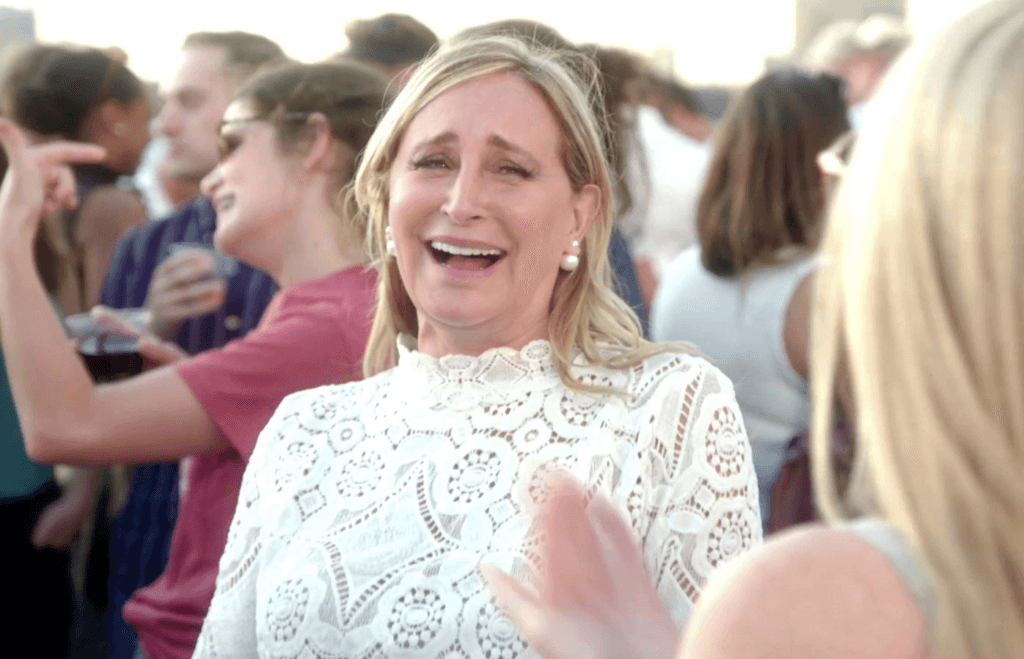 Leah McSweeney arrives and says Tinsley has been an open book with her. So, what's Dorinda's problem? Leah thinks Tinsley confides in her because she doesn't call Tinsley a hooker. That's always helpful in a friendship.
Tinsley Mortimer can go back and forth with Scott if she wants. It's a free country, damn it. She doesn't need anyone's permission to hookup with her ex, thank you.
Leah McSweeney takes this opportunity to show off her tattoos. She's getting her tramp stamp, which spells out her name, removed. Sonja thinks tattoos are self-defecating. No, Sonja. You mean self-mutilating or possibly even self-deprecating — which doesn't make sense either. Sonja says she would never screw a man who had tats. Riiiight.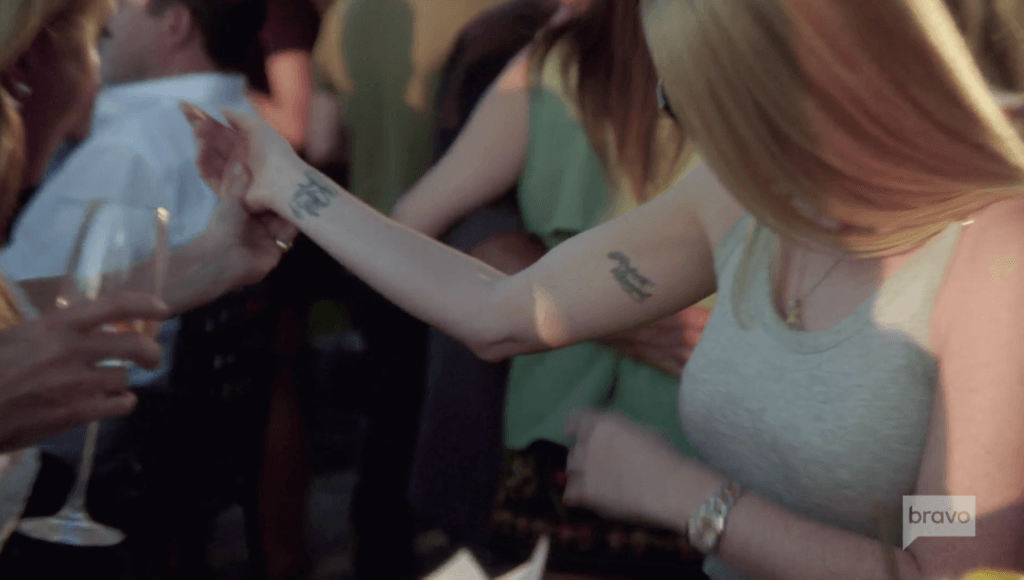 At Dorinda Medley's apartment, she forces her maid to pack for her. She's getting ready for a trip to the Hamptons with the girls. For once, they're not going to the Berkshires, and Dorinda is happy to give up hostessing duties to Ramona Singer.
Luann de Lesseps meets Ramona for dinner. But along the way, Ramona stops at the bar and gives a man her number. Hey, it's all about priorities. If Ramona stops flirting, she'll die, much like a shark that stops swimming.
Luann de Lesseps admits she wants a boyfriend. She and Ramona are both using the law of attraction to call men into their lives. Ramona even has a dream board except she calls it a storyboard. She wants to travel and get a ring from a special man. Lu wonders if Ramona has added dick pics to the board. Why not?
For the upcoming weekend, Ramona Singer has already decided to give Lu the room with a separate entrance, just in case she wants to sneak a man home for the night. Lu insists she doesn't need special treatment. Um, excuse me, Countess. Last season you had a freaking hissy fit when you were delegated to the fish room. I know Lu's trying to do some damage control from last year, but we all know she expects the best room in the house.
Ramona Singer has invited Leah for the weekend. Lu likes Tinsley's new friend. After all, they're both jailbirds. Nothing bonds you like a little time in the big house.
Next, Tinsley Mortimer handfeeds her new fur babies, Strawberry and Shortcake. But since they only understand Chinese — she got them on a charitable trip to China — they don't understand her commands. Or, like everyone else on this show, they could just be ignoring her.
Sonja Morgan's car stops to pick up Dorinda to take them to the Hamptons. Sonja's brought along her dog for the weekend. Dorinda brought flowers and three vibrators. How many orgasms does she need this weekend? Is she worried about those suckers shorting out?
At her summer home, Ramona unpacks a mass of food as she yells at her aged dog, Coco. Coco's a little deaf, so Ramona has to scream at the poor thing.
Leah and Tinsley ride together. Tinsley's a bit sick. She's on the verge of losing her voice. As they travel, they talk about the way Dorinda treated Tinsley at the party last week, and Tinsley promises that if she loses her voice, she'll fight for herself using a white board.
Dorinda Medley admits she didn't get a chance to know Leah at the party. She was predisposed not to like her because Leah is Tinsley's friend. But this weekend, she wants to make more of an effort. Sonja tattoo shames Leah, telling Dorinda about the tramp stamp. They decide Leah is "ganster." No. No, she's not.
Dorinda and Sonja arrive at the house first. Dorinda delivers yellow flowers and a frozen booze machine. Frozen wine for everyone! Well, except Luann. And maybe Leah. Anyway, Sonja points out that her chiropractor told her to stick to clear alcohol. Wine is poison, but she's willing to risk it.
Luann de Lesseps arrives next. She and Dorinda share a big hug. Then Leah and Tinsley come in last. They greet everyone on the back porch. Dorinda and Tinsley speak, but they don't share a hug or kiss as Tinsley does with everyone else.
Ramona Singer tells Leah that she has free access to the house. Anything she wants, she can have. She shows the women their rooms, which are tastefully decorated in shades of gray. And when Lu realizes she's stuck in the basement, away from everyone, she's not happy. What happened to snagging the best room in the house? Ramona told her she'd have privacy, which is what Lu said she wanted. But Lu thinks the basement suite is an insult. And it's too cold down there! 
Dorinda tells us that life at Bluestone Manor has been a disaster lately. Because of flooding, she had to rip out the heating system and the electrical. She's feeling overwhelmed by it. She talks on the phone, crying about how much stress she's under.
Dorinda and Sonja head to the backyard and watch the pool man skim the water. Dorinda is so stressed out by all the demands on her time and wallet, she doesn't feel like herself. Her budget for the remodel is blown, she has to make major decisions every day. Plus, she's shouldering it all alone. If only she could offload some of the pressure. Dorinda doesn't feel like her nice, normal self. She's mean to everyone.
Her boyfriend, John, has never been married. Never had kids. He doesn't understand these real adult problems. Doling out twenty-thousand dollars here, ten-thousand dollars there — it's getting to her. Tinsley and Luann join in, and Dorinda shares some of her woes with them.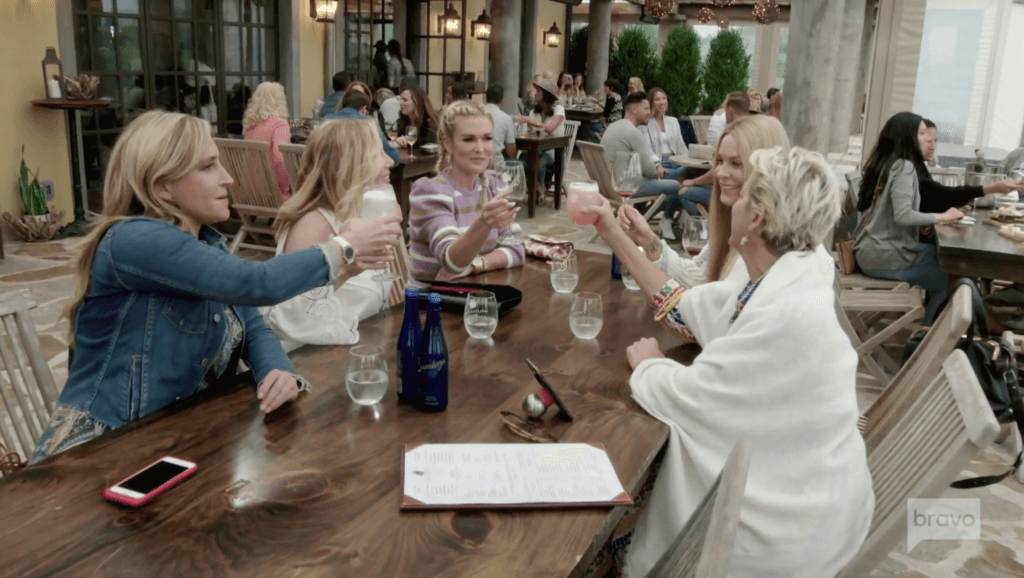 Inside, Leah gives Ramona a hostess gift — a candle. They discuss Leah's transparent black bucket hat. Ramona loves fashion (not the hat, per se, but fashion in general). She used to be a buyer for Macy's and then started her own business. She's been working since she was sixteen. Topping her, Leah claims her parents threw her out of the house when she was seventeen, because of her drug and booze habit. Leah was going through a rebellious phase. She didn't want to move from NY to Connecticut. But now she thinks having independence at an early age was good for her.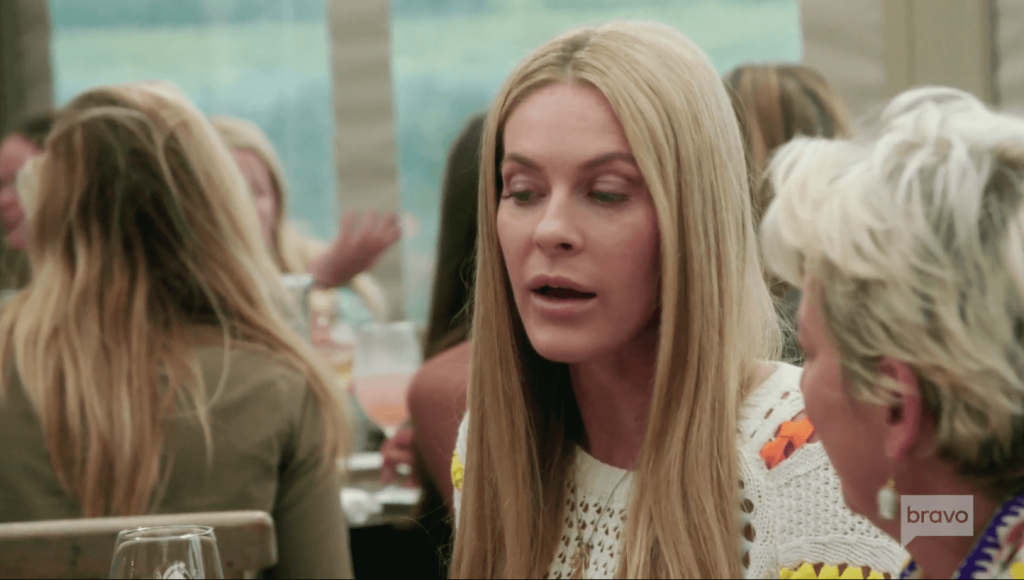 They head outside to meet up with the other women. Sonja also questions Leah about the see-through hat. Leah doesn't mind. You can question her clothing choices, but don't question her character.
Then Ramona brings up the tattoo situation. Leah says everyone has a tat these days. It's hardly novel. Sonja disagrees, and Ramona might not know what a tramp stamp is (yeah, right) but it doesn't sound very ladylike. Lessons on being a lady…from Ramona. Oh, the irony. But the women note that Ramona must like Leah because she remembers her name, and she never remembers anyone. Dorinda points out that if Ramona has a bout of memory loss, all Leah has to do is bend over and flash her slag tag. How rude! Leah is offended at Dorinda's joke. After all, they barely know each other.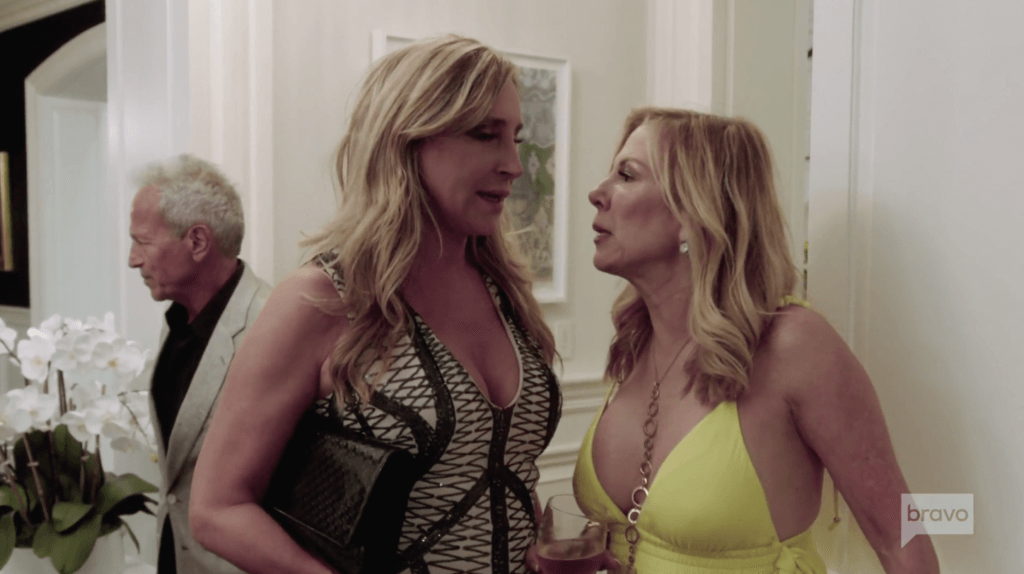 Dorinda Medley goes inside to take a nap, and Lu heads down to the dungeon for a rest. Once they're gone, Leah says all this tat talk is stupid. Sonja shrugs, then she heads indoors, too.
Ramona says she didn't hire any domestic help for the weekend. When her daughter, Avery, and her friends come for a weekend, they always tidy up after themselves. So, Tinsley and Leah gamely agree to clean away the mess everyone has made. While Ramona sits and drinks wine.
Getting ready for dinner that night, Leah facetimes her daughter. Kier whines that she doesn't have any friends in her classes. She hates everyone. Leah was a downtown girl who attended Catholic school, and she always felt weird and ostracized. She tells Kier to give it some time. She'll make new friends.
As Tinsley fixes Sonja's false lashes, she wonders why Sonja spilled the tea about Leah's tattoos. Dorinda made a dig about them at Leah's expense. Sonja reminds Tinsley that Dorinda has been super stressed lately. Doesn't matter, according to Tinsley. She needs to stop being bitchy to the new girl.
Leah McSweeney joins the two. Sonja offers up the excuse for Dorinda's behavior. Leah doesn't want to hear excuses. She's having a bad time, too. She misses her kid, the same kid who had a bad day at school. And you don't see her acting bitchy over it.
Sonja, who can't keep her mouth shut, heads to Dorinda's room for a hairbrush. Sonja tells her that Leah was upset by her tattoo comment from earlier. But when Dorinda was a kid, the people with tattoos were criminals. Besides, she didn't insult Leah — at least not on purpose. Dorinda could barely recognize Leah in a lineup. And does that newbie even have a voice? Because Dorinda hasn't heard it.
Upon descending the stairs, Dorinda confronts Leah immediately. The older ladies don't have tats. So, she was surprised that Leah had one. Leah claps back. She didn't like the comment about bending over to see her tramp stamp. 
Dorinda points out that Sonja thought Leah had her name inked on her back so her partner wouldn't forget it as he's fucking her. Um…not making things better, Dorinda.
Dorinda doesn't even know Leah, so why would she go out of her way to insult the new girl? Leah thinks Dorinda hasn't taken time to get to know her. And so we're at an impasse.
Ramona scoots everyone out the door or they'll be late for dinner. Leah and Dorinda take separate cars to the restaurant. Leah continues to bitch to Ramona and Luann about Dorinda's tacky comment.
Everyone heads into the restaurant, and Ramona meets and greets several acquaintances inside as the rest of the women are shown to the outside dining area in the back. Sonja thinks Ramona is too schmoozy and doesn't approve of her friend gadding about.
Leah and Luann choose virgin cocktails. Luann is glad to have a sober buddy. With her mocktail in hand, Luann makes a toast. She admits her life fell apart last year, and she excluded her friends during the bad times. She now wants to make amends and thanks them for their support.
The women all share food. As they're eating, Ramona gets a phone call and invites her friend to come over and visit her at the restaurant. Dorinda has a problem with that. She wants Ramona to be present and enjoy the friends who are here with her right now. Ramona likes being social. Leave her alone already.
Dorinda now takes on Sonja. She says Sonja was stirring the pot earlier that afternoon by telling the girls about Leah's tattoo. Leah says that she and Dorinda should just speak to each other personally, without bringing in a third party.
Dorinda admits she was unfair to Leah. The new girl can hold her own, and that earns Dorinda's respect.
Ramona offers to scope out the room for available men. She bends over and flips her hair, then heads into the building to look for single guys. We're not sure if she finds any, because that's the end of our episode.
So, do you think Luann should have been stuck in the basement? Was Dorinda out of line for her tramp stamp comment? And what do you think of Leah?
Stay Connected With All About The Tea: Twitter Ι Instagram Ι YouTube
I'm a fiction writer by day and a reality TV addict by night.