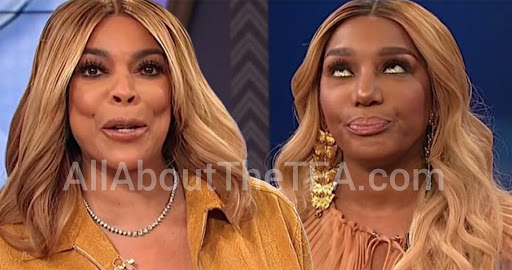 Wendy Williams returned to the airways on Monday — and marked her comeback by slamming Real Housewives of Atlanta star, NeNe Leakes.
In the Hot Topics segment of her show — The Wendy Williams Show — she unleashed on NeNe Leakes for trying to ambush her with a FaceTime call, while streaming live on Instagram. 
"You know I don't have face or time for FaceTime, period," Wendy Williams snapped. "If I don't do it for my own parents of the show, why would I be doing it for someone over there. I like NeNe Leakes, but she's still an over-there person to me!"
Kim Zolciak-Biermann was slated to appear on NeNe's Friday night Instagram livestream — but her appearance was postponed, due to technical difficulties. Wendy said that she was watching the news when NeNe unexpectedly called. Viewers know that Wendy appeared on the Real Housewives of Atlanta via a speakerphone chat with NeNe — but that didn't stop her from labeling  NeNe's latest phone-in an ambush. 
"Honestly, here's where the ambush comes in. She said, 'Wendy, look' — she was in hair and makeup and wardrobe with all her people — she said, 'We filming and I want you to be on the speaker.' I said, 'NeNe, I did that for you one time.' Remember my appearance? One time!"
"I made it very clear, I am not a Housewife," Wendy added. "Sorry, my career is a bit … different … than being a Housewife. I don't need that kind of attention."
"Like, I know I make this look easy and I know I have my ratchet ways, but the fact is I worked 35 years of my life to sit here for 11 seasons," Wendy said. "It's a full motion picture behind the scenes. I'm not slumming for being some add on out the suitcase for some Housewife. And yeah, for me, that is slumming. For where I am."
Wendy Williams added that she hung up on NeNe — and has not spoken to her since.
"As far as I'm concerned, I don't want to do anything," Wendy said."People have said to me before, 'Watch NeNe' and I said, 'Why? We're just two girlfriends hanging out.' But I do feel ambushed."
Wendy gave NeNe a snarky lesson on shared phone call protocol — but dissed the idea of being a Housewife add-on.  
"Here's protocol: when you call someone and you want them to participate in something, you call them off speaker in the other room first. 'Wendy, I want to record with you, do you think you could?' And I still would have said, 'No NeNe, I'm not a Housewife,' " Wendy remarked. 
Watch Wendy Williams go off on NeNe in the video below.
On Monday afternoon, NeNe Leakes clapped back at Wendy's public smackdown in an Instagram meme that insinuates Wendy Williams privately apologized for her overreaction, "Public Disrespect And Private Apologies Don't Mix." NeNe captioned the post with, "🤔🤔🤔🤔 No Thank You…but anyways check out www.colormanewigs.com www.ladiesofsuccessmiami.com download my new single HUNNI on ITunes April 12th."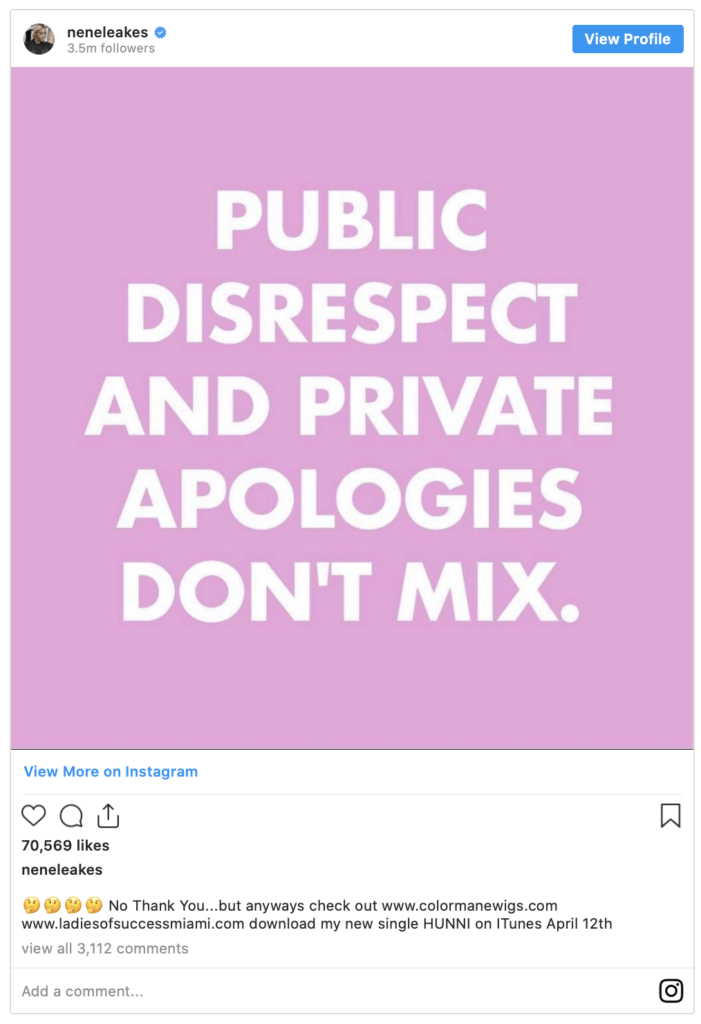 NeNe Leakes further addressed the scandal by going live on Instagram. Press play below to watch.
Wendy Williams and NeNe Leakes have scrapped in the spotlight before — will their friendship bounce back again? 
The Real Housewives of Atlanta airs on Sunday nights, at 8 pm, ET, on Bravo.  
Stay Connected With All About The Tea: Twitter Ι Instagram Ι YouTube