RECAP: Reza Breaks Down in Tears Over MJ Drama Fallout On 'Shahs of Sunset'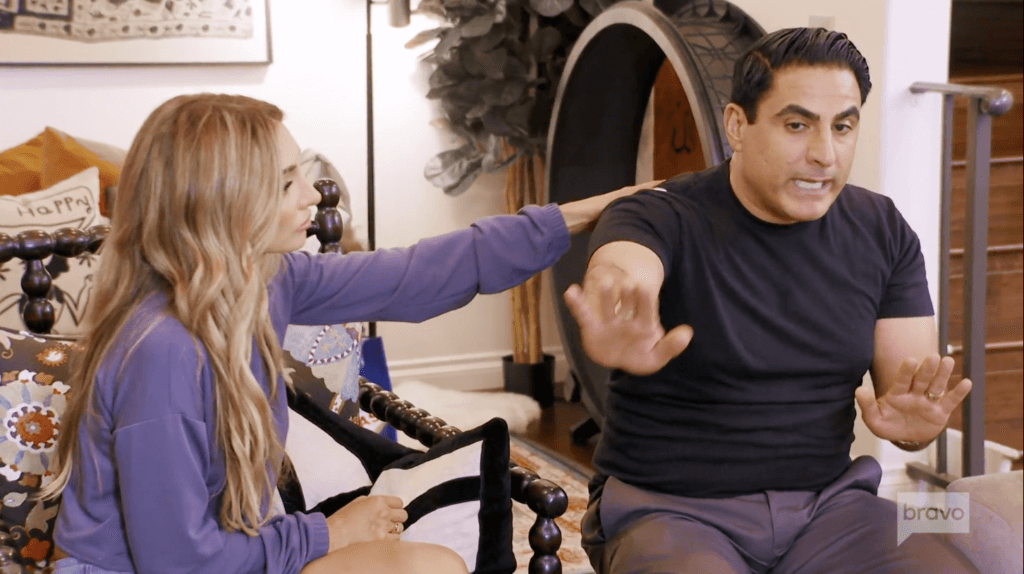 Welcome back to the Shahs of Sunset. Friday night's episode opens with Destiney Rose meeting up with her sister, Cat. Destiney fondles her own boobs, apologizing for her hard nips. Then, as a relapsed Muslim, she orders bacon. Destiney talks about the drama with her friends over spilling the tea about Adam and his naked Jenga/sexting habits.
Destiney Rose also fills Cat in on her one night with Sam, Sara Jeihooni's brother. Her sis takes Destiney's tale of a one night stand in stride, and can't figure out why Sara has trouble with the matchup. Cat says Des should live her life, sistah, and don't worry about anyone bringing her down.
Golnesa "GG" Gharachedaghi and Sara go to a Reiki practitioner. After her miscarriage, GG is looking for some healing, both physically and emotionally. She wants to know why she couldn't carry the baby. She finally admits to Sara what happened. The baby is still stuck in her tube, and GG's waiting for the medicine to dissolve the fetus. 
The healer invites the girls to take in his energy. He waves his hands in front of GG's hooha. Then she lies down and feels his invisible power of energy transference. Good news! GG's chakras are open. It's going to take three months to heal from her ectopic pregnancy. The healer says this will be a time of much positive energy for her. So, there you go.
Reza Farahan and Adam are driving to a car dealership, while Reza talks to Nema Vand on the phone. Nema tells about his talk with Mercedes "MJ" Javid at her mom's retirement party last week. He got MJ's side of the story and refuses to choose between his friends. Nema is still on his 'let's give peace a chance' kick, but Reza isn't having it. He wants no part of MJ. And don't forget MJ's husband, Tommy, butchered Reza's cacti! Reza warns Nema that his interference is making things worse. Reza doesn't want help. He just wants everyone to stay out of his business.
Nema heads to a martial arts center. He's been taking lessons for a year, but he can't tie the belt on his gi. And that's just sad. Shervin Roohparvar meets with him and they begin warmup routines. Then they start sparring with one another on their knees. Nema is easily bested. He blames Shervin's sweaty palms and bad cologne for his defeat.
Nema tells Shervin all about his convo with Reza. He suspects Reza's marriage is falling apart, and he's being defensive to cover for it. Nema actually feels sorry for Reza and doesn't want to ruin their friendship. 
Mike Shouhed arrives at his mom's house bearing a bouquet of flowers. They've set out a spread for him, including shelled pistachios. He asks his folks if they like his new girl, Paulina. They remain silent and stare at him. He reminds them that Paulina is Persian and Jewish. He tells us that his parents don't think he can maintain a long-term relationship. Mom counsels him to take his time and not rush into a relationship.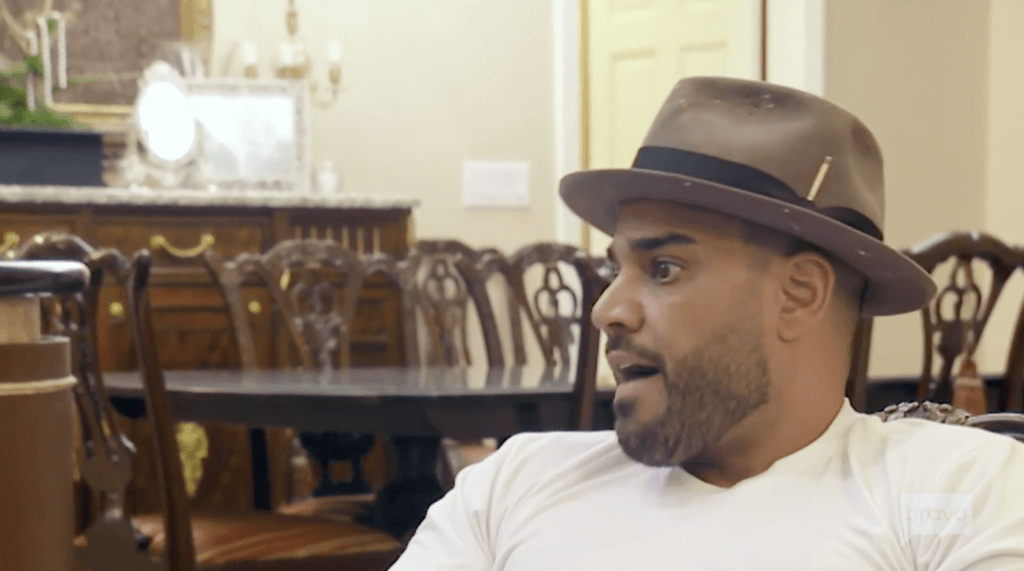 Talk turns to the duplex Mike is supposed to be renovating. Mom wants him to sell the permits and the land. She doesn't have much faith in his ability to work on this project, either. Basically, Mike's a deadbeat in every aspect of his life. And his parents know it.
Mercedes "MJ" Javid  and Tommy take the baby to the therapist's office — not that the baby needs a therapist. Yet. MJ isn't used to maneuvering a stroller. She bumps into walls and chairs and doors. Tommy meets with the therapist first. He lost his mother when he was a child, and after going through the life-threatening surgery with MJ, those old feelings rose to the surface. He feels unsettled about the future. He's angry and stressed. The therapist diagnoses him with PTSD. MJ wants to keep moving forward and not linger on the negative. They're hoping that the counselor can help them communicate better.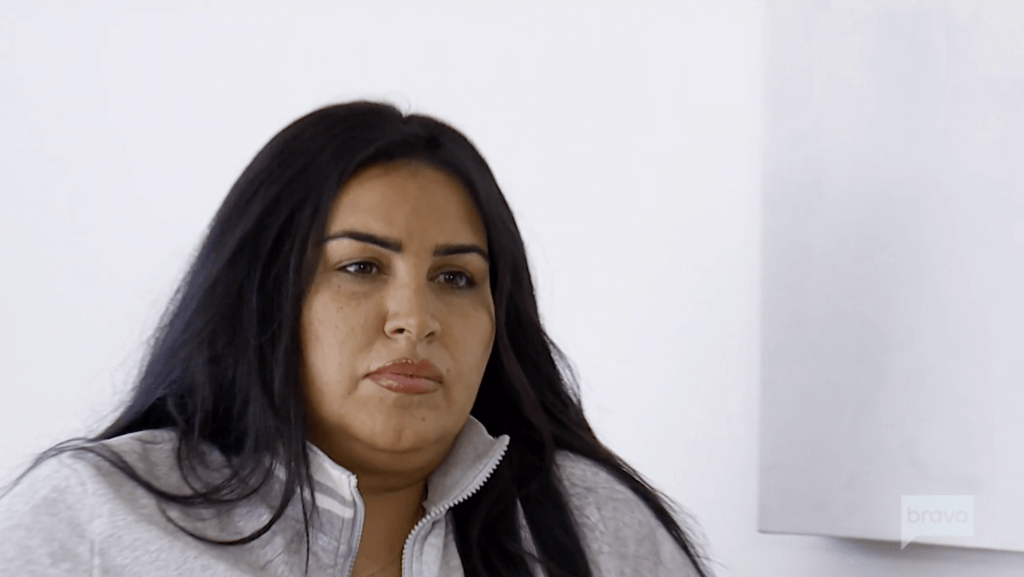 Reza Farahan and Adam go car shopping. Reza's looking for a new ride for his mom. He bought her a car back in 2007, and she's ready for an upgrade. He tells us how his mom, who had little English and had been abandoned by Reza's dad, pulled it together to take care of him and his sister. He adores her.
Adam doesn't know the first thing about cars. He asks stupid questions, which Reza quickly shoots down. Reza used to car shop with Mike, but since he hasn't sworn blind loyalty over MJ, Reza's cutting Mike out of his life. Reza's blocked him, along Shervin and Nema from his phone and all social media. 
Next, Mike drives over to his property, and it's a shit show. There's trash all over the place, including a blender motor in the back yard. He wishes Reza would help him with this reno, but they're on the outs because he won't choose sides in the Reza/MJ showdown.
Mike meets with the appraiser. If the property is worth more than three million right now, his mom wants to sell. Mike says she likes to play it safe, while he wants to take risks. But it's easy to take risks when you're using other people's money.
The appraiser doesn't give Mom the answer she wants. It's only worth two to two-and-a-half million. So now, Mike's going to overhaul this space and hopefully make ten to twelve million out of it. But even the appraiser looks at Mike in a funny way when he admits he's the project manager. Does Mike know what he's in for, does he understand all the intricate details a redo like this takes? No. But he'll figure it out along the way. Sure, he will.
GG left her Reiki healer and was in such pain, she drove herself to the hospital. She was taken immediately into surgery where the doctors removed both of her fallopian tubes. Now, she can never get pregnant in a natural way. She says she got pregnant too many times on accident and used abortion as birth control. This, she tells us, is karma.
Shervin and Mike ride together to go see GG. They discuss her ectopic pregnancy and surgery. The last time Shervin had anything to do with GG, she texted him, telling him to keep her name out of his mouth. They guys don't understand how she can get pregnant again if she has no tubes. Female anatomy is hard, y'all!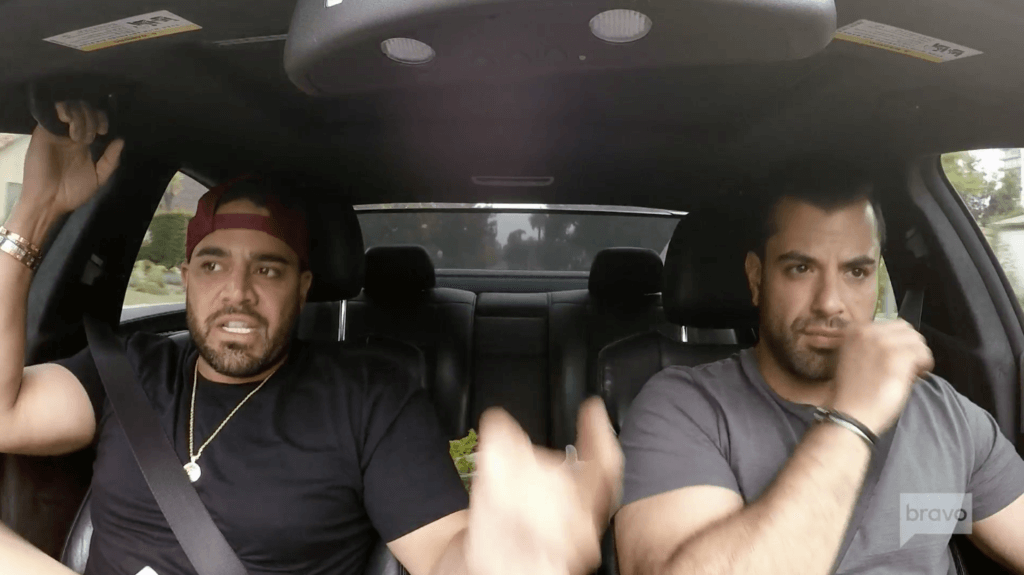 At GG's condo, she can barely walk, she's in such pain. But she can still manage to toke up. Nema drops by to check on her. Destiney, dressed in a Party City nurse uniform, arrives, too, bringing cake. Destiney brought a Mardi Gra mask and purple boa for GG, along with wine and prunes. 
GG has had a life change over this latest medical crisis. She's not angry about her new normal. She's ready to heal herself. 
Mike and Shervin are still careening through the streets. They're disgusted with Reza's bad attitude. How dare he block them! Mike is sticking to his guns, refusing to choose between his friends. He points out that he's been hurt by both Reza and MJ in the past, and he got over it. Reza should be able to do the same.
At MJ's house, Tommy is unpacking the new baby carrier. They're waiting for his attorney to drop by. (Attorneys make house calls?! That costs extra, right?) He points out that MJ didn't fix any food for the lawyer's arrival, but when her friends come over, she puts out a spread. So, she gets in the kitchen and throws together a charcuterie. She literally tosses mounds of food on a cutting board and serves it. It looks like a pile of cat food.
Tommy has a civil and criminal case against him. He's been charged with vandalism. The restraining order is part of the civil case. They're hoping the lawyer can get him out of this jam. Polina, the attorney arrives, wearing a short, lowcut black dress that would not pass muster in Judge Judy's courtroom.
Mike, Shervin, Sara, and Reza finally show up at GG's. She wants her friends to understand that she's been going through a serious situation. What they're going through is nothing compared to her life-threatening struggle.
GG explains her surgery with everyone. Destiney cries. The boys are quiet, not sure what to say. GG couldn't even celebrate her short-lived pregnancy before she lost her reproductive organs. She now realizes that she misses her friends. She and Shervin have always been close, but when he started his own pot business to rival hers, GG cut him out. Now, she wants to make amends. Will this be a wakeup call for Reza?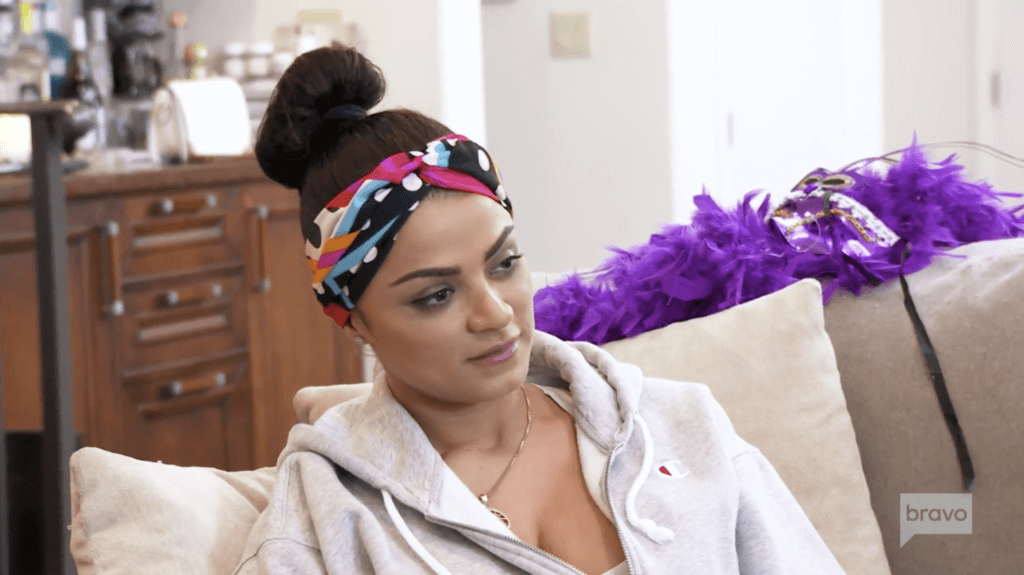 Not at first. Reza tells Mike he has no compassion. Reza denies making Mike and Nema choose sides. Nema apologizes for trying to bring MJ and Reza back together. Reza says he just had to shut them out to stop all the noise. He was in a dark place. Once the accusations of sexting came up, he and Adam started talking divorce. Again.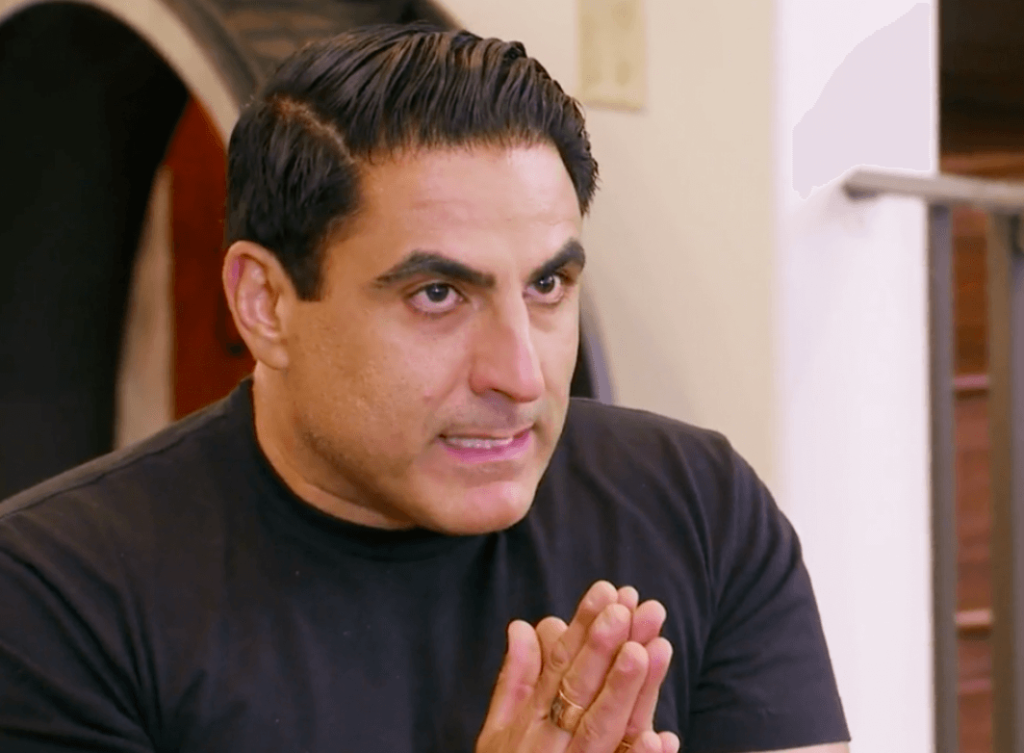 Reza has needed his friends to give him a hug and understand his pain. But Mike is over this bullshit. GG encourages calm. Reza gets mad and walks off, as he swipes his eyes and nose.
Mike is used to Reza doling out tough love. Friends tell each other the truth, but apparently, Reza can't handle the truth. Mike goes to Reza and they meet face to face. Reza is now changing his story. He only wants support. He felt under attack. He didn't mean to cut everyone out. He admits he said vile things to MJ at the pool party, and now he's sorry for putting his friends in the middle of his beef.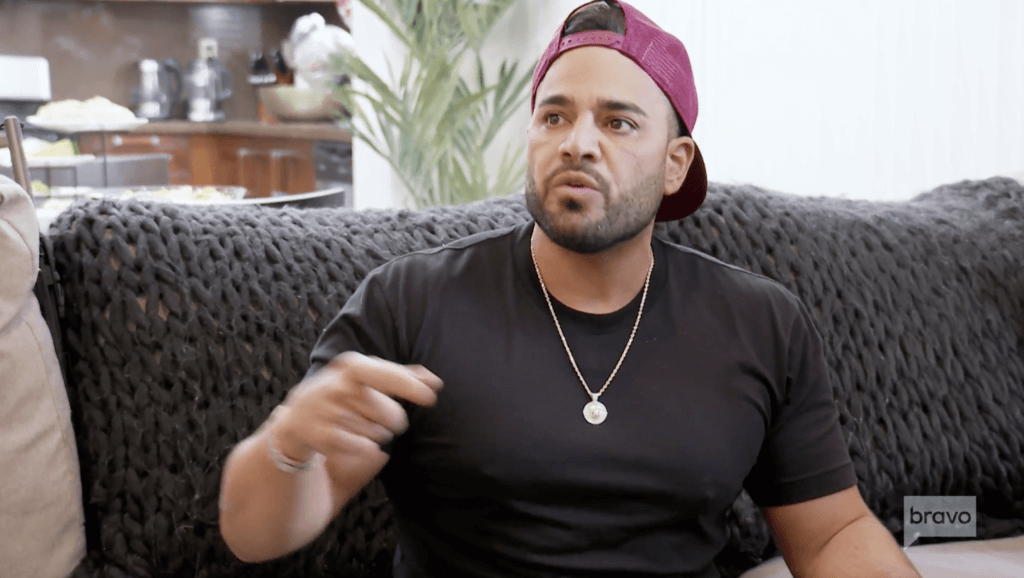 Mike and Reza hug. Nema and Shervin join in. Reza admits he needs to talk to MJ and work this out.
Back at MJ's, they discuss Tommy's future. Even if Reza drops the restraining order, Tommy still has to go to court over the vandalism charge. Any damage over four-hundred-dollars is a felony. Tommy could get time in county jail. MJ doesn't blame her husband's hot temper. Instead, she blames Reza for calling the police.
So, do you think Reza Farahan and Mercedes "MJ" Javid will reunite? Was he right to block the boys? And how badly will Mike screw up this renovation? I can't wait to find out!
Stay Connected With All About The Tea: Twitter Ι Instagram Ι YouTube
I'm a fiction writer by day and a reality TV addict by night.