Vanderpump Rules
Tom Schwartz Apologizes To Wife Katie For Saying He's DEEPLY Turned Off By Her & Calling Her Gross!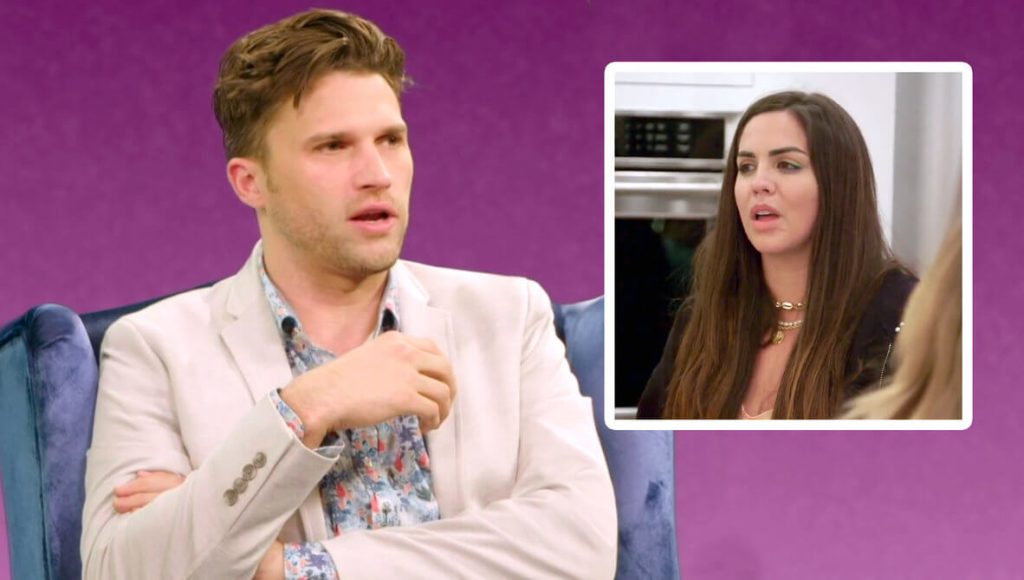 Tom Schwartz admitted that his wife, Katie Maloney Schwartz deserved an apology, after he stepped out of line on this week's episode of Vanderpump Rules. 
Tom Schwartz expressed remorse for his mouthy behavior on Tuesday's at-home edition of Watch What Happens Live. 
"Way out of line, way douche-y," Tom Schwartz said about his behavior at Jax Taylor's birthday party. "I was hammered. We'd been drinking all day, which is usually a recipe for disaster within the confines of our relationship."
The couple clashed after Tom Schwartz began insulting Katie for not finding a practical joke funny. Katie wasn't a fan of Tom Sandoval's fake arrest — the latest stunt in an ongoing prank war. She voiced her opinion — which invited a harsh response from her husband. 
"This s— is actually annoying to me," Katie Maloney Schwartz told the group, adding in a confessional spot, "Like, turn on the news."
Press play below to watch.
Tom Schwartz told his wife to "shut up," adding — "You're ruining a great moment. We're laughing. Nobody gives a s — about your opinion."
Tom Schwartz left Katie in tears after taking his nastiness to another level. 
"I've never been more turned off in my life," he added. "That's why I don't have sex with her."
"I don't know, it's something about the way she responded that rubbed me the wrong way," Tom tried to explain, on WWHL. "I tried to explain to Beau the next day — first of all, I know I was wrong — but at that moment I saw her as the embodiment of a YouTube commenter, recreational outrage…"
Tom admitted that he was way out of line, and apologized to Katie.  
"I'm so sorry! I'm sorry, I love you," he said. "I was way out of line."
Tom and Katie have a volatile filmed history, but Katie told People that their relationship was strong, after they wed in 2016. 
"Nothing has changed our dynamic or we're not different people, but overall our approach to our relationship is very different," she said at the time. "There's not as much pressure or ultimatum, we're just settling in to spending the rest of our lives together."
Vanderpump Rules airs Tuesdays at 9 pm, ET on Bravo.
Stay Connected With All About The Tea: Twitter Ι Instagram Ι YouTube