'RHONY' RECAP: Dorinda Medley Goes After Tinsley Mortimer On Season 12 Premiere!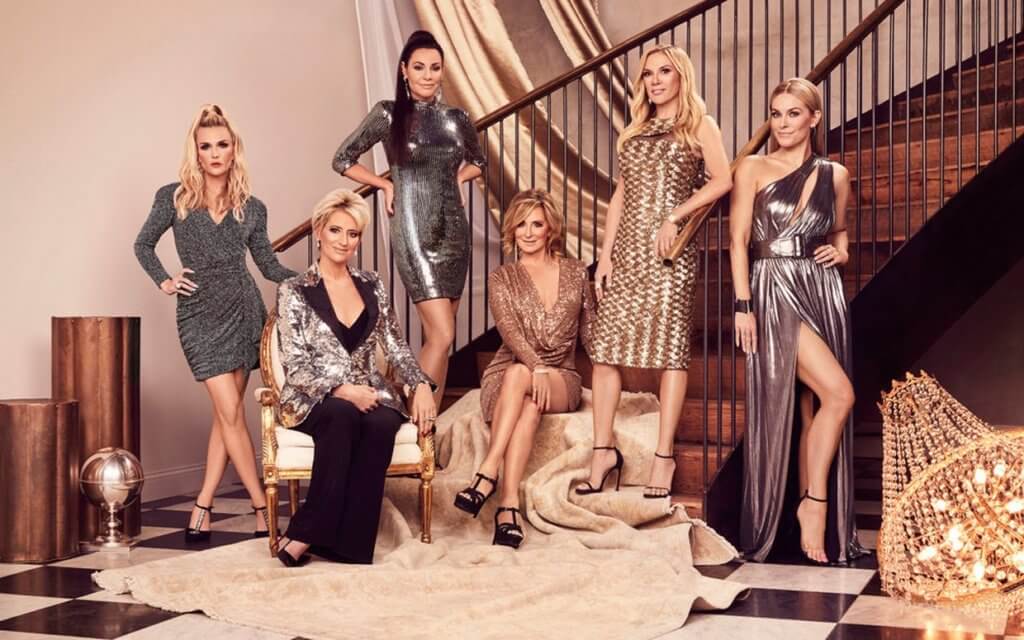 For Bravo fans, the return of the Real Housewives of New York City is a welcome relief in dark times. These ladies are straight up bonkers, and I'm down for their adventures. Especially given the fact that Bethenny Frankel's overwhelming presence won't be felt this season.
So, let's jump in! We start by seeing all the women glancing at their phones in shock. Apparently, Bethenny Frankel didn't warn her costars of her decision not to return to the show. Ramona Singer says it's an F-you to the cast, but she thinks it will be better for the show.
Dorinda Medley wants to do some online research to find out why Bethenny bailed. Sonja Morgan feels abandoned. Luann de Lesseps isn't that sorry to see her go. Even though Bethenny helped get Luann into rehab and found her a lawyer during that awkward lawsuit between Lu and her children. See ya later, B. Don't let the door hit ya on the way out!
We get the ladies' opening lines. Sonja Morgan is still plugging her lifestyle brand. Dorinda claims she's never wrong. Ramona isn't looking for love because she loves herself. Newcomer and fashion designer, Leah McSweeney, says she'll sting like a bitch. Tinsley Mortimer wants her fairytale ending. And Luann talks about taking center stage in her own life. Okay, then!
We catch up with Luann de Lesseps coming out of court. Sonja accompanies her and they hug it out on the court steps. Luann is free from probation. She tells the coffee truck guy that she's finally done with the penal system. No more blowing into alcohol monitors. Her blowing skills will be put to better use.
More importantly, Sonja has had some face work done. Like her muscles literally don't move. There's some serious filler action happening. She tells Lu that during this difficult time, Lu treated the ladies like shit, and Sonja doesn't appreciate it. I think we all remember the cabaret tantrums from last season. We see Lu's freakout over being forced to stay in Dorinda's fish room. And the way she dragged Sonja to an AA meeting, then left her to go look at herself on a poster at her upcoming venue. She was a mess. Oh, Luann. You self-serving, narcissistic queen of denial. Welcome back to my TV screen!
Tinsley Mortimer takes her Chanel bag to the boxing gym to meet up with Leah. She's over boyfriend, Scott, is working on her false eyelash line, and made a trip to China where she returned with two new puppies and thankfully, not a case of coronavirus. Plus, her ass is banging.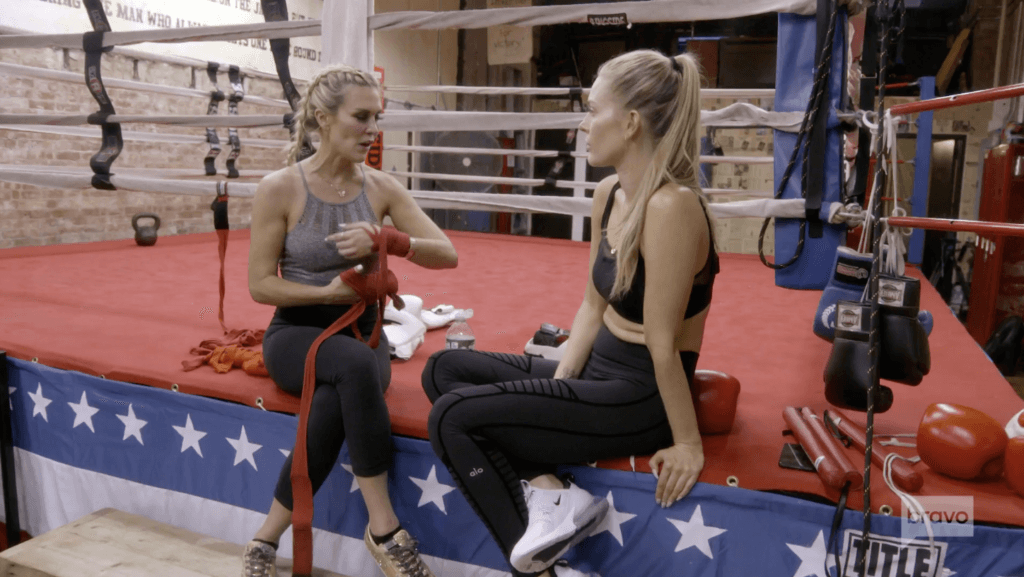 She hops in the ring with Leah. Martin, the trainer who looks like he stepped out of a cave yesterday, tells her take out her earrings. Don't you get it, Martin? Those hoops are Tinsley's signature look. Who is she without her hoops? Martin doesn't give a shit about her existential accessory crisis. But what Tinsley lacks in form she makes up in enthusiasm. And when she pops Martin across the face, she's proud of herself. Then she quickly scrambles out of the ring in terror.
Tinsley is now dating a guy named Bruce, and he's also from Chicago. He's got a couple former wives and two kids. Is this a match that will last? Well, she hates the name Bruce and she talks to his kids like they're puppies. So…you do the math on that one.
Leah McSweeney tells Tinsley she needs to have a relationship with herself first. Dudes are great, but they won't fulfill you. Which is what happened to Leah's relationship. She and her man had a great vacay in France, but he's still married and the divorce is on hold. So guess what? Her cookie is off limits. She doesn't need a man to have orgasms!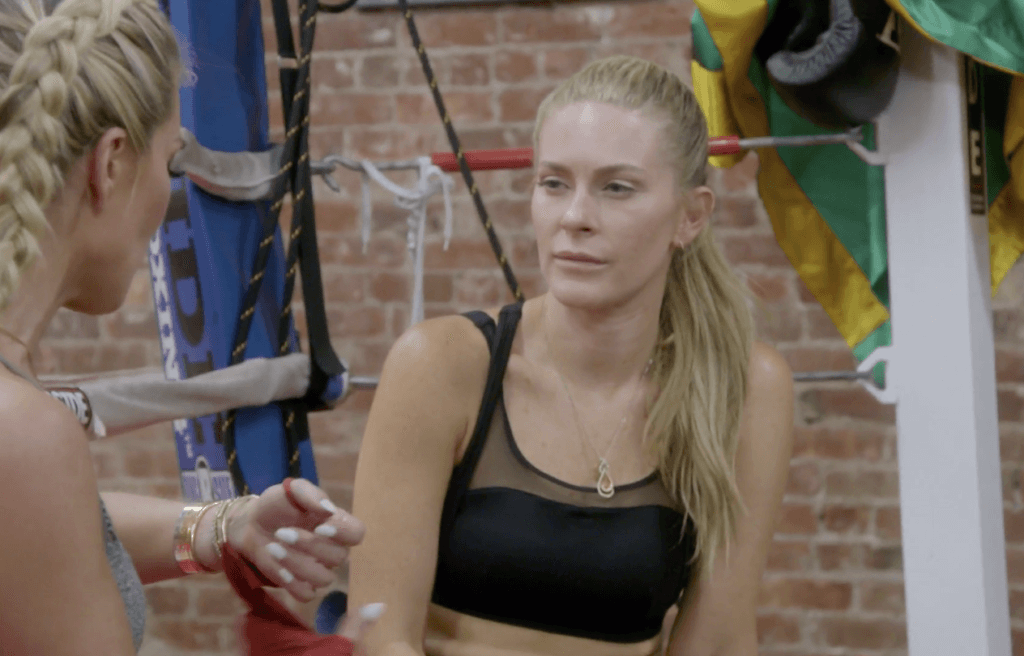 Speaking of strange relationships and questionable orgasms, Dorinda is still dating John, and she's trying to teach him how to cook. Dorinda's been more dependent on him lately. After dancing with Carson Kresley, who flung her like a ragdoll across her terrace, she broke a rib. But she's on the mend and now knows that when shit hits the fan, John can be a reliable partner. Still, she tells us familiarity breeds contempt. And when he makes a mess in her kitchen, she gets irritated.
Dorinda and John discuss Luann's freedom from parole. She and Lu in a good place, according to Dorinda. But the big question looms: at the upcoming party Dorinda is planning, will Luann be drinking or is she off the booze for good? Personally, I like my Luann falling into the bushes with her legs straight up in the air.
Ramona Singer meets up with girlfriends for a drink. She sold her old place, moved into a new place, but is still spending most of her time in the Hamptons. Then we get a selfie vid of her dancing and it's freaking hysterical. I could watch Ramona dance in every episode.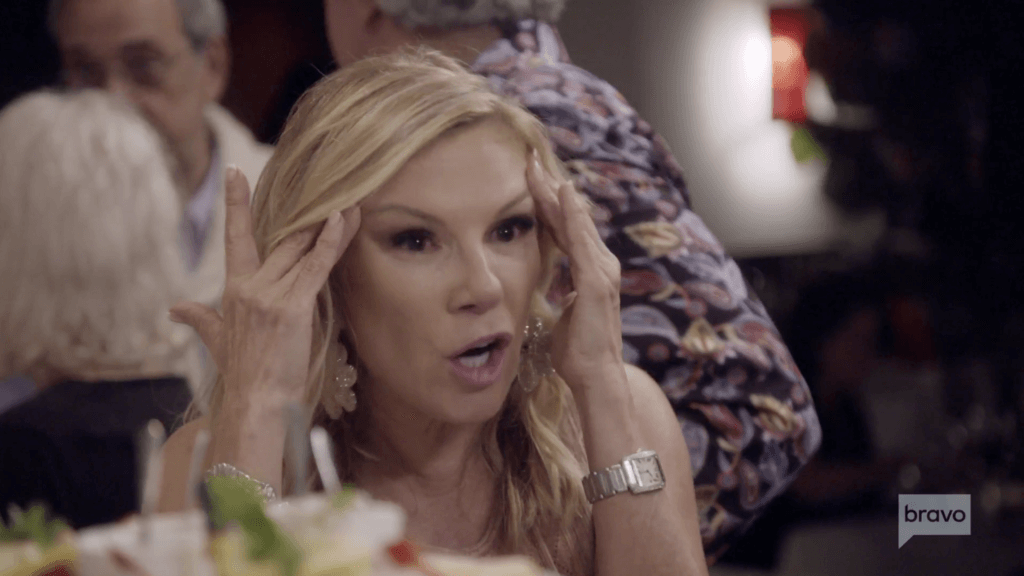 She's realizing that she's no longer in her thirties. Her single status has finally smacked her upside the head. She doesn't like waking up alone. As she hugs herself, she breaks down in tears at the bar and starts rocking back and forth. Then she plunges her hands through her hair in despair. The people standing behind her don't even glance in her direction. I guess they're used to seeing reality stars lose their marbles over cocktails.
Leah McSweeney and her daughter, Kier, schlep down the street. They slip into a bakery to get out of the summer heat. Keir, who's twelve, isn't afraid to eat carbs. Or sugar. She orders a chocolate muffin without a care in the world. Leah tells us she and her daughter are besties and soulmates. As they talk about Keir's upcoming journey into seventh grade, Leah tells her to avoid mean girls. They discuss dating, and Leah is worried her daughter is going to discover boys soon, and that's downright scary.
Leah's baby daddy, Rob, was the love of her life. And though they broke up ten years ago, they grocery shop together and have dinner three times a week. They're a real family — just not a traditional one.
At Sonja Morgan's small apartment, there's crap piled up everywhere. Ramona drops by with her dog, Cocoa. Sonja is shocked that Ramona's pooch is still alive. Not only is Cocoa hanging on, but she's getting humped by Sonja's dog, Marley. Just because she's old doesn't mean she's not still a sexy bitch.
Sonja has just taken her daughter to college, and she's having a meltdown over it. Um, wasn't her daughter in boarding school for years? What's the dif? I'm not sure, but for Sonja, there's something sad about watching her girl go off to the halls of higher learning. 
Ramona Singer counsels Sonja, telling her that her relationship with her daughter will change, but it will be better now that they're both adults. Then Ramona tries to keep Cocoa from getting further assaulted by Marley and leaves.
The night of Dorinda's party arrives. She talks to her makeup artist about Tinsley. Why does Tinsley think Dorinda doesn't like her? Well, as we see in a flashback, Dorinda questioned Tinsley's life all last season, wondering whether she really lived in New York and if she had broken up with Scott, or was that just a storyline? Dorinda wants to know Tins on a deeper level. 
Tinsley Mortimer's getting a blowout and telling her stylist how nervous she is about facing the other women. They have preconceived ideas about her, ideas that aren't true. Just stop with the accusations already.
Tinsley and Leah go to the party together. They stop to pick up Sonja. When they arrive, they hit the bar first, natch. 
Leah tells us she didn't drink for nine years, but lately she's been off the wagon and enjoying it. Sometimes, she gets a little crazy, though. She'll get in a fight or lose her Chanel bag if she drinks too much. And because of that, she's sticking to alcohol free drinks. For now.
Dorinda Medley brags about her brilliance at throwing parties. She takes people from all different lifestyles and tosses them together in a big, party stew.
Ramona comes in and ignores Tinsley, Sonja, and Leah. She gives them a look and keeps moving on to find Dorinda. Harsh!
Luann de Lesseps strolls in. She tells us that she doesn't want to give up her sobriety right now. She's worked too hard to stay off the hooch.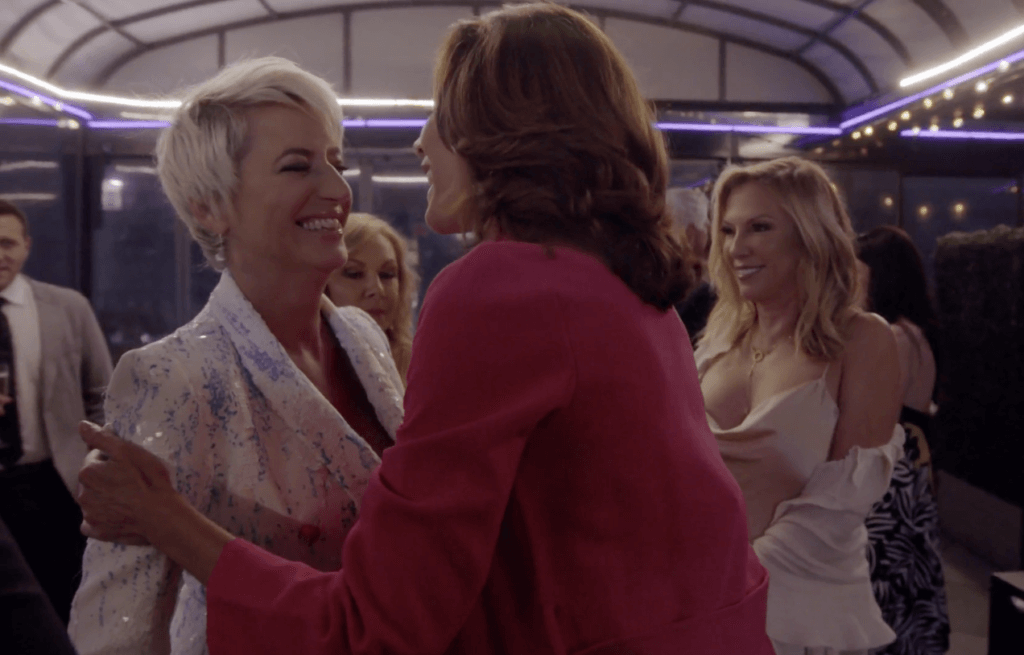 The women all meet up and Tinsley introduces Leah. Then Dorinda steps to the middle of the room and clanks on a glass to make an announcement. She's hired drag queen, Chelsea Piers, to lip sync to Luann's song Feeling Jovani. Of course Luann joins her and starts singing, too. And then, (thank you, God) Ramona begins dancing once again. She flips her hair and squats down I the middle of the room. It was awesomely bad. But poor Leah is confused. What does it mean to feel Jovani? Well, Leah, it means nothing at all, which is the beauty of Luann's stupid, catchy songs.
Luann, Ramona, and Leah sit on a sofa and get to know each other. Turns out, Leah and Lu have a lot in common. They've both been arrested. They've both attacked a police officer. But Leah got her teeth knocked out by the cops. She was innocently making out on the street one fourth of July, when the cops grabbed her partner and started whaling on him. She threw a water bottle at the officers in question and got slammed into the subway grate — face first. Then she was thrown in jail. She sued for assault. With the money she got from the lawsuit, she started her business.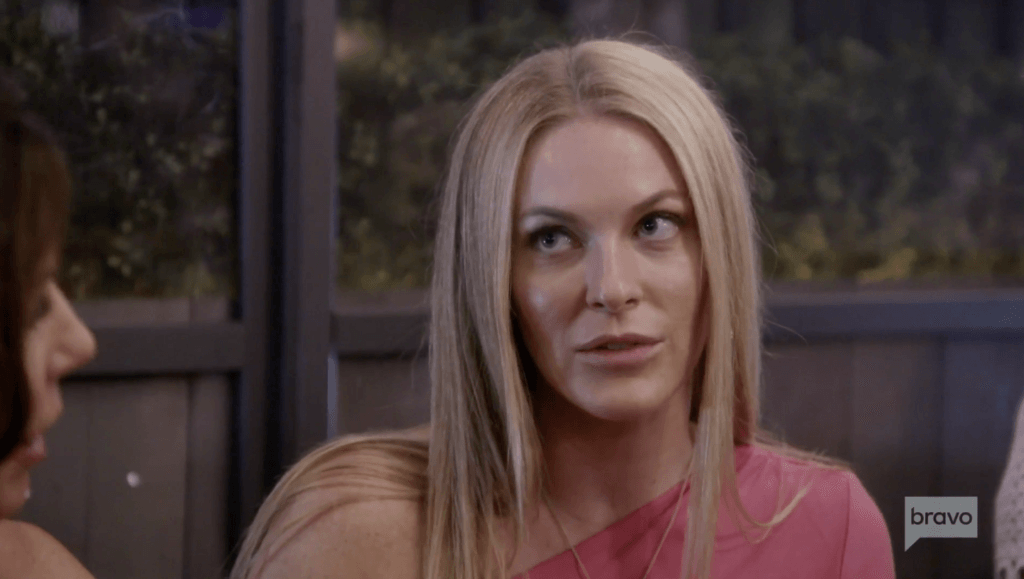 Tinsley taps Dorinda on the shoulder. They go off to speak in private for a convo that's long overdue. Tinsley wants to meet up with Dorinda later for an in-depth chat. Dorinda doesn't really know Tinsley — and the fact that Tinsley had dinner with Scott in January made it seem like she and Scott were still together and she was lying to the women about her romantic status.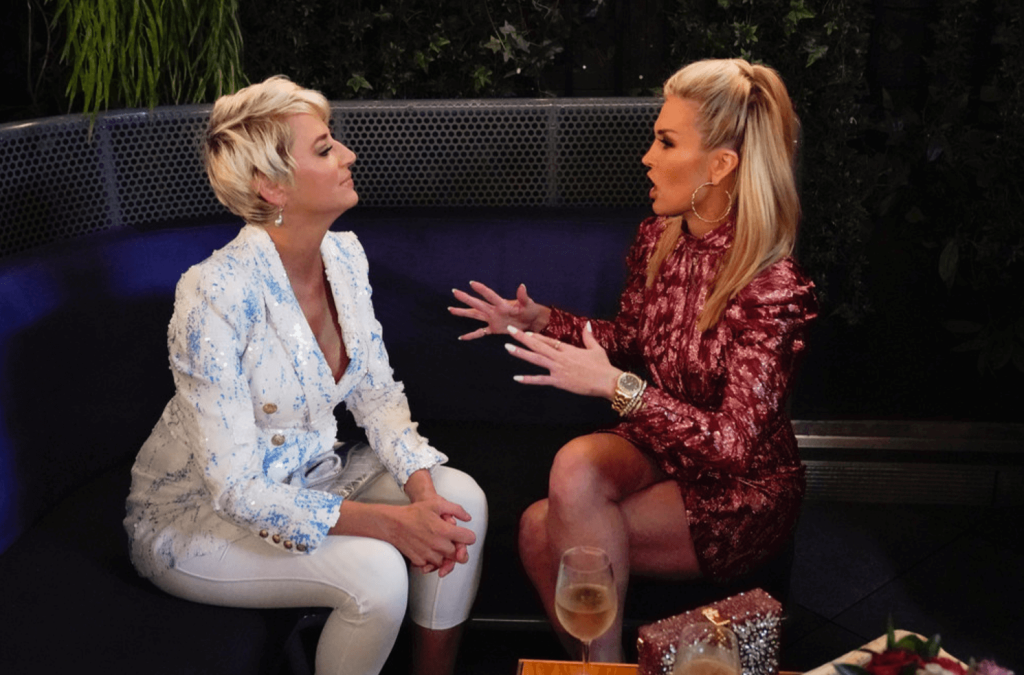 But Tinsley is tired of Dorinda insinuating she's a liar. And Dorinda is over Tinsley's lack of transparency. She's a riddle that's just not that interesting, which makes me wonder why Dorinda is trying so hard. Just accept that Tinsley is as shallow as a bird bath and move on. Their conversation devolves into an argument. Tinsley tries to be tough, but she's a puffball at heart. They give each other passive aggressive compliments and part ways.
Sonja Morgan introduces Leah to a drunk William, a young guy who used to hook up with Ramona. Sonja is tired of the other women taking her leftovers, so maybe she should give William a spin. Too bad she's not dating young dudes anymore. Word on the street is he has a nice package. But Leah isn't impressed. She thinks he's the type who watches himself in the mirror during sex.
William doesn't have kids. Leah only dates men with kids because they're decent human beings, not soulless bachelors. Maybe Sonja needs to set William up with Luann. If there's one thing Lu does well, it's bone younger men.
Dorinda Medley meets with the other women and complains about Tinsley. And even when Tinsley joins the group, Dorinda doesn't stop. Dorinda accuses her of being fake. Dorinda says Tinsley is in kindergarten, and Leah looks on with wide eyes. Dorinda tells Tinsley she's boring and walks off. But then she comes back and says that she never laid on her back to acquires herself a wardrobe. Shots. Fired.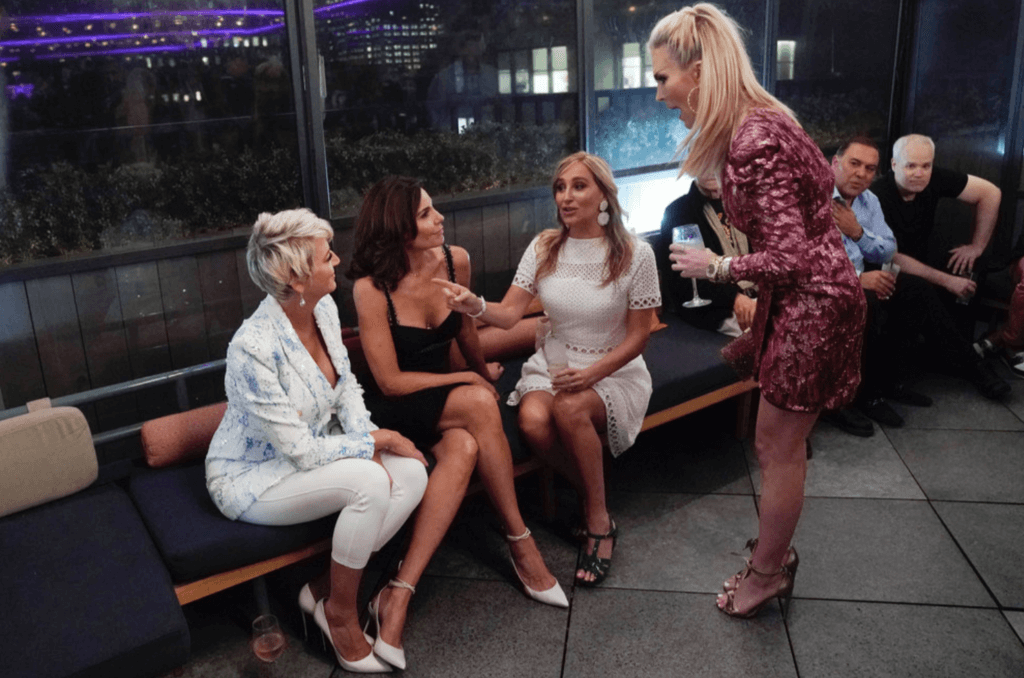 Well, the first episode is over and the gloves are off. So, are you glad RHONY is back? Did you miss Bethenny Frankel? A
And why is Dorinda Medley pouncing on Tinsley? It's like a rottweiler going after a bunny.
Stay Connected With All About The Tea: Twitter Ι Instagram Ι YouTube
I'm a fiction writer by day and a reality TV addict by night.