RECAP: 'Vanderpump Rules' Tom Schwartz Admits He Doesn't Have S*x With Wife Katie & Calls Her 'Gross'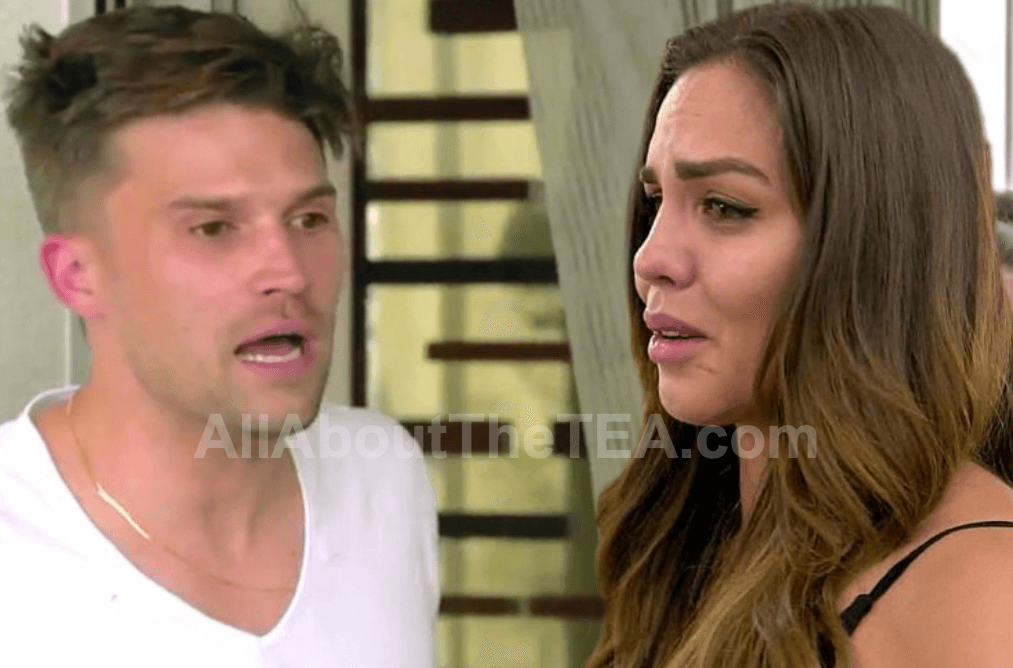 Welcome to an all-new episode of Vanderpump Rules. We've got a lot of ground to cover so let's get started!
The episode opens with Ariana Madix meeting Lisa Vanderpump at the stables for a riding session and we catch a glimpse of Lisa's expensive french-speaking thoroughbred, Prince Tardon.
While riding, Lisa Vanderpump confides in Ariana Madix that she met with James Kennedy and that he's finally gotten help for his drinking. Unfortunately, Ariana's not so sure that this time is real, stating "I care about him but it's always Deja Vu or like groundhog day with him." Lisa Vanderpump is adamant, however, that something's different about this time saying, "I think the tide's going to change. I really do."
Meanwhile, it appears that two-thirds of the Witches of Weho got extra drunk at Sandoval's Extra AF party the night before. Katie Maloney Schwartz pays Stassi Schroeder a visit and the two nurse their hangovers with IN-N-OUT burgers and a bottle of Rose'. Cheers!
While enjoying their hangover meal Stassi asks Katie if she remembers drunkenly deciding to host a girl's wine night that specifically leaves out their third witchy counterpart, Kristen Doute. It turns out that she does and she has every intention of following through with it. Well, alrighty then. This should go well…
Cut to a newly sober James Kennedy, who is not drinking hair of the dog and is instead whipping up breakfast for his girlfriend, Raquel Leviss. Well, this is certainly a change… maybe he really has changed this time.
Raquel Leviss confronts James about the accusations that Logan made and that Lala Kent was all too eager to deliver. James, however, implicitly denies that he drank anything at his friend's party a few nights prior, even swearing on his own life. Later in his talking head interview, James confesses that he used to think that it was good to drink when something bad happened, almost as if it were medicine, but he's now learned that it doesn't solve anything. Good for you James!
Jax Taylor rings in the eve of his 40th birthday behind the bar at SUR, something he swore he'd never do, yet here he is.
Scheana Shay and Raquel catch up in the back alley of SUR while on their breaks but are interrupted when Raquel receives a surprise phone call from none other than… Katie? UM WUT?! Turns out Katie called to extend an invitation to Raquel for her girl's wine night. Raquel looks like a Bambi deer in headlights, shocked by the sudden act of kindness but graciously accepts the invitation.
Tom Schwartz and Max Boyens pay Tom Sandoval a visit in his home that remains unfurnished. Sandoval reveals his grand idea to toilet paper Jax's house as a prank for his 40th birthday.
Tom Schwartz makes it clear he's NOT on board with the idea, citing that there's been too much tension as of late and quite frankly it's just way too soon after the Pastor drama.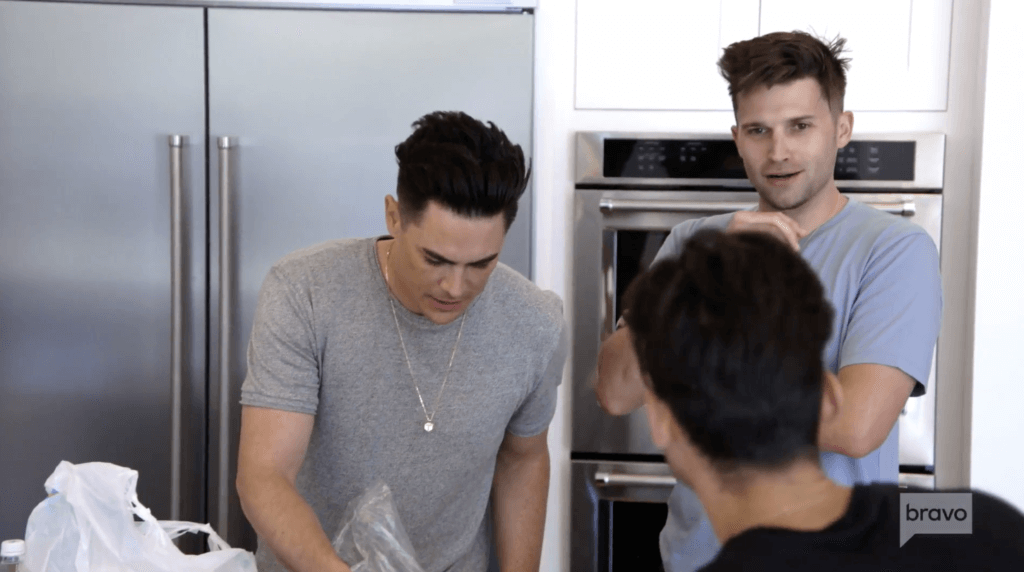 After persuading them to funnel a beer and wining and dining them with trays of shots by his pool, Sandoval finally persuades his accomplices to perform the mission.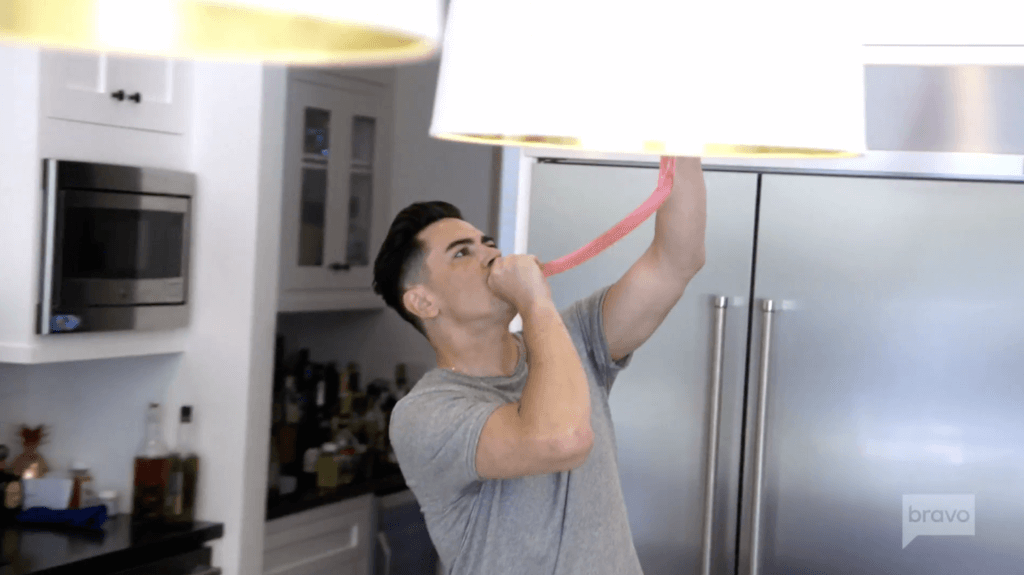 In under the six minutes, the three culprits are able to TP the entire front yard and even scribe the words "OLD FART" in shaving cream on the driveway. Very impressive boys… but whatever you do, don't tell Scheana. She has a thing for men who can work under serious time constraints. Just ask Rob Parks-Valletta and his flat screen. The entire time Sandy seems to be having somewhat of a cathartic experience as he squeals in delight, "God, this feels so good."
Jax Taylor and Brittany Cartwright arrive back home after going out for Jax's birthday lunch and are none too pleased with the sight of Charmin and shaving cream all over their meticulously manicured lawn. Cue the montage of Jax indulging in his favorite past time, mowing his lawn.
Jax immediately calls Sandoval but of course, he has already created an alibi for himself and even concocted a story that his house was also TP'd. Jax vows to find out who is behind this and repay them tenfold.
Brett Caprioni and Scheana have an awkward encounter when Scheana agrees to be on Brett's Youtube channel. But first, she must position herself just right so that he only films her good side.
Once the camera is rolling, the self-proclaimed Youtube sensation introduces Scheana to his 550,000 followers as a middle-aged woman, a divorcee and even notes that she's "been around the block." He takes it one step further when he asks her if she thinks she's a F girl since she attracts F boys. YIKES.
While packing for her mother's funeral in London, Lisa Vanderpump calls to check in on James. She explains that just because she's across the pond, it doesn't mean she won't know what he's up to. James is adamant that he plans to be on his best behavior.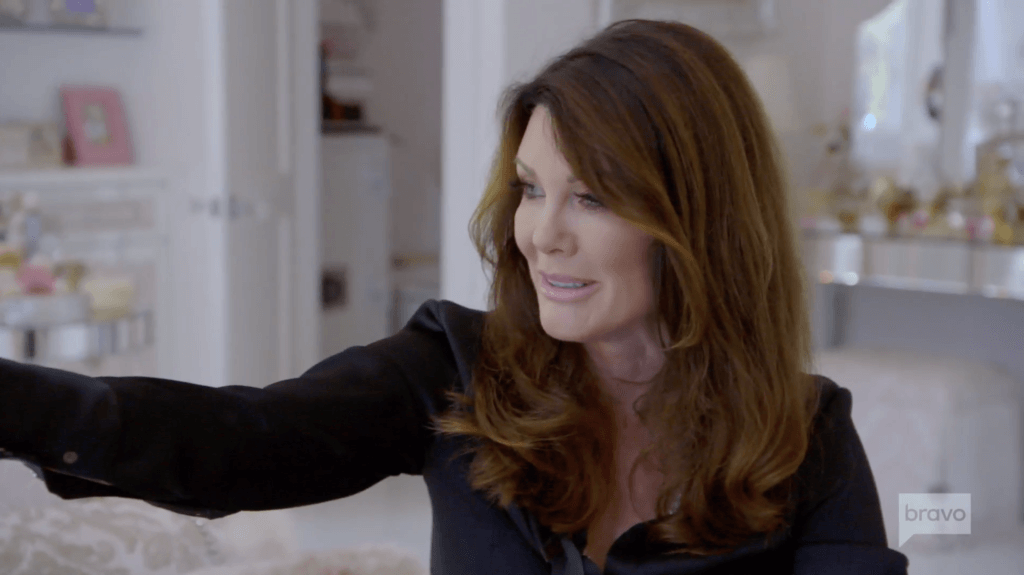 Cut to Katie and Stassi preparing lackluster charcuterie boards in Katie's kitchen for the girl's wine night. Stassi makes it clear she's still anxious about Kristen being excluded from the party, stating that Kristen is "gonna s*** her pants" when she finds out that she wasn't invited.
Sure enough, Stassi is right. Scheana calls Kristen to break the news that she's headed over to Katie's house for a girl's wine night and Kristen is NOT pleased. She refuses to take the bait, however, stating that Katie wants "Krazy Kristen" to come out so that she can validate why she's not talking to her. Good for her.
The guests eventually arrive and things seem to be going smoothly until Lala decides to confront Raquel in the middle of the kitchen about telling her to shut the F up.
Lala Kent goes on to say that she thinks Raquel has forgotten her place but that she's going to remind her. In a surprising turn of events, however, Raquel is NOT backing down. Then she graces us with what could probably be the best one-liner in the history of VPR, "if we don't all agree that she's a bully, we can all agree she's a b****."
Newbie Charli Burnett finally gives us the most she's given us all season when she makes a very valid point in her talking head that maybe Lala still has a thing for James. Good point, Pasta Hater.
The rest of the guests exchange awkward glances and smirks before Raquel finally asks Stassi what she's thinking about everything. Before Stassi can even form a sentence, Lala barks at her to "stay in her bubble" aka butt out of it. OKAY, LAUREN FROM UTAH. THAT'S WHERE I DRAW THE LINE. DON'T DO OUR QUEEN LIKE THAT.
Later Stassi admits in her confessional that Lala didn't have a leg to stand on in that situation AKA she made a d*** fool out of herself. Now that's something we can all agree on.
Cut to Jax's 80's themed party. Wait, didn't he just give Sandoval crap for hosting a themed birthday party? Cool.
Everyone arrives and the party is in full swing when Sandoval surprises Jax with a samurai sword signed by Randy Jackson. Later Sandoval is asked by the producers what Jax got him for his birthday. Cue the crickets.
Randall Emmett pulls Jax aside and reveals his plan to repay Sandoval for the toilet paper prank as a gift to Jax for his birthday. His plan: he's hired fake cops to arrest and charge Sandoval for "vandalism" at his house in front of everyone.
Later that evening, Randall makes good on his plan and pulls the prank off seamlessly. Move over Jax and Sandoval. Randall is now the number one guy in the group.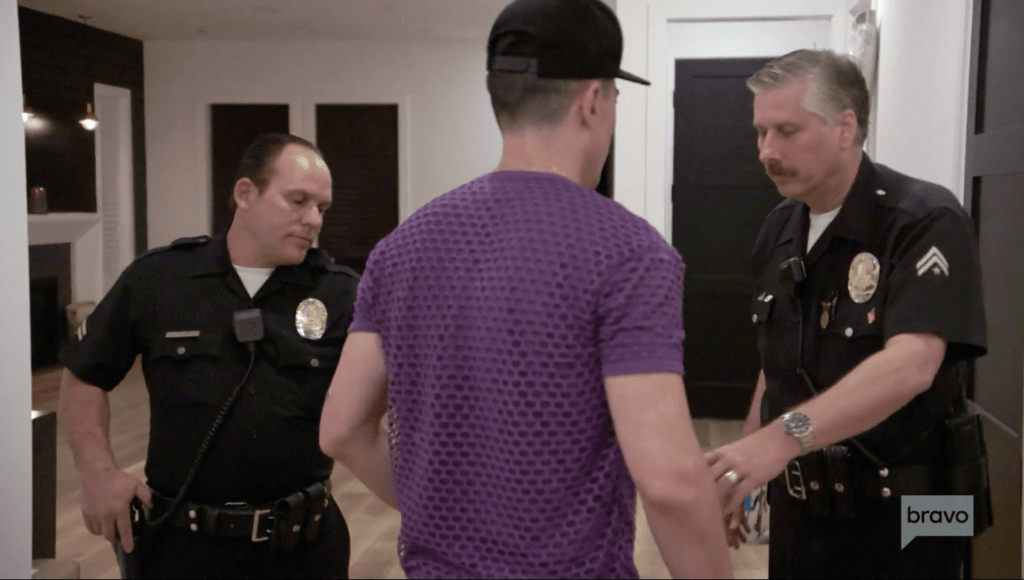 Once everyone gets over the initial shock of watching Sandoval get handcuffed and thrown in the back of the cop car, they all have a good laugh. Well everyone that is except for the wet blanket that is Katie Maloney Schwartz.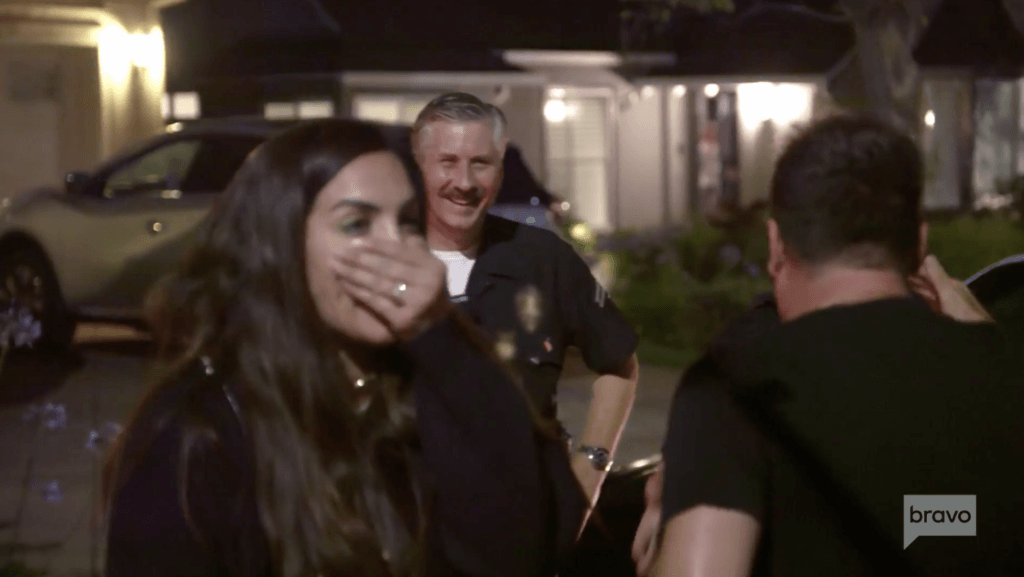 She holds back nothing, and accuses the prank of being "annoying" and "in poor taste."
"This s— is actually annoying to me," Katie Maloney Schwartz tells the group, adding in a confessional, "Like, turn on the news."
"I understand where Katie is coming from. It's tone-deaf," Ariana says. "There are layers to it. I am glad that it wasn't real, I am glad that it wasn't real, but … "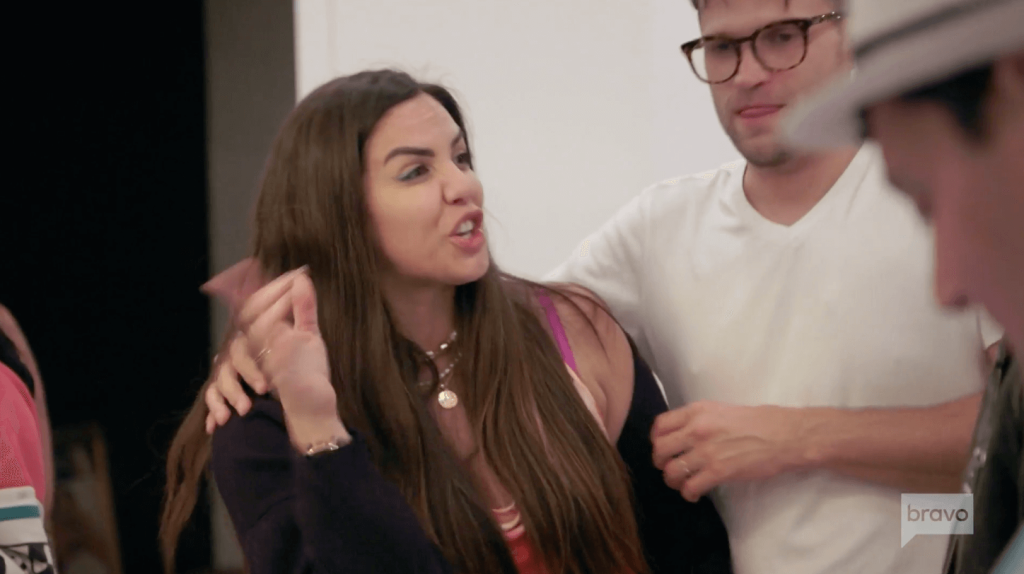 No one is more annoyed with Katie's attitude than her own husband, Schwartz. Eventually, Schwartz tells his wife to "shut up." "You're ruining a great moment. We're laughing," he rants. "Nobody gives a s— about your opinion."
Schwartz immediately starts spewing off insults left and right saying things like, "I've never been more turned off in my life," Schwartz says, pretending to vomit as Katie looks on incredulously. "That's why I don't have s*x with her." Tequila Tom? Is that you??? The rest of the party stands around in disbelief while Sandoval and even Beau Clark try to talk some sense into the lone Bubba. Maybe this explains why Katie Maloney Schwartz is so miserable all the time.
Tune into Vanderpump Rules next week to see if the Bubbas are still fake married after their nasty blowout in front of all of their friends.
Stay Connected With All About The Tea: Twitter Ι Instagram Ι YouTube
Amanda Byerly focuses on Reality TV recaps for All About The Tea. Amanda is a 30-year-old wife, mother and self-proclaimed Bravo TV junkie. When she's not watching Bravo, she's writing about it, reading about it, or listening to podcasts about it. "I get by with a little help from Bravo TV."