RECAP: Mike Calls Out Destiney On 'Shahs of Sunset' — "You Look Like a F—ing Liar!"
Let's jump right in to this week's Shahs of Sunset. Mike Shouhed gives us an update on what's been happening this season, the drama between Reza Farahan and Mercedes "MJ" Javid. All this is informative stuff, but frankly, I can't take my eyes off the collar on Mike's plaid suit jacket. The lapels are enormous!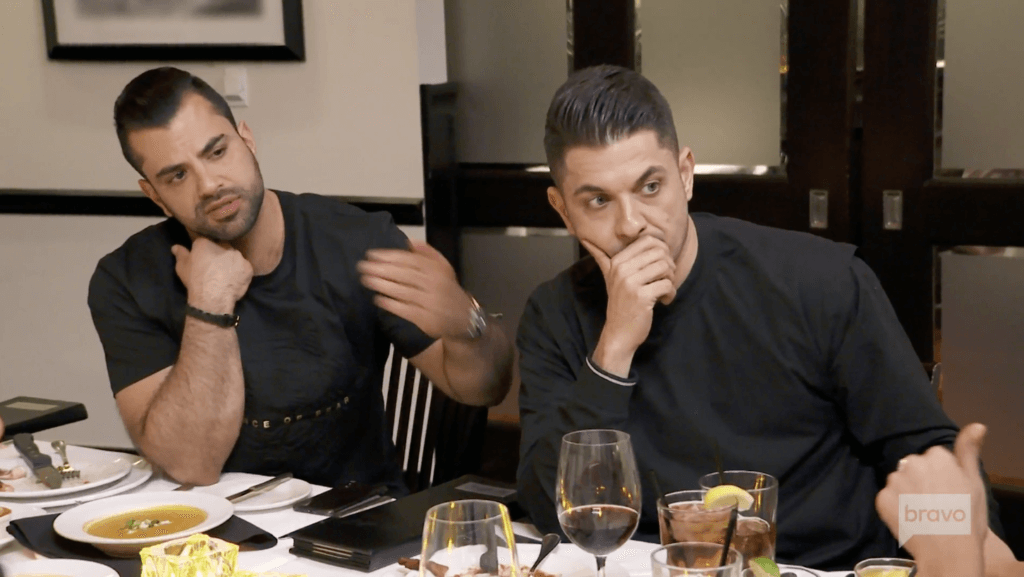 Anyhoodle, we're back in Arizona with Destiney Rose — who wakes up hungover and topless. She's wearing nipple covers, but that's it. She barely remembers the night before. She angrily left a dinner with Mike, Nema Zand, and Shervin Roohparvar, but met up with them outside the casino and they made up. She's invited them to an MMA party she's producing.
That afternoon, everyone meets by the pool, hoping the sun will cure their hangovers. But you know what else works? More booze!
We see that earlier in the day, the boys took Segways out into the desert. Mike had an accident, and is getting a massage to cure his aches.
Reza Farahan calls Destiney, then shows up to surprise her poolside. Oh, and Adam's there, too. They just got back from Hawaii. Reza's marriage has been strained, and he puts the blame on all the rumors swirling around Adam's harassing sexts to other men and his love of naked Jenga. The island getaway was just what they needed.
Destiney Rose leaves the guys to do their thing. She's got a party and dancers to manage. She tells us that she's letting her assistant step up and take charge for once. She just wants to have fun with her bros.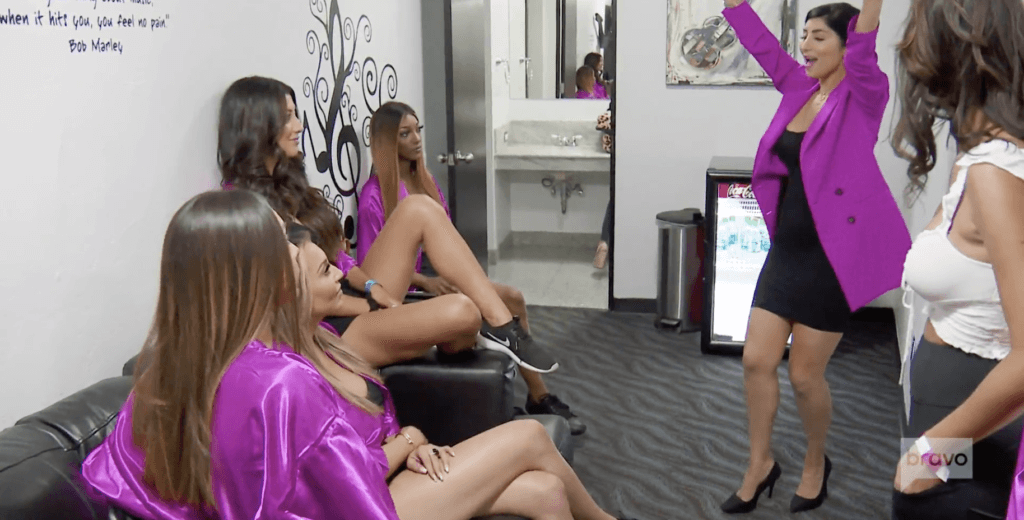 Mike Shouhed can barely walk. But he manages to hop on a bus with the guys for the fight. Reza reads a text from Vida. She calls him a backstabber. Reza says calling him names is foul! Mike tells him to calm down and insists that MJ didn't send Tommy to Reza's house to destroy three potted plants. Tommy did that on his own. Mike doesn't want Reza and MJ to end their friendship over this nonsense. He's not taking sides in this drama, and Reza needs to let it go for the sake of his longtime relationship with MJ.
Reza Farahan feels like the guys aren't supporting him. How dare they not back him up on this. Tommy came to his home and destroyed potted plants, people! Don't you get it?!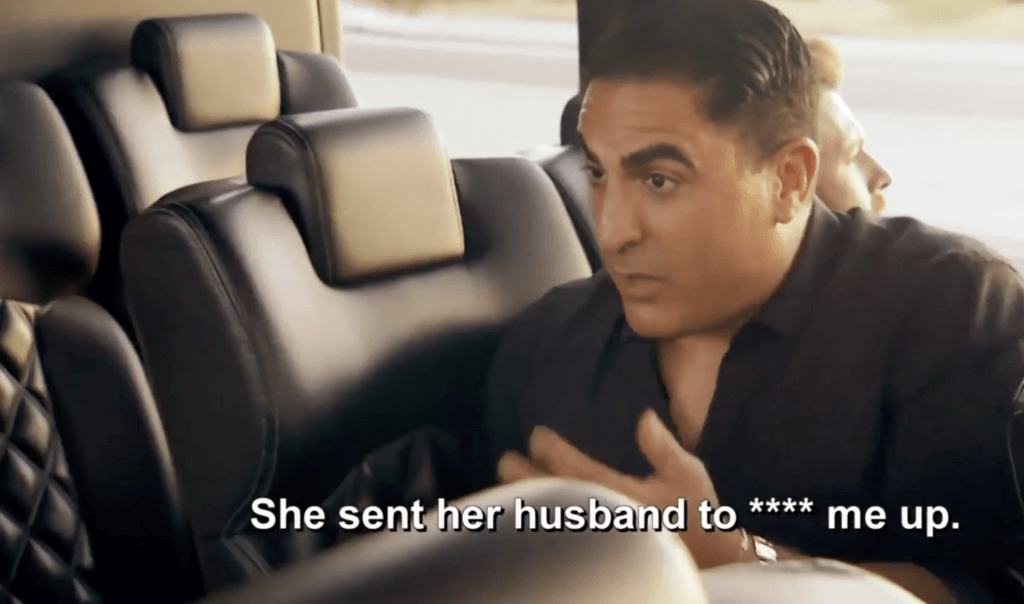 Mike Shouhed says Reza should put the blame where it belongs: on Adam. God, I'm so glad someone on this show finally said that. Adam is the one who sexted people. Adam talked to Ali about naked Jenga. Adam has been inappropriate. But Reza doesn't see it that way. He storms off the bus in anger.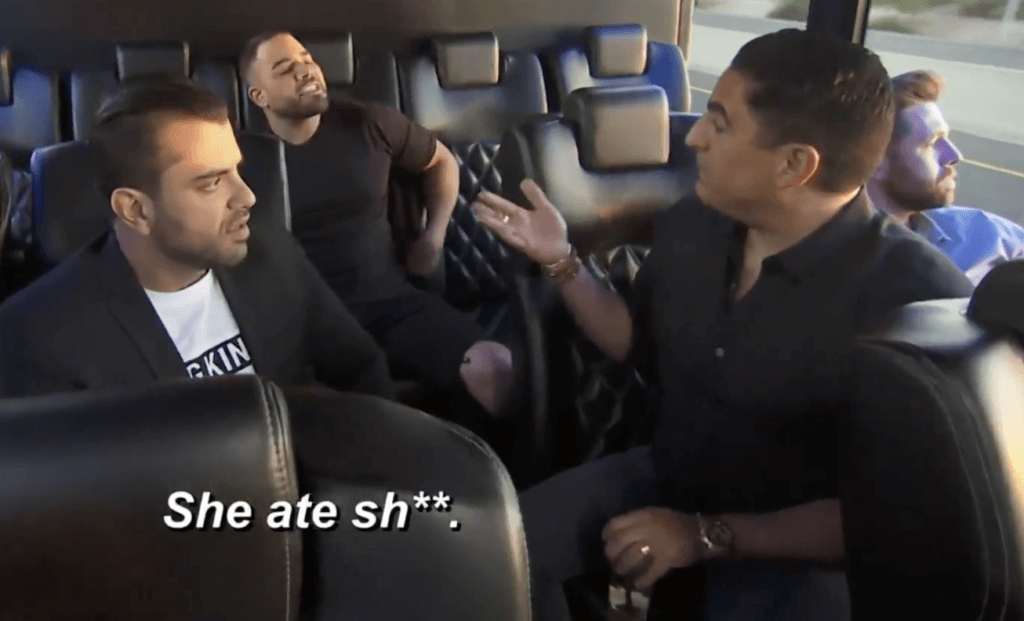 Reza believes MJ was scheming to ruin his relationship. Why don't his dude bros see that?
Reza walks into the fight venue to the VIP lounge backstage and orders a drink. Nema gives Reza a hug and tries to comfort him. Mike repeats that he doesn't want to take sides. Reza says he doesn't have that kind of forgiveness in him that Mike has.
Back in LA, MJ is planning a retirement party for her mother, Vida. We see flashbacks of Vida complaining and criticizing MJ over everything from her weight to her hair to her makeup. But now that MJ's had baby Shams, things are good between them.
Boring Golnesa "GG" Gharachedaghi complains about being tired. She's going to the doctor every three days. When talking to her mom, she admits she hasn't been eating very well and asks her mom to make some food. She ignores mom's warnings about gaining too much weight.
At the MMA fight, the dancers go on stage early. The livestreaming hasn't started yet, and they have to remain frozen in place for four minutes. Kind of anticlimactic. But then they start dancing, reminding me of a high school drill team, but less talented. Nevertheless, Destiney praises them with a, "Yes-ahhhhh." 
Adam and Reza Farahan cuddle as they watch two men beat the crap out of each other. Reza admits he overreacted at the pool party, and he regrets showing up for the fights. He resents the guys getting involved in his business. Adam needs to be Reza's priority, not his friends.
Once everyone is back home, MJ stops by Mike's house with Shams. MJ's grateful for Mike's support through the past couple years. She'd put her life on hold when her dad was ill, but Mike told her that wasn't the right way to go about it, and MJ appreciated his advice.
As Mike Shouhed cuddles the baby, and they discuss MJ's leaking boobs. But Mike quickly turns the convo to the fight between Reza and MJ. MJ should have told Reza about Ali and the sexts and Jenga. She should have given him a heads up before he heard it from Destiney. Mike Shouhed tells MJ to get on the same page as Ali and Destiney. They need to have a long talk with Reza. MJ agrees, then tries to talk Mike into changing Sham's diaper. He might be ready to take on step kids, but he's not ready for poopy pants.
Reza, Destiney, and GG meet for lunch at a Persian restaurant. Reza talks about the MJ situation. He hates that his boys aren't being more supportive. He carries on and GG is chomping at the bit to share her own news.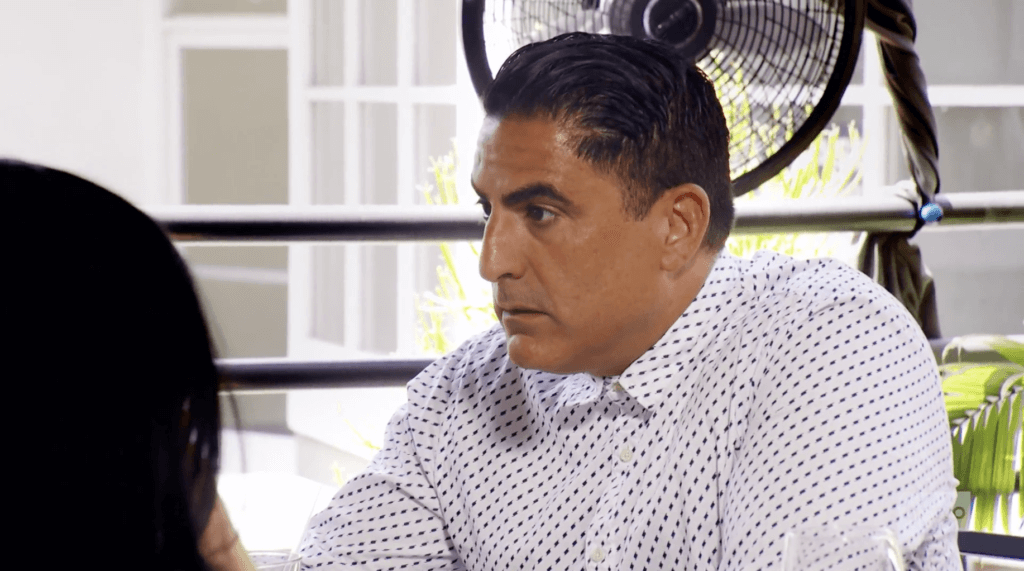 She finally says she left the pool party without confronting MJ because she was pregnant. She relates her long journey through invitro as she struggles through tears. She bled out and lost the baby a few days prior. She's in pain and continuing to bleed. She may lose her fallopian tubes because of all this.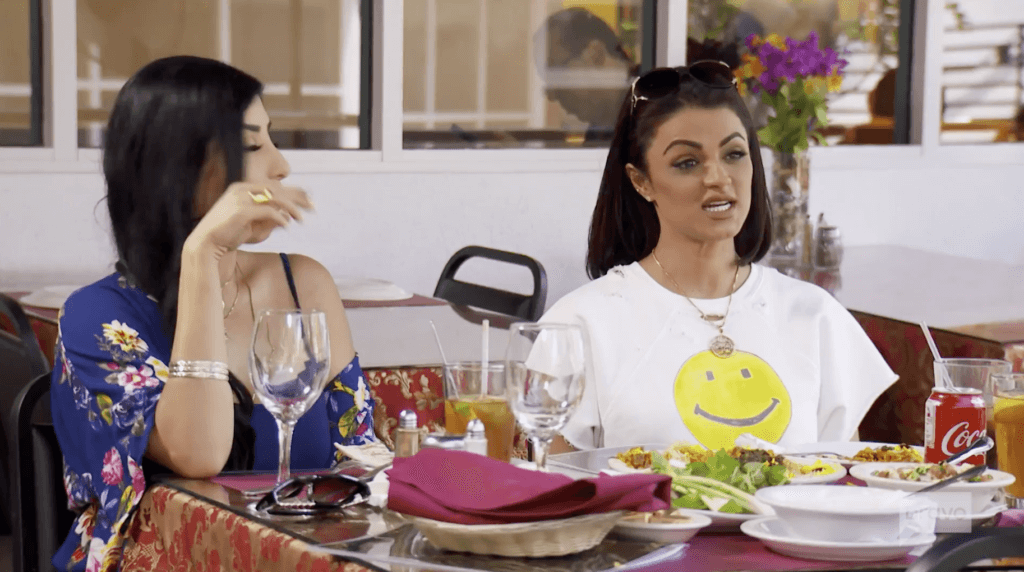 Reza finally realizes that his own shit is minor compared to this. Hopefully, GG won't need surgery.
The date of Vida's surprise party is quickly approaching. Nema goes to a costume store, because all the guests are going to dress as Vida, and he needs a blonde wig, stat. Mike comes along and asks if he can buy a shitty attitude. Because Vida has one of those, too.
They guys put on wigs and look for statement necklaces. Mike is irritated with Reza. Once again, Reza gave Mike an ultimatum: Reza or MJ. Pick one! Mike won't, not this time, but now he's caught in the middle. Mike thinks everyone needs to get some integrity and own their part in the fight. 
Destiney and Shervin meet for an infrared sauna. They're locked into coffin-like structures, and Destiney admits she's been on a tequila diet lately. Shervin thinks she's drinking too much. Destiney is in pain, though. She loves MJ, and tried to do the right thing by bringing Ali's news to Reza. Destiney says Ali and MJ wanted Destiney to take the news of Adam's sexting to Reza. She became the messenger and wound up getting shot. Ali repeatedly said that MJ told him to bring those texts to light. Destiney feels betrayed by MJ. Shervin thinks everyone needs to get together and tell the truth. The whole truth, damn it!
People begin arriving for Vida's party. Shervin, Mike, and Nema look better as men than as an elderly Persian woman with blonde hair. Nema even hired professional makeup artists to age them.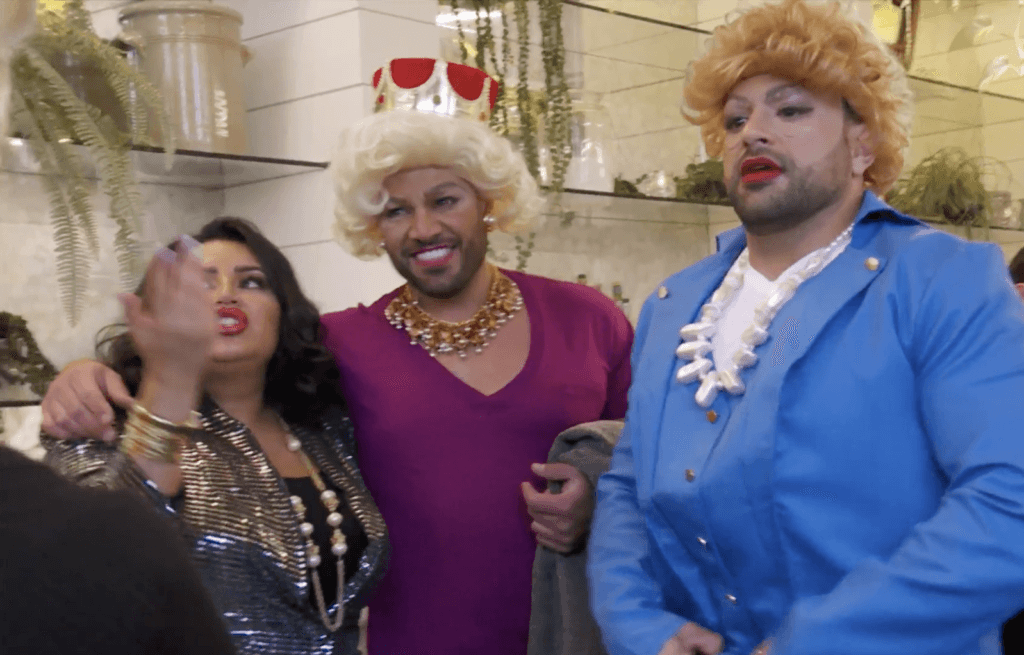 MJ tells the guys she's also invited Destiney and Ali to the party. She's not sure how things will go when they meet again.
Nema confronts Ali, telling him he's bothered by all the tea Ali spilled on Adam. But instead of throwing MJ to the wolves, Ali says that he and Destiney rehearsed what they'd say to Reza. Destiney knew exactly what her role was in all this, and she doesn't want to fess up.
Paulina, Mike's girlfriend, comes to the party also dressed as Vida. In a very short dress. Sara Jeihooni arrives looking like she always does. So much for getting into the spirit of the night.
Meanwhile, Reza meets GG for dinner. Former enemies have now become allies against MJ. Since she's no longer preggers, GG can now drink and get back on the bong, so she's happy about that. Reza feels left out for not getting invited to Vida's retirement party. Of course, there's that little restraining order preventing him from getting near Tommy. 
We're treated to flashbacks of Reza and GG fighting over the years. And there's a lot of footage.
At Vida's party, she finally arrives. It's like looking into dozens of mirrors. Vidas everywhere! She's surprised and excited to see everyone. MJ finally has the relationship with her mom that she always wanted.
Vida focuses in on Sara, reminding her that Destiney is dating Sara's brother, Sam. And Sara does not approve. She says Sam hooks up with a lot of people. It's not a big deal. But if that were the case, why did she warn Destiney to stay away from him? When Ali recognizes Sara from Destiney's description, Sara starts bitching. How dare Destiney continue to talk about her? When Ali tries to reassure her that Destiney never said anything negative, she attacks Destiney's behavior instead. Before she can continue, Destiney walks in, wearing a very un-Vida-like blonde wig.
When Ali and Destiney meet, it's awkward. She ignores Sara and heads to greet Vida and MJ. She sees baby Shams for the first time. MJ tears up, unsure why she's even crying.
There's a cake with Vida's face. Strawberry shortcake, her fave. The crew all crowd around a round table and Nema confronts Destiney.
He doesn't believe she's a pawn. They call Ali over to the table, and MJ joins them. Ali admits that she was blind sighted by Reza's anger that day at the restaurant. Des claims she didn't exactly know when the situation would come to a head, but she knew it was coming. MJ says that by bringing her name into the mix, she poured gas on the fire. But Destiney digs in her heels. She's the real victim in this MJ/Reza showdown.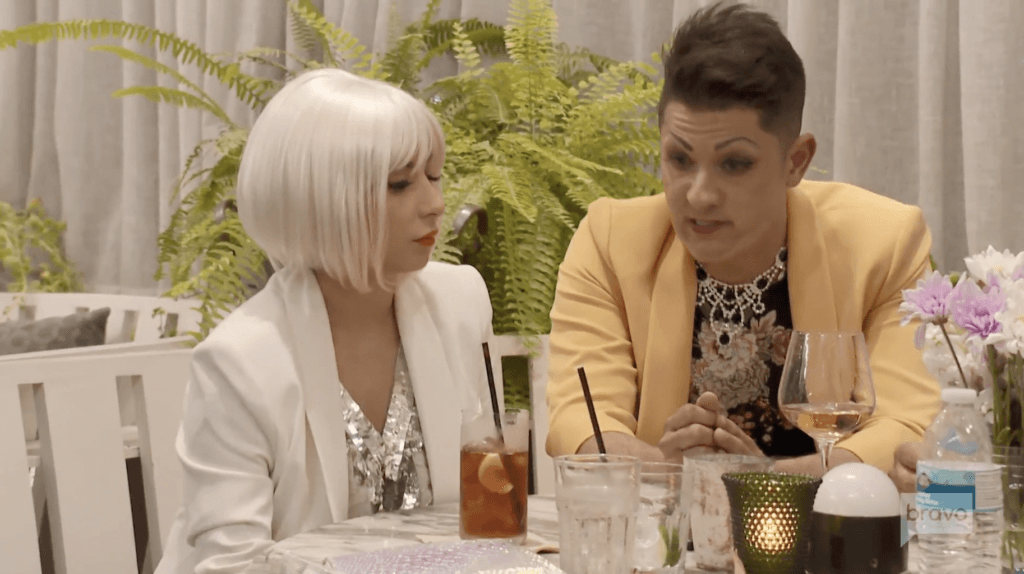 Destiney Rose insists that MJ knew everything. Not true! MJ was facing infertility and almost died in surgery. Mike still doesn't understand why Reza is angry with MJ instead of directing his rage at Adam. It just doesn't make sense.
MJ sent an apology text to Reza earlier in the week, but never heard back from him. She takes full responsibility for her part and Tommy's anger, but Reza doesn't think it was a real apology.
MJ believes Reza should be accountable for putting her medical condition on the internet. She encourages everyone to tell Reza he's a piece of shit. They disagree. Reza's just hurting. Be patient with him.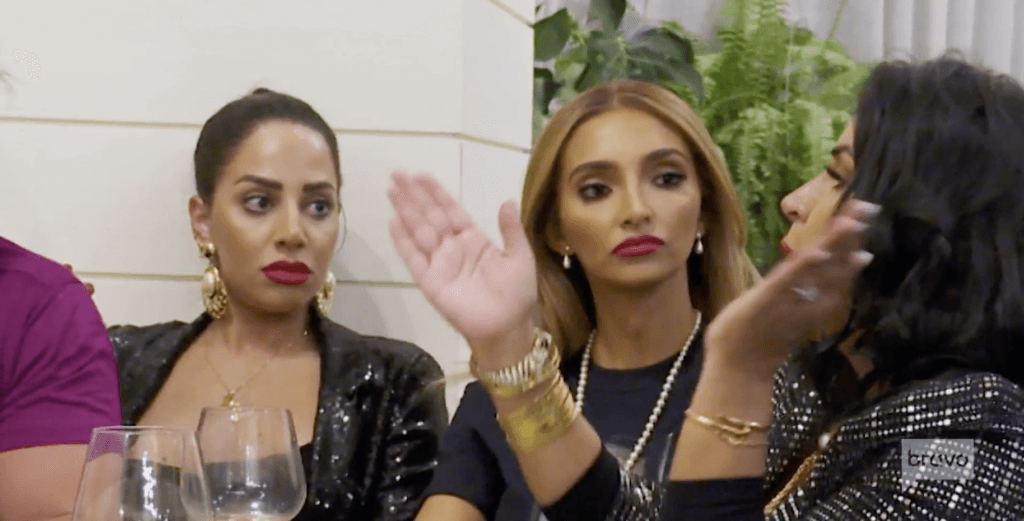 MJ has a different idea about how they should handle things. She thinks Reza needs to focus on Adam and his marriage.
And that's the end of our episode. So, do you think Destiney Rose played a bigger role than she's admitting to? Is Reza Farahan right for singling out MJ instead of Adam?
Stay Connected With All About The Tea: Twitter Ι Instagram Ι YouTube
I'm a fiction writer by day and a reality TV addict by night.