RECAP: Mean Girls Stassi and Katie End Their Friendship With Kristen In Ruthless Blowout On 'Vanderpump Rules'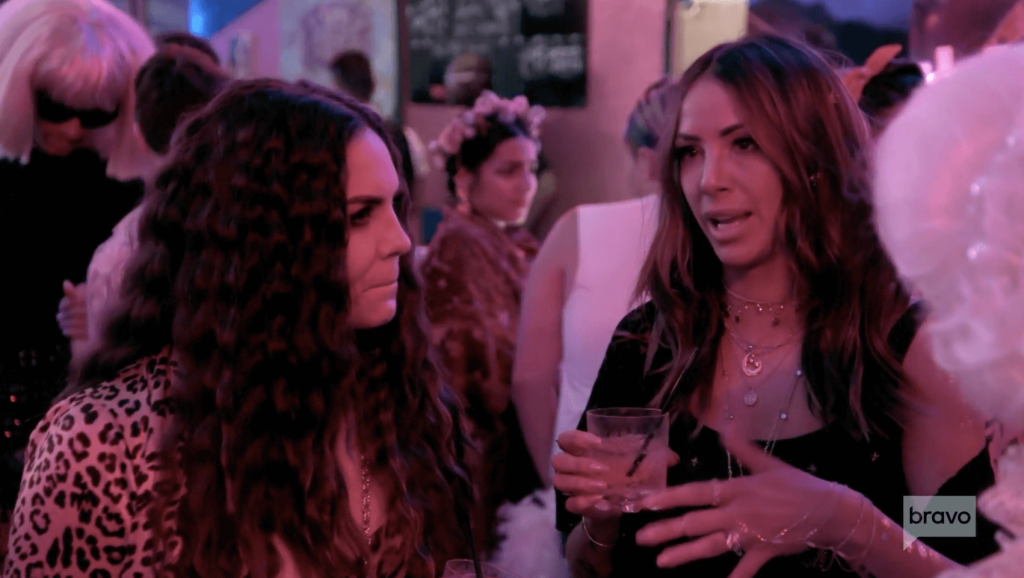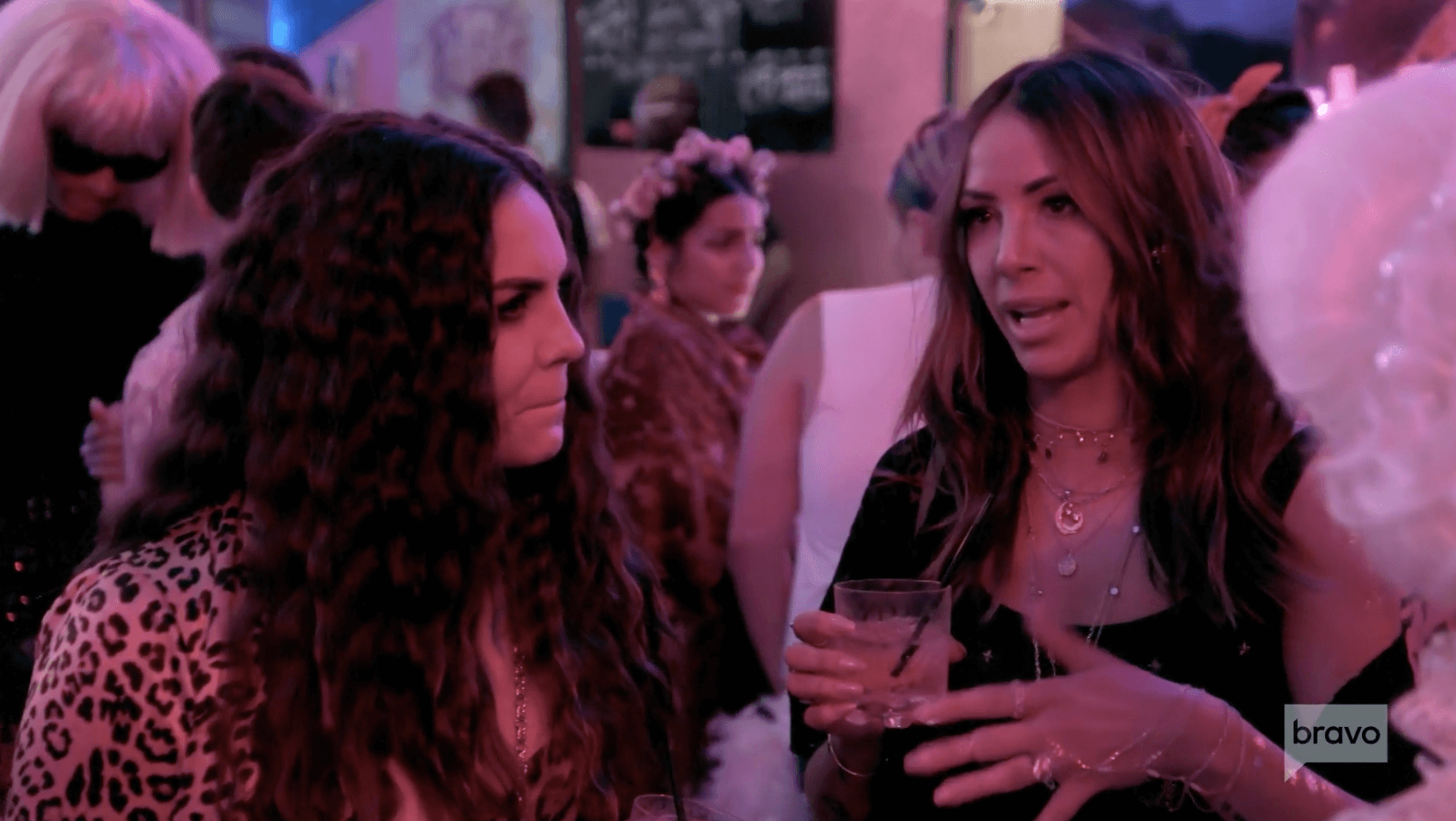 Welcome back to an all-new episode of Vanderpump Rules. Drink every time you hear "86."
So what's the deal with the number "86" you ask? In restaurant speak "86" is a slang term that means "to throw something away or get rid of." An example of this would be "The goat cheese balls have been 86'd off the menu." (LVP, don't go getting any ideas like that. Give me goat cheese balls or give me death.) Wellll Max Boyens has decided he's had enough of Danica Dow's mouth and he's ready to 86 her out of TomTom. LOL, okay, Max. Hey, maybe he's told so many people that he's a part-owner at TomTom that's he's starting to believe it himself.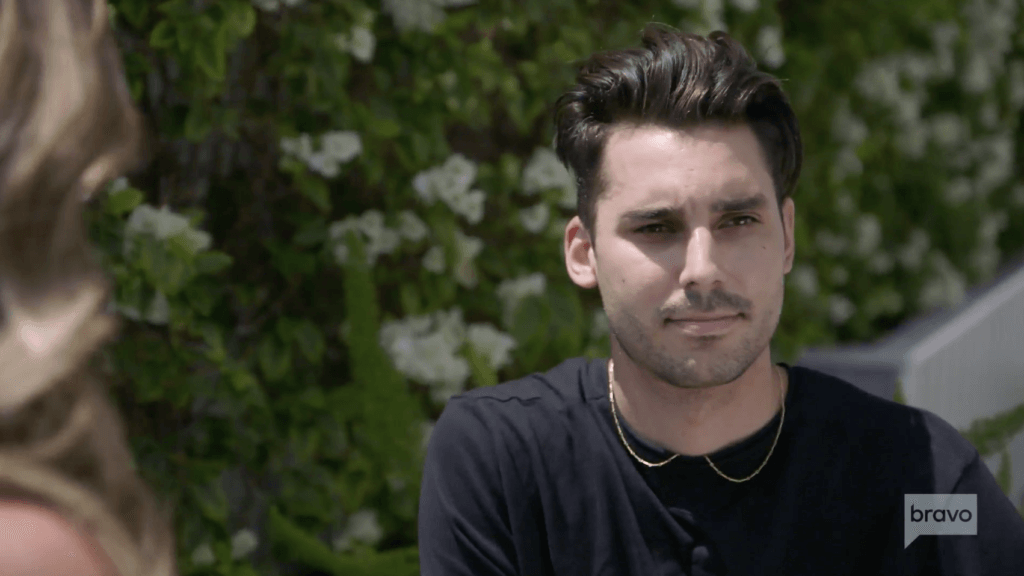 Newlyweds Jax Taylor and Brittany Cartwright arrive home to Valley Village. The groom carries his new bride over the threshold….  into the house they've already been shacking up in for several months. Hey, no shade to their life choices but I'm not sure I understand the point of carrying her over the threshold into the house they've already been living in together.
Once home, they recount their special day while opening wedding gifts. Brittany Cartwright sings her new hubby's praises telling him his vows to her were "sooooo cuuuute." Jax Taylor admits that his stomach was in knots because he was afraid he was going to mess them up. He mentions that he even had "power points." Uhh.. wut? Mr. Jax Taylor must've missed that day in school.
We learn that Lala Kent reached out to Raquel Leviss and wants to have a sit-down conversation with her. Ol' Bambi eyes has made up her mind that she will meet with her but will not be Lala's punching bag anymore. She has every intention of Calling Miss Kent out on calling her stupid and insulting her intelligence months prior. Whew. Okay. Good luck with that.
Tom Schwartz hosts a memorial for his beloved Lizard, Daug. Everyone wears black and the mood is quite somber on the sunshine-filled rooftop. Luckily the bikini-clad bottle service girls arrive in the nick of time with punchbowls of Sangria for everyone. Schwartz delivers his eulogy and everyone takes a long swig from their brown bags and then proceeds to pour one out for their fallen homie. RIP DAUG.
Meanwhile, Jax Taylor and Brittany arrive at Villa Rosa to pick up their belated wedding gift from Lisa Vanderpump. She explains that she planned to give it to them in Kentucky but was afraid they would break it when traveling back. What could this extravagant gift be? Hermes? Bars of gold? Diamonds??? Nope. It's a… teapot from Tiffany's. Upon opening the gift Jax looks like his entire hopes and dreams have just been dashed. Hey, at least it's from Tiffany's.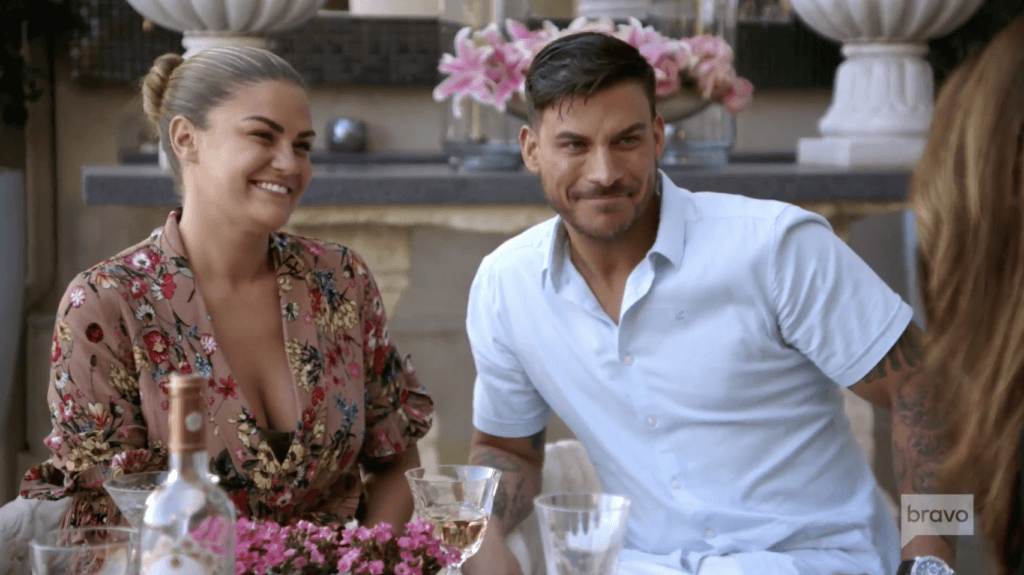 It appears Lisa Vanderpump is on baby bump watch when she asks Jax and Brittany if they would like something to drink. When Brittany declines LVP's wheels immediately start turning. Brittany says she's POSITIVE… that she's not pregnant. Later in her talking head, however, Brittany admits that they would like children right away. They're no longer spraying and praying… just spraying.
At the memorial, Danica pulls Max aside and confronts him for talking about her. He explains his plan to 86 her from TomTom and as one can imagine that goes over like a lead balloon. How dare he try to ban her from her own sister restaurant? THE NERVE.
Later, the Toms ask Max what the confrontation was about and he recounts all of the drama explaining that he did plan to 86 Danica from TomTom. Unfortunately, they're not pleased, telling him it's F'd up for him to 86 Danica from TomTom over personal problems.
Scheana Shay has a little powwow with two-thirds of the Witches of Weho, Stassi Schroeder and Katie Maloney Schwartz, in an effort to plead Katie's case.  She explains that Kristin Doute feels that she is spread too thin. According to Kristen, she is the only one working on their wine business while also renovating her home and working on her t-shirt line, James Mae. She also explains that Kristen believes that Katie is unhappy with her own life and projects it on others as a way to deal with it. DING DING DING.
Katie sees red and retorts that she too could go on Pinterest and take her friend's quotes and slap them on some shirts if she wanted. SHOTS FIRED. I REPEAT SHOTS FIRED.
According to Katie, she's currently exploring her options as to what she wants to do. Someone, please roll the footage of Katie laying on her couch for months on end…
As the reptilian memorial is winding down Tom Sandoval seizes the moment to invite everyone to his birthday party. The theme: EXTRA AF. Why am I not surprised?
The next day Lala is "volunteering her time" at Vanderpump Dogs and lo and behold, James Kennedy and Raquel walk in with Graham. Lala and Raquel exchange niceties while LVP and James have the most awkward encounter of all time. LVP eventually tells James to come by Villa Rosa so they can have a talk, which in my opinion is the equivalent of being called to the principal's office.
The Toms go shopping for the birthday party and Sandoval confesses that he has bought stilts for his costume. Hopefully Sandy has purchased EXTRA health insurance. He's going to need it once he breaks a bone on those things…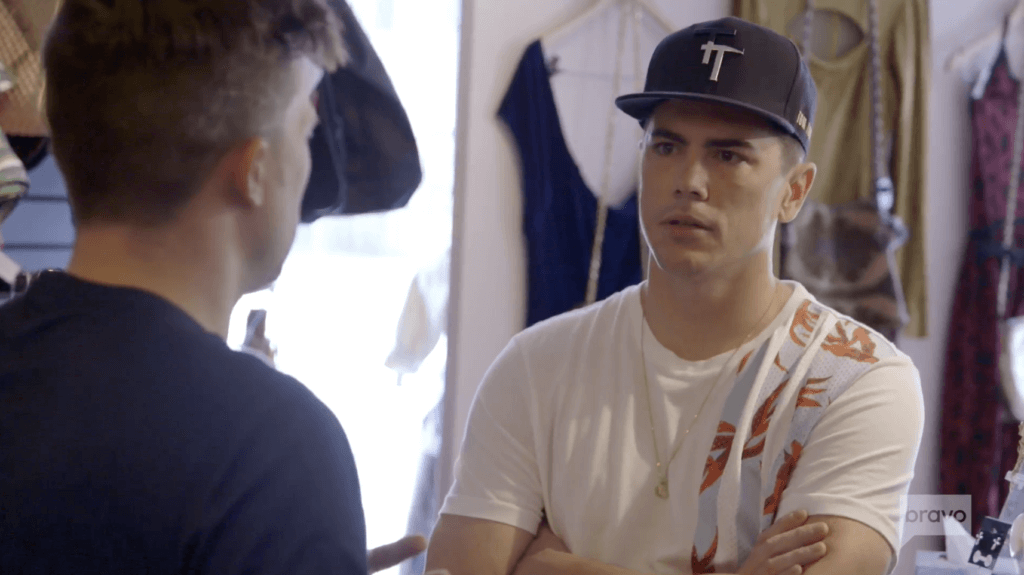 Lala and Raquel meet over Chai Lattes and before Lala has taken even a sip, Raquel immediately seizes control of the conversation and calls Lala out for calling her stupid. I AM WOMAN HEAR ME ROAR!
Lala is having none of it though and immediately cuts Raquel off explaining that her time is very precious to her and she wouldn't waste it on someone who she thought was a true idiot. How diplomatic of you Lala.
Instead of pushing back Raquel seems ready to move past the issue, even without receiving any type of apology from Lala whatsoever. Instead of holding her cards close to her, she is all too eager to tell her new BFF about driving James to his first-ever AA meeting and bragging about his new token that he received.
Meanwhile, James arrives at Villa Rosa preparing for the lecture that awaits him. Lisa Vanderpump immediately goes in on him regarding the awful texts he sent to Raquel reprimanding him for talking to her like that.
James explains that he only says those kinds of things when he drinks to which Lisa remarks that he must get help. He tearfully recounts to her the same story Raquel told Lala about going to his first AA meeting. He explains that while there he heard other people's stories and he doesn't want to end up like them. Lisa seems shocked but genuinely proud of James for taking such a courageous step. She offers to be there for him if he ever needs her or thinks he's on the verge of slipping up.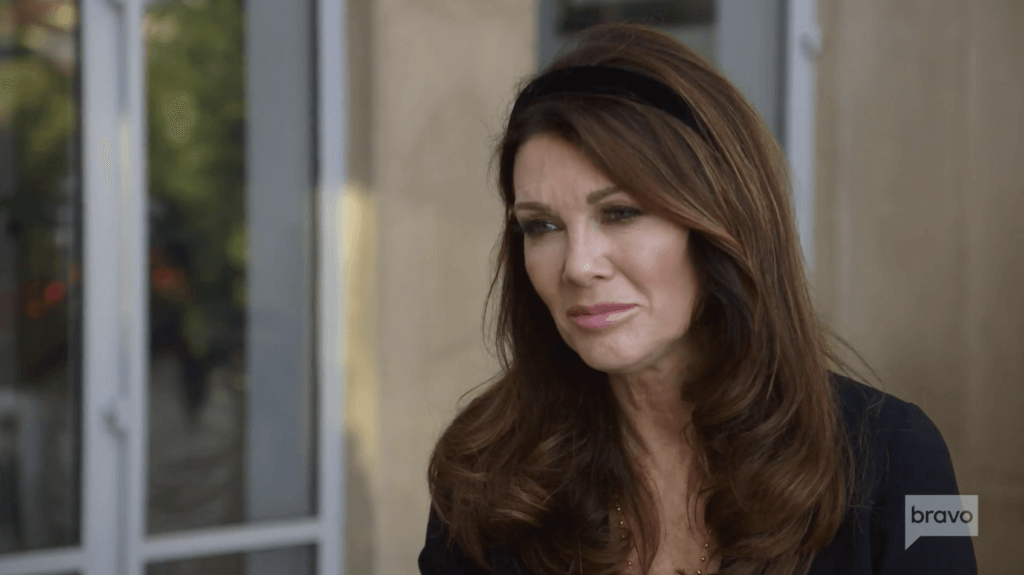 It's finally the day of the party and Jax admits that he's extra annoyed that he has to go to Sandoval's extra themed birthday bonanza. Everyone arrives and waits for the guest of honor. Sandoval slowly but surely akes his entrance into the party on his stilts and the crowd goes wild… well everyone but Jax that is.
Raquel and a newly sober James arrive at the party. Lala makes a beeline for Raquel. It turns out Lala is chomping at the bit to ask Raquel how James is doing with his sobriety before accusing him of being F'd up at a party a couple of nights prior. How does she know this you ask? LOGAN. The same Logan responsible for accusing James of hooking up with him and then later recanting it all admitting that he lied. That Logan.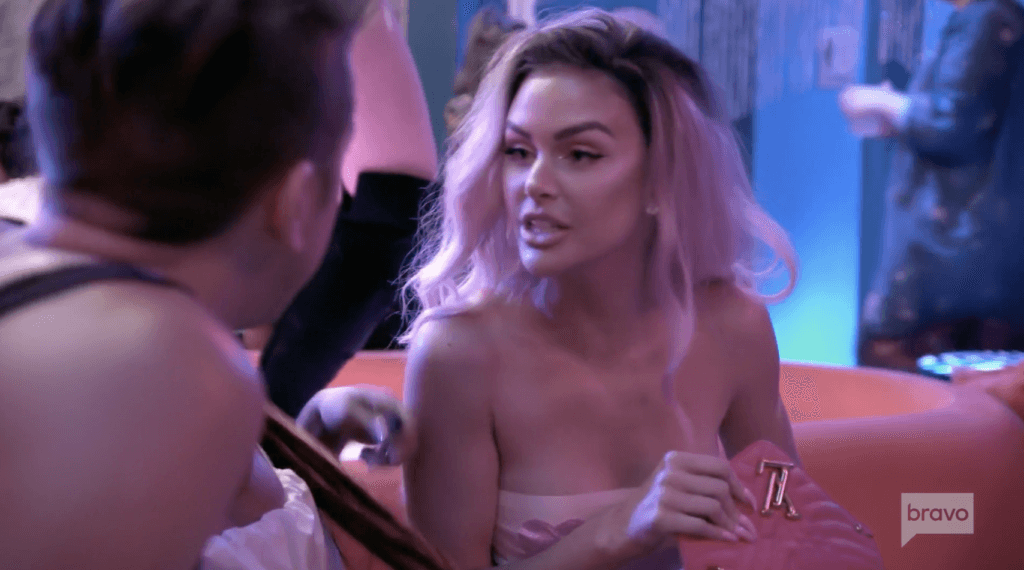 Raquel immediately dismisses Logan's accusations insisting he's made up things before so why wouldn't he be making this up too. Lala pushes back saying that it wasn't made up. Raquel appears to have had enough and shuts Lala all the way down when she tells her to "shut the F up." Okay, Raquel. I see you…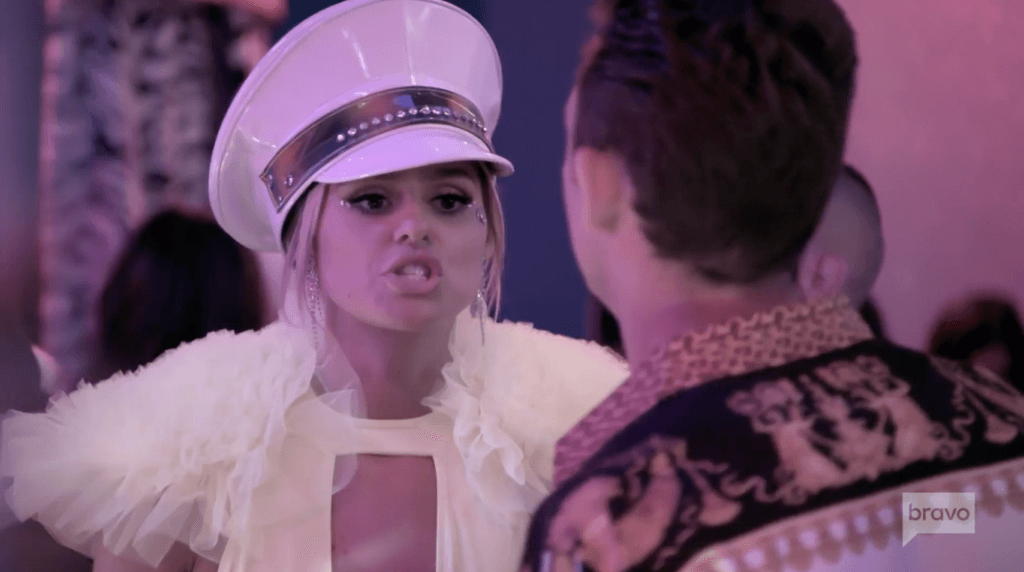 Over on the other side of the party, it appears a witch hunt is brewing when Kristin Doute walks up while Katie and Stassi are talking s*** about her. Hey Kristen, were your ears burning?
She tells them that Scheana came over and told them exactly what they said about her. She then gives them an opportunity to explain themselves but they're not backing down. She then asks them if they still want to do the Witches of Weho wine brand. Stassi says she has every intention of completing her contract but will NOT be renewing another one adding that if that makes her selfish so be it.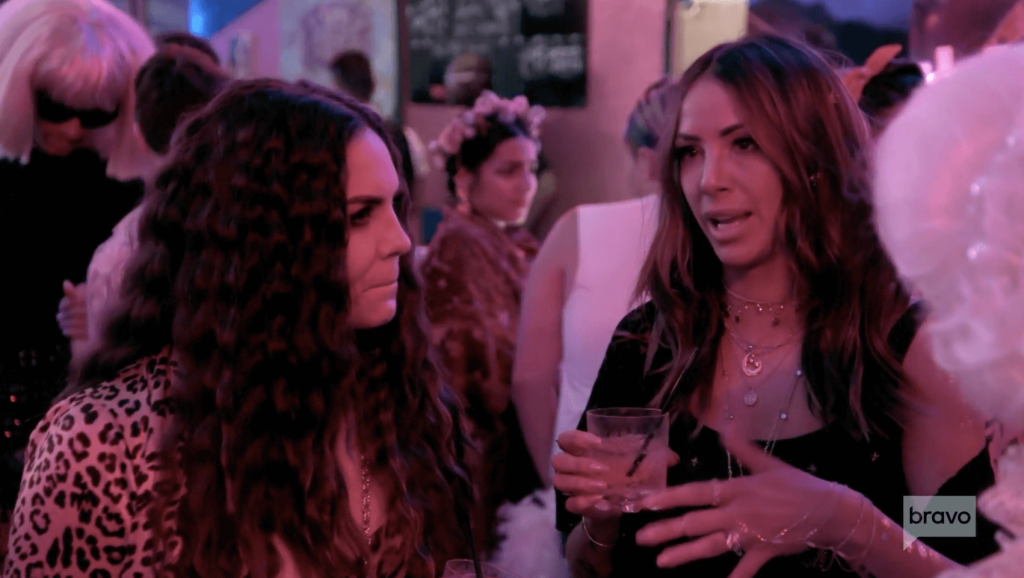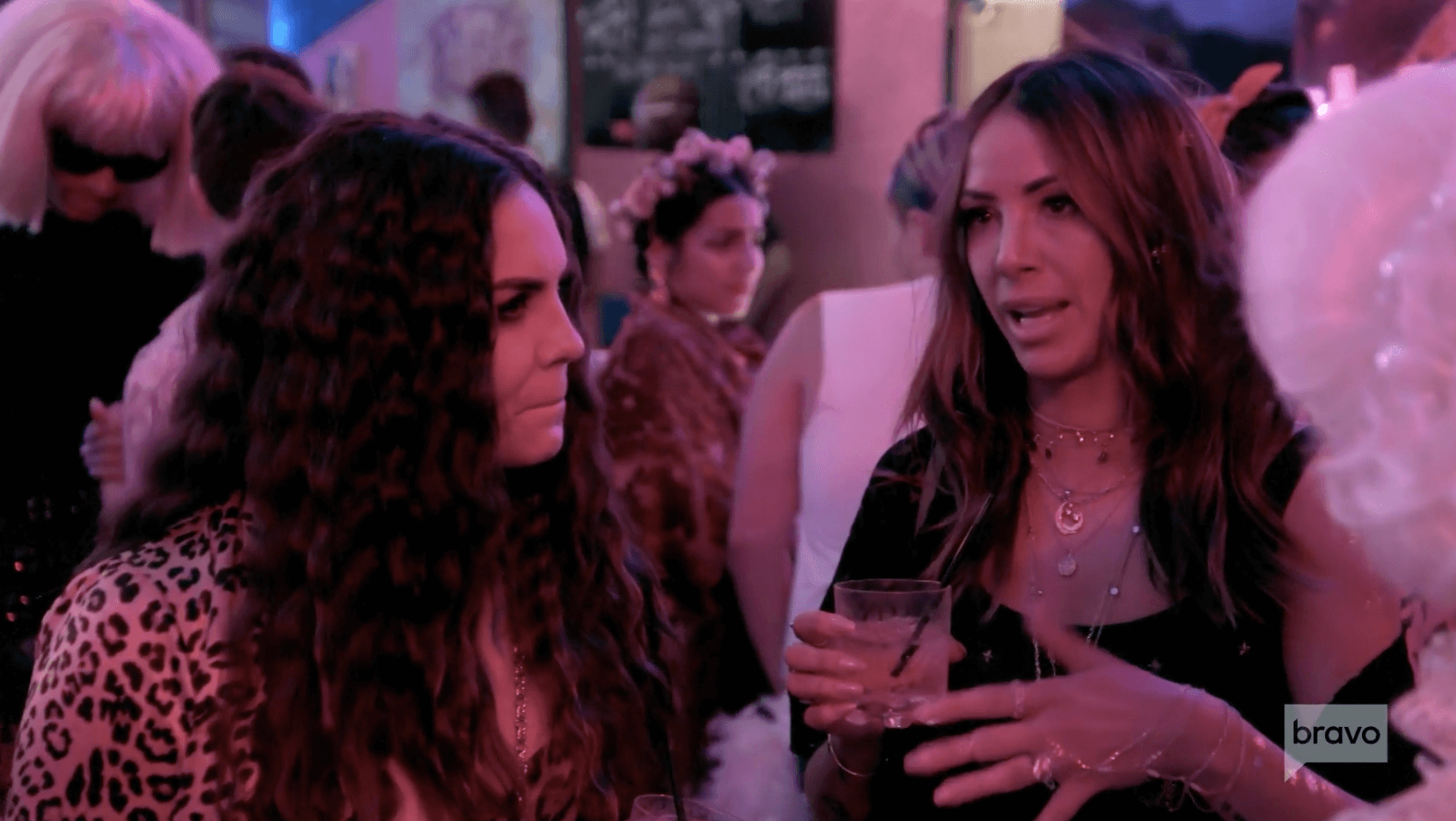 Kristin Doute gets emotional yelling about her "sisters" treating her this way to which Stassi replies, "we're not sisters anymore." Kristen runs out of the party, probably in an effort to keep from being burned at the stake.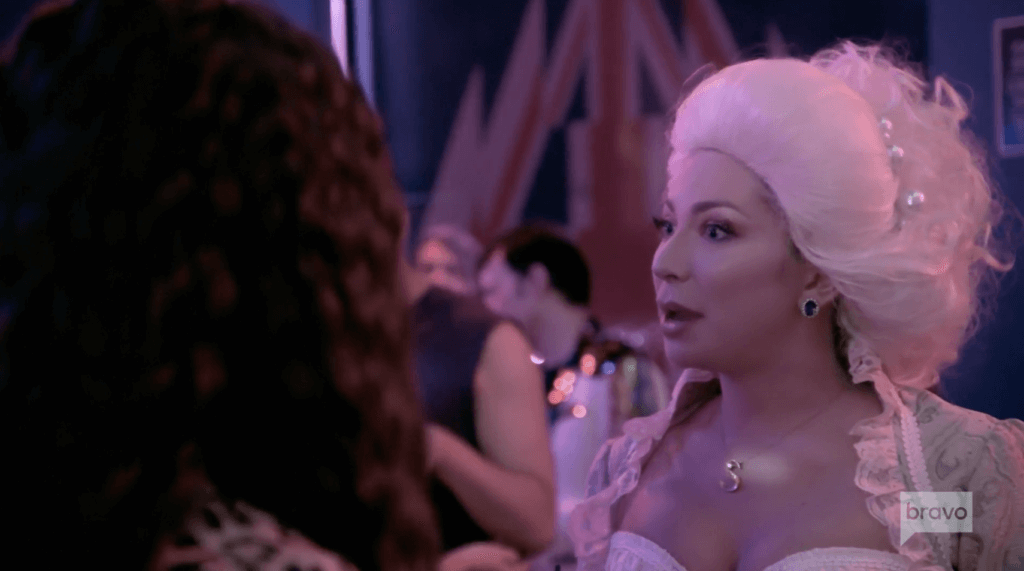 Will the Vanderpump Rules Witches of Weho work out their differences or are they done forever?
Tune into Vanderpump Rules next week to find out!
Stay Connected With All About The Tea: Twitter Ι Instagram Ι YouTube
Amanda Byerly focuses on Reality TV recaps for All About The Tea. Amanda is a 30-year-old wife, mother and self-proclaimed Bravo TV junkie. When she's not watching Bravo, she's writing about it, reading about it, or listening to podcasts about it. "I get by with a little help from Bravo TV."