'RHOA' RECAP: Kenya Moore Assaults Kandi Burruss In Greece!

Kenya Moore Assaults Kandi Burruss In Greece!
Welcome back to an all-new drama-filled episode of The Real Housewives of Atlanta. Cue the Greek tragedy.
We pick back up where we left off at the "Ruins Party" that effectively ruined everyone's night once NeNe Leakes and Kenya Moore started going at it. NeNe Leakes takes the fight one step further when she hawks a big fat popcorn kernel right at Kenya Moore's face. Hey, I get it. if you can't throw hands, why not throw popcorn instead???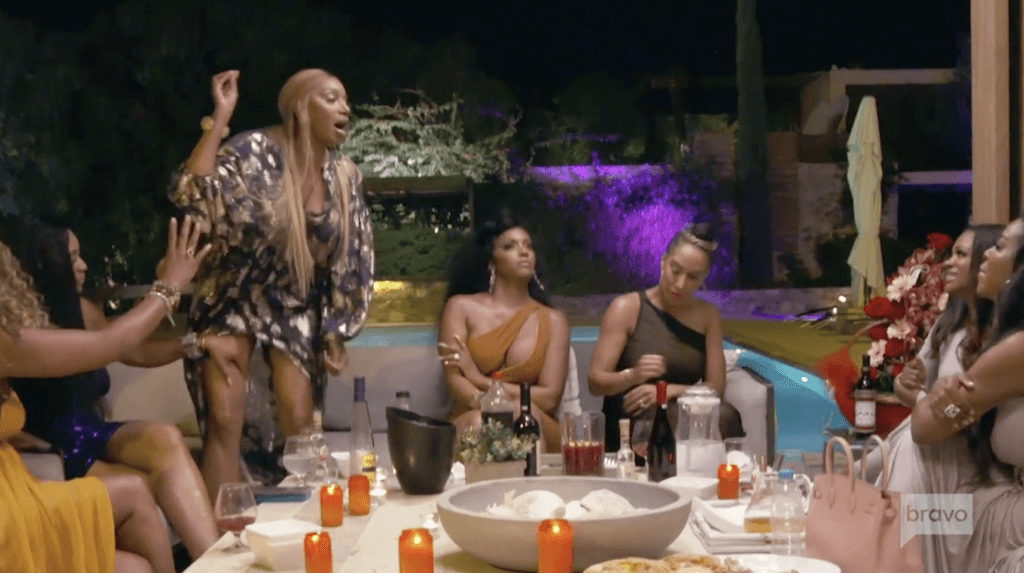 NeNe Leakes proceeds to read Kenya like the Fifty Shades of Grey trilogy but poor Kenya looks plain worn out. She's already been verbally accosted by her fake husband for months on end and now this. How much more can a girl take?
But just when we think KEN is ready to yell "UNCLE" she quickly snaps back into the KENYA we all love to hate and immediately starts to antagonize NeNe, shouting at her "If you feeling froggy, jump." Honey, NeNe ain't baby Brooklyn's Leapfrog Tablet. You mess with the bull that is Linnethia Leakes and you, my friend, are going to get the horns.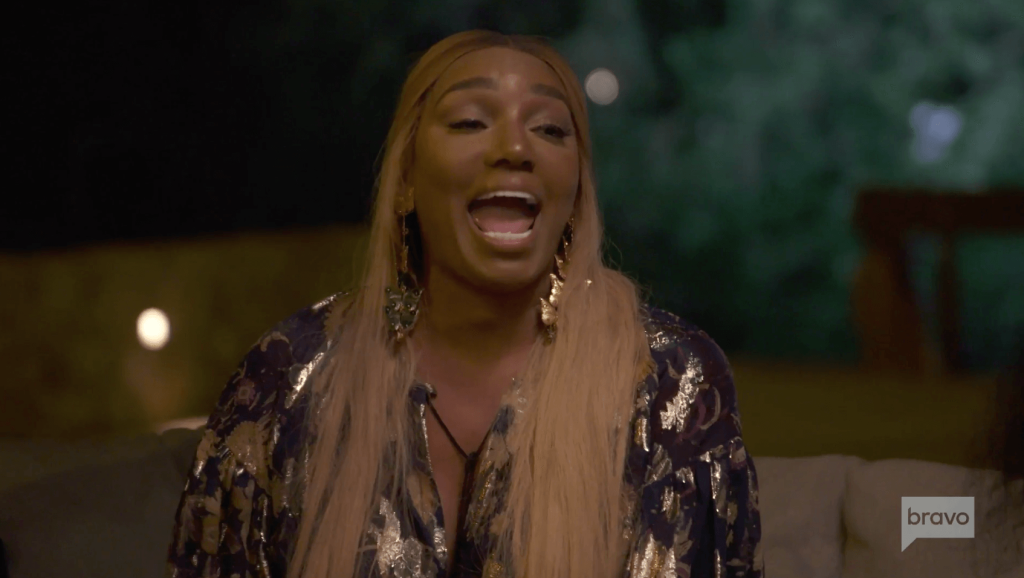 By some amazing feat (and production's security team, let's be honest) the ladies are somehow able to reel NeNe in so that Kenya and NeNe are able to have a civilized conversation.
READ ALSO: NeNe Leakes Warns She's Going After Kenya Moore At The Reunion & Has Zero Sympathy For Kenya's Miserable Marriage!
According to Kenya Moore, her intolerance for NeNe all boils down the offhanded comment NeNe made when Kenya was pregnant asking if Kenya was having a "water buffalo." Kenya is adamant that NeNe called her daughter a buffalo, but all of the ladies agree that NeNe meant to refer to Kenya as the water buffalo, not her innocent unborn child. NeNe apologizes but it's obvious Kenya is definitely not ready to receive the apology. She eventually agrees to never speak of it again and everyone finally lets out a sigh of relief.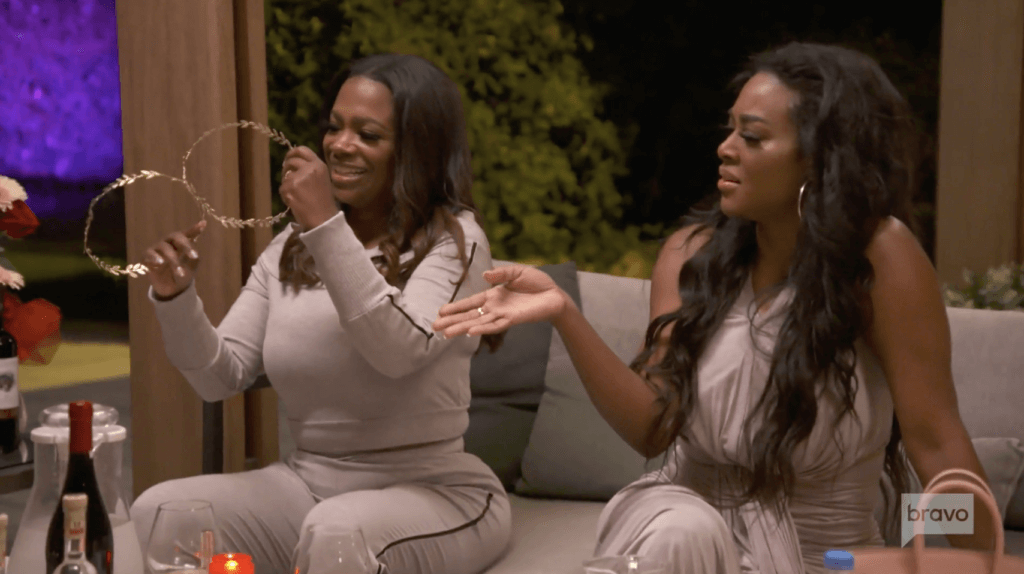 One would think things were starting to look up for this "Ruined Ruins Party" but leave it to Marlo Hampton to stir the sh*t soup just one more time, asking for Kenya to apologize for ruining her wig launch from months past. Kenya makes it apparent that she would rather chew glass first before she storms off.
Kandi Burruss chases after Kenya Moore only for her to swat her away and scream that she doesn't have time for all of this with everything else that she's dealing with. Poor Kenya. Someone tell that girl just to call 1-800-DIVORCE when she gets back to the ATL. It will save her loads of time.
The next morning Porsha Williams and Tanya Sam discuss the previous night's debacle over eggs a la Francaise-oops nevermind, wrong franchise-over some scrambled eggs. NeNe finally joins them and they all agree that Kenya has zero ability to acknowledge her part in any drama.
Meanwhile Kenya, Kandi and Cynthia Bailey are having a heart to heart while making jokes about Nene getting locked up abroad. Don't worry Nene. I'm sure Lindsay Lohan has the name of a great attorney in Athens.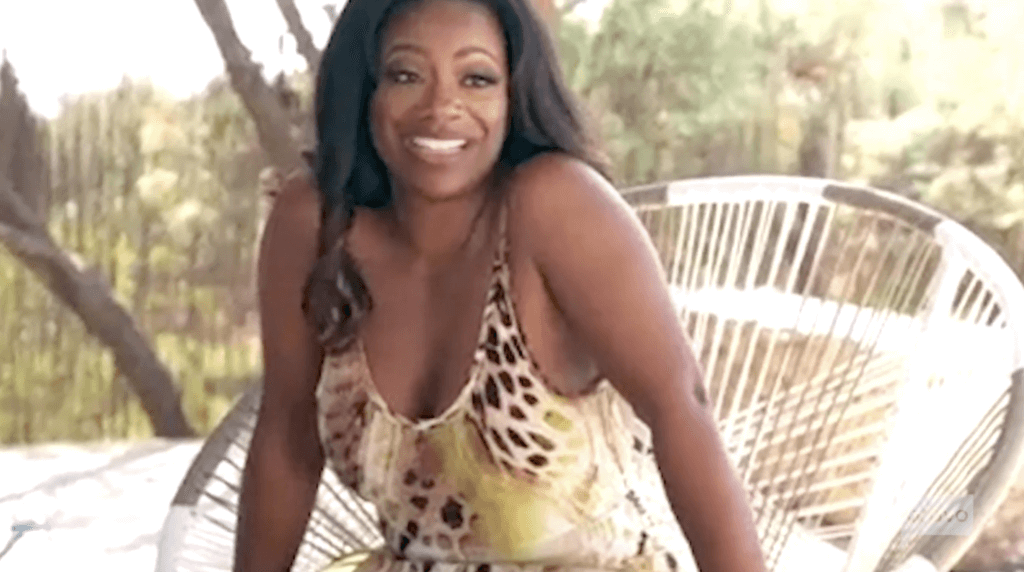 Kandi and Cynthia try to play devil's advocate and persuade Kenya to one last sit down with Nene but Kenya refuses. Oh, come on, KEN! Even Kandi has moved past the rape accusations by Porsha. If she can move on, you too can get over Nene calling you a water buffalo.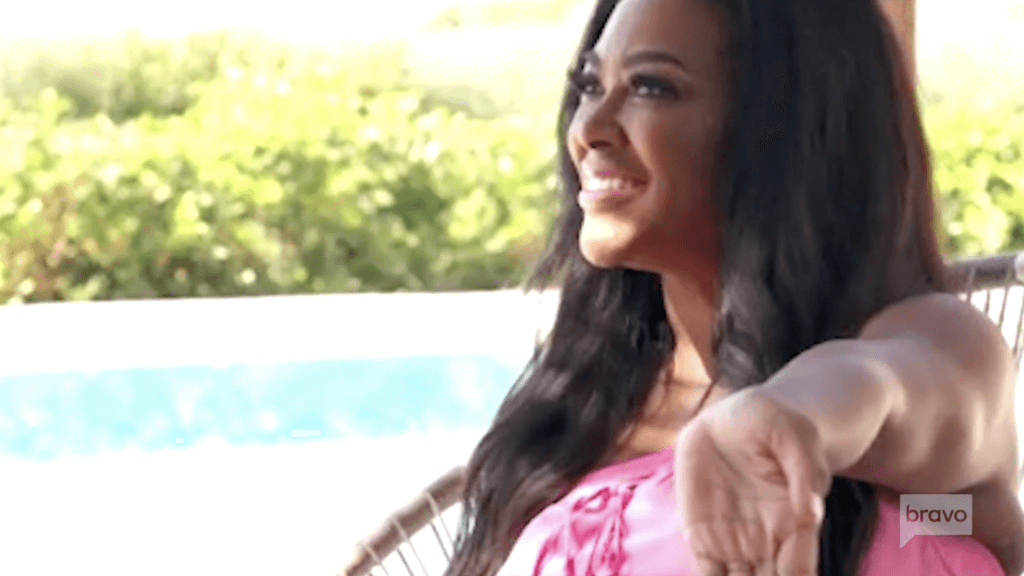 Later hostess with the mostess, Kandi, takes the ladies to participate in various team-building activities at none other than… Lindsay Lohan's Beach Club. Wait, WUT?! Is anyone else waiting for Kim Zolciak-Biermann and Michael Lohan to pop out walking side by side like they did in season two circa 2009???
In an effort to mix things up a bit Kandi pairs up, Kenya and Tanya, Nene and Porsha and Marlo and Cynthia together for the relays. Let the games begin…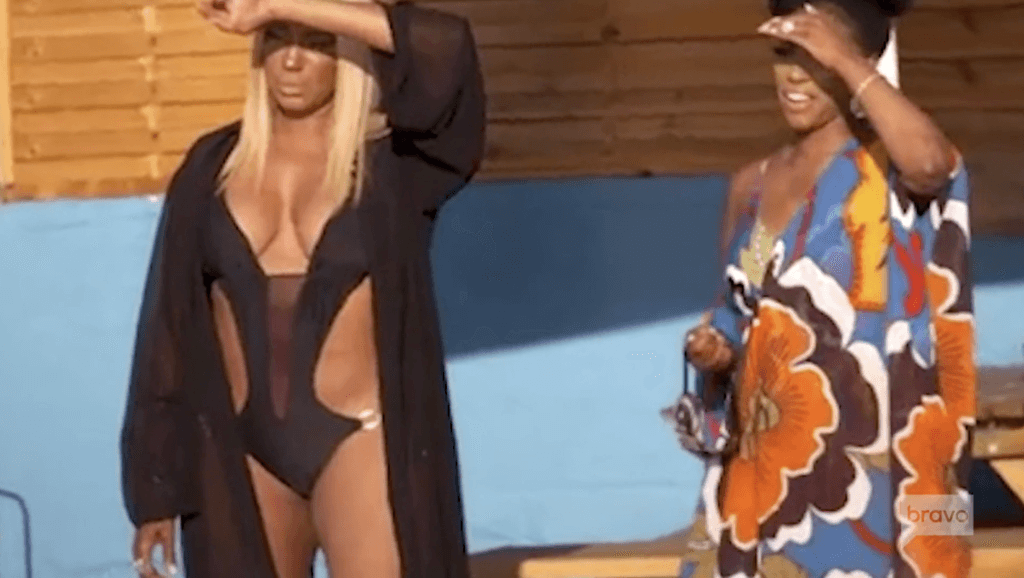 Tanya Sam and Kenya Moore win the first round by a long shot. But it's Nene and Porsha who take home the second W. While celebrating their hard-fought victory, Nene's nipple apparently decides to come out and play also. Man, that was an eyeful. You could practically hear it screaming, "Put me in the game, coach!!!"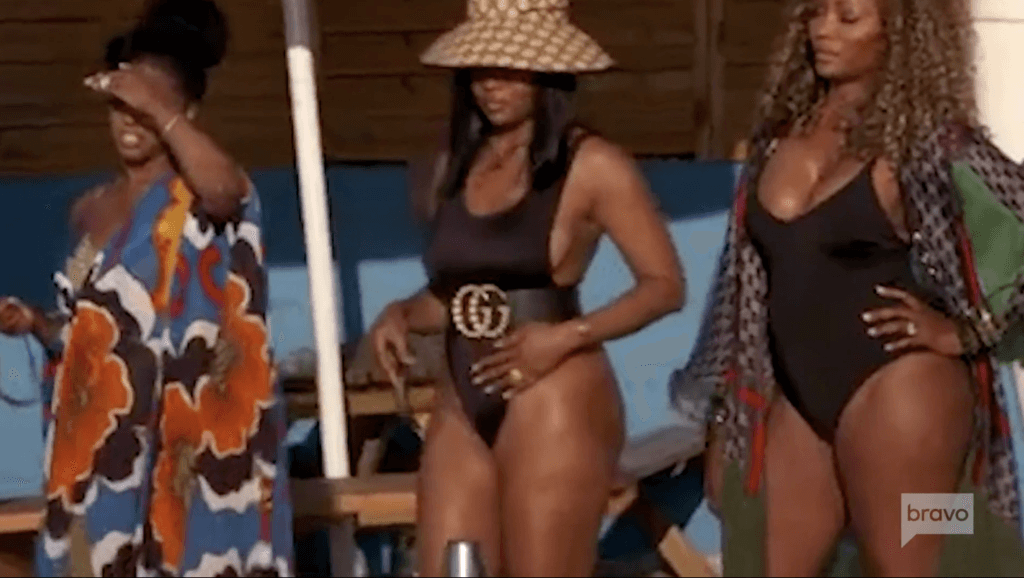 Later that evening as the ladies are getting dressed for their Grecian Goddess Party, Cynthia pays Kandi a visit in her room. While there, Kandi fills Cynthia in on her master plan to provide some entertainment for the evening.
Kandi explains that she wants to put on a play for the ladies similar to that of Greek Theatre. The catch- she and Cynthia will be acting out the roles of Kenya and NeNe. Something tells me this performance is going to end in Greek TRAGEDY….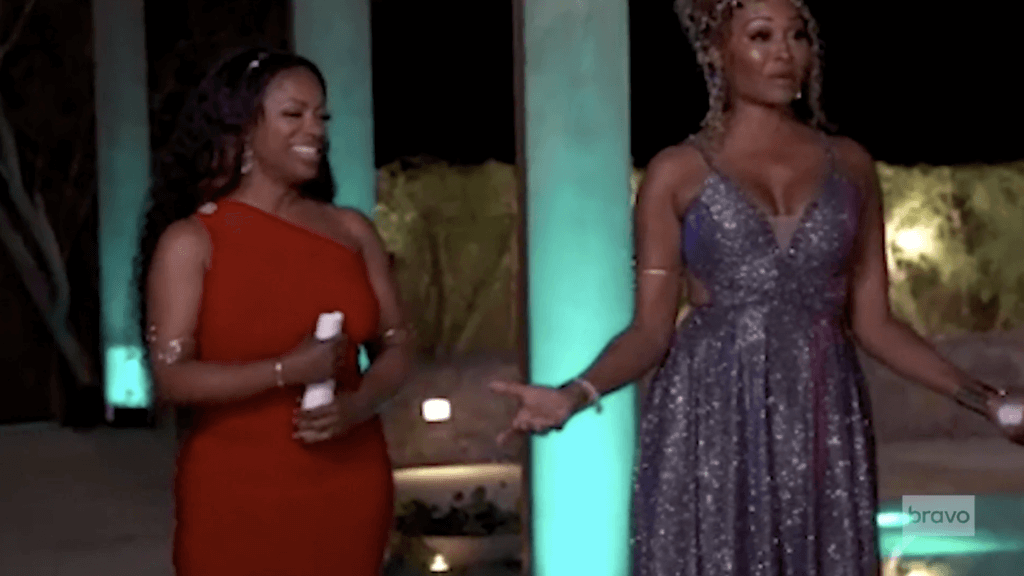 Sure enough, dinner seems to be going swimmingly until Kandi and Cynthia get up to act out their scene. Nene politely excuses herself to the restroom which is actually Nene speak for "I'm gonna get the hell out of there ASAP." I mean, can we blame her? Later in her talking head interview, she admits that she'd be willing to flush herself down the toilet if it meant she'd get to miss Kandi and Cynthia's performance. Fair enough…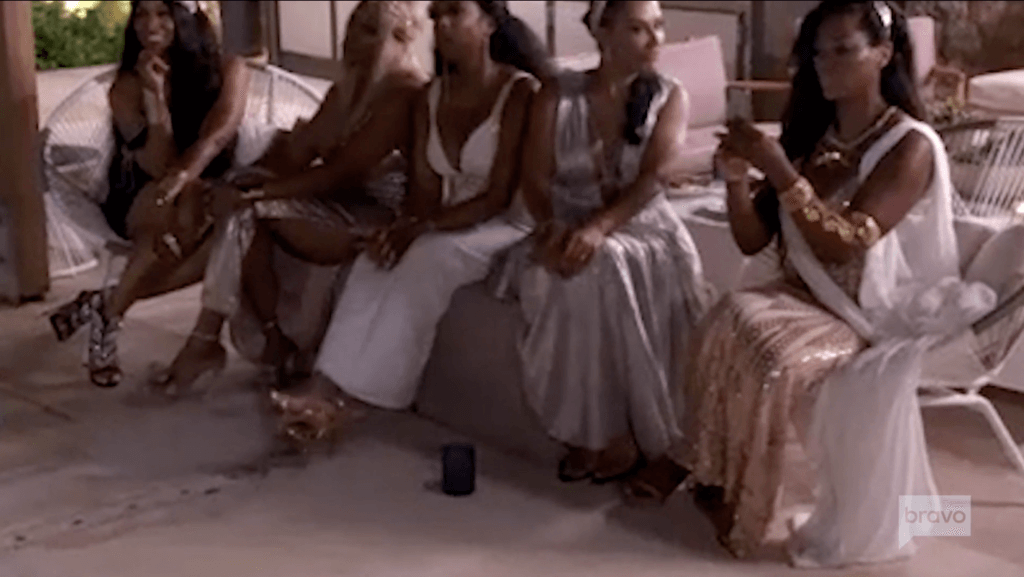 Tune in next week as Kenya Moore scrambles to figure out her new normal as a co-parent with Mister Marc Daly.
Stay Connected With All About The Tea: Twitter Ι Instagram Ι YouTube
Amanda Byerly focuses on Reality TV recaps for All About The Tea. Amanda is a 30-year-old wife, mother and self-proclaimed Bravo TV junkie. When she's not watching Bravo, she's writing about it, reading about it, or listening to podcasts about it. "I get by with a little help from Bravo TV."