RECAP: Tommy Vandalizes Reza's House After Pool Party Blowout on 'Shahs of Sunset'
Last week on the Shahs of Sunset, Mercedes "MJ" Javid and Reza Farahan had a blowout at Sara Jeihooni's swim party. Reza left in an angry huff, and now we pick up with MJ and Mike Shouhed discussing the showdown.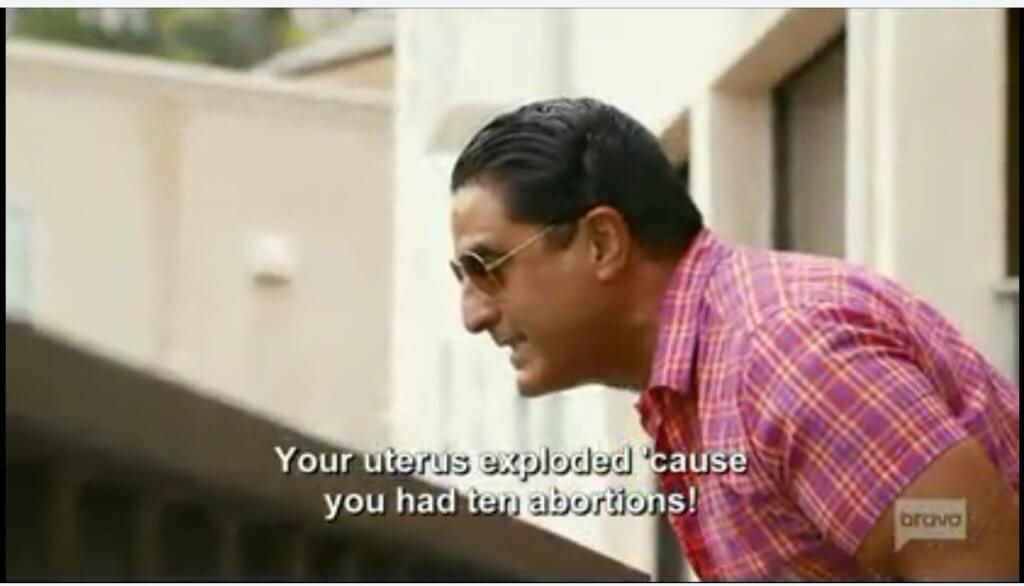 Mike Shouhed thinks MJ shouldn't have thrown a drink on Reza. MJ thinks her abortion history shouldn't have been brought up. Mike, playing the part of Sherlock Holmes, thinks it all started with the naked Jenga rumors circulating around Reza's husband, Adam. Mike believes that MJ spread the rumor but didn't start it. The group is too intent on using each other's secrets as a weapon. But Mercedes "MJ" Javid says it's no secret that Reza and Adam have been having serious marital problems. It's easier to blame her than it is for Reza to deal with his relationship.
MJ calls Tommy and tells him everything that happened. Mike and Nema yell at her to stop. Nothing good can come from stirring up Tommy's wrath. But what is she going to do, keep it a secret? It was filmed, for God's sake.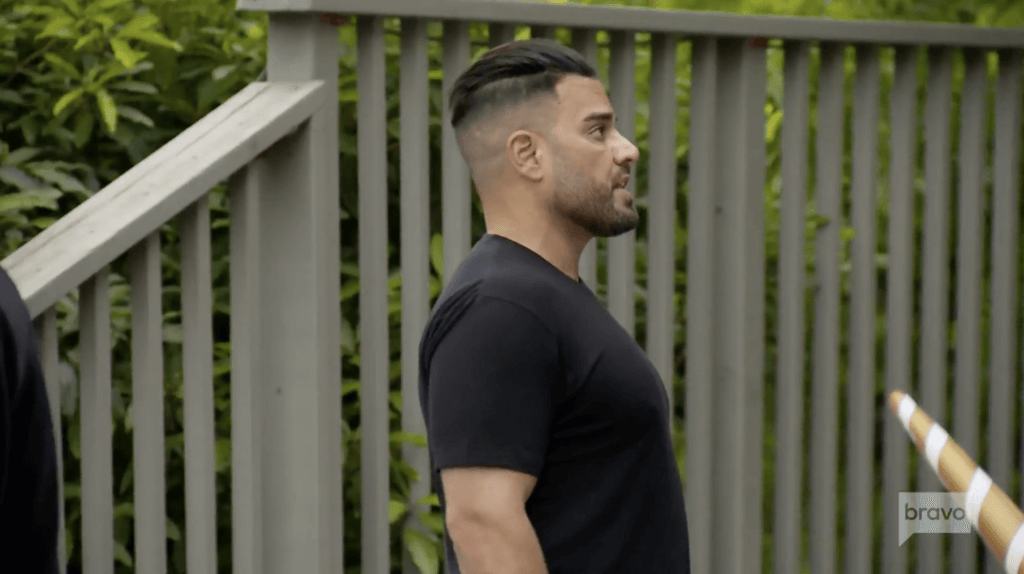 We flash-forward to twenty-four hours later to find Reza's backyard looking slightly disheveled. We see Ring footage of Tommy coming over and throwing a few potted plants and a small table across the zero-scaped yard. A terracotta pot and a cactus didn't survive the Great Plant Massacre. May they rest in pieces.
Now Adam says he doesn't feel safe in his own home. Reza files a temporary restraining order against Tommy. MJ is dead to Reza, and he wants Tommy prosecuted.
MJ meets up with Nema Vand for lunch. He's confused as to why things turned to shit so fast. The water throwing, the medical history — all bad news. Mike, in a hot pink beanie, joins them. Mike and Nema wonder why MJ let Tommy spiral out of control. Because he was protecting his woman, natch!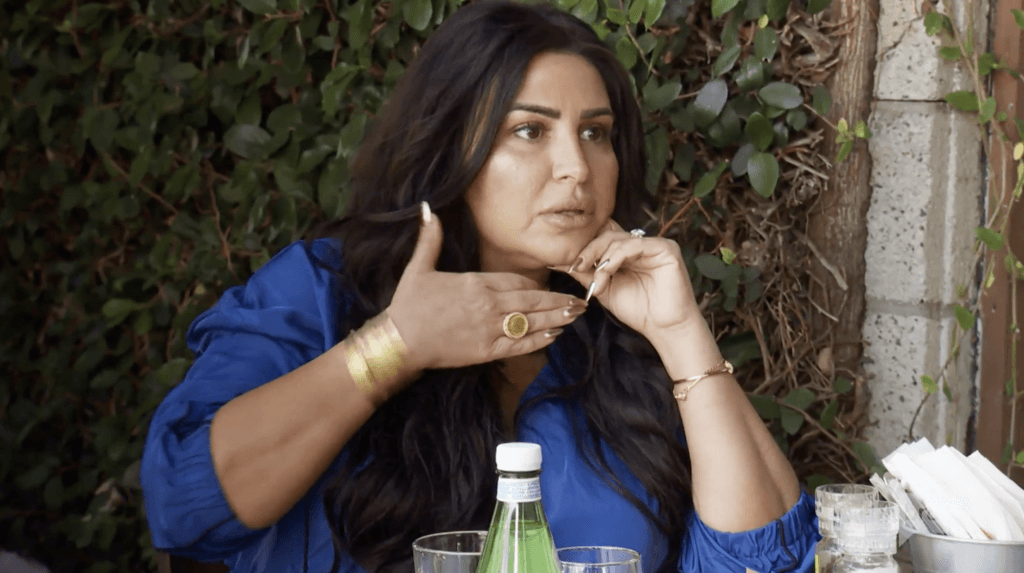 But that not the whole story. After the pool party, Reza took to Insta and showed the world the text messages Tommy sent, telling of MJ's emergency surgery and her prognosis. Sharing her private info to the world. That's what really set Tommy off. 
Tommy isn't proud of his actions. But in the end, plants were harmed, not people. Mike wonders why MJ's being so defensive. He now has to choose between MJ and Reza. Nema tells MJ to own her shit and move on. MJ agrees to clear the air with Reza, but she's not interested in being friends with her old pal any longer.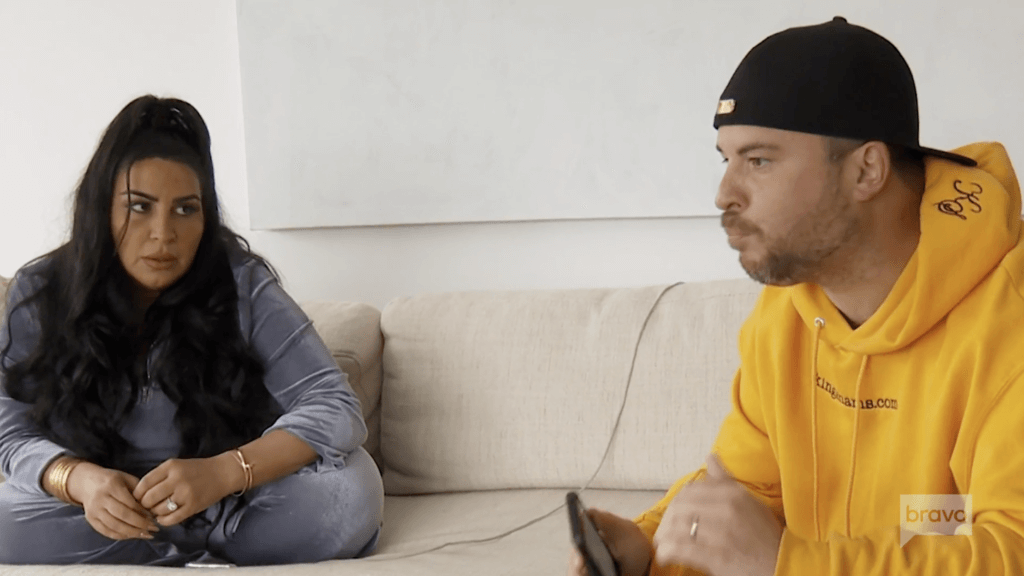 Golnesa "GG" Gharachedaghi' stops by her lawyer's office, and hugs her like an old sorority sister. GG's divorce finally went through. Finally! It's been a long road to freedom, which seems silly considering she was only married for less than two months.
Shalom still wants GG, but he's realized it's time to let her go. Still she can't afford to piss him off right now, because he can say that she committed fraud or cheated him. And since she's trying to get pregnant, she has to keep it a secret until the time limit has passed for Shalom to make trouble.
Destiney Rose meets up with Nema for drinks and apps. She says she didn't even want to go to Sara's pool party, especially since Sara disapproves of Destiney talking to Sam, Sara's brother. She's having a party before an MMA fight in Arizona over the weekend. She doesn't want to invite Sara. Why bother when Sara seems to dislike her so much?
MJ is at home with Shams. Dang, but that little nugget is cute. Her personal trainer walks in with collagen water, ready to lead her in post-partum workouts. He wants to know how she's doing mentally and emotionally. Today, she's not doing well. Her trainer says her dad, Shams Sr., came to him in a dream. Pops wants MJ to make things right with Reza. It's a sign from beyond! Okay, then.
Reza texts everyone to meet up. Mike's house is the designated spot. Destiney shows first. She and Mike talk about Reza and his ultimatums. In a crisis, he rallies his friends and forces them to pick sides. It's not fair, man!
Adam and Reza show up, then Nema comes right on their heels. Reza wants everyone's support. He can never be friends with MJ or Tommy again. He blames MJ for trying to bust up her marriage, and then Tommy threw plants in his backyard. Plants. In his back. Yard.
Nema says he met with MJ and talked things through. Mike disagrees with throwing away an old friendship over stupid shit. Sara comes in the midst of this, and Reza apologizes for acting insane at the pool party. Sara demands to know who invited MJ in the first place. Nema takes the blame, but says he did it for the right reasons.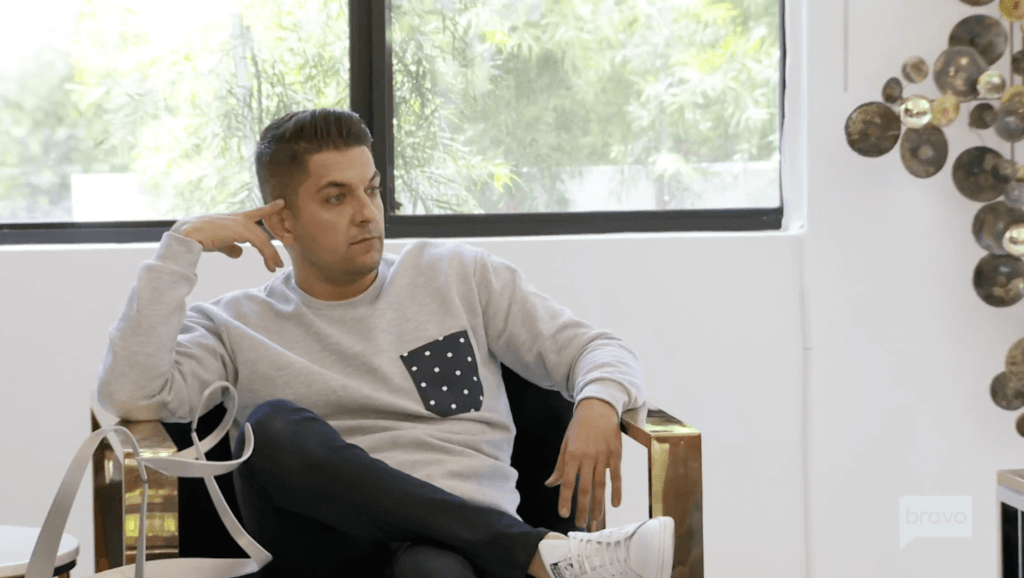 Reza is angry that Nema took matters into his own hands. He's sorry he brought up MJ's medical history and isn't proud of his own behavior.
Paulina joins the group. Reza discloses he that he got a restraining order for himself and Adam, their home, and their cars. Tommy will have to pay the legal price for his temper tantrum. Reza warns everyone to stop trying to play mediator. He doesn't want to be friends with anyone who associates with her. There you go, a line in the sand.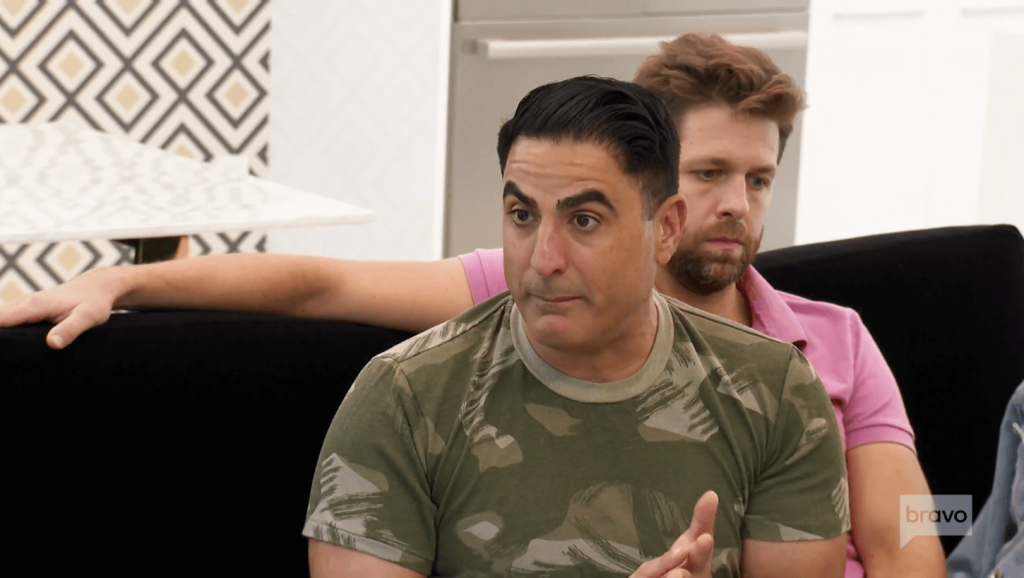 Shervin Roohparvar finally makes his first appearance of the season. He meets Mike and Nema to go to the MMA fight. They fly out to Phoenix to meet Destiney and her assistant, Rose. Unfortunately, all of Destiney's shirts and her dancers' costumes have been lost. This is a working event for her, and it's in danger of failing. Since Destiney's stressed, Rose makes her a stiff margarita to curb her edginess.
Nema, Shervin, and Mike are late arriving to the hotel. They were kicked off the plane and had to take another flight. They blame discrimination.
Once they arrive at the hotel, Destiney is already buzzed. She's rehearsed her dancers and has made a showing at the weigh-in — and drank a lot of tequila. Mike thinks she's been drinking because she feels guilty about putting a wedge between Reza and MJ. Thanks for that psychoanalysis, Dr. Freud.
At MJ's, her mom, Vida, comes to visit. Vida retired from her long-time job at Bloomingdales to become a full-time grandma. MJ wasn't invited to the MMA event. She understands, because she would force the truth to come out, that she wasn't the one who prodded Ali to come clean about the naked Jenga rumors.
GG's friend and mom stop by her condo. She still doesn't know if she's pregnant. The doctor calls with the results. And she's preggers. There's much rejoicing. All the shots and treatments were worth it.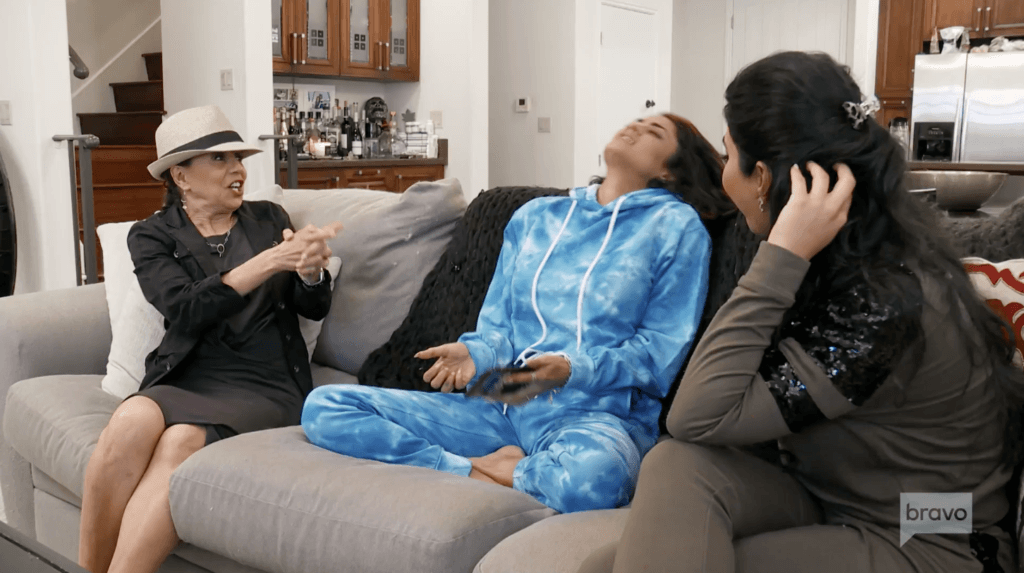 In Arizona, the guys meet up before dinner. Mike's depressed that MJ and Reza aren't with them. MJ calls and tells Mike she hates missing out on everything. She felt attacked when they last met. The boys blamed her and Tommy for the entire problem. But Mike says that everyone in the mess has a part to play. Both Destiney and Ali pointed a finger at MJ as spearheading the rumors about Adam. She says she's not in charge of Tommy or his actions.
Mike prods her, telling her to own up to her own bad behavior. She finally admits that Ali came to her, wanting to talk to Reza about Adam's behavior. She didn't think it would go past the strip Jenga situation. Mike says he'll reconvene with everyone and try to bring peace.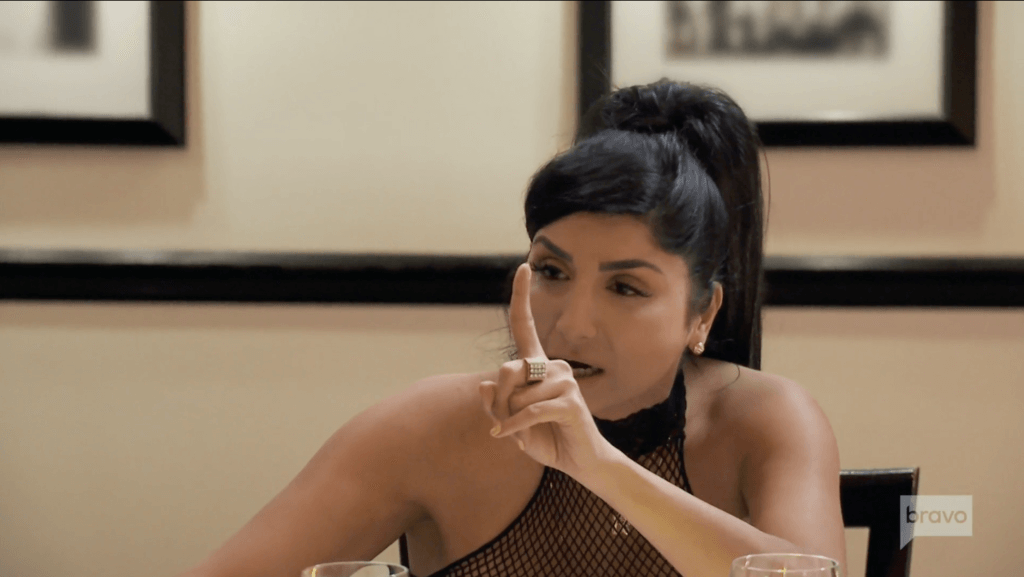 The boys head down to the restaurant to meet Destiney. Mike says MJ knew about the messages between Adam and Ali. Destiney says Ali told her to her face that MJ put him up to spilling the tea about Adam. Destiney starts to cry because MJ called her a liar at the pool party.
Mike encourages Destiney needs to be honest. Shervin says Destiney shouldn't have told Mike about the rumors. She should have gone straight to Reza with the information. She becomes enraged that they're blaming her for the problem. Desintey calls Shervin a piece of shit and storms off.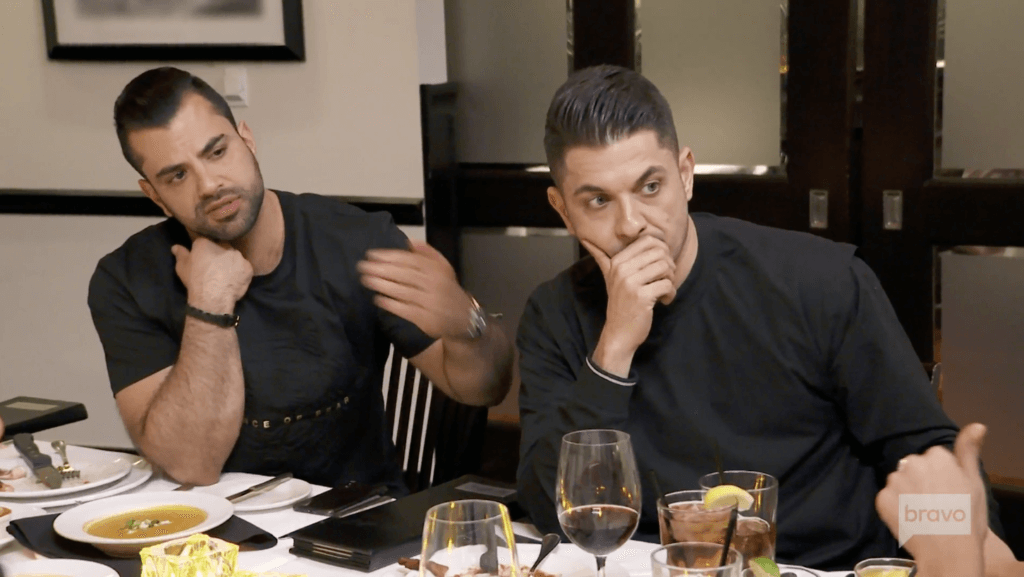 Back at MJ's, Tommy's feeding Shams, while MJ reflects on the things Reza said and his Instagram reveal of her medical history. After Tommy saw it, he asked for Reza's phone number. He called Reza, who hung up, and then Tommy went over to Reza's house. If Reza had been there, Tommy would have pounded on him instead of a cactus. The guy got off lucky.
MJ paces in anxiety. Tommy becomes visibly angry as he rehashes the situation. He feared for MJ's life during her surgery and recuperation. He's in tears, remembering the possibility of losing MJ and having a newborn to take care of by himself.
MJ soothes him. She's had a tough year — losing her father, getting pregnant, being on bedrest, and then having to undergo surgery. She stands by her husband, no matter what he did.
And that ends our episode. So, do you think Reza is right to divide his friends? Was Tommy right to take the fight to Reza's house? And who's really to blame for spreading the rumors about Adam?
Stay Connected With All About The Tea: Twitter Ι Instagram Ι YouTube
I'm a fiction writer by day and a reality TV addict by night.