'RHONJ' RECAP: Teresa Giudice Ended Her Friendship With Danielle Staub Because She "Ratted" Her Out!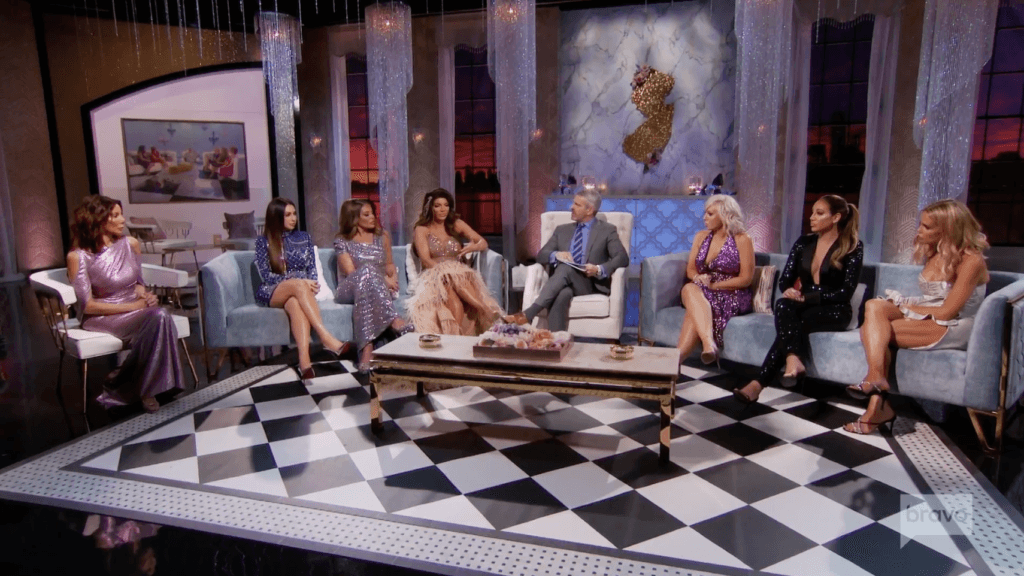 It's the last episode of the Real Housewives of New Jersey  reunion. Welcome!
We begin our episode with Danielle Staub in hair and makeup. She's got ex-husband, Marty Caffrey, along as sidekick. Her dog is in its stroller. It needs medicine, and as she's delivering an injection, she tells a producer that she wants to sit next to Andy Cohen. Or else she's walking, bitches! She started this show, so she deserves a seat of prominence.
Onstage, Teresa Giudice says that husband, Juicy Joe, is nicer to her than he was when he was locked up. Now that he's a free man, I guess he's less stressed? She admits to paying over a cool million in his legal fees and restitution. Is he grateful? Mmm, not really. He thinks she ruined his life by being on the show. Dolores Catania thinks Juicy will hit Teresa where it hurts — in the pocketbook — once they divorce.
Joe Gorga rejoins the ladies. He never liked Juicy. He treated Teresa poorly. Teresa now wants a better man. His family is going to hate her for admitting it, though. Joe thinks Juicy should have been sorry in his post-release interview. Melissa Gorga says Juicy is arrogant, still, after all this time.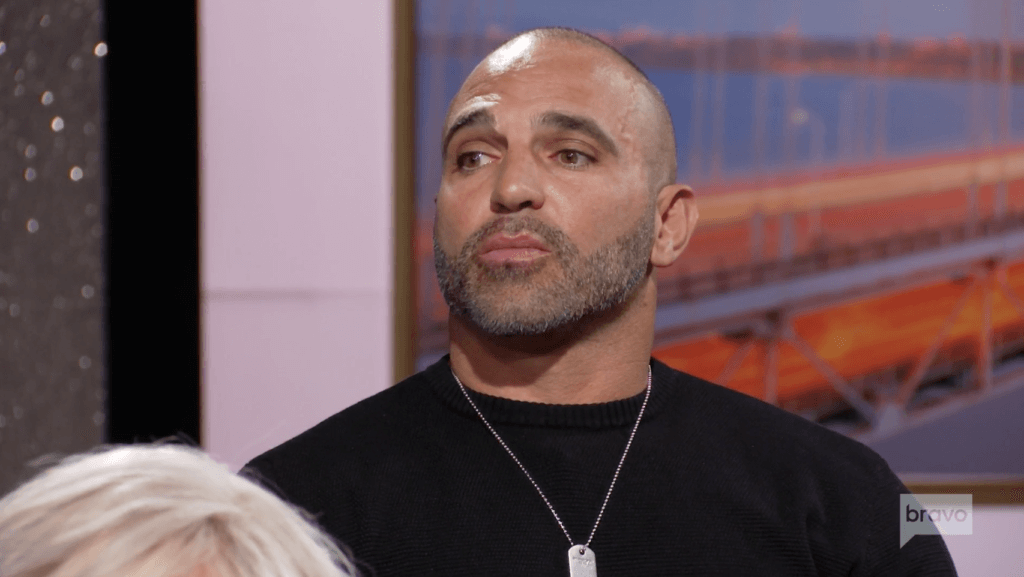 Teresa Giudice's learned to deal with it. She blames it on the way he was raised. He's a hard man.
When a viewer asks why she stayed despite his cheating, Teresa says she didn't leave because she never caught him cheating. She couldn't use deductive reasoning from all the evidence that's piled up the past few years? I guess she had to see him pumping away before she believed it.
Her brother knew Juicy was a cheater, yet Joe never said a word. It wasn't his job to come between his sister and her deadbeat husband. If she needed his help, Joe would have been there in a heartbeat. And even so, Joe still feels bad for Juicy. He doesn't like him, but he feels sorry that he's lost four years of his life and the closeness of his family.
Backstage, Danielle Staub  is still getting glammed up while Marty holds the dog. Marty is a neutered man, there to support Danielle, no matter how much she's lied about him or made his life hell. What I'm saying is: You're a fool, Marty!
Back to Juicy Joe's ICE dilemma, we see a montage of news headlines and the cast's response to his lockup and deportation. Teresa almost cries as she watches, but she can't manage to squeeze out a tear. Gia's seeing a therapist because of her family drama. Teresa worries about Milania the most. She's always been closest to her dad.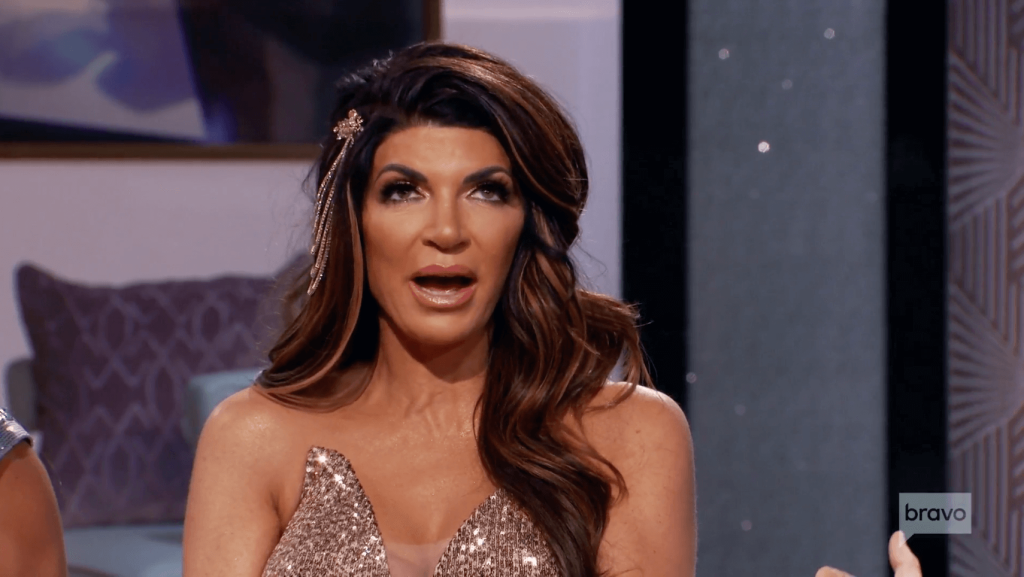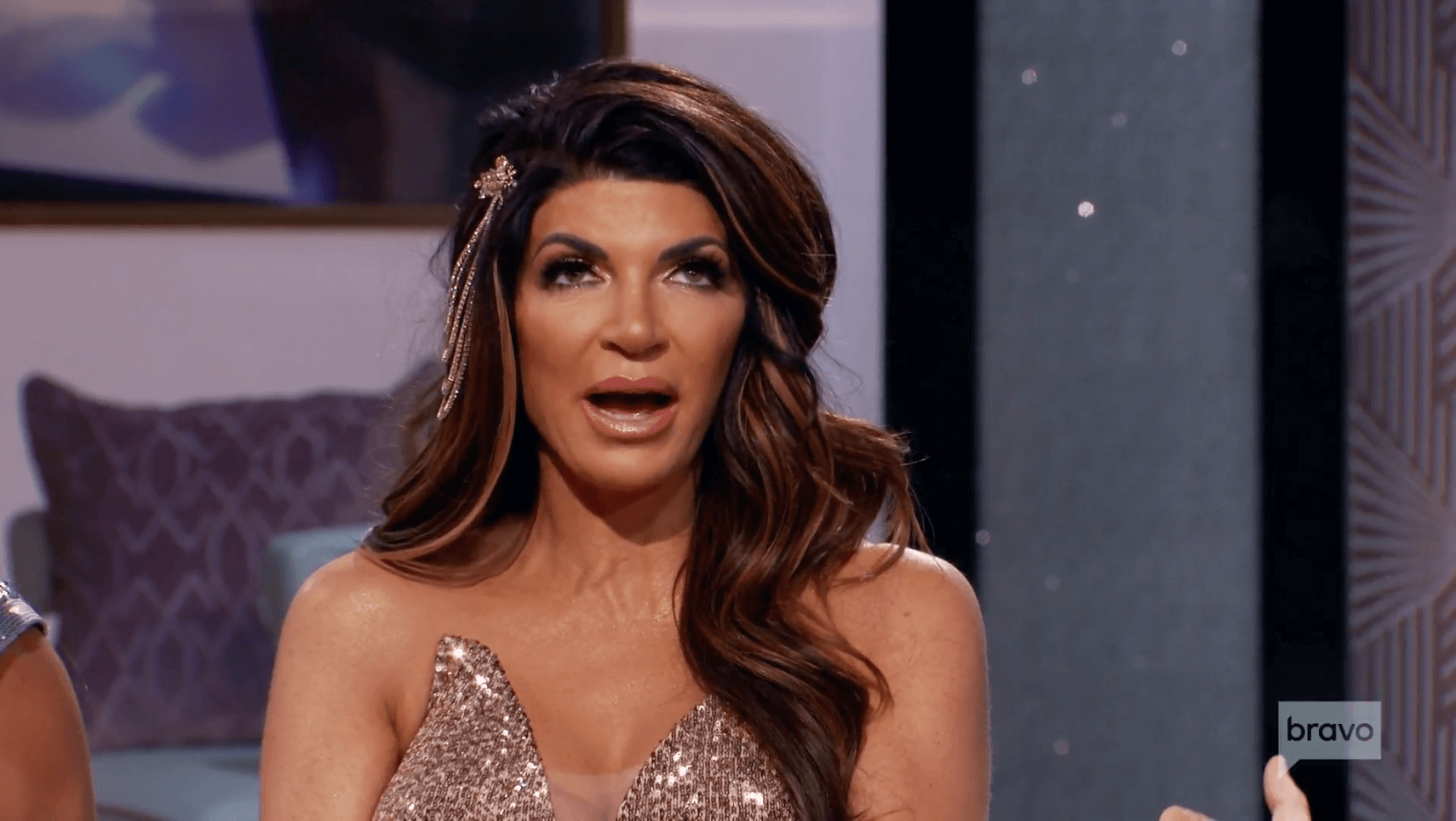 Teresa says Juicy hasn't considered moving closer, say to Canada. And as they're taping the reunion, he's in Mexico on a fishing trip (remember all those photos we saw of Juicy surrounded by barely clad women?). Andy wonders where Joe got the money for the international trip. Teresa says he's working, but she doesn't know the details. She's not keeping tabs on him. Joe Gorga rolls his eyes in disgust.
Joe, too, thinks Juicy will hit Teresa up for money. In fact, Juicy has been pressuring her to get into joint businesses with him. So far, she's said no. 
Teresa Giudice is no longer attracted to her husband. Though Juicy wanted to hook up with her in Italy, she had no interest. She used Audriana as a cock blocker. She lost all feeling for him when her mom died. And Joe Gorga blames him for his mom's misery in those last months of her life.
Joe urges her to sign the papers and end the union. Dolores Catania agrees. But once they are divorced, Teresa won't go back to her Gorga surname. She plans on taking the name of her future husband. Wherever he is.
As they take a break, Andy Cohen talks to the producers. He hears the drama going on with Danielle and heads backstage to massage her ego. He gives her an insincere cheek kiss. She wants to be heard, and she can't do that with the other women yelling at her. Andy isn't putting her next to Teresa, who almost attacked her in season two. And he's not seating her next to Margaret Josephs, since Danielle pulled her hair. Unmoved by her whiny pleas, he leaves the decision to Danielle.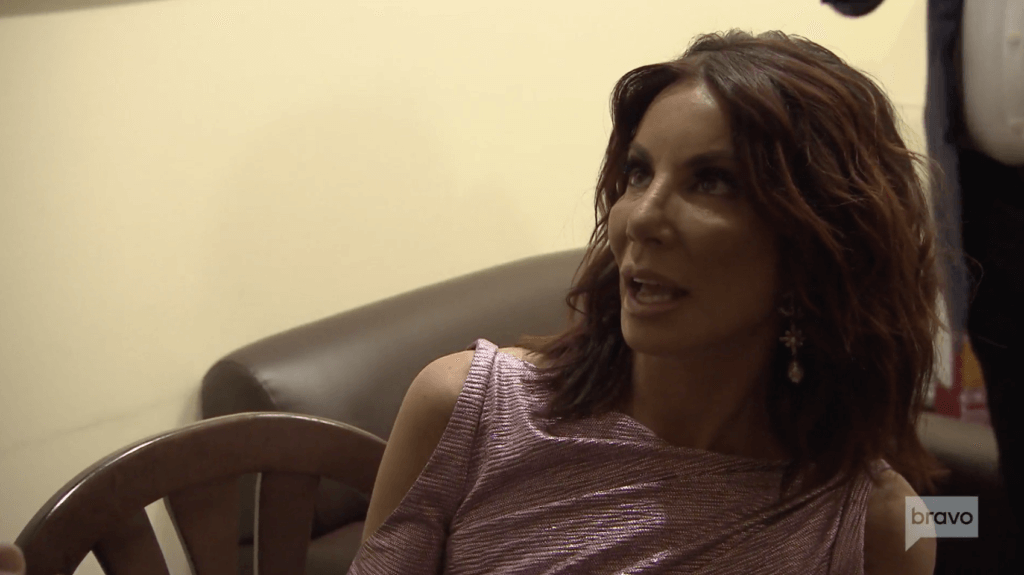 As Margaret and Melissa are getting their makeup touched up, they whisper how much an asshole Danielle is. Andy tells the women they have to be respectful and hear her out.
As Danielle Staub stands near the stage, Andy touches on Margaret and Teresa's beef this season. Teresa didn't want to have to choose between the two women. Marge says the only person who's truly evil is Danielle. Even Jennifer Aydin, with whom Marge doesn't always mesh, has a heart of gold. But Danielle is another story.
When Teresa Giudice's mom was sick, Danielle Staub called her every day. And she forgave Teresa for the table flip all those years ago. That's how they renewed their friendship.
Finally, Danielle strolls out on stage. Andy walks out to greet her and asks about her relationship with Marty. Danielle plans on purchasing the house from Marty, even though they're still living together. She claims she and Marty aren't sleeping together. They're just good friends. Riiiight.
Andy points out that Danielle claimed Marty was abusive toward her and her kids. She refuses to talk about it.
She may have been engaged to Oliver Maier for a minute, but that was a flash in the pan. He wasn't well. She got him into rehab, but he was too sick to make their relationship work.
We see the flashbacks of Marty and Danielle blaming Marge for their breakup. They wouldn't have had the space between them if Marge hadn't stuck her nose into their marriage. But Marge says Danielle and Marty were already divorced when she reconnected with him. In fact, Danielle was engaged to Oliver at that point.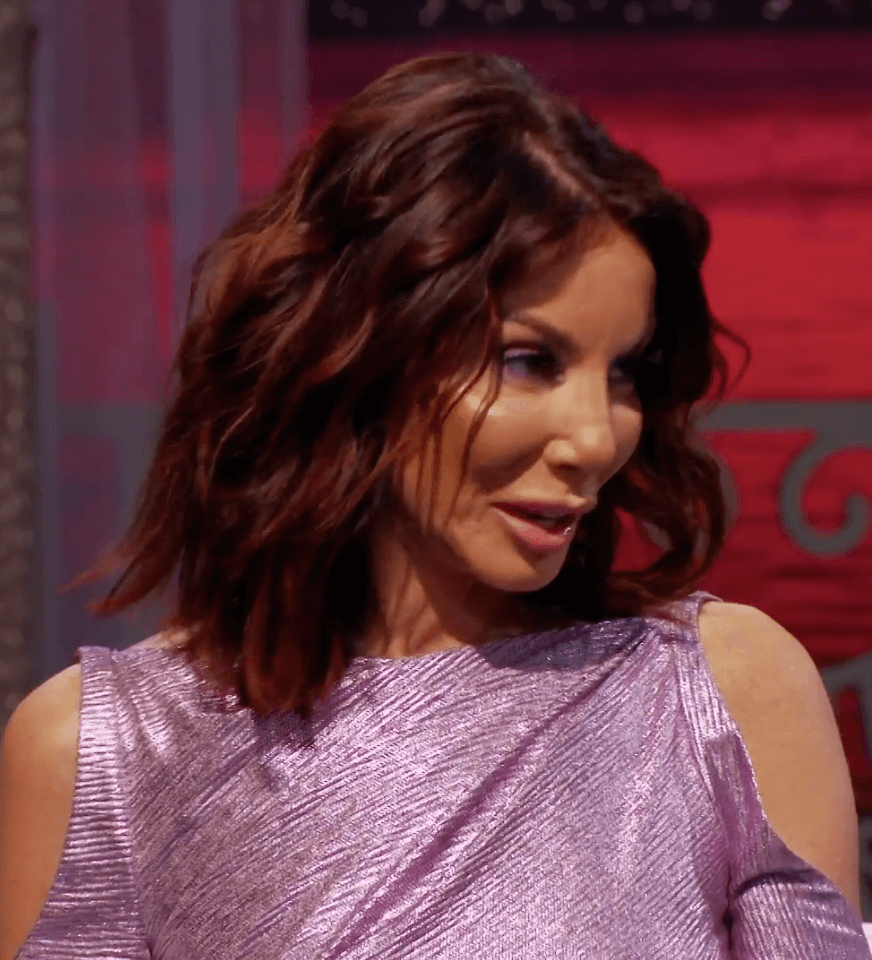 Of course, Danielle throws out Marge's affair with Joe B. It's the only ammunition she has, so she uses it often. In the past, Danielle told Marge a lot of personal things, and Marge used it against her. She was hurt and pushed to the breaking point.
Not so! Marge didn't contact Marty Caffrey. Marty texted Joe B. and said he and Marge were right about everything. Danielle had treated him terribly. He wanted their support.
Danielle Staub says she retired from the show, after putting in twelve long years. Marge is incensed. Danielle doesn't work, and she's barely been on the show the last two seasons. She hasn't put in twelve years, even if she is an OG.
Andy Cohen asks Teresa if she regrets spending the entire season defending Danielle. She stutters a bit, but admits that yeah, Danielle proved everyone right. We watch a package of Teresa and Danielle acting like bosom buddies — until Danielle admitted Teresa encouraged her to pull Margaret's hair. That was the nail in the coffin of their friendship.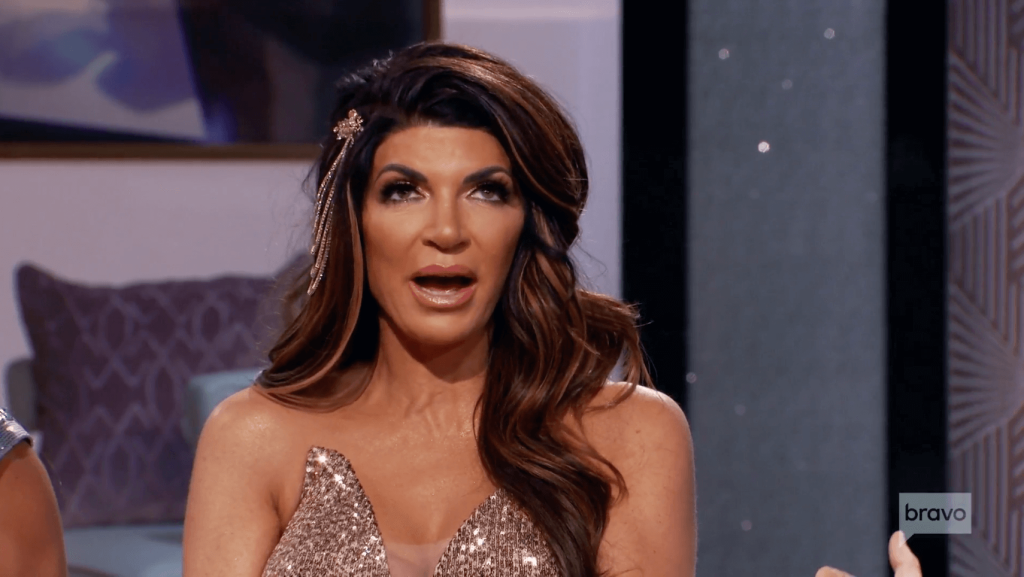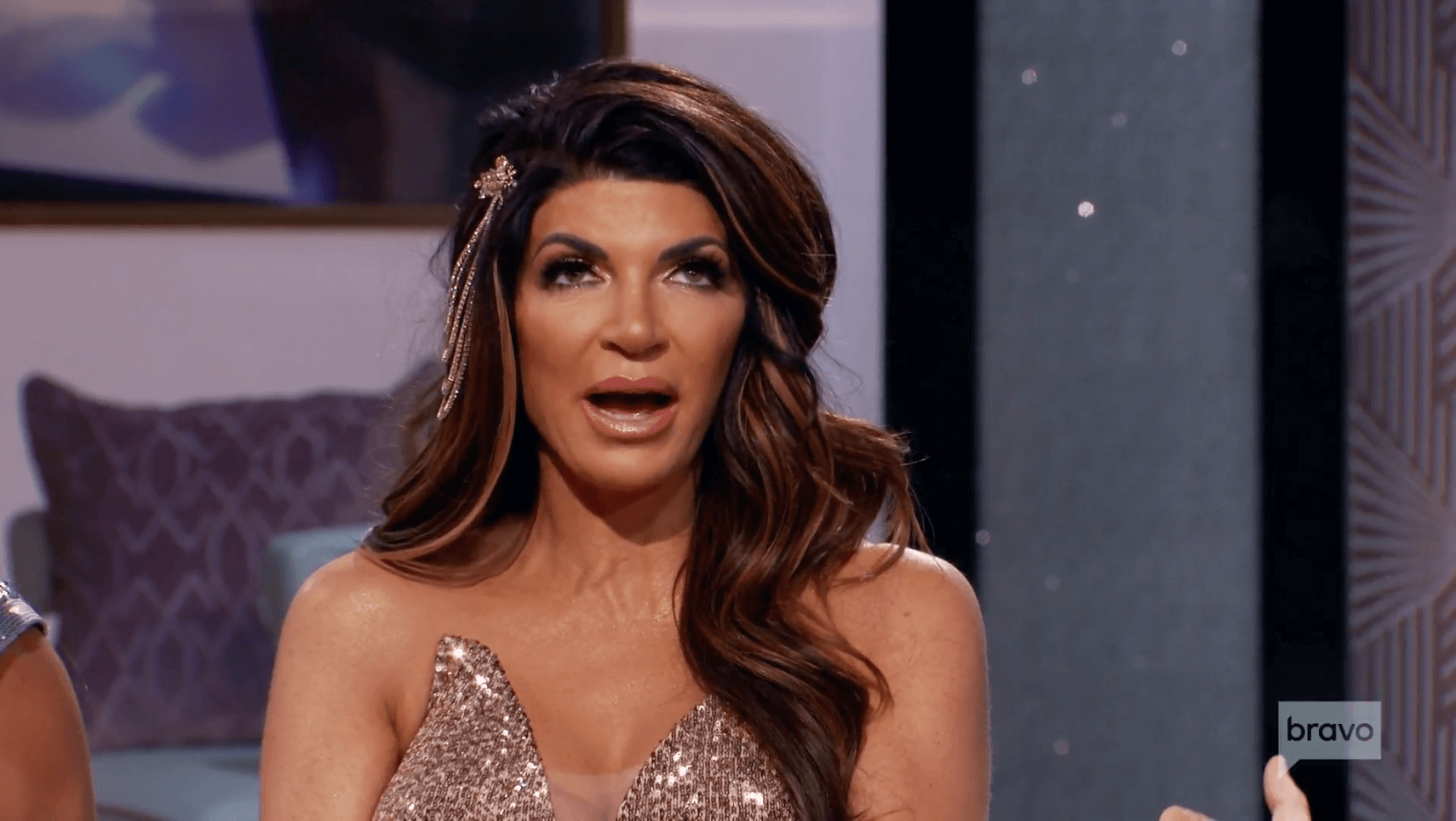 Margaret finally admits she shouldn't have thrown water on Danielle, a rabid dog. Danielle lays all the blame at Marge's door and has no remorse for yanking her hair. 
Teresa says she doesn't justify assault. She made a mistake. It was just a bad judgment call. Since Danielle got her hair pulled back in season two, and she prosecuted Jacqueline Laurita's daughter for doing it, she's a total hypocrite. But Marge deserved it. She provoked Danielle, so it was justified.
Teresa claims she didn't see the hair pull at the boutique. But the flashback shows the truth. Teresa saw the whole damn thing. She stood there with her mouth open like a hungry carp. Teresa says she wouldn't have stood up for Danielle if she'd actually witnessed the hair pull. Teresa is a liar and always has been.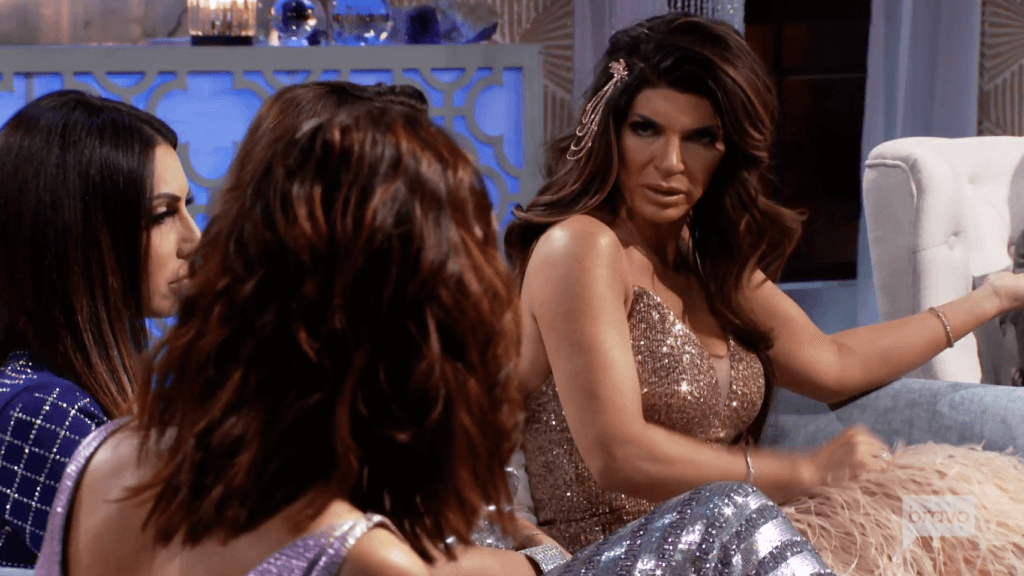 Margaret confronts Teresa. She's never said one word against her. Teresa says she won't blame it on alcohol — even though she was fucking wasted. It was just a bad call to tell Danielle to go after Margaret.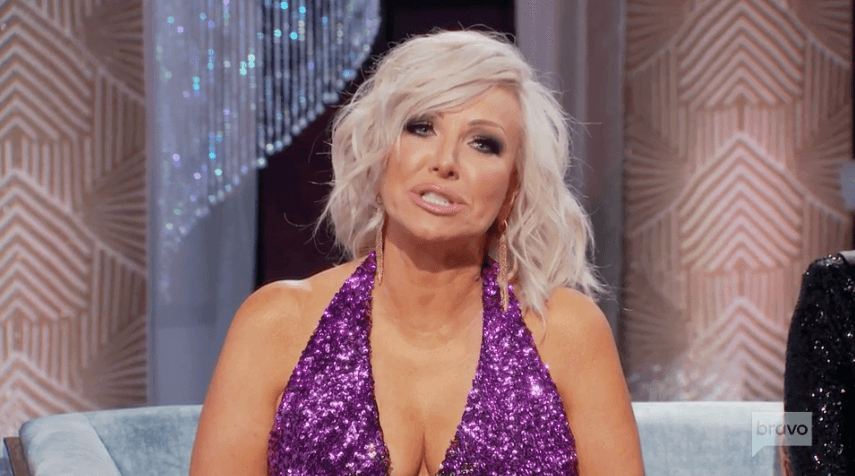 In the final episode of the season, Teresa was so angry because Danielle told on her. Danielle doesn't think she ratted out her friend. Rats go to prison. She just told the truth. Teresa was loyal to Danielle. But once the trust was broken, the friendship was over.
Margaret Josephs is upset as she talks about the hair pulling incident. After it aired, Teresa never called her, never apologized. Teresa now says she's sorry about a dozen times. She gets up and hugs Marge. Danielle shakes her head, but remains silent. Teresa says her problem was that she hung out with the wrong person. The old "bad crowd" defense.
Marge stupidly thinks Teresa still values their friendship. But they're all good now. And Danielle is on the outs.
Danielle thanks the fans and says she was bullied and harassed. If you don't fit in with a crowd, you leave. She's ready to go. Jen smirks and Marge bows her head to hide her glee. 
Once Danielle leaves, Andy gives us a look back at ten years of Jeseydom. From the table flipping and the entrance of Rosie, Melissa, and Kathy. We see how the Gorgas and Giudices clashed. All the legal drama with Teresa and Juicy. Jacqueline's breakup with Teresa. We see it all.
Finally, the staff built a time capsule and Andy asks the women to put something inside. He'll open it up in another ten years. (How optimistic of him.)
Dolores Catania puts in a romance novel, the cover doctored with a picture of her and Frank. Marge puts in her pigtail wig. Jen tosses in her Sorry, Not Sorry shirt. Jackie Goldschneider puts in donuts. I'm sure those will hold up after a decade. Melissa contributes Jersey slang words. Teresa adds a family portrait, the one with her mom.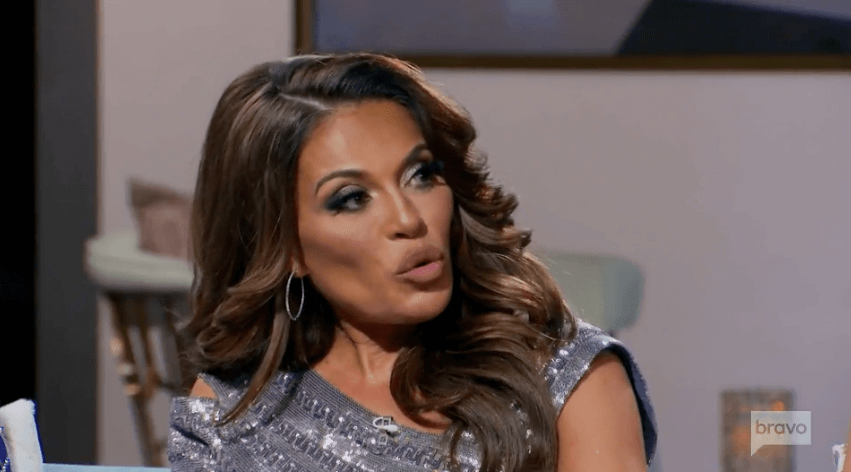 They toast to another ten years with champagne.
That ends our show for this season. So, thoughts? Are you satisfied with Teresa Giudice's apology? Should Danielle remain on the show? And will Juicy Joe go after Teresa's money in the divorce?
Stay Connected With All About The Tea: Twitter Ι Instagram Ι YouTube
I'm a fiction writer by day and a reality TV addict by night.