RECAP: Reza Reveals MJ Had TEN Abortions In Explosive Fight On 'Shahs of Sunset'
We begin this episode of Shahs of Sunset at newbie, Sara Jeihooni's, house with a pool party in full swing. They're playing martini pong, and guess who Nema Zand walks in with? Mercedes "MJ" Javid. Reza Farahan has a meltdown and has to be pushed out of the house as he's yelling at MJ, calling her a liar.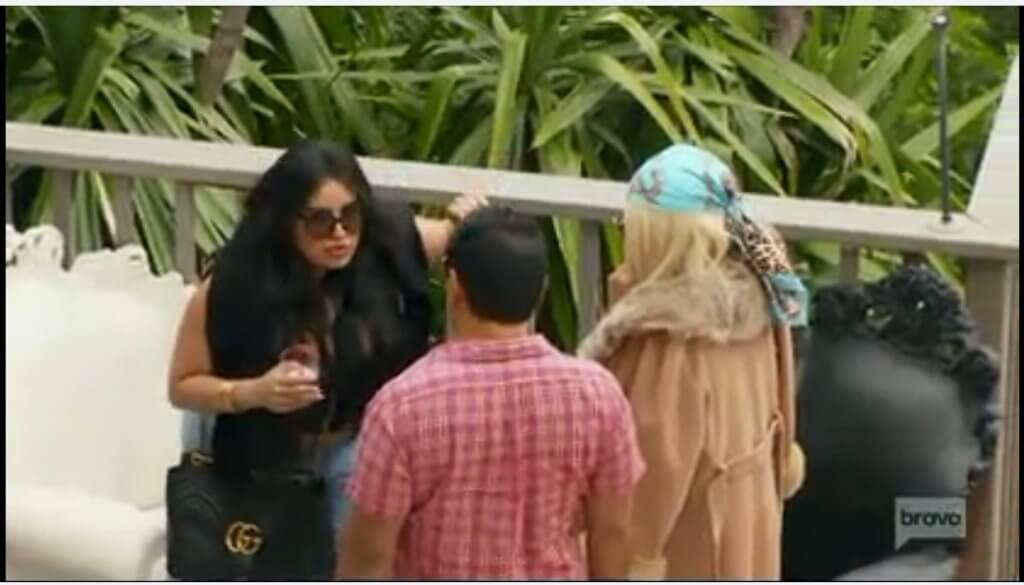 And…we do a Shahs of Sunset flashback to forty-eight hours earlier, at MJ's house. She and husband, Tommy, are folding baby clothes. Her world is now a never-ending loop of feeding, burping, changing diapers, and pumping milk. Ah, the joys of new mommyhood. We see lots of still pics of little Shams. He's adorable.
Nema calls and asks about the baby. We reflect on the physical trauma MJ went through after giving birth. None of her friends came to see her or the baby, and she's hurt. She's feeling pain at the distance between her and Reza most of all.
Over at Golnesa "GG" Gharachedaghi's house, she greets Adam with hummus and veggies. Last week, she left a cooking class due to cramps. Fortunately, she wasn't spotting, so that's good news on the baby front. Adam asks if she's pregnant. Unready to spill the news about her insemination, she deflects and talks about Destiney Rose's changing personality. 
GG thinks Destiney should speak to Sara, since Destiney slept with Sara's brother, Sam. But they're all adults, and Des doesn't need anyone's permission to get laid. Amen, sister! GG threatens to rip the wig off Destiney's head if she comes at her sideways. I guess pregnant or not, GG hasn't changed her ways.
Reza shows up at areal yoga. He and Sara are ready to hop up on the silk scarves and hang from the ceiling like limber bats. While Sara was born to swirl upside down, Reza's having trouble.
After the workout, Sara shows Reza a subpoena. She was awakened by two Federal agents who want to know all about her ex. And who is Sara's ex? R. Kelly. She calls him Robert. (Now we finally know why she's on the show.) She swears she never saw underage girls around him, but she did find out he was seeing other women. In fact, he invited her to a party where every woman in the room had taken his penis for a spin.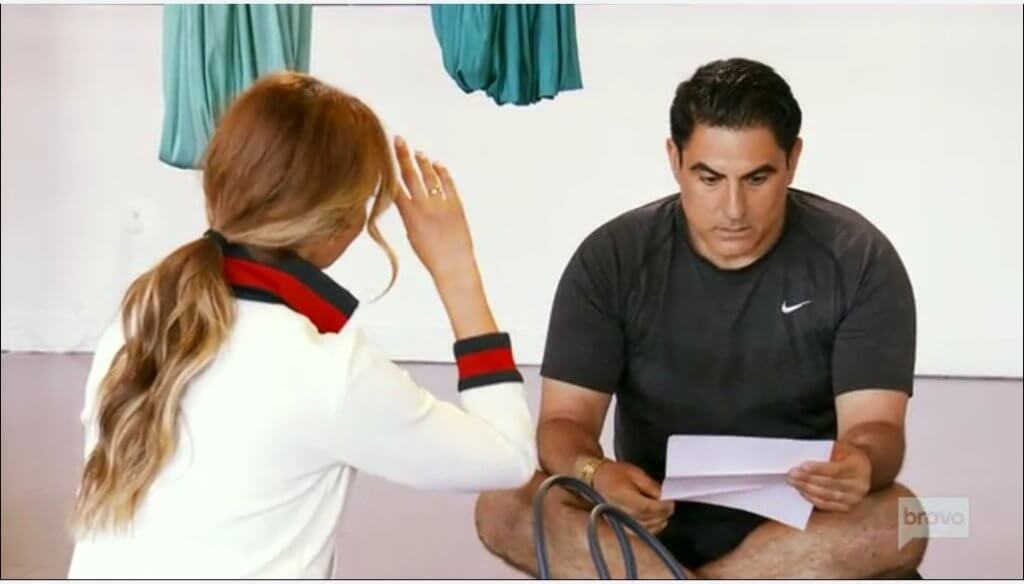 Destiney heads to a wig shop to get a new family member. She blames her love of fake hair on her childhood. No, it didn't make sense to me either. GG meets up with her and doles out fake cheek kisses. GG puts on a blonde wig, then a pink one, then a short Kris Kardashian helmet. None of them look good on her.
GG says she's been irritated with Destiney. Why isn't she being loyal to their new pal, Sara? If Destiney smashed GG's brother, GG would feel some kind of way. Destiney finally agrees to speak to Sara about the situation.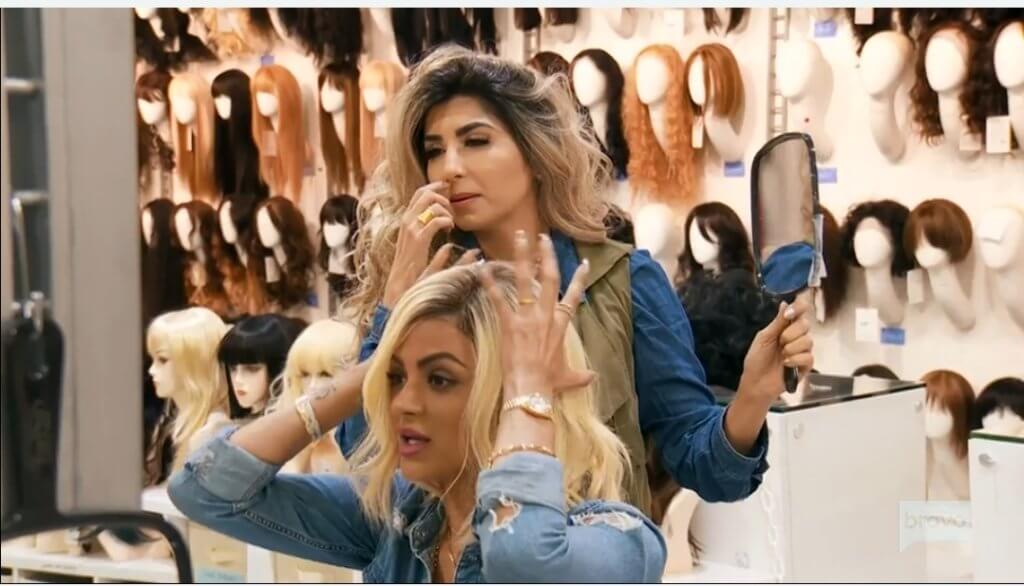 Reza heads to the jewelry store to look at a new watch. One that costs ninety-five-thousand dollars. Nema strolls in. He's ready for his first "Roly" as he puts it. The next step in his "Persianity" is a Rolex. But Nema doesn't want to go all gold. He finds a watch just over seven-thousand, and feels good about himself.
Mike Shouhed's girlfriend, Paulina, brings him Starbucks. He's putting together a folding wagon for her kids, and it makes him question if he's really ready to be a stepdad. Especially after Nema called Mike out for being a dishonest cheater. But Mike can't even put together a simple wagon made of nylon. (How he's going to be in charge of a construction site is beyond me.)
Next, Nema meets MJ for lunch. He wants her and Reza to patch up their friendship. Did MJ meddle in Reza and Adam's marriage? Did she put Destiney and Ali up to spilling the tea about the sexting and naked Jenga? Nope! MJ swears she had nothing to do with it.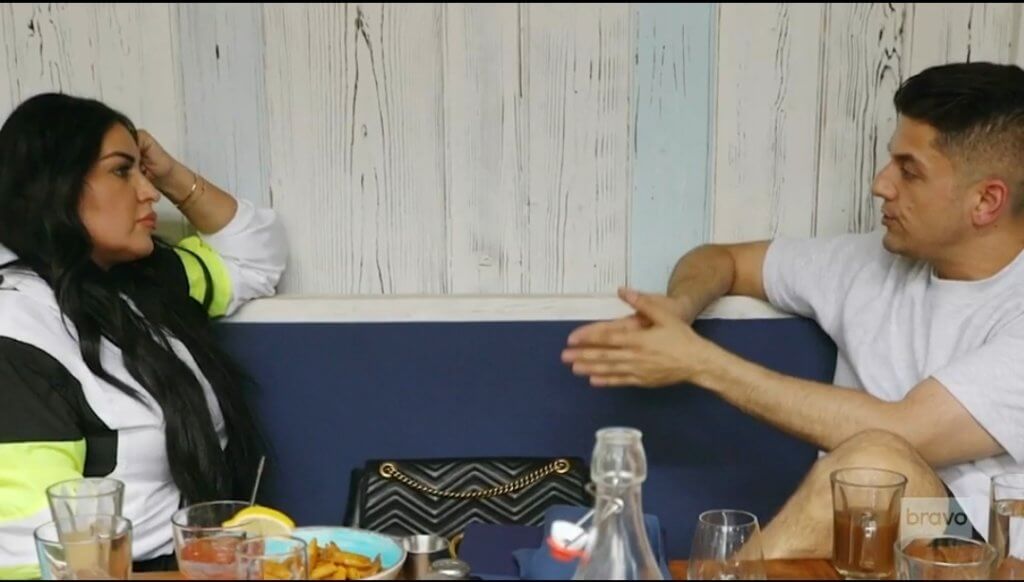 Nema says MJ and Reza are both shit stirrers. He thinks MJ saw the cracks in Reza's marriage and decided to break it open a little wider. (Knowing this, who would want to befriend either of them?) But Nema still thinks they're better together than apart. He invites her to Sara's pool party.
Across town, Destiney stops at a café for lunch. As she waits for Sara to show, she tries to entice a bird to eat a saltine, but it wants nothing to do with her. Much like Sara, who admits it's awkward that Destiney and Sam got it on. Destiney and her bro are in different places in life. What does Destiney want from Sam? Destiney says if she talks to Sam, that's her choice. Sara isn't pleased. She commands Destiney cease and desist talking to Sam and accuses Destiney of sucking the soul out of her. (Maybe those same sucking skills are what drew Sam to her in the first place?) Sara thinks Destiney is rude, but Des feels like her sex life is no one's business. They part as frenemies.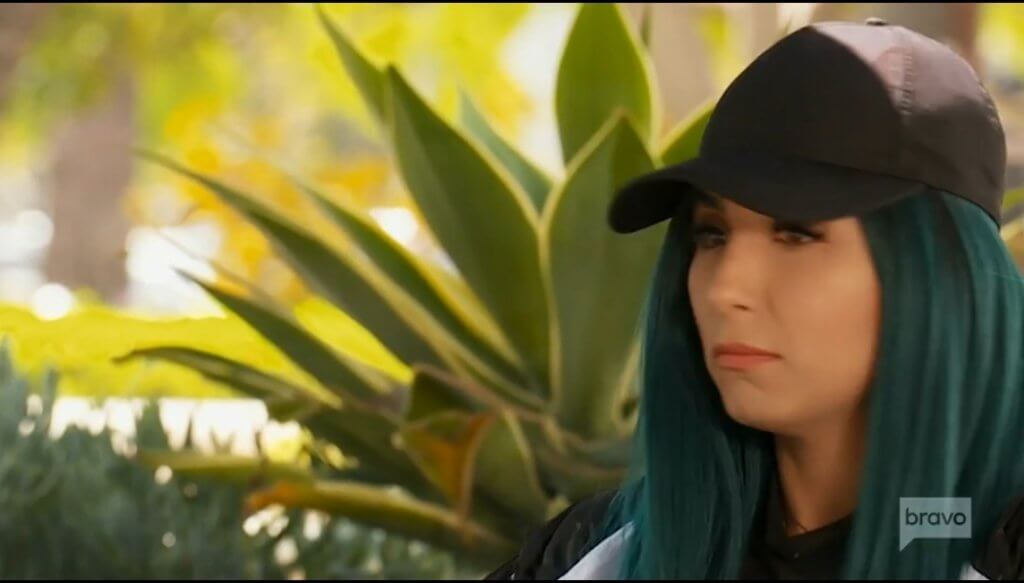 Reza tells us he and Adam are better after the strip Jenga fiasco. Reza and Destiney are planning on getting a spray tan before the pool party, and tells Adam he, too, can partake in the oranging of his skin.
Destiney arrives and tells what happened with her and Sara. She defends herself, saying she rarely hooks up with people, especially strangers. But she really liked Sam. However, Destiney doesn't want to make anyone uncomfortable
The spray tan guy comes and as he's bending down in front of Reza's little sausage, Adam warns him not to touch. The tanning man says, "Once you go Persian, there's no other version." And he also tells us the key to a good fake tan is drying time.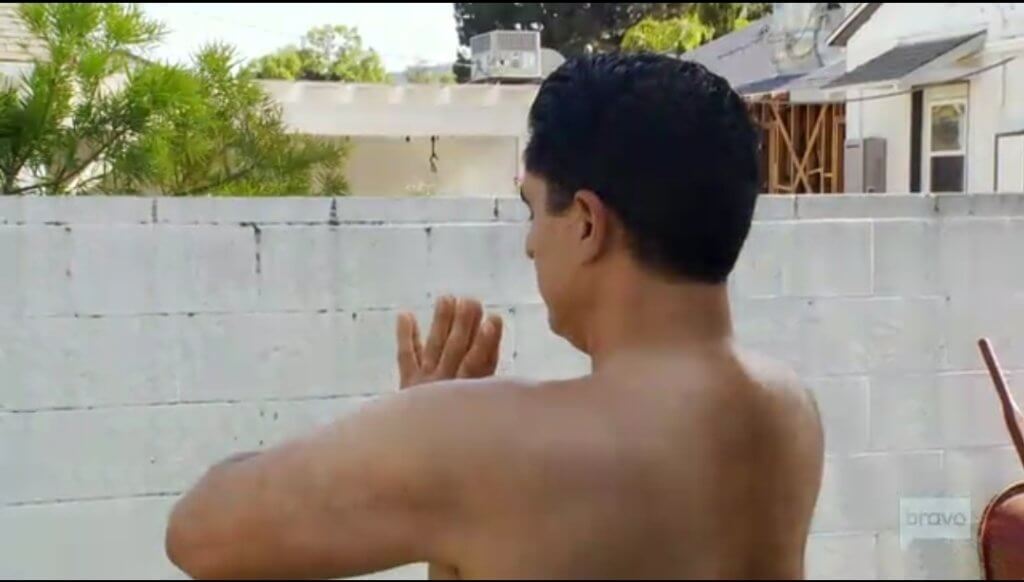 All this tanning makes Reza miss MJ. We see a flashback of MJ getting a spray tan from days of yore. But she came for his marriage. What else can he do but cut her out?
The day of the party arrives. We watch Nema getting ready, and he's hoping MJ and Reza will kiss and makeup. He goes to pick her up and sees Shams for the first time. 
GG brings a bodyguard to the pool party. She thinks someone might step up to her, and she doesn't want to get into a fight. Not since she might be preggers and all. She picks up Destiney — who's wearing a blonde wig, a headscarf, and a coat with a fur collar — and they head to Sara's house.
Soon, Reza and Adam arrive. Then Mike and Paulina. Mike thinks Destiney looks like a cast member from the Mod Squad. What a timely reference, Mike. (Insert an eye roll here.) But as Destiney continues to get her heels stuck in the slats of the deck, I just can't with her. The only person in the pool is Adam. He does a belly flop as MJ and Nema show up. Instead of greeting his old friend, Reza leaves. GG leaves, too. A cold, wet Adam hauls himself out of the pool and follows.
Nema trails after Reza and encourages him to go back and talk to his oldest friend. Reza refuses. GG is pissed that Nema didn't give them any advanced warning he'd be bringing MJ.
Mike and MJ talk. She's disgusted Reza left without speaking to her. When Mike asks if she instigated shit between Reza and Adam, she says she didn't have anything to do with it. 
GG ducks out with her bodyguard as Reza and Adam order an Uber. Mike and Nema try to talk Reza into coming back. While they're gone, Destiney approaches MJ and asks, "Why? Why? Why?" MJ takes Des to task, saying she shouldn't have thrown MJ's name around. How did it come up, anyway? Destiney blames it all on Ali. She had lunch with him, and he claimed that MJ told him to bring the sexts to light. MJ says it's all a lie. A big, fat stupid lie!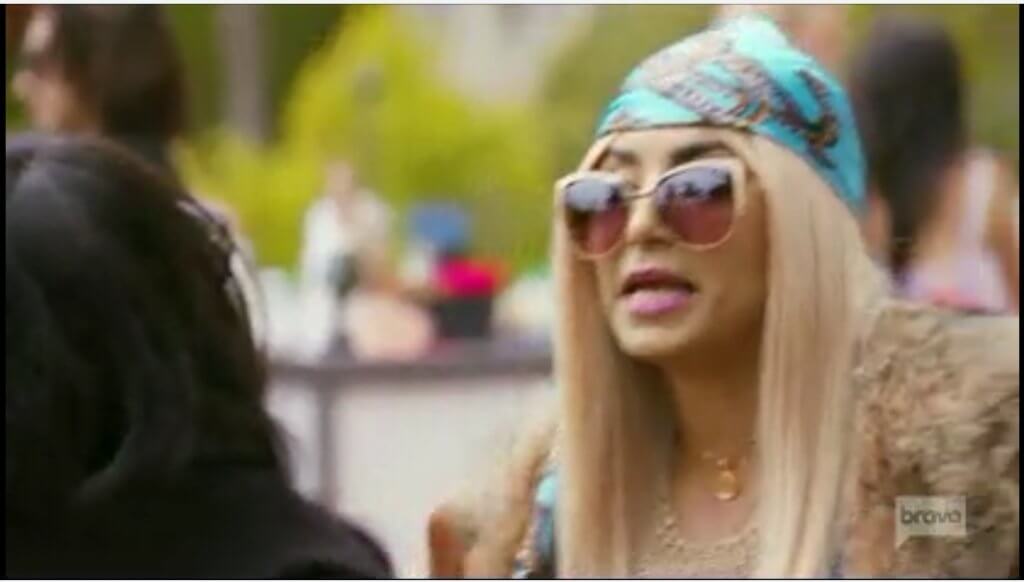 Reza wonders if maybe he got it wrong. Could MJ be innocent? There's a slim possibility, so he goes back inside to confront her. MJ tells him to get away from her. He keeps asking if she's embarrassed. She calls him disgusting. Then she throws a drink on Reza's face. They call each other foul names. She says he and Adam are cheaters, claiming they go to bath houses. He screams that MJ had ten abortions, that's why her uterus exploded. Mike yells at both of them to stop, as does Destiney.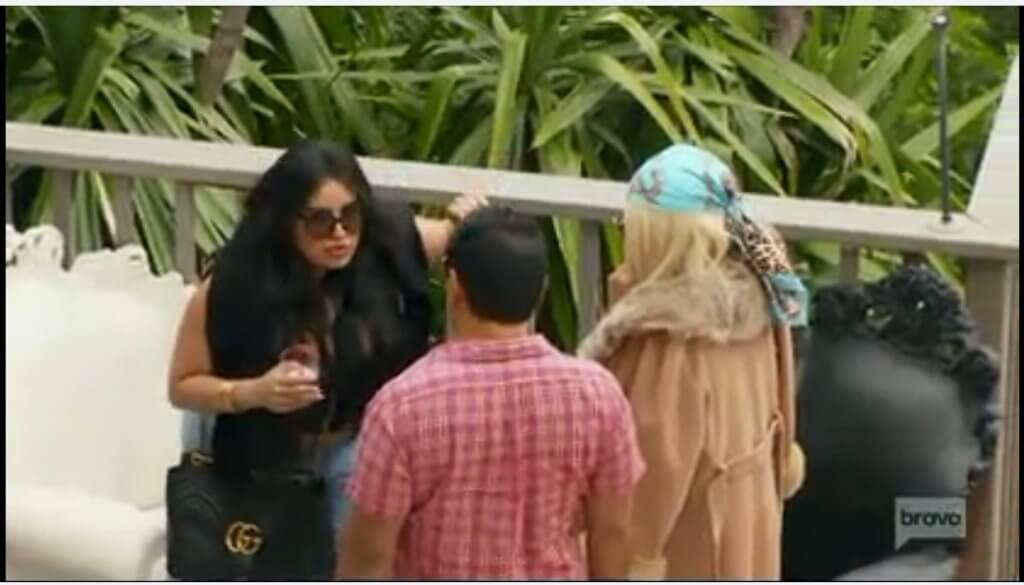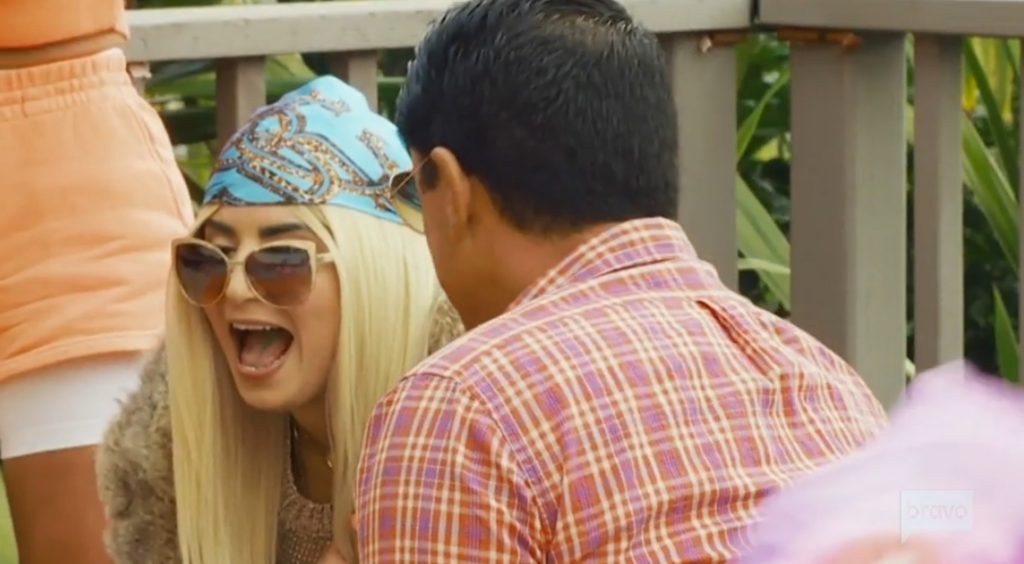 Reza storms out of the house, still screaming. Mike tries to smooth things over, but it's a lost cause.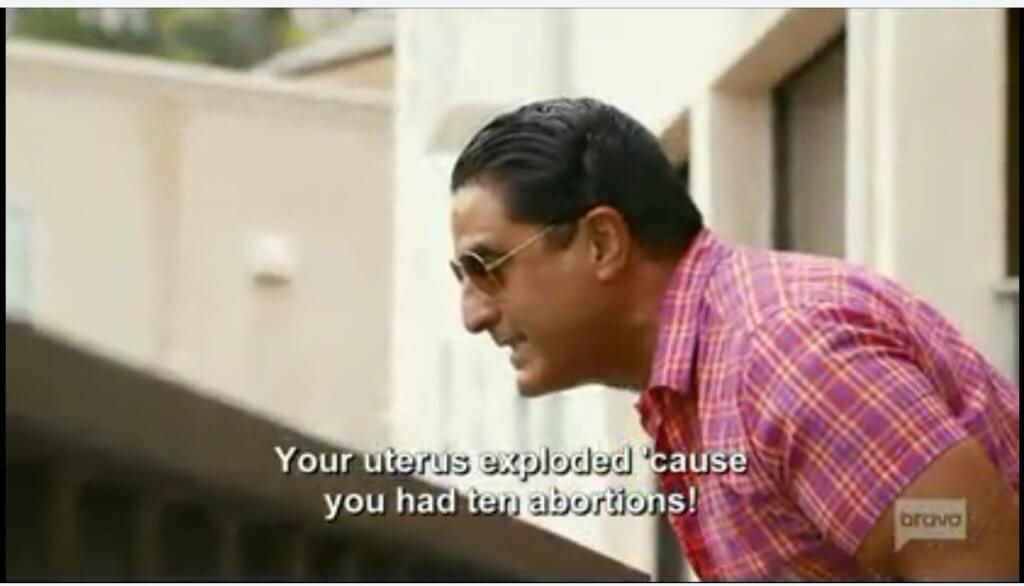 And that's our crazy episode of Shahs of Sunset. So, do you think MJ was behind the naked Jenga rumors? Was Reza wrong to bring up MJ's abortions? Will they ever repair their friendship? Should they even try?
Stay Connected With All About The Tea: Twitter Ι Instagram Ι YouTube
I'm a fiction writer by day and a reality TV addict by night.