Vanderpump Rules
RECAP: Kristen Doute Lashes Out at Beau Clark, Screams 'F–k You!' On 'Vanderpump Rules'
Welcome back to an all-new episode of Vanderpump Rules. Let's get started!
This week's episode opens with Jax Taylor and Brittany Cartwright surprising their wedding guests with a murder mystery party and Stassi Schroeder  is in her ELEMENT. Now raise your hands if anyone else also thought the "detective" that interrupted the speech was actually going to arrest Jax on failure to pay back taxes.
It wouldn't be a proper rehearsal dinner for Jax and Brittany if the Witches of WeHo didn't decide to have an all-out brawl and call each other expletives within earshot of Presley, Brittany's niece/the baby Jax bought for Brittany's brother and his wife. Good times… good times.
Meanwhile back in La La land, Adriana, the SUR server that Max Boyens essentially dined and dashed on, comes to Dayna Kathan with some damaging information. According to Adriana, Max was seen having lunch alone alongside "a thotty girl with huge boobs" and being very "friendly" towards her. Adriana also comes correct with receipts as she has already done recon and found the girl on Instagram. On behalf of social media creepers everywhere, good work girl.
After the rehearsal dinner, everyone goes out for a night out on the town… everyone except the groom. Instead, Jax decides to stay in and spend the night with his late dad stating he wouldn't be making his father proud if he went out and got hammered. Now, just keep that little nugget in your back pocket for later…
A belligerent Kristin Doute decides to confront Beau Clark instead of Stassi and Kristin for being alone on the friendship peninsula/island.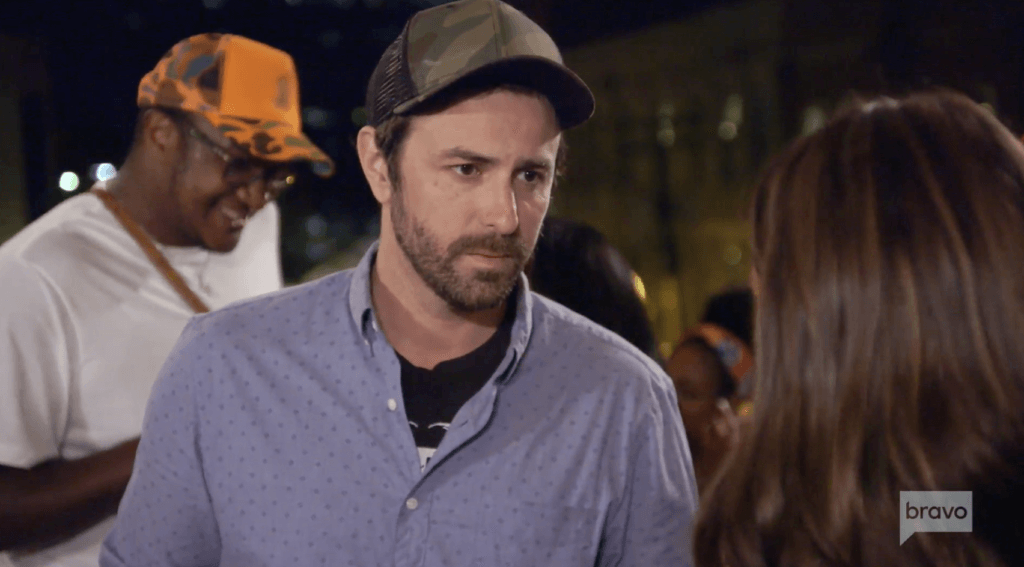 Kristin accuses Beau of being distant towards her even though she knew him way before he and Stassi got together. She continues to rant and rave like a petulant child throwing a temper tantrum before Beau finally asks her to quit being selfish and dry it up for the bride and groom's sake. Or at least the bride anyway since she's the only one there.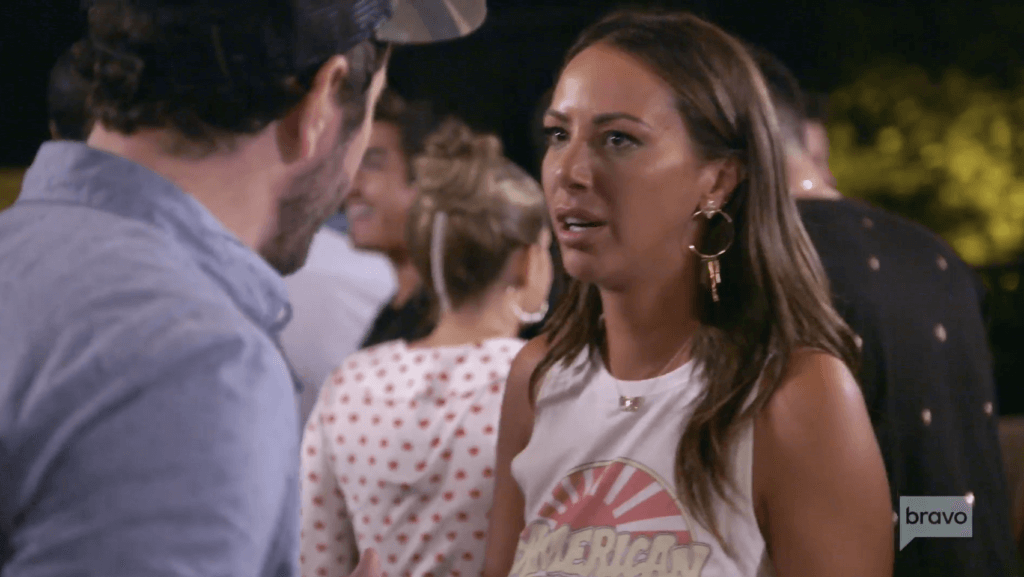 The next morning everyone is enjoying the "vomit day" aka the day Jax and Brittany have designated for hangovers in between the rehearsal and the wedding day. Hey, whatever happened to the group's favorite motto "puke and rally"???
In a shocking turn of events, we learn that Tom Schwartz and Katie Maloney-Schwartz are not legally married. Turns out Schwartz dropped the ball with their marriage license and now the State of California doesn't actually recognize them as man and wife or Bubba & Bubba or whatever. Welp, I guess Jax will be the number one guy… getting married in this group, that is.
Beau makes the mistake of telling Psychopath Stassi about Kristin being upset that Stassi is number one in his life now. But like come on, are you really shocked, Stassi??? I mean she DID actually screw one of your ex-boyfriends so…
Back in West Hollywood, Dayna is like a cat ready to pounce on the rat that is Max. He comes over and she immediately starts interrogating him about the girl he went to eat with. Max tries to weasel his way out but eventually admits that he was seeing the mystery THOT but then she moved here and he had to figure out a way to break things off because he became interested in Dayna. Dayna's not buying it because the girl happens to be donning a TomTom Pride shirt that only Max has the privilege of handing out. OOPSIE.
There's only one thing left for Dayna to do… break it off with Max. But first- she drags his gold chain necklace through the toilet and the kitty litter box. Time for a Fresh Step, er I mean start…
Randall finally makes his way to Kentucky with a stowaway… by the name of LISA VANDERPUMP. Turns out LVP's mother's funeral was delayed for a week so 90 minutes before Randall departed to Kentucky in his PJ Lisa called him up and hitched a ride. Who took LVP for a hitchhiker??? Certainly not I.
Jax is overcome with emotion that LVP is able to be there and says that he considers her an "alternate mother" especially since his estranged mother won't be at the nuptials.
He also mentions his Godmother is there to give him away but is that even a thing? Jax, I hate to tell you this, but you're not actually the Bride. Maybe a Bridezilla… but not the bride.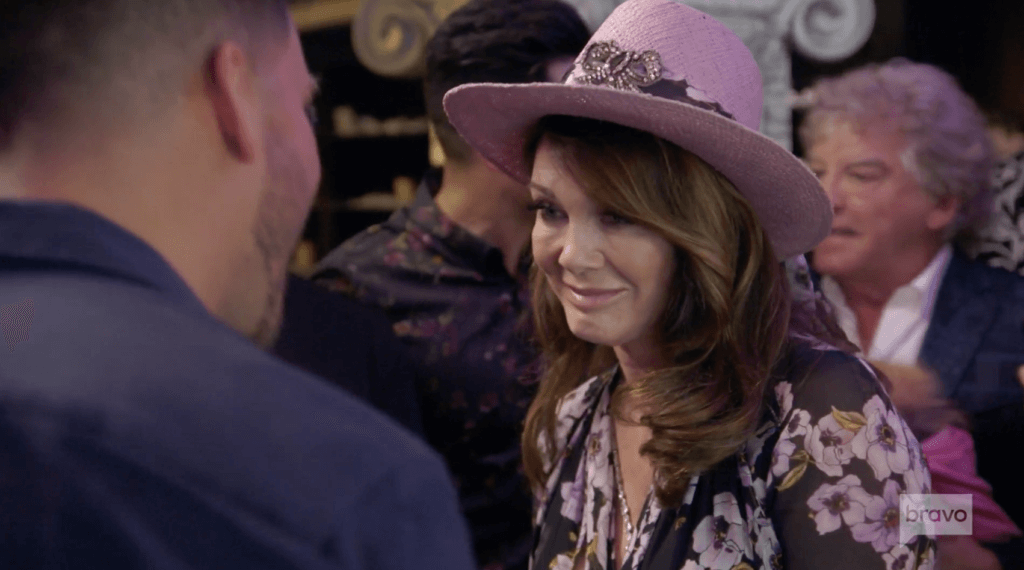 Later that night while Brittany and her 75 bridesmaids are wearing onesies and competing in good old fashioned twerk contests, Jax is getting TANKED. BUT JAX, WHAT WILL YOUR DAD THINK???
The groomsmen reminisce on the Jax Taylor that used to run the streets of West Hollywood like a dog in heat with only a sheet as his bedroom "wall." Cue the montage of Jax making ALL of his girlfriends cry.
Meanwhile, Krazy Kristin Kristin is running around with a nipple out of her onesie… That's one leopard that will never change her spots.
Will Jax Taylor make it down the aisle or will the couple have to postpone and declare another vomit day at the castle? Tune in next week to find out!
Stay Connected With All About The Tea: Twitter Ι Instagram Ι YouTube