RECAP: Tensions Explode Between Mike & Nema On 'Shah's of Sunset'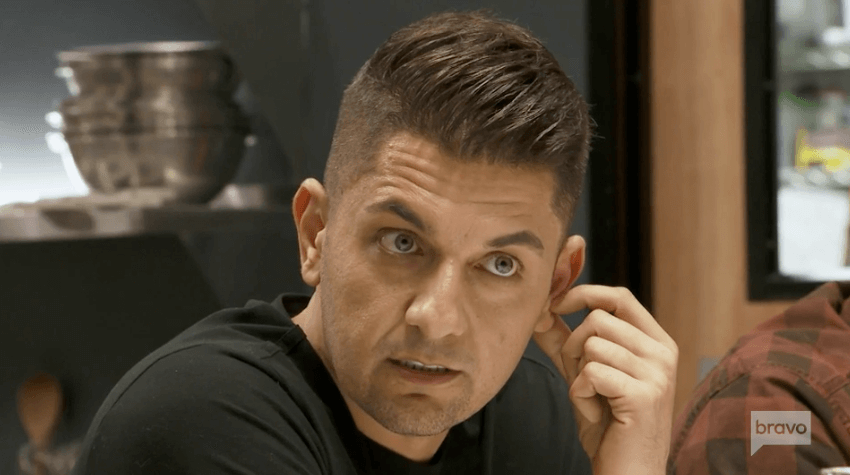 Shahs of Sunset has moved to Friday nights. But fortunately for us, the drama is the same.
We pick up from last week's episode of Shahs of Sunset, still in Vegas. It's the morning after, and Sara Jeihoori tries to call her brother, Sam, but he's still in Destiney Rose's room, after sharing a night of nasty shenanigans. 
Reza Farahan is down in the restaurant, waiting for everyone else to wake up and join him for tea. Finally, Destiney and Sam come downstairs and meet him. Since Sam is wearing the same clothes as the night before, Reza surmises that he and Destiney bumped uglies. But Destiney plans of getting rid of Sam before her mom, Tammy, joins them.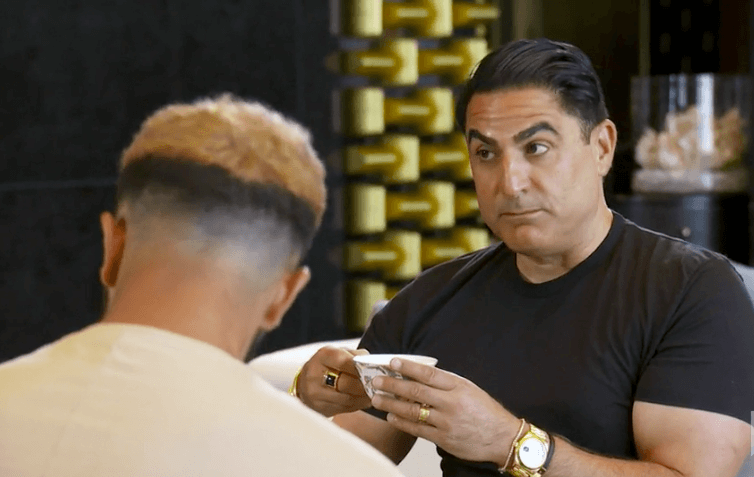 Unfortunately, Tammy arrives early. So, Sam kisses Mom hello, then beats feet. Destiney acts embarrassed at being caught with a man. She doesn't want to have to explain to her mom the sexual dynamics, but she admits that she indulged in too much tequila. Then she quickly diverts her mother with finger sandwiches.
Destiney Rose's mom and sister want her to move back to Vegas. They send her real estate listings every week. But moving back would mean having to go back into the club industry, and she doesn't want that.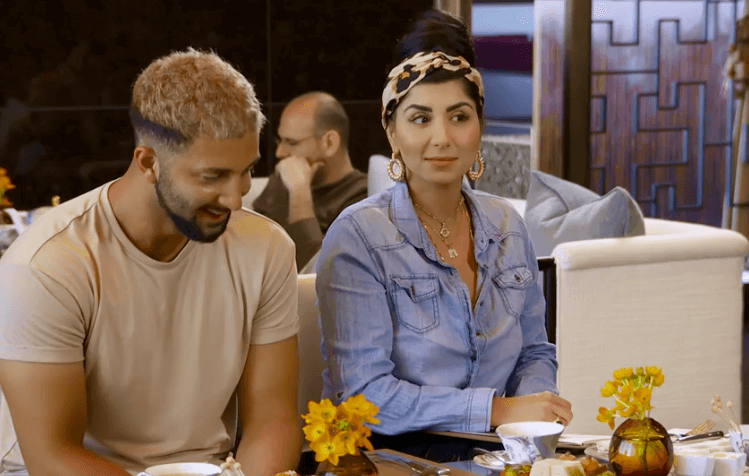 Back in LA, Golnesa "GG" Gharachedaghi and her bestie, Yasmin, go paint pottery. GG's trying to keep her mind off pot and booze. What else is there to do but paint a mug? She doesn't feel pregnant, but it's only been a couple days since her implantation. She's missing weed, though, and it's making her irritable. Just listening to the loud kid at the table next to her is driving her nuts. She doesn't have a man in her life, either. How does she go about finding a man who will service a pregnant woman? Is there an app for that?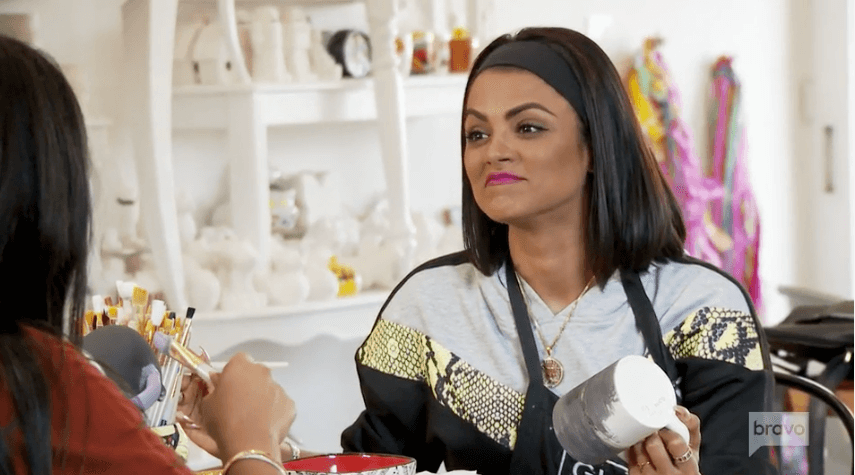 Mike Shouhed and his girlfriend, Paulina, meet with a contractor for his duplex development. Mike again says he's feeling the pressure to get this flip right. It's a multimillion-dollar deal, and he's under scrutiny from his family. The fact that he has zero experience should worry him. 
Mike is impressed with what he sees. The bid for the construction will cost eight-point-five million and take two years. Mike kind of freaks out at the time frame, but that's what it takes to get permits in LA.
In Vegas, Sara stops by Reza's room. Reza says that Sam spent the night with Destiney. Sara's grossed out that her brother went there, but Reza's excited to see Destiney connecting with someone. She's usually so closed off. 
Destiney complains to her mom that she has a bad hangover. When they all lived in Vegas, Destiney worked so much she rarely saw her mom. She didn't have time. Now, she regrets not making more time for her family.
Tammy wants her daughter to find a good man, but Destiney is still reluctant to trust in a relationship. She'd rather end up alone than get hurt.
Nema Vand goes to a dance studio. He has a lot of upcoming Persian events, and he doesn't want to look like a loser on the dancefloor. Nema tells us his dad removed all Persian influence from his life, and he resents his dad for separating him from his heritage.
Destiney, now back home, stops by to throwdown a few moves. Nema is as tense as a mannequin and can't move his arms and hips at the same time. We see lots of flashbacks of Nema stiffly moving from side to side. He finally gets the hang of it as he loosens up. 
After dancing, he and Destiney sit and talk about her trip to Vegs. She admits she hooked up with Sara's brother. Sam's been reaching out since she got back to LA. There may be dick pics involved.
Nema says Paulina texted him and wants to meet up for lunch. Last week, Mike spilled the beans about their argument, the one where Nema questioned Paulina's judgment for dating a man who cheated on his ex-wife. Can she broker peace between the two men? Destiney thinks so. 
Adam and GG meet up at a kitty café for coffee and time with the cats. She hasn't told Adam that she was recently inseminated. She doesn't want to jinx it until she finds out for sure if the embryo took.
Adam tells the news about Destiney straddling Sam. GG nearly spits her coffee out of her mouth as she laughs. GG thinks Destiney is changing. Sleeping with a friend's brother? That's just not right.
Nema and Pauline meet up for a talk. She admits that Mike doesn't know they're meeting. She says Mike feels attacked for being called a cheater and a liar. And why are Paulina's kids in Nema's mouth? Nema explains that he felt attacked first. Mike questioned the sanity of Nema's ex, Erica. She waited for him to get divorced before they started dating, and he gave her the apartment when they broke up. Isn't that leading her on, and what girl would put up with that from her man? That was Mike's question. Nema reacted by calling out Mike for cheating. Now, he apologizes to Paulina.
Nema says Mike has a history of bullying him. According to Mike, Nema stole a company out from under him. But Nema says Mike tried to screw him out of a business deal and then lied about it. Now, Nema's had enough.
Paulina sees Mike as a dad and a businessman. She can't reconcile what Nema's telling her with the Mike she knows. And she's not judging her man for his past, either. She's giving him a clean slate. As far as Nema's concerned, he can't see a way forward with Mike. Their friendship has stalled for good.
GG and her pals go to a culinary lesson. Destiney, Reza, Adam, and Nema join GG's gal pals. They team up to compete in a recipe cook off. Before Mike arrives, GG puts him and Nema on same team. That's going to spell trouble.
On the way to the kitchen, Paulina tells Mike she met up with Nema. Mike seems upset that she did this behind his back. He hears Nema's version of events via the business deal and isn't happy. Mike makes Paulina promise to never go behind his back again. His friends are wolves, and he doesn't want her to get eaten. Make of that what you will, but he did make a point of asking if she met at Nema's apartment. Could it be that Mike is so used to cheating he expects everyone to behave the same way?
In the kitchen, the competition starts. Adam licks the spoon from the yogurt bowl, then puts it back, like the savage he is. Chef Nicole is the judge. Destiney and Adam's team wins the yogurt dip portion of our contest.
Mike and Paulina finally arrive. Reza takes Paulina for his team. Mike isn't too thrilled to be paired with Nema. Nema dubs his team the Company Stealers. Mike isn't amused. Chef Nicole judges hummus next. Team Hoodrat (Reza and GG) win.
Reza Farahan spills to everyone that Destiney slept with Sara's brother. She wants him to stop talking about it, but this is Reza we're dealing with. GG wants to know if Destiney has spoken to Sara about it. No, why would she? She doesn't need a permission slip to sleep with a grown man. GG doesn't think it's funny. She takes sibling relationships very seriously, and as far as GG's concerned, Destiney crossed a line.
Suddenly not feeling very well, GG leaves her own event. She says she feels a massive sharp pain in her abdomen. Fearing a miscarriage, she is chased outside by her friends. Since she didn't tell anyone else that she had an implantation, they think she's crying wolf. Nema notes that she didn't drink. Destiney immediately thinks GG might be pregnant. 
Over the dinner they cooked, Nema tells Mike that he and Paulina met up the day before. Mike has a major issue with it. What kind of guy goes behind his friend's back to meet up with his girl? Nema points out that Paulina contacted him, not the other way around. If he has a problem, it should be with his girlfriend. Nope, that's not how it works in Mike's world.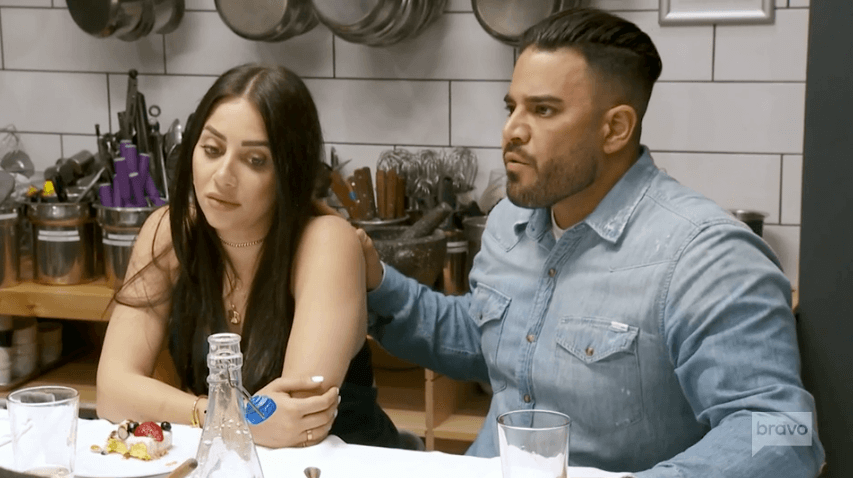 Mike says Nema's father didn't teach him the Persian way or how to be a man, so he attempts to school Nema himself. Nema is pissed that Mike is bringing up his dad and warns him to stop. Mike calls Nema a little bitch and tells him to sit down. Mike says that he's been a great friend to Nema. (Reality: Mike's never been a good friend to anyone.) He finally leaves with Paulina, putting a pin in their argument.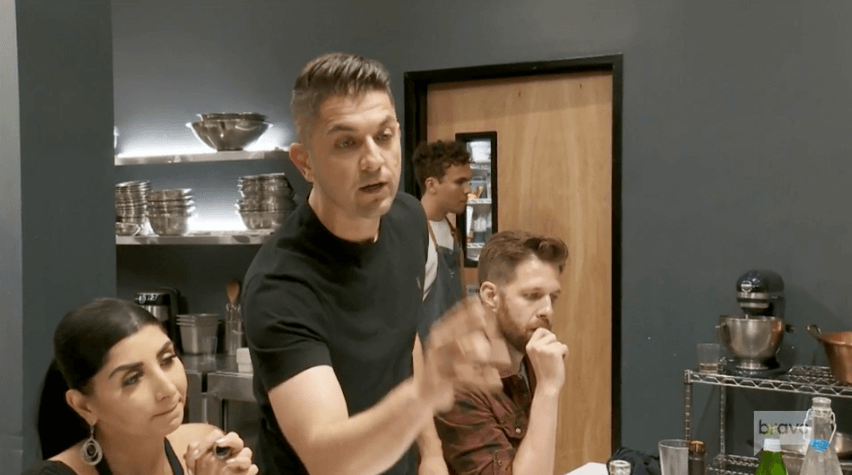 And that ends our episode of Shahs of Sunset. So, was Nema right for meeting with Paulina? Was Destiney wrong to sleep with the brother of someone in her friend group? And what about Mike—is he going to fail in this construction project or rise to the occasion?
Shahs of Sunset has moved to Friday nights, at 9:00 pm ET, on Bravo.
Stay Connected With All About The Tea: Twitter Ι Instagram Ι YouTube
I'm a fiction writer by day and a reality TV addict by night.