Welcome to the first part of the Real Housewives of New Jersey reunion. Teresa Giudice has had a little refreshing — as in her face no longer moves. Jennifer Aydin details all the procedures her husband, Dr. Frankenstein, has performed. He's turning her into the wife of his dreams, one tuck at a time.
Dolores Catania is living with her boyfriend, Dr. David. Sort of. He's not living in his new house, but he's staying with Dolores and Frank. Okay, then. That's not weird at all.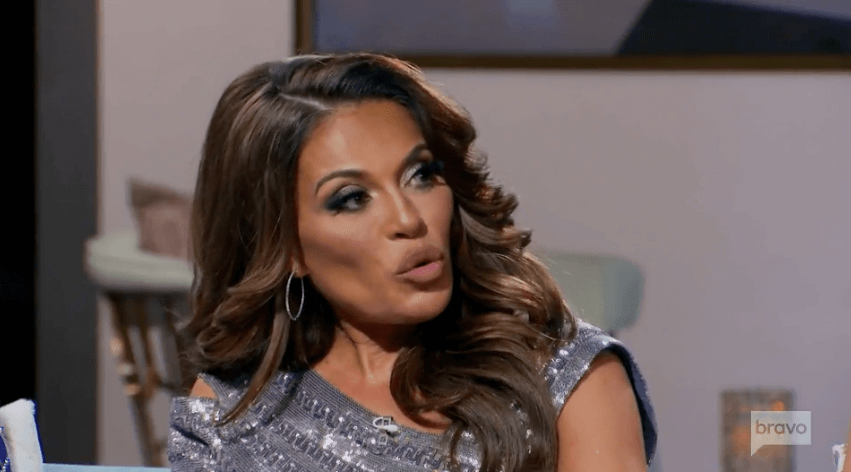 Melissa Gorga's season consisted of a fake storyline about wanting another baby. However, Joe G. only had three sad little sperm swimming in his stream. Now, Melissa wants to freeze her eggs, just in case. 
Jennifer Aydin slams her, saying Melissa is too self-absorbed for another baby. Melissa demands details. As proof, Jen offers all those selfies Melissa takes and says she can't stop staring at her own image. Having a baby is a selfless act. Melissa doesn't fit the bill.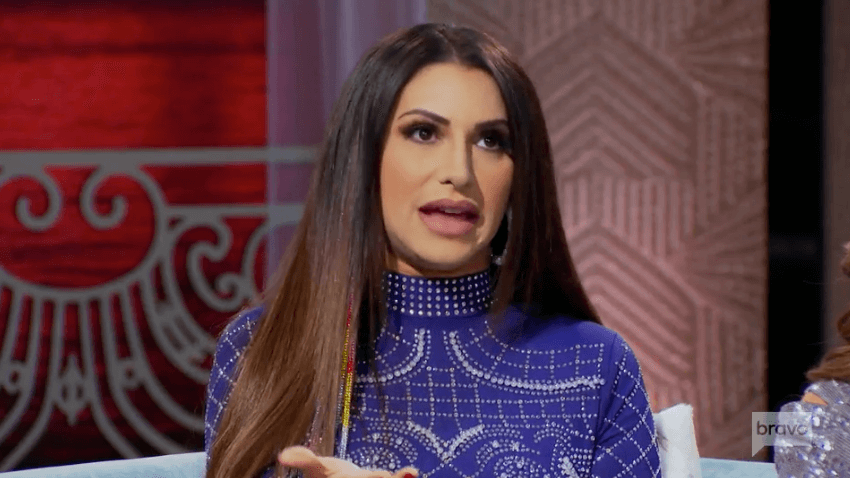 Teresa Giudice sits by and attempts to smirk. When Andy asks what Teresa thinks, she says Jen has a right to her opinion. So much for having her sister-in-law's back. Why is it that Teresa demands total loyalty but never gives Melissa any support? Who's the self-absorbed one in this scenario?
Margaret Josephs has been thinking about a boob lift, and one viewer urges her to reconsider. But Marge is tired of having to tape those girls up all the time. (Gravity takes its toll on all of us, my friend.)
Another viewer wonders what Marge's husband, Joe B., does all day. Why doesn't he get a job, since Marge has been in financial hot water all season due to her lawsuit? Marge says he owns apartments and doesn't really need to work. They don't talk about it publicly, but he's doing just fine.
Margaret Josephs had her hands full with her mom, Marge Sr. this season. Marge Sr. took a job in the city and moved into a new apartment. Margaret only had her mom while growing up, and they've always been close. Her parents were Hungarian immigrants and were only married for a year. She doesn't even know where her father is.
Marge Sr. was a wild, young mom. She was a sloppy drunk, a professional party girl, and Margaret worried about her mom constantly. But she was a little wild herself. Marge had her high school boyfriends sleep over at her house. Her mom wasn't exactly laying down rules.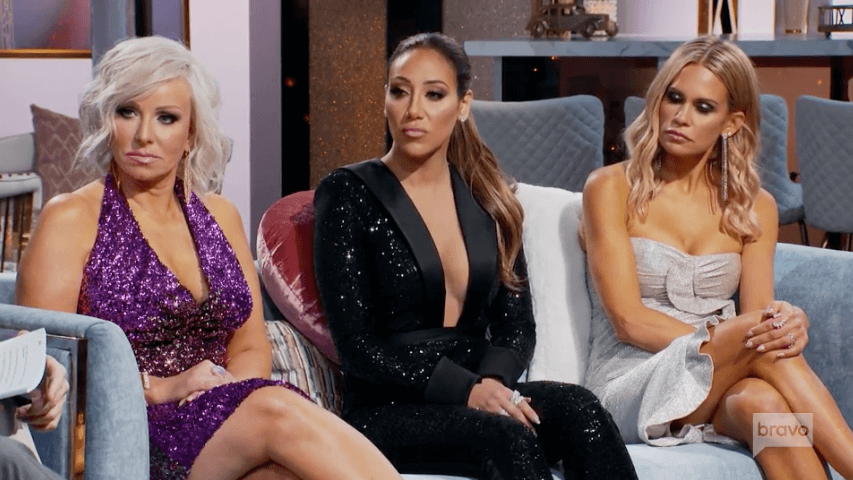 Margaret Josephs' first husband, Jan, is twenty years older than Marge. And the exact same age as her mother. He already had three kids, and this was the ready-made family Marge had wanted all her life. She raised another woman's children, and was happy to do it.
Speaking of exes, Dolores Catania and Frank haven't had sex since she was preggers with Little Frankie. There's no way she's letting Frank back in her bed. She's committed to Dr. David, even though he refuses to put a ring on it. On top of that, he won't show up at any of her events and he's not ready to take their relationship to the next level. She's eager for him to move out, and she's not going with him.
Jennifer Aydin thinks Dolores is settling. She'll take Dr. David any way she can have him. But Jen won't shut her mouth long enough for Dolores to explain herself. Finally, Dolores says David won't meet her halfway and it's pissing her off. But she's not going anywhere, so maybe she really is settling.
Marge and Melissa think Dolores deserves better. They want a man to cherish and baby Dolores. She's never had that, and she needs it.
Jackie Goldschneider had beef with Dolores early in the season. Dolores thought she and Jackie were too different and weren't really friends. While it hurt Jackie's feelings at the time, they've worked hard on forging a friendship. They're now good with each other. But Jen isn't buying it. She makes gagging noises as she listens to them. Very mature, Jen.
Andy Cohen touches on motherhood and we get a montage of all the kids, from Jen's wild children to Gia getting ready for prom. As far as Frankie and Gia dating, it's not happening. He's interviewing for a job as an investment banker. Um, don't you need a degree for that? He didn't make it through a sophomore year in college, no?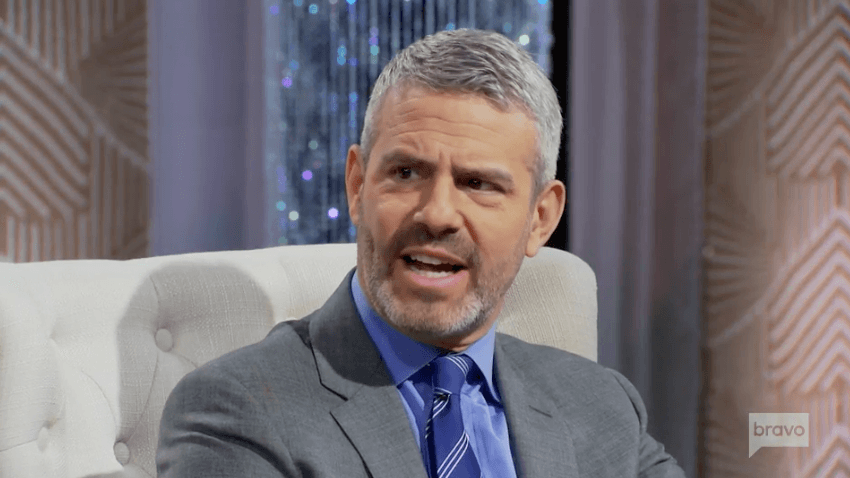 Teresa says Gia is happy at school. She's is living vicariously through her daughter because Teresa wasn't allowed to go to college. (Although I'm wondering what college would take Teresa. I'd love to get a look at her SAT scores.) It's part of that old-school mentality Dolores was talking about earlier.
Margaret says her relationship with her step kids is better. She and Jan share a son, along with his three other children. She worked on her business while she raised her family. Though the step kids might not be close to Marge, all the kids are close to each other, and that counts for something. Right?
Marge doesn't think Jen is a poster child for the stay at home mom. She has a nanny, a babysitter, a housekeeper. Most women don't have that much outside help. Jen says she's home all the time, raising those kids. But Melissa says she sees that Jen's Insta feed is full of her getting out of the house. Jen says unless she's filming, she's at home. And it should be called Instasham, honey. Because people expect to see her out and about, she meets their expectations. But it's not her real life.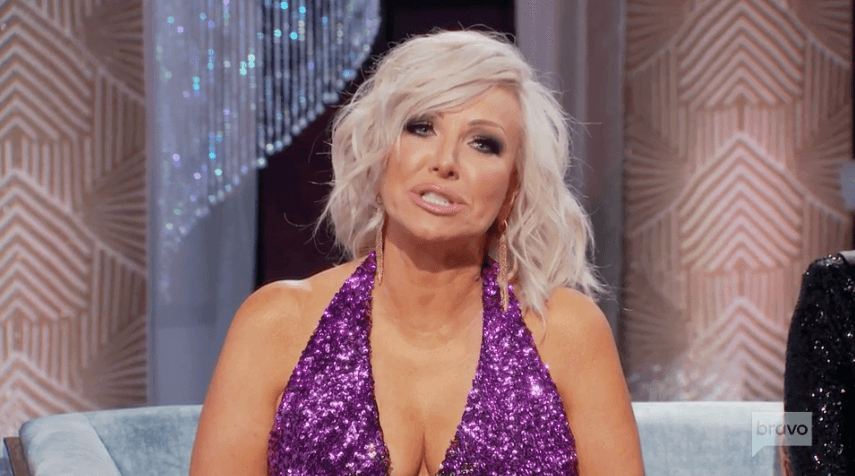 Next, Andy turns the spotlight on Jackie. They talk about her eating disorder. Her father didn't understand how dire the situation truly was, but now he finally understands that it was a life threatening disease. When Marge saw pictures of Jackie's wedding photos, she was shocked. Jackie was painfully thin, but she refused to discuss her disorder with anyone, even husband, Evan. Jackie couldn't even eat a bowl of soup. She realized how much trouble she was in. That's when she put herself into treatment. Teresa gives Jackie props for being a strong woman.
Jackie also has money. How much? She refuses to tell.
Jennifer Aydin's storyline this season dealt with bullying. Daughter, Gabriella's, friends dropped her. And Jennifer's brother, Steve, suffered taunts when he was younger for being gay. Jen confronted her mom, Josephina, telling her she needed to accept Steve. It's hard for Jen's mom to get past her old-world mentality, but she's doing better.
Also in the win column, Gabby has a new set of friends. After getting past the pain, she's moved on. Jen says the kids at school have been supportive of her.
Jen and Bethenny Frankel had a bit of a fight online. Jen thinks she's funny. Bethenny thinks people who call themselves funny, aren't. Marge cosigned the post, and now Jen accuses Marge of picking on her through social media. Oh, brother.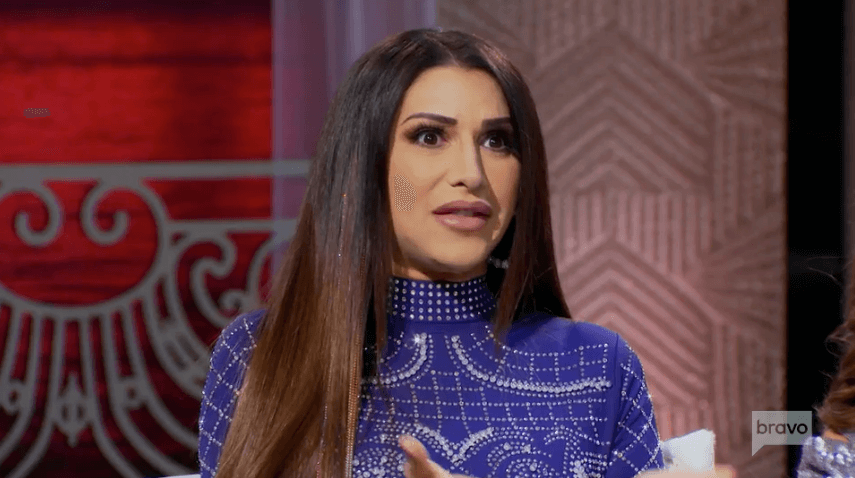 Because Jen threw silverware at Melissa, they haven't spoken since the finale at the Jersey shore. Melissa is tired of Jen throwing shit. That's not appropriate. Sure, Marge may have tossed wine and water on Danielle Staub, but Melissa says that at least Marge never put her hands on anyone. Jen throwing stuff is out of line.
As Melissa and Jen go back and forth, Melissa calls Jen an asshole. One viewer thinks Jen needs anger management classes. But Dolores says all the women are quick to anger, and Jen doesn't owe Melissa an apology. So there!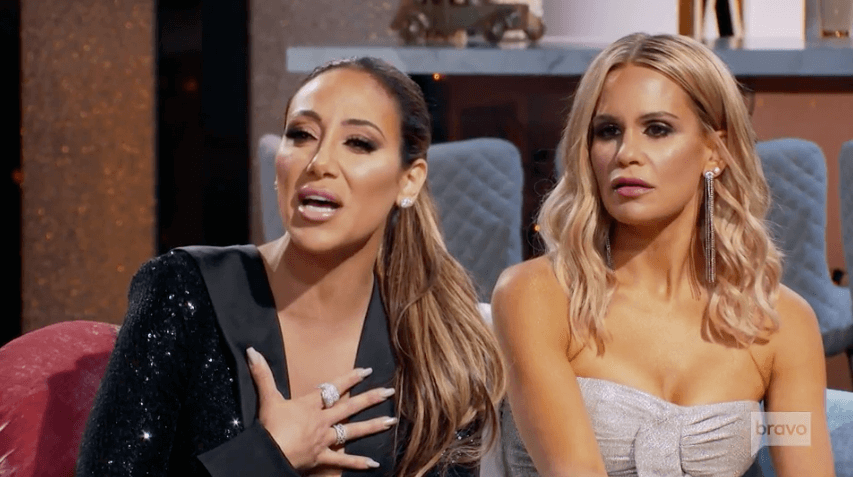 And that's the end of our episode. So, did you get tired of Jennifer Aydin interrupting? Why doesn't Teresa ever stand up for Melissa? And if you had to kick someone off the show next season, who would get your vote?
Stay Connected With All About The Tea: Twitter Ι Instagram Ι YouTube