RECAP: Reza Farahan Ignores MJ's New Baby As Their Feud Heats Up On 'Shahs of Sunset'
We begin this episode of Shahs of Sunset with Reza Farahan cleaning out his shoe closet. When Adam suggests they turn the garage into one big closet, Reza nixes the idea. He's getting ready to launch his hair care line at Sally's Beauty after investing half a million bucks, hoping the hair line will be a success. He and Adam are on their way to Vegas for the big debut.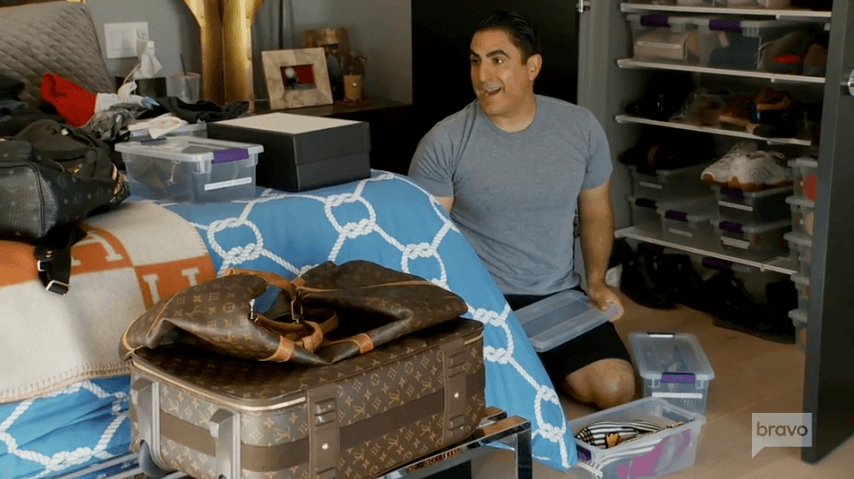 At Mercedes Javid's (MJ) house, she's feeding baby Shams. Vida, MJ's mom stops by to cuddle the baby. Between Vida and MJ's husband, Tommy, they're planning the baby's future, from lemonade stands to his future as a lawyer.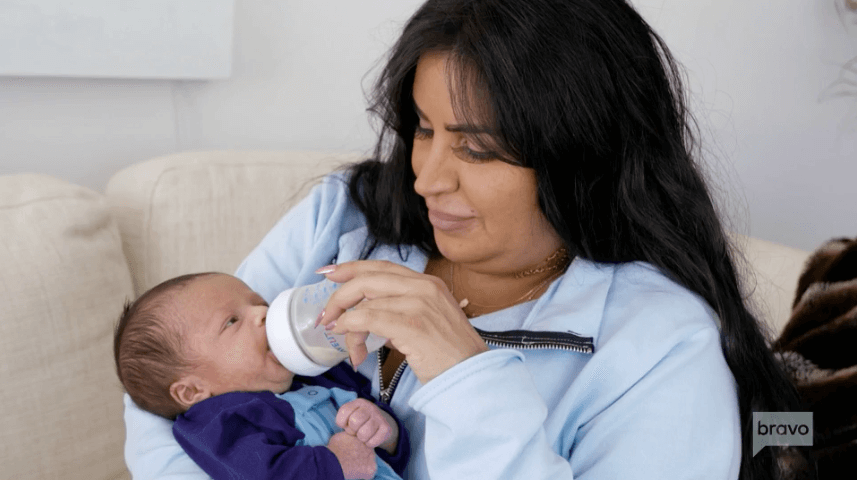 Over at Golnesa "GG" Gharachedaghi's house, her mom cuts up pineapple. They believe that eating vast amounts of pineapple will help GG's chances at fertility. Just one problem, she's super nervous, and the only thing that will help is pot. She plans on taking a joint with her to the doctor's office, in case she needs to mellow out.
Mike Shouhed meets up with Nema Vand and brings his dogs for a playdate. Nema's new condo is his dream bachelor pad. He's planned doggy massages for the pets. Nema's dog, Jack, broke his back a few years back, so he needs a good rubdown every now and then.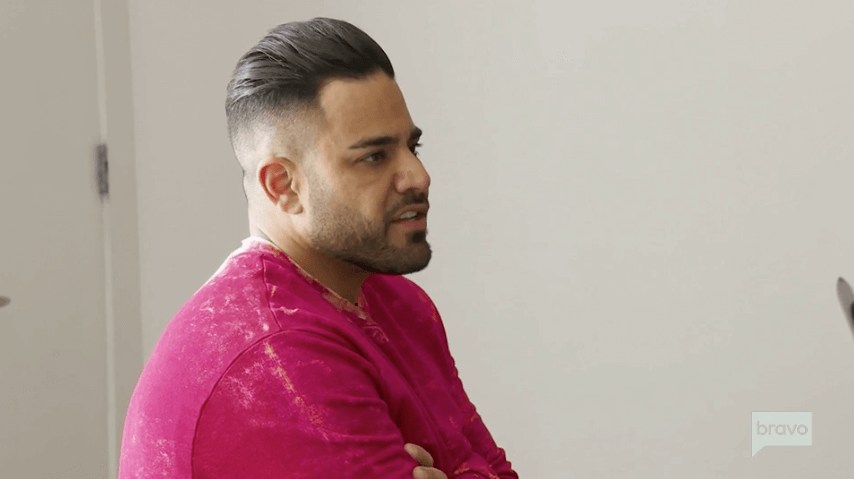 Things take a turn when Mike accuses Nema of leading his ex, Erica, down the garden path. She co-parents the dog with him, and Mike thinks Nema needs to make a clean break. When Nema refuses to cut Erica out of his life, Mike wonders if she's lacking in gray matter. What kind of woman would put up with Nema being so indecisive? Not a smart one! Nema becomes very offended and turns it around. Is Paulina crazy for dating Mike? (Answer: yes, she is!) After all, Mike is a serial cheater.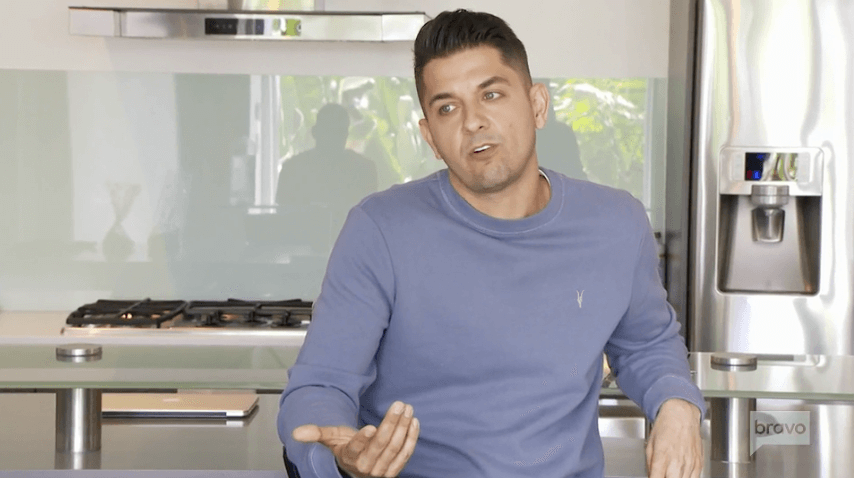 Mike Shouhed complains that there's a stigma about his past. He's completely changed, you know, now that he's in the "right" relationship. But Nema thinks Mike isn't ready to be a stepdad. And he's dishonest on top of it. So…why is Nema friends with Mike again? Mike defends himself, saying he loves the kids like they were his own. Pissed, he takes his dogs and leaves.
New girl, Sara Jeihooni, isn't a big fan of Destiney Rose. But they have to fly to Vegas for the launch of Reza's haircare line, so they're stuck with each other for a few days.
Reza and Adam meet with the Funsches, Reza's business partners, poolside. He has a one-year exclusive agreement with Sally's. They're starting with twelve-hundred stores and are hoping to expand from there. 
Destiney Rose reminisces on her days as a Vegas resident. She was blonde and living her best life. But there was that one time she was mistaken for a hooker. Sara does not approve!
At MJ's, Tommy thinks they need to plan another baby, the second by a surrogate since MJ no longer has a uterus. She is still upset that Reza was a no show at the hospital. When Tommy texted the medical drama MJ was going through (having an emergency hysterectomy), Reza texted back something about having a speedy recovery. These two have been friends for thirty something years, and this is the response she receives? Tommy is livid on her behalf, and he's ranting and raving to prove it. And when Reza called her in ICU about her role in the rumors swirling around Adam's naked Jenga, it was possibly the end of their relationship.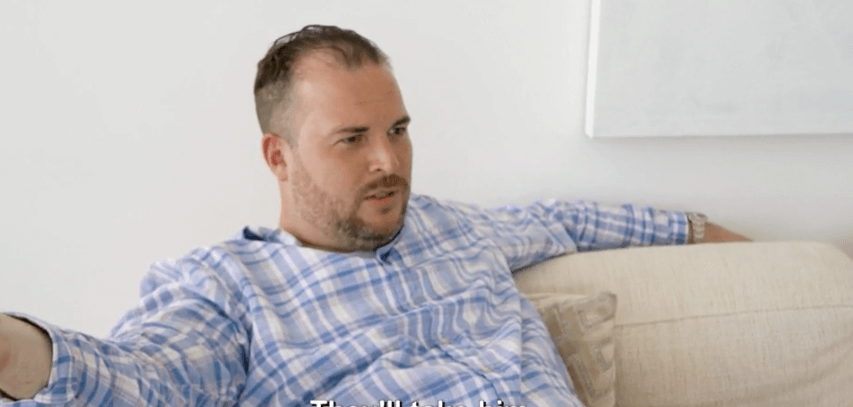 Tommy calls Adam the Hillbilly Whore of WeHo. MJ says Adam has a deviant sense of humor. Word on the street is that Adam and Reza have an open marriage, so why was Reza so upset about the rumors regarding Adam?
Reza reflects that he's missing MJ in Vegas. He wants his bestie there for support. But Destiney and Sara are in town to cheer him on. Reza asks Sara to invite her brother to join them for dinner later.
As GG's mom drives her across town to the doctor's office, GG is having a major meltdown. Her mom stops when there's no stop sign, makes turns when she shouldn't, and she puts on makeup as she tools down Melrose. But they get to the office in one piece and meet up with GG's dad in time for the inception.
Back in Vegas, Adam and Reza are heading to his event. There are a few women waiting to buy Reza-centric product. He schmoozes with fans and sells bottle after bottle of shampoo and diamond dust hair cream.
Destiney Rose and Sara arrive at Sally's in a stretch limo. They celebrate with Reza because they made one-hundred-twenty percent of his goal.
GG gets home, a miracle, considering the way her mother drives. She lies on the sofa with her legs in the air. Her parents tell her to watch Mel Brooks' movies and think positive thoughts so the baby will stick — and yes, that's the medical term.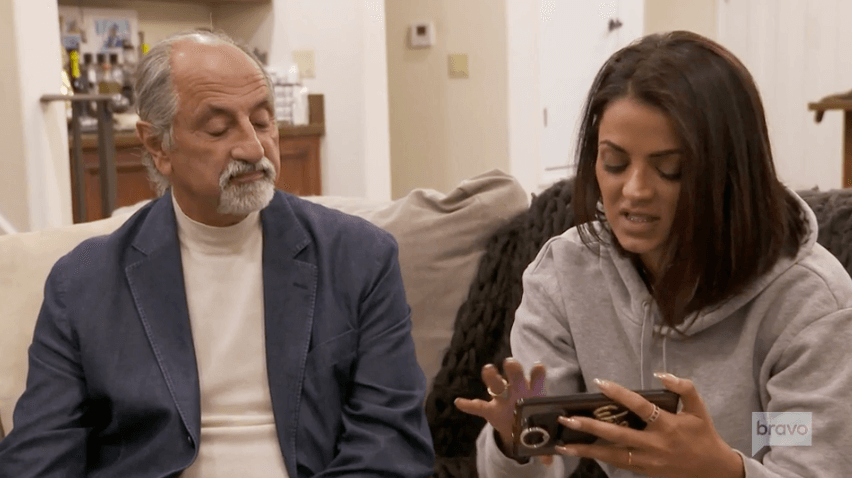 Mike and his girlfriend, Paulina, are in the car, and Mike thinks it's a good idea to spill the tea on Nema. He fills her in on what Nema said, about Paulina not being right in the head for letting a cheater and a liar be around her kids. Mike thinks Nema is trying to tear him down to make himself feel better. Now, Paulina is ready to take on Nema. How dare someone speak to her precious Mike that way?
Meanwhile, Nema is going on a blind date. When Aimee shows up, she finds Nema drinking red wine out of a straw — like a Housewife. Nema admits this is his first blind date. So, he starts asking questions about her last relationship. Her man cheated. Guess what? Nema's ex-wife cheated, too. And also, his mom cheated on his dad. So, Nema sees this as a time of empowerment. He refuses to spend the rest of his life as a bitter, jilted man and goes on to tell her that in great detail, never giving her time to respond. As he monologues, he thinks it was a great first date. I'm not sure she agrees.
Sara's brother, Sam lives in Vegas, too. They meet up with Reza, Adam, and Destiney for dinner. Sparks immediately fly between him and Destiney. Sam is a sports bettor and plays poker. Sara's family worries that he isn't living up to his potential. And he's never dated a Persian girl. Maybe that's about to change!
Now buzzed on tequila, the group takes a party bus to a Topgolf, where Destiney orders even more tequila. Sam doesn't speak Farsi, so Destiney offers to teach him. Though she says she wants a grown man of quality, and Reza isn't sure Sam fits the bill. He's a gambler with bleached hair. As Sam tries to teach Destiney how to golf, Sara points out that Sam is a man whore who hit on all the bridesmaids at her sister's wedding. He even slept with Sara's makeup artist. Whoops! She warns him not to screw Destiney.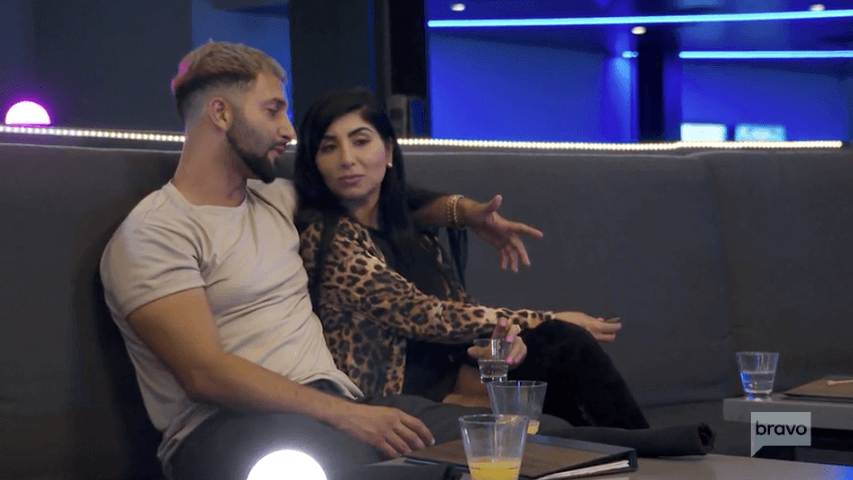 As Sara sits outside with Reza, Sam and Destiney cuddle on the sofa. Reza thinks Sara is acting crazy. When Destiney sits on Sam's lap, Sara loses her shit. The two openly French kiss and only stop when the car arrives to pick them up. Sam keeps slapping Destiney's ass as they retreat to her hotel room. The last thing we see is Sam shirtless.
In the final scene of the episode, Reza and MJ have dueling monologues, wondering what happened to their decades' long friendship. Questioning what will happen in the future.
So, do you blame Reza for the fracture in his relationship with MJ, or is she to blame for stirring up things with Ali? Will GG be able to lay off the ganja for forty weeks? And has Mike really changed or is he the same fuck boy he's always been?
Stay Connected With All About The Tea: Twitter Ι Instagram Ι YouTube
I'm a fiction writer by day and a reality TV addict by night.