Vanderpump Rules
RECAP: Jax Taylor & Brittany Explode On Tom Sandoval Over Their Homophobic Pastor Drama On 'Vanderpump Rules'
Welcome back to an all-new episode of Vanderpump Rules titled, "It's Not About the Pastor" but spoiler alert — it actually really is all about the pastor. Jax Taylor and Brittany Cartwright's pastor that is…
Straight out of the gate we learn that Dayna Kathan is bisexual as she tells Ariana Madix that she actually came out during Pride weekend. She also reveals that she never told Max Boyens that she is attracted to both sexes but that once he found out he told her he didn't care. Oh, that's right! Max Boyens only cares about the color of someone's skin, not their sexual orientation.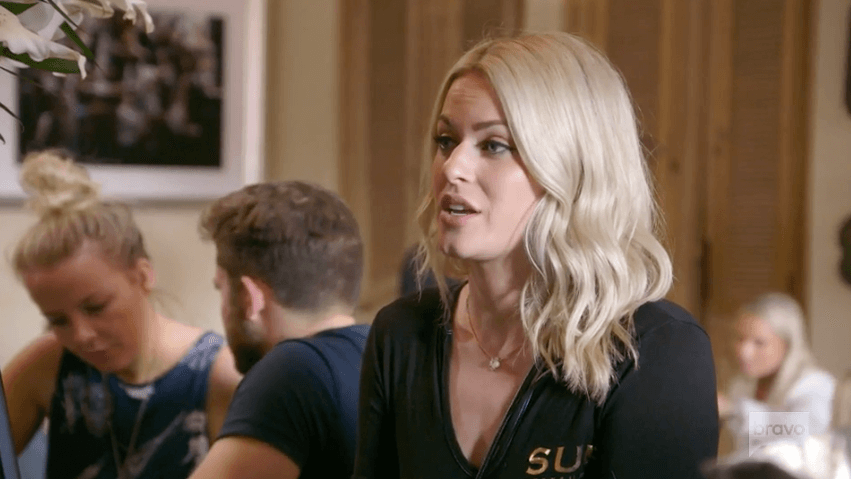 A frazzled Lisa Vanderpump confides in her hubby, Ken Todd, that she woke up to articles all over the internet exposing the man who is set to officiate Jax and Brittany's wedding for making seriously offensive and homophobic remarks about the LGBTQ community. Ken advises Lisa that she needs to call Jax Taylor and Brittany and talk with them at once.
Lala Kent pays Stassi Schroeder and Beau Clark a visit and Beau steals all of our hearts (once again) as he offers Lala a glass of nonalcoholic wine when she arrives. They discuss Brittany's shower and Lala is quick to let Stassi know that when she gets married she doesn't want any penis paraphernalia at her bachelorette party. Thank goodness. They also discuss Jax and Brittany's pastor drama as well but instead of admonishing the couple for not being more proactive, they remain much more supportive of the situation.
Meanwhile, Lisa Vanderpump arrives at SUR and Ariana Madix immediately pulls the boss aside to discuss Jax and Brittany's pastor drama. Lisa tells Ariana that she already knows and that she called Jax and Brittany to give them a heads up. Ariana confesses to Lisa that she's known about these comments for months and doesn't know how Brittany and Jax were so oblivious. Cut to a Watch What Happens Live episode from months prior when Brittany is asked about the comments the pastor made. Everyone seemed to love Brittany's response… except for Ariana who is caught rolling her eyes.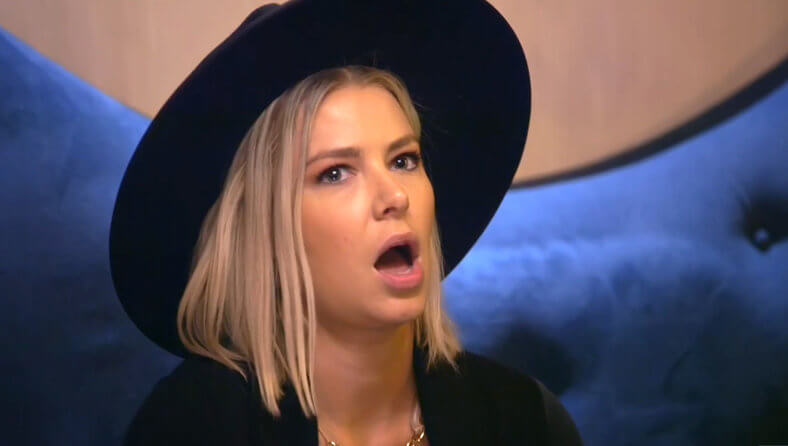 Elsewhere, Jax Taylor and Brittany take their frustrations out on the rowing machines as they complete their high-intensity workout. Hashtag shredding for the wedding. Afterwards, they have a serious discussion regarding the pastor drama. Brittany confesses that she's in a difficult position because the pastor is a good family friend of hers adding that she even grew up with his daughters. She is adamant that she never saw an ounce of that kind of behavior from him in the past but now she knows has to do something about it. The couple resolve to fire the pastor from his officiating duties with only two weeks to go. In the words of an old N'Sync song "BYE BYE BYE."
Later that evening it's a time of reckoning for Raquel Leviss as she comes face to face with her boss Lisa Vanderpump. Lisa has come in with full intentions of calling little Miss Raquel out on the carpet for skipping her shift at SUR to attend James Kennedy's set at TomTom.
Raquel Leviss confesses in her talking head that she feels obligated to babysit James Kennedy to keep him out of trouble but she now realizes that it can't be at the detriment of herself and her job. Lisa tells Raquel that she is seriously thinking about firing her but eventually lets her off the hook with a warning and a formal write up.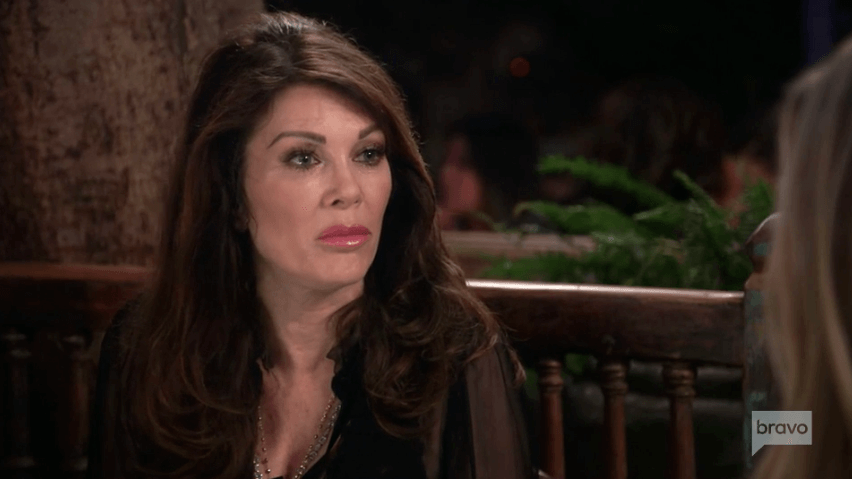 Tom Sandoval comes home bearing sushi that he and Ariana promptly devour in their bed aka the mattress on the floor. Gross. Ariana seems all too excited to enlighten Tom about her and Lisa's conversation regarding the pastor drama and tells Tom that Lisa even called Jax and Brittany to bring it all to their attention.Tom says that he's not buying that Jax and Brittany didn't know about all of the bigoted remarks the pastor had made in the past.
Max visits Dayna and they have a conversation about where their relationship is heading. Max says it's time they take the next step and become exclusive. Uh oh. Someone better go check on Scheana Shay. 
The next day Katie Maloney Schwartz, Stassi, Lala and Ariana scurry around to get ready for Brittany's Disney Princess themed bridal shower they're hosting for her at Tom and Katie's house.
While they're all in bridal shower mode, Raquel is still licking the wounds from her chastising by Lisa from the previous night. She fills James in on the run-in and it would appear that James has suddenly had a change of heart. Instead of sympathizing with Raquel over getting written up he chastises her for missing her shift. Nevermind the fact that he called her up cursing her out and demanded that she come to TomTom immediately.
Raquel then reveals that Peter extended an invitation to her and her only to his upcoming birthday party. James is enraged and accuses Peter of licking Jax's butthole now that he's a groomsman and then asks Raquel if she's considering going. Raquel answers stating she "doesn't think so."
James demands that Raquel make a decision. Raquel insists that she won't go but then James accuses her of only choosing not to go because she knows it will make him mad. Poor Raquel. Sometimes you're damned if you do and damned if you don't.
Meanwhile, Ariana is starting to sound like a broken record when she brings up the pastor drama YET AGAIN but this time to Lala and mere moments before Brittany's bridal shower, no less. Lala is quick to point out that Jax and Brittany did the right thing and fired him, but that doesn't seem to be enough for Ariana. According to Ariana, she's bothered by the fact that they chose him to officiate in the first place and insinuates that they must have known how he felt way before now.
The Bride-to-be finally arrives and is greeted by not only all of her closest friends and family but four real-life Disney Princesses. Well played ladies, well played.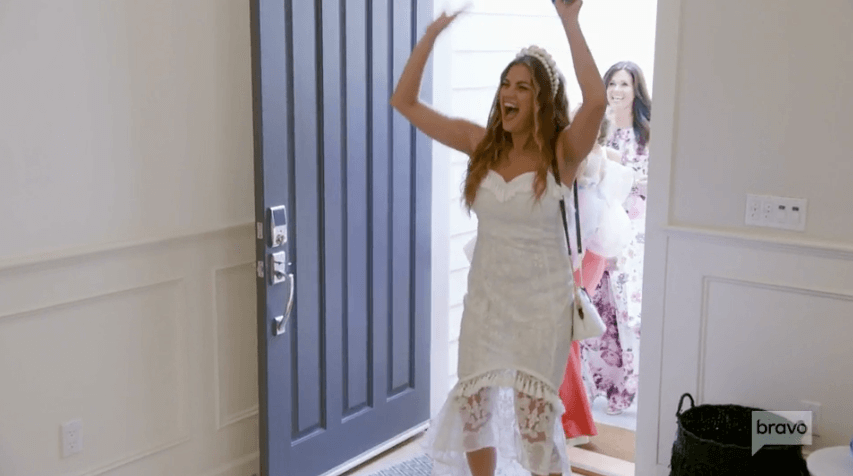 Over at TomTom, Tom Schwartz and Tom Sandoval are working on flower arrangements for all of the tables in their bar. Sandoval immediately gets down to being the Messy Boots that he is and tells James he heard about Raquel getting written up for missing her shift at SUR. The conversation eventually turns to the pastor drama and Sandoval seems to have the same opinion as Ariana stating that there's no way Jax and Brittany could have been unaware of the homophobic comments. Uh oh. The echo chamber of negativity appears to be rearing it's ugly head yet again…
In the midst of the bridal shower, Kristen tries to make small talk with Katie but it goes nowhere. Kristen then admits she was just trying to put on a happy face for Brittany before storming off. Before the shower is over Brittany announces to all of her guests that the new officiant for her and Jax's ceremony is none other than former boy band member… Lance Bass. In the words of Lance Bass, "It's gonna be ME."
Everyone meets for Peter's birthday (except for James) and things appear to be going swimmingly… until they aren't anymore.
Beau steps into a big ol' pile of steaming dog poo when he laughs as Jax tells him that he and Brittany's first dance is going to be to Shania Twain's "You're Still the One." It wouldn't have been such a problem if Jax was joking. He wasn't.
Poor Peter's birthday bash quickly goes to hell in a handbasket when Sandoval takes it upon himself to grill Jax about why it took Lisa Vanderpump confronting them for them to finally fire the pastor.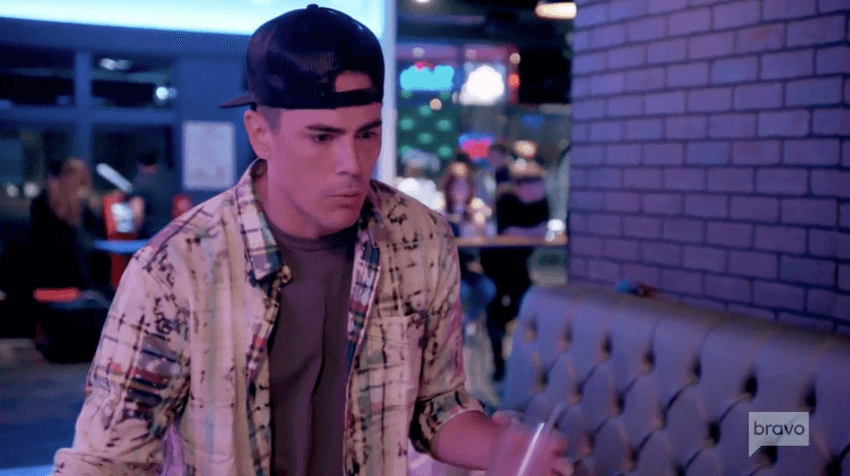 Jax storms off and gets an already emotionally-charged Brittany even more riled up. The rest of the gang (minus the other counterpart in the echo chamber of negativity) rally around Jax Taylor and Brittany and call Sandoval out for being a douche during such a crucial time for his friends.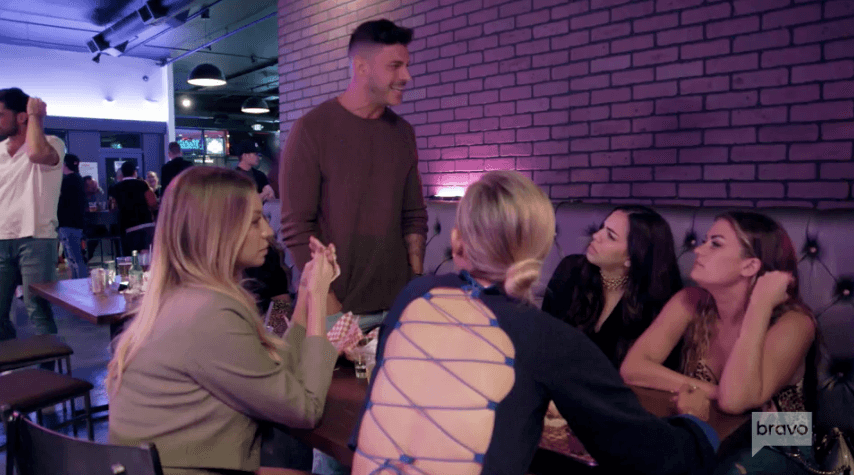 Is this how the best man is supposed to behave less than two weeks before the wedding? Will Jax Taylor make good on his vow to kick Sandoval out of his wedding? Tune in next week to find out!
Stay Connected With All About The Tea: Twitter Ι Instagram Ι YouTube