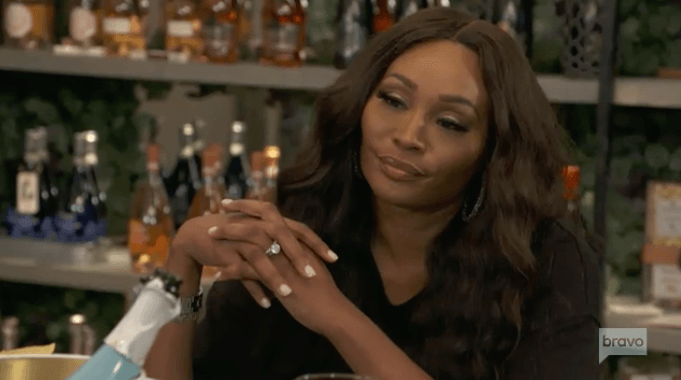 Welcome back to an all-new episode of The Real Housewives of Atlanta.
This week's episode opens with NeNe Leakes helping customers at her new boutique, Swagg. Marlo Hampton pays her a visit and immediately asks about the card sitting on the counter. NeNe explains that the card is actually from Cynthia Bailey. Inside it Cynthia thanks her for the beautiful cheese platter NeNe sent at the opening of her wine cellar and asks her to meet her for a glass of wine there.
NeNe's cautious about meeting Cynthia but eventually decides that she will accept the invitation as she owes it to the relationship to have some sort of closure. She even decides to take it one step further and plan a Jungle themed brunch with all of the ladies in attendance, even Kenya Moore. Wonder if she'll bring Cookie Lady?
Speaking of Kenya Moore, she's still busy playing housewife minus a whole husband when Cynthia stops by. Cynthia ends up staying for dinner but she's got way bigger fish to fry than what's on the menu. Her real intentions for stopping by are to read Kenya for throwing her under the bus amidst all of the Cookie Lady drama.
Kenya Moore doubles down stating that she won't apologize for bringing the Cookie Lady to Tanya Sam or for even calling her the C-word but she eventually apologize to Cynthia for bringing her into the drama.
The conversation switches gears when Cynthia's trip to visit Mike Hill comes up. Cynthia mentions to Kenya that she has some concerns about Mike being so forthcoming about his past transgressions in his previous marriages. Kenya says she normally abides by the rule "once a cheater always a cheater," but does believe it's possible to learn from your past mistakes. Wow. Such wise and mature advice from someone with a make-believe husband…
The next day, NeNe Leakes meets Cynthia at the Bailey Wine Cellar. NeNe walks in and all seems to be going well as the two exchange a warm hug and friendly banter. Cynthia thanks NeNe for coming and the two toast to "new beginnings."
Unfortunately, the friendly conversation takes a turn when Cynthia says that she says that they deserve to at least have a mutual respect for one another. This sets NeNe off and she demands answers as to why Cynthia referred to her as a "toxic friend" to multiple people. Cynthia doubles down stating that when NeNe is someone's friend she can be an amazing friend but the minute things turn left she can be very quick to throw people away. NeNe agrees that she was closed off from hearing anything Cynthia had to say but only after Cynthia got caught betraying her on that hot mic.
Cynthia Bailey says they both said awful things about one another but NeNe is not willing to budge — citing that Cynthia was the one who did seven interviews bashing her. Things start to escalate when Cynthia tells NeNe that she should know that she's "very happy now." NeNe storms out but not before leaving her some parting words of wisdom, stating. "Enjoy your moment." I think the keyword here is "moment" Cynthia.
Just like old times, Cynthia chases after NeNe and finds her out in the parking lot crying. NeNe tries once more to express to Cynthia how much she has hurt her over the past several months. Cynthia apologizes and admits that the things she said were not nice. NeNe apologizes for her part as well saying that she never wanted to hurt Cynthia. The two eventually hug it out before parting ways.
Later NeNe confesses that she feels a sense of relief that they have made some sort of progress because the friendship between the two runs so deep. Fingers crossed for these two ladies!
On the morning of NeNe's Jungle Brunch, Porsha Williams calls Marlo to tell her she's not coming. According to Porsha, she's confused as to why NeNe even invited her. Especially since they've had no conversation whatsoever after their falling out.
Cynthia scoops up Eva Marcille on her way to the Jungle brunch and the two laugh about the irony of Cynthia dressed in head to toe snakeskin. Cynthia reveals that she and NeNe made some serious progress when they met for wine and that things are looking up for the two of them.
Their Jungle Brunch plans, however, come to an abrupt halt when Eva gets out of the car only to realize that she's experiencing full-on contractions. This wouldn't be a huge deal, but the baby is not due for several more weeks. Preterm labor could mean serious health complications for baby Sterling.
Kandi Burruss arrives to find Eva in the midst of contractions and immediately calls their shared OB-GYN, Dr. Jackie. Dr. Jackie advises that Eva go straight to the hospital. Cynthia springs into action, quickly putting the contracting mother-to-be in the car and peels out of the parking lot on two wheels.
Kenya Moore shows up to the Jungle Brunch with only a snakeskin purse to coincide with the theme. Figures. Per Kenya, she wants to give NeNe the opportunity to apologize to her. Unfortunately, that opportunity came with only a five-minute window. Once she realized Nene was not there yet, she promptly got up and left. Is anyone surprised by this? Yeah, me neither.
NeNe Leakes finally arrives with an entourage people filing in after her. Kandi and Tanya are confused but NeNe explains that she actually does this brunch monthly and the other women regularly attend. Kandi delivers the news that Kenya stayed for about five minutes before leaving and that Cynthia had to rush Eva to the hospital.
In a shocking turn of events, Porsha enters the room and everyone including NeNe looks surprised. Porsha admits that it was her mother, Diane, that talked her into going and being willing to hear what NeNe has to say. Good for you, Miss Diane.
NeNe takes the floor and specifically addresses Porsha saying that this event is not meant to be negative but rather to lift one another up. Porsha seems to receive that and has a change of heart as she thanks Nene for inviting her.
Meanwhile, Eva calls Kandi to let her know that she made it to the hospital and is currently one and a half centimeters dilated. Will Eva give birth? Or will Baby Sterling sit tight and cook for just a little while longer? Tune into The Real Housewives of Atlanta next week to find out!
Stay Connected With All About The Tea: Twitter Ι Instagram Ι YouTube