90 Day Fiance
RECAP: '90 Day Fiance' Tell-All Season 7 Part 2: Angela Explodes On Michael's Friends!
Welcome back to part two of 90 Day Fiance Couples Tell-All edition.
Monday night's finale of 90 Day Fiance Tell-All Season 7 picks up right where we left off with the couples questioning what exactly went down between Natalie Mordovtseva and Michael Youngquist. When Ice Princess Natalie is asked about the status of her relationship with Mike she says that it's on hold for now.
Angela Deem confesses that deep down she thinks that Michael Ilesanmi probably inadvertently did something in his interview that ruined his chances of getting the visa as he was only in there for 22 minutes.
Michael's friends from Nigeria Skype in and it's not long before all hell breaks loose. Host Shaun Robinson has production roll the footage of Angela Deem being called "trashy" and Angela is seething with anger at what she watches. His friends are adamant that they have been supportive of Michael's relationship, but Angela begs to differ stating not only are they not supportive of their relationship, but they're also not even true friends to Michael.
One of Michael's friends starts to antagonize Angela calling her "pumpkin" and "trashy" and Angela's unable to control her anger. It's not long before she jumps up off the couch and yells at production to get them off the screen or she and Michael will both leave the interviews. She continues to try and rip her mic off while simultaneously curse out Michael's friends and the entire production team. Where is Jerry Springer's security team when you need them???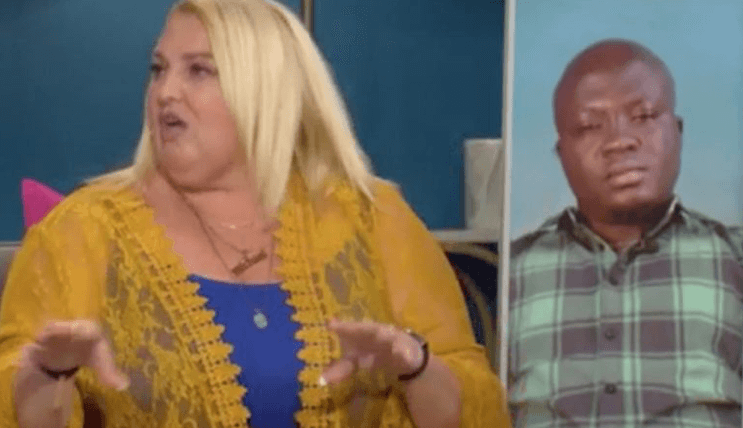 Robert gives props to Michael for defending Angela and calls the three goofballs a bunch of haters before speculating that maybe they're each other's soulmates. The whole room has a good laugh about that.
Michael Jessen confesses that he also lost friends over Juliana Custodio de Sousa stating that some of it was jealousy and some of it was judgment but it was those moments that he realized who his true friends were.
Blake Abelard's friends Rita and Everett Skype in next to discuss their first impression of Blake's fiance turned wife, Jasmin Lahtinen. Rita and Everett explain that they were initially very excited to meet Jasmin but as time went one they started to feel like Jasmin was making zero effort to get to know them. Blake chalks it up to purely a cultural difference but Everett begs to differ stating its a personality trait. Jasmin admits that she can be more shy and introverted but says she is willing to work harder.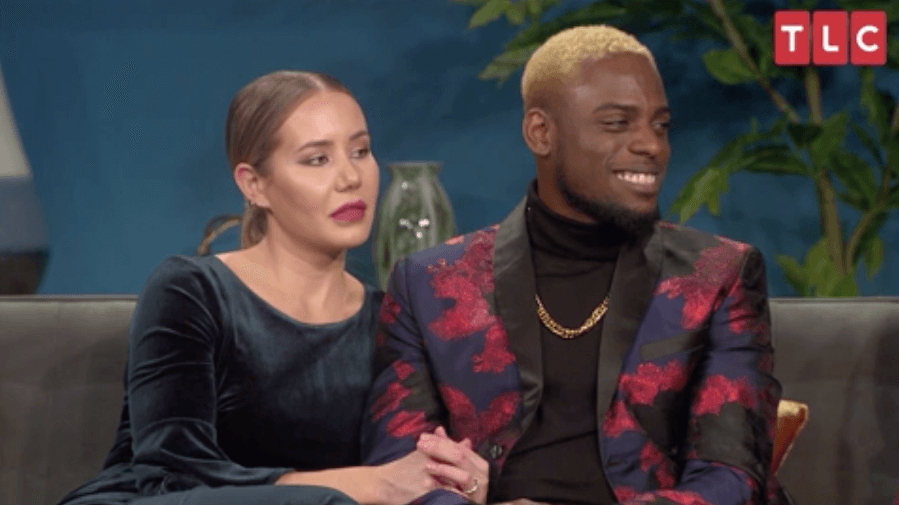 The conversation wraps back around to Natalie and Mike as Shaun resolves to get to the bottom of whatever it is that's going on between the pair.
Natalie Mordovtseva confesses that she has a hard time trusting Michael Youngquist. Mike claims Natalie's lack of trust in him stems from the fact that he doesn't believe in God. It's not until later that Natalie insinuates that Mike did something very hurtful to her that betrayed her trust.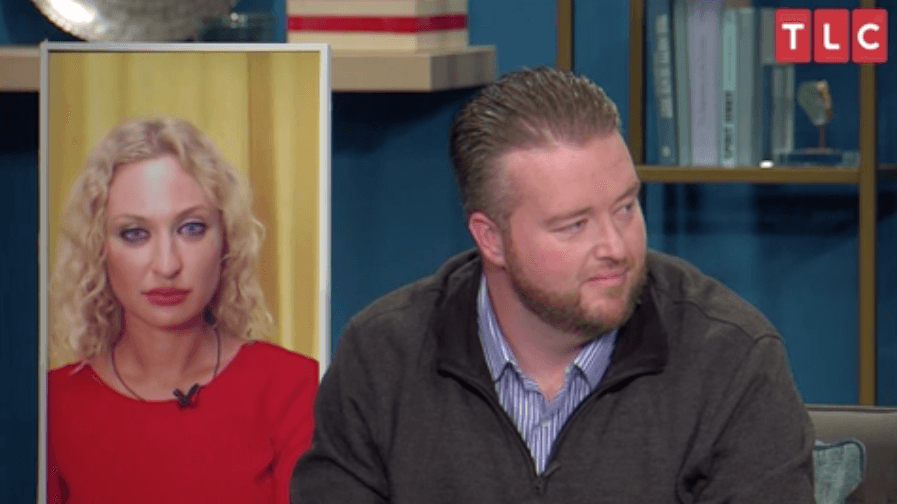 Michael Youngquist dances around the subject for quite some time before finally dropping a bomb on everyone. He confesses that the night before his best (girl) friend's wedding he stayed the night at her house with just the two of them there. Natalie is adamant that Michael is still leaving many details out of the story and says that if he did divulge them everyone would understand why she has so many trust issues with Mike.
90 Day Fiance Tell-All Season 7 wraps with Michael Youngquist stating that he is going to fight hard to salvage his relationship with Natalie Mordovtseva. I guess time will only tell if these two star crossed lovers are able to get over this hump in their relationship.
While there are still many unanswered questions for the 90 Day Fiance couples — one thing's for sure. This season has been one bumpy ride! Good luck to them all!
Stay Connected With All About The Tea: Twitter Ι Instagram Ι YouTube