Vanderpump Rules
RECAP: Lala Kent Turns On James Kennedy After He Mocked Her 50 Cent Beef On 'Vanderpump Rules'
Welcome back to an all-new episode of Vanderpump Rules.
This week's episode opens with the Bubbas performing the ever so accurate sniff test to Tom Schwartz's dirty Miami laundry. According to the Bubbas, the sniff test is the official way to determine whether or not the laundry actually needs to be washed. Eww.
Tom Sandoval shows up with matching costumes for the Toms to debut at TomTom's first-ever Pride celebration. Think custom-tailored white jackets with rainbow sequins and tassels and of course the TomTom logo (which they collectively own a whopping ten percent of) emblazoned on the back.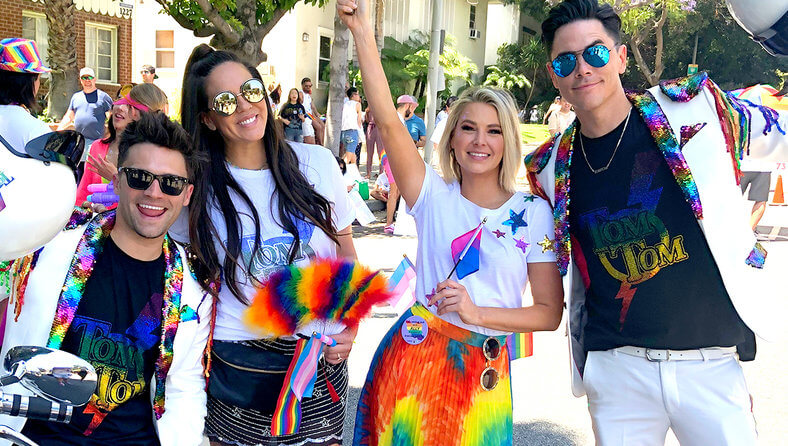 The issue of James Kennedy DJing for Pride at TomTom rears its ugly head but the two co-owners seem to be on the same page citing that as long as they get him in and out of there early enough before he has a chance to get drunk there shouldn't be any issues. Katie Maloney-Schwartz, however, makes no bones about it that if it were her bar he most certainly would not be performing any sets there. Thank goodness it's not Maloney's Bar & Grill, after all.
The B-squad (aka newbies) and Scheana Shay arrive at Villa Rosa, to decorate posters for the floats at Pride. Lisa mentions that Ariana Madix is coming by and that gets Scheana's wheels turning. "Is Dayna coming???" she snarls. Lisa Vanderpump seizes the opportunity to confront Scheana and her treatment of Dayna Kathan and even accuses Scheana of being jealous of her. The mere accusation of being jealous causes Scheana's panties to get all twisted up and she eventually breaks down in tears while simultaneously wailing that she's NOT jealous of Dayna. Just like her divorce doesn't define her, neither does her disdain for Dayna. SHE'S NOT JEALOUS OF DAYNA, OKAY???!!!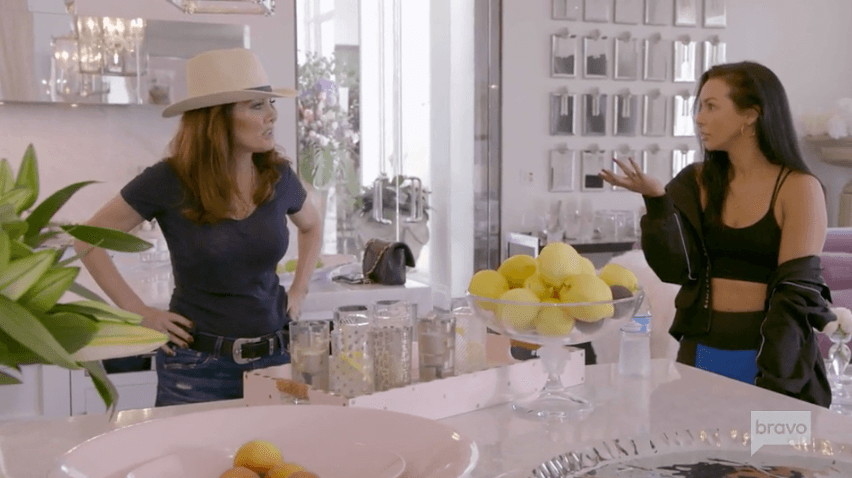 Ariana Madix eventually arrives and has to fight off Lisa Vanderpump's swans who double as security before entering. Once inside she and Lisa have a serious conversation about Ariana's struggle with depression. The conversation turns extremely dark when Ariana admits that she's even experienced fleeting thoughts of suicidal ideation. Lisa shares that she too has dealt with serious depression and can sympathize with her. In an effort to help keep Ariana busy and give her a reason to get out of bed in the morning, she offers her old job back, even for just a couple of days a week. Ariana gladly accepts.
Meanwhile, the green-eyed monster that is Scheana Shay is outside with Brett Caprioni, Raquel Leviss and Danica Dow talking in circles about how she's NOT jealous of Dayna.
Raquel apparently takes this as a sign that it's a great time to reveal that they won't be alone in getting their hair done for Pride the next day. Dayna will be joining them. Scheana is adamant that she doesn't have any "beef" with Dayna but she refuses to be waiting behind her to get her hair done.
Lala Kent and Brittany Cartwright meet at Stassi Schroeder's apartment to discuss their outfits for Pride. Brittany confesses that Jax Taylor is so jealous he can't stand it. This is the first year she doesn't have to work at Pride and instead can party with everyone else while he's stuck slinging drinks behind the bar at SUR. Just remember Jax, someone's gotta pay for that wedding.
The morning of Pride, James Kennedy is strutting around in his bathrobe preparing for his set. James reveals in his talking head that he and Lala are currently on the outs yet again after he inserted himself in the Randall vs "FOFTY" Money by Monday Instagram drama heard around the world. In the midst of all the drama, James took it upon himself to make his own Instagram post supposedly making light of the whole situation. The only problem is that Lala wasn't laughing. According to Lala, it was completely unacceptable and she didn't find it funny in any way shape or form. So much for the rekindling of their friendship.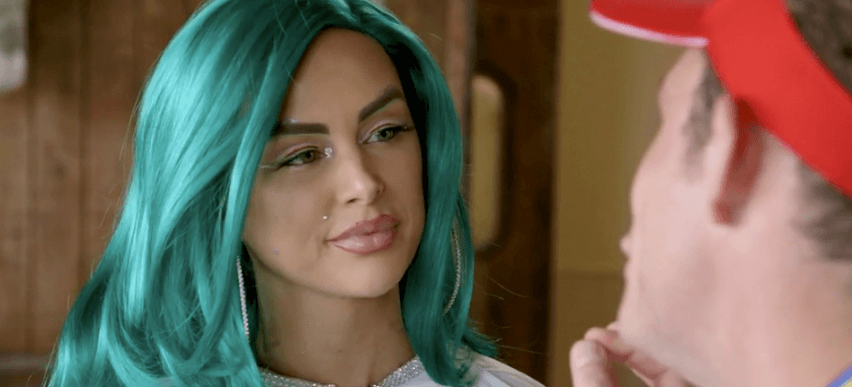 Meanwhile, Max Boyens wakes up in Dayna's bed while Dayna is rushing around fixing her own hair for Pride. Later in her talking head, she reveals that the morning of Pride she wakes up to a text from Raquel nonchalantly disinviting her to get her hair done citing some phony excuse that suddenly the hairstylist can't take three girls. Hey Raquel, your nose is growing…
Pride is in full swing as new manager Danica scrambles to keep it together at SUR. She is down one staff member in each position and they are at a serious loss when it comes to bartenders. Jax is a little rainbow of sunshine as he sits at the bar on his phone doing absolutely nothing to help.
Danica tells Jax that he's going to have to get behind the bar and help. Jax snaps back that he plans to "but only until one." Then she asks him to help set up and he tells her matter of factly, "No. I don't do that." Jax resolves to make the best of his whole two hours behind the bar and just be drunk the entire time. Good plan…
The Queen of Pride herself, Mrs. Lisa Vanderpump, makes her way down the parade sitting on top of her convertible while her trainer Brett holds an umbrella over her shielding her from the sun.
Jax Taylor finally meets Dayna for the first time at SUR or so he claims. In reality, he already met her once before at the hotel party the guys hosted last season. Jax admits she's attractive, but certainly not his type as he is very picky. Besides, she's a blonde. Yeah, definitely not his type. Rightttt. Cue the footage from seasons past containing: Stassi, Laura Leigh, Vail, Carmen, Lala, etc.
Stassi Schroeder, Lala Kent and Brittany arrive at TomTom and James approaches them making small talk in an effort to make nice. Unfortunately the girls aren't biting. Later Max checks on James who requests a suspicious drink that consists of soda water, lime and "a little you know…" Ladies and gentlemen, I think it's safe to say DJ James is back on the sauce again.
Later James pulls Lala aside and apologizes for his behavior in the midst of all of the "Fofty" drama. Lala maintains that after his actions she's fully aware they are just two completely different people and she only wants to surround herself with people who can support her and her sobriety. Right about that time, here comes yes-man Max to the rescue with James' suspicious drink in hand. Lala demands a sip of James drink but of course, James declines.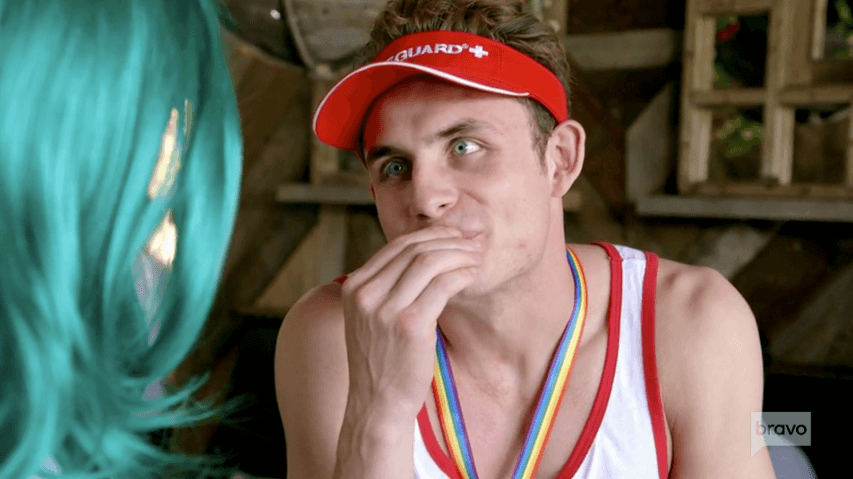 Schwartz and Sandoval make their grand entrance into TomTom and the crowd goes WILD. Per Schwartz he feels electric, alive and like a genuine rock star… and it's all due to his five percent ownership at TomTom. The pair immediately get to work giving exactly the crowd what they want: hand-poured shots directly into their mouths.
Meanwhile, DJ James is pitching a hissy fit and calling Raquel demanding to know her whereabouts and why she is missing his set. According to Raquel, she simply lost track of time during the parade before scurrying over to TomTom like a teenager trying to make curfew. Something tells me math isn't her strong suit.
Apparently keeping track of her shift schedule isn't Raquel's strong suit either. While James is thanking Lisa for allowing him to DJ the event, he casually mentions that Raquel is there to support him and Lisa is adamant that Raquel is on the schedule at SUR and is supposed to be there instead. In the words of Raquel, "Oopsie."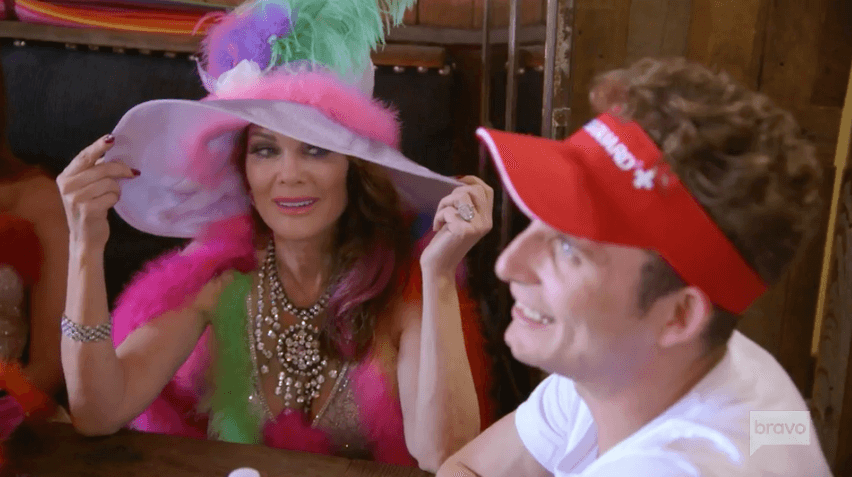 Raquel runs over to SUR and Peter takes her out back and lectures about her lack of priorities. He makes it clear that her missing a shift can't ever happen again. According to Peter, she is obligated to her managers and SUR when she's on the schedule, not James.
The episode wraps with Scheana asking Dayna to talk with her outside. But first- a crowd-pleasing performance of "Good As Gold" while on top of the SUR bar.
Once outside, Scheana proceeds to go in on Dayna. In between taking puffs of her inhaler she confronts Dayna about telling everyone that Scheana's being mean to her. Dayna doubles down stating that she has been mean to her and for no good reason. Scheana eventually admits that she's been unfair to Dayna and apologizes for it. They both resolve to move forward. At least for now anyway…
Will Lisa fire Raquel for skipping out on her shift to watch James' set instead? Tune in next week to find out!
Stay Connected With All About The Tea: Twitter Ι Instagram Ι YouTube