Real Housewives of Atlanta
'RHOA' RECAP: Kenya Moore Brings The Cookie Lady To Create Drama With Tanya Sam & Calls Tanya The 'C' Word!
After a two-week hiatus, The Real Housewives of Atlanta is baaaackkk!
This week's episode opens with Cynthia Bailey, Eva Marcille, Kenya Moore and Tanya Sam meeting for lunch. According to Cynthia, she arranged the lunch in an effort to squash the beef between Kenya and Tanya. Good luck, hunni.
Tanya Sam seems optimistic when she arrives and is told that Kenya will be joining them. Unfortunately, a little birdie (ahem, Cynthia) already told Kenya that Tanya would be there and it's obvious from the start that Kenya didn't share the same sentiments as Tanya. Tanya greets Kenya as Cynthia tells her she looks really pretty and Kenya responds with "Well I like to look extra pretty when I'm going to read a b****." Well okay then, Kenya. Let's get this party started.
Tanya approaches the drama head-on and explains that she's been hearing from the other ladies that Kenya is not too happy with the way Tanya brought the wig back from Toronto. According to Tanya she just wants to clear the air and get back on track.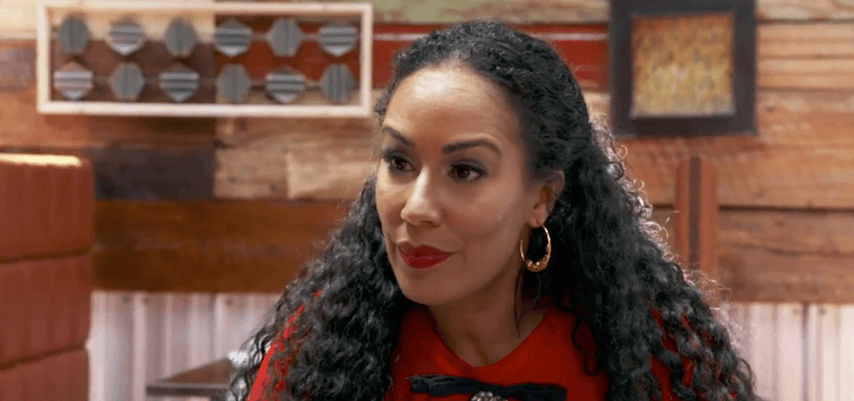 But Kenya Moore is having none of it as she quickly counter back that what Tanya did was "some bull s***" instead of merely giving the wig back to her discreetly she took the opportunity to try to embarrass her AND discredit the business that feeds her and her daughter. Then she proceeds to wrap the whole read up with by calling Tanya a big fat C-U-Next-Tuesday. YIKES. Meanwhile, poor Cynthia and Eva look on as if they're witnessing a car crash that they can't turn away from.
But Krazy Kenya is not done yet. She then drags Tanya a little further by bringing up the Cookie Lady storyline she undoubtedly cooked up all on her own and simultaneously throws her BFF Cynthia under the bus stating that they both met with her. Not just Kenya. Cynthia shoots Kenya a look as if to say, "Gee thanks, friend."
Now, if you think the marching band and megaphone chanting "Kenya Moore Hair Care" at Marlo Hampton's wig launch was bad just wait.   You ain't see nothin' yet. Nope. It's a bird. It's a plane. NO! It's the Cookie Lady herself entering the restaurant- proudly brought to you by Kenya Moore. This miserable woman will literally stop at nothing and it's all over a damn wig.
Kenya Moore gives ol' Cookie Lady the floor as she recounts some wild story about Tanya's fiance Paul flagging her down at a bar and supposedly saying he's single and works in real estate. Umm okay Bunny Boiler you can go take several seats now. Making small talk in a bar with Paul doesn't mean he's leaving his fiance for you.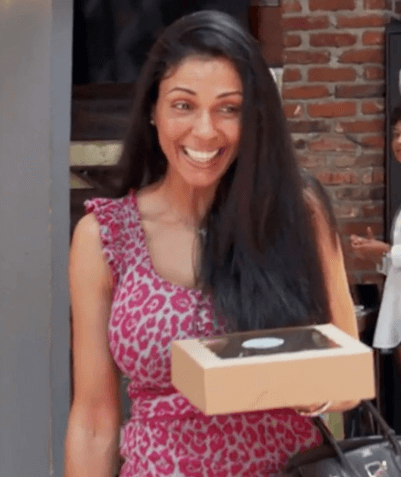 None of the ladies (besides Kenya) seem to be here for Cookie Lady or her tall tales about Paul but a very hungry Eva doesn't discriminate against the cookies as she makes it her mission to part with several of them.
Meanwhile, Porsha Williams and Dennis are still committed to getting their relationship back on track as they head to yet another couple's therapy session. They deliver the news to their therapist that they are re-engaged and that Dennis has also completed his apology tour with her mother and sister. The therapist seems surprised yet optimistic asking them how they are doing with all of the changes.
Dennis McKinley confesses that Porsha has a tendency to question him repeatedly regarding the specifics of his transgressions. The therapist advises him that's normal and he may have to answer her pressing questions several times but it's important that he does so because it's an integral part in Porsha's healing process. Porsha Williams breaks down and reveals that being intimate with Dennis is really hard for her and that it doesn't feel right anymore now that she knows he's been with someone else. It's obvious that this couple has some major work ahead of them…
Kenya Moore and her husband Marc go to check out a venue for a charity event that Marc is hosting and it becomes clear that Kenya should have saved some of that energy reading Tanya so she can keep up with her micromanaging husband. He's got an opinion about everything and it almost always differs from hers.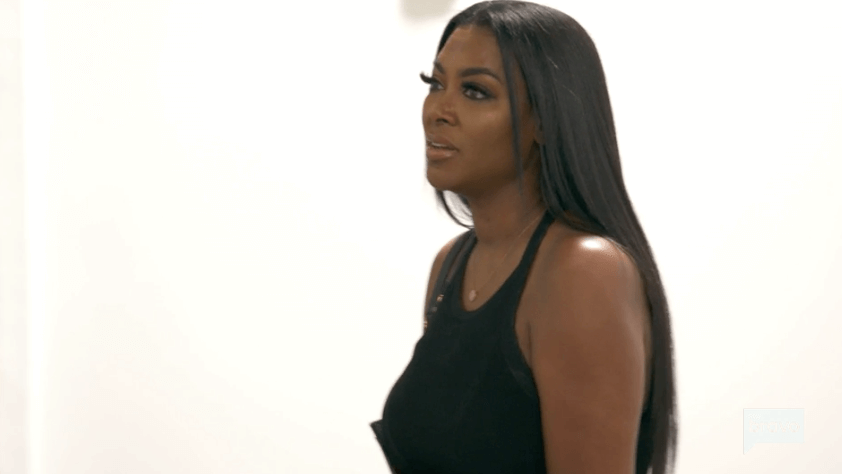 Cynthia travels to see Mike Hill in Los Angeles and has plans to use her time wisely by getting to know Mike's youngest daughter better- BUT FIRST, she catches him up to speed on the drama at the lunch between Kenya and Tanya. But Mike makes it clear that the only goodies he's concerned with at the moment are Cynthia's as he quickly cuts her off before they head to the bedroom.
Back in Atlanta, Kandi Burruss and Todd Tucker butt heads over paint colors for their new baby's nursery. Kandi confesses that she's stressed about all that needs to be done before the baby comes.
Kandi Burruss then drops a bomb, revealing that Mama Joyce is back up to her old tricks of throwing shade at Todd. Mama Joyce has plans to put Riley as her new beneficiary in her will, making Kandi second in an effort to make sure Ryleigh is taken care of, insinuating if that it were ever up to Todd than she might not be. Oh, the shade…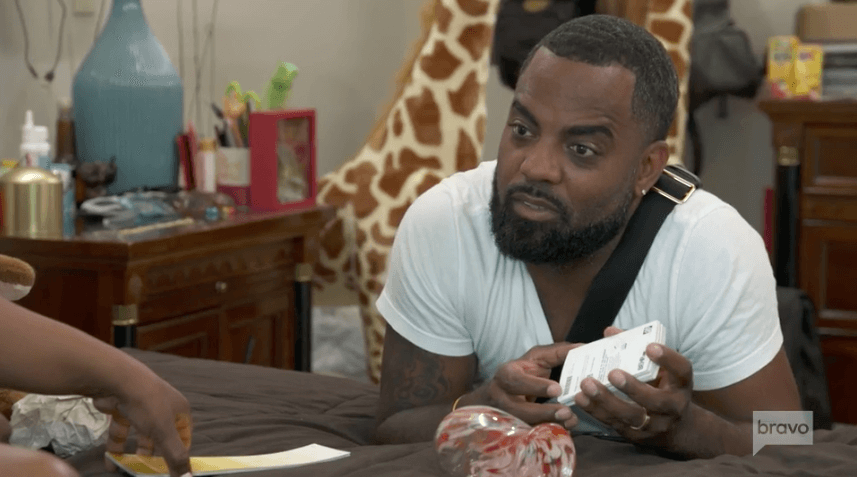 Cynthia Bailey and Mike gear up for a cozy night at home entertaining friends as Mike rattles off the guest list, including several beautiful women who he claims to be strictly platonic with. Cynthia is left questioning why Mike has only women friends and no male friends. Hm… I wonder… Cynthia grills the ladies and one of them casually mentions that Mike never broadcasted any of his past relationships because there were simply too many of them. Later Cynthia confesses in her talking head interview that she is aware that Mike has cheated on his wives in the past and it does give her pause. UH OH CYNTHIA. Looks like the Cookie Lady might be paying you a visit next.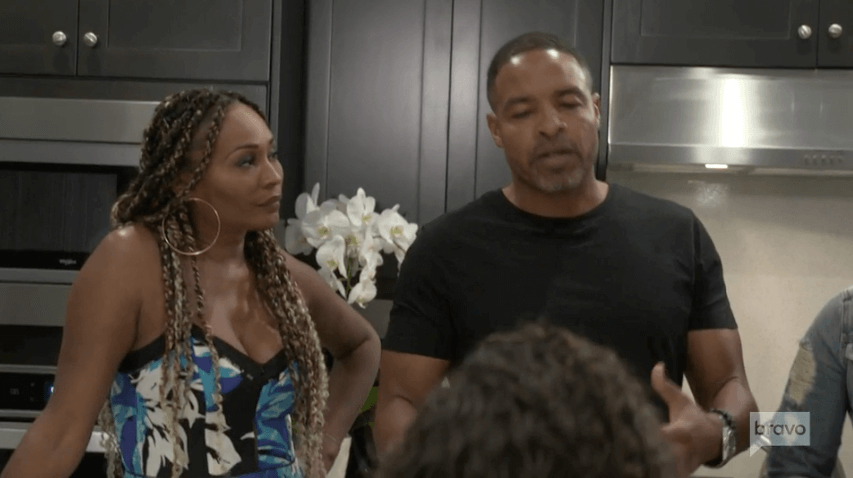 Tune in next week as the drama continues.
Stay Connected With All About The Tea: Twitter Ι Instagram Ι YouTube