Exclusive
Meghan Edmonds Exposes Jim Edmonds' Threesome Partner For Revenge! (Exclusive)

Meghan Edmonds Outs Jim's Threesome Partner!
The identity of the woman Jim Edmonds and soon-to-be ex-wife, Meghan Edmonds, had a threesome with was outed on Thursday by The Real Housewives of Orange County alum.
The woman that engaged in a threesome with Jim, 49, and Meghan, 35, during their relationship has been identified as Kortnie O'Connor — a former friend of Meghan Edmonds.
"Meghan is seeing red after she was tipped off Kortnie and Jim were in Mexico all over each other." A source tells AllAboutTheTEA.com. "Meghan was the one that released Kortnie's name to the press because she wants to ruin her life now that she's with Jim." 
Check out photos of Kortnie O'Connor below — Scroll through gallery:
This slideshow requires JavaScript.
Meghan Edmonds kicked off the drama during her "Intimate Knowledge" podcast this week by revealing her husband ran off with a woman they once had a threesome with.
She told her co-hosts, Brooke Burke and Lila Darville, "We had just gotten married. I knew Jim had this bad boy past and we were newlyweds and trying to have fun.
"He wanted to have a threesome… We decided to have a threesome – a consensual adult decision – with a friend of mine.
"I felt very comfortable with her. It just felt like, 'OK, if I'm going to do this, this can be with who, and I'm comfortable with that.'"
However, she also revealed she didn't feel comfortable telling other people about the experience because she wasn't proud of it.
When Meghan's co-host asked if she believes he had an affair with the threesome woman, she responded: "I think they probably had sex more than one time."
Meghan also revealed that Jim, 49, took his new girlfriend to Cabo and that she used his credit card to purchase items for the trip.
"They are in Cabo right now. This girl who I thought was my friend, who I cast aside my [uncomfortableness] with a threesome, everything that I had in my head about a threesome being weird and gross because I was fun and wanted to do things for my husband. And then this girl betrayed me." She said.
EXCLUSIVE: Jennifer Villegas Files Police Report Against Meghan Edmonds' For Harassment Amid Jim Edmonds Cheating Scandal: 'She's Out For Blood and Won't Stop Until I Jump Off A Bridge'
As the drama escalates between the estranged couple — Jim Edmonds released a statement to US Weekly.
"Jim has no desire to roll in the mud with anyone, nor does he have any interest in playing this out in the media," a rep for former St. Louis Cardinals player said in a statement to Us Weekly on Thursday, January 23. "Meghan decided to publicly broadcast what was essentially a 30-minute therapy session about her marriage and she continues to tell stories to anyone who will listen and use this as an opportunity to get attention for herself."
"Publicly discussing private matters is not in the best interest of his children and he is not going to engage on that level." The statement concluded.
EXCLUSIVE: Jim Edmonds' Steamy Affair While Meghan Was Pregnant With Twins EXPOSED — D*ck Pics, Threats, Hush Money & More!
After the podcast aired, Jim Edmonds accused his ex of having lesbian affairs throughout their marriage — and deleted all pictures of Meghan from his Instagram.
"I am tired of the lies for publicity. I filed for divorce over 90 days ago. Meghan has filed as well. The marriage is and has been over." He told E! News. "I was invited to a surprise birthday party this weekend for one of my best friends and decided to bring a date. There is no affair going on here. As far as threesomes go, there were a more than few initiated by Meghan and only Meghan. Recently, I have learned that she carried on with a few of these women without me being present. Would that not be considered cheating? How can she have a podcast talking about intimacy and relationships when she has neither?"
This is not the first time Meghan Edmonds has been accused of harassing one of Jim's side chicks.
Back in June 2019, Jim Edmonds admittedly had an "emotional affair" with Jennifer Villegas, who told AllAboutTheTEA.com exclusively that Meghan Edmonds was harassing her and she filed a police report against the RHOC alum.
"In recent days I have been contacted by Meghan Edmonds on Facebook and by phone. She informed me that she's researched my entire life and named my family members and their businesses. She threatened to use this information against me, so I decided to file a report with the police for harassment." Villegas previously told AllAboutTheTEA.com.
In the following police report obtained by AllAboutTheTEA.com, Villegas details receiving multiple texts and phones calls from the mom of three starting in September 2018. Some names, addresses and phone numbers have been extracted from the report.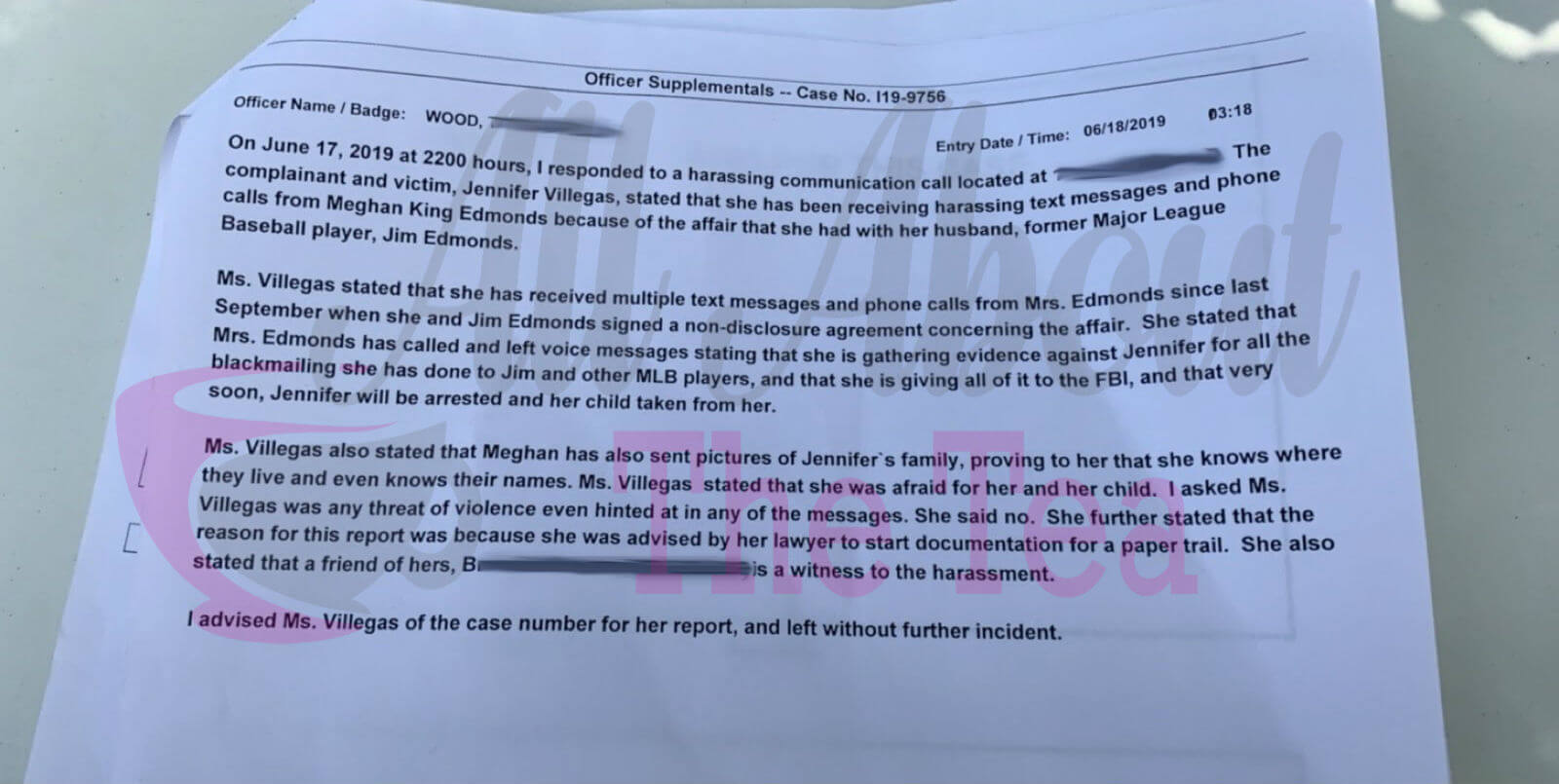 Jim Edmonds filed for divorce from Meghan after five years of marriage in October 2019.
The exes currently share 50/50 custody of daughter Aspen, 3, and twin sons Hart and Hayes, 1.
Stay Connected With All About The Tea: Twitter Ι Instagram Ι YouTube