Jennifer Aydin's Jealously Explodes!
Welcome back to the Hamptons, Real Housewives of New Jersey fans. Our Garden State ladies are on vacay, and that always spells trouble. You'll be happy to know this episode is no different.
The women meet at Jackie Goldschneider's house for the weekend. Teresa Giudice comes in hot against her frenemy, Margaret Josephs. After not getting an apology from Teresa over the Danielle Staub incident, Marge refused to invite Teresa to her Mother's Day Drag Queen Brunch. And Teresa is still angry over being left out.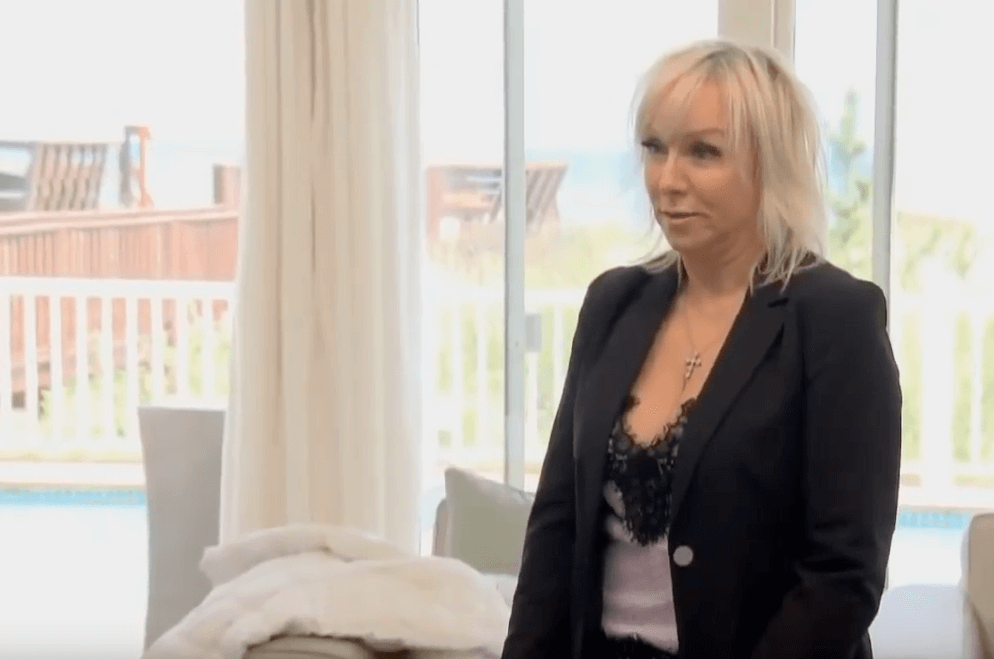 Melissa Gorga urges calm and offers wine to help cool down heated tempers. When Marge offers Teresa a goody bag from the brunch, Teresa refuses. She don't want no freaking goody bag!
Jackie shows off her house, inviting Teresa, Dolores Catania, and Jennifer Aydin to make themselves at home. Then she takes them past the back deck and pool, down the dock to the beach.
Teresa Giudice apologizes to Jackie for attacking Marge the moment she walked through the door. Teresa feels Marge should have put aside their differences and offered an invite. Mother's Day was a painful time for Tre. Especially after losing her mother so unexpectedly. But Jackie points out that Teresa has been riding hard for Danielle. She showed Margaret no sympathy after the water tossing/hair pulling incident. Marge has always loved Teresa, Jackie says, and that's why she was so hurt.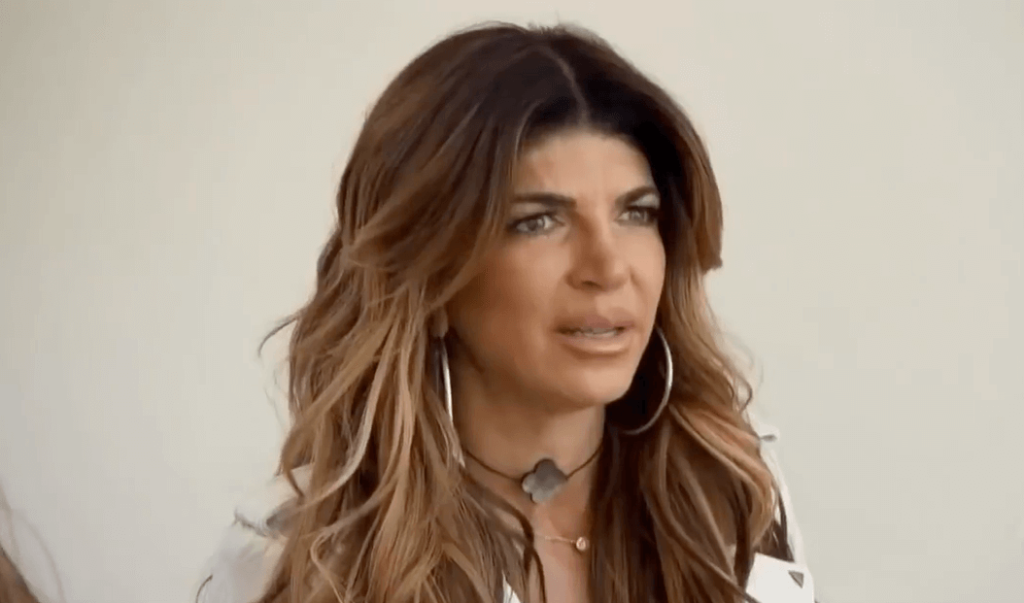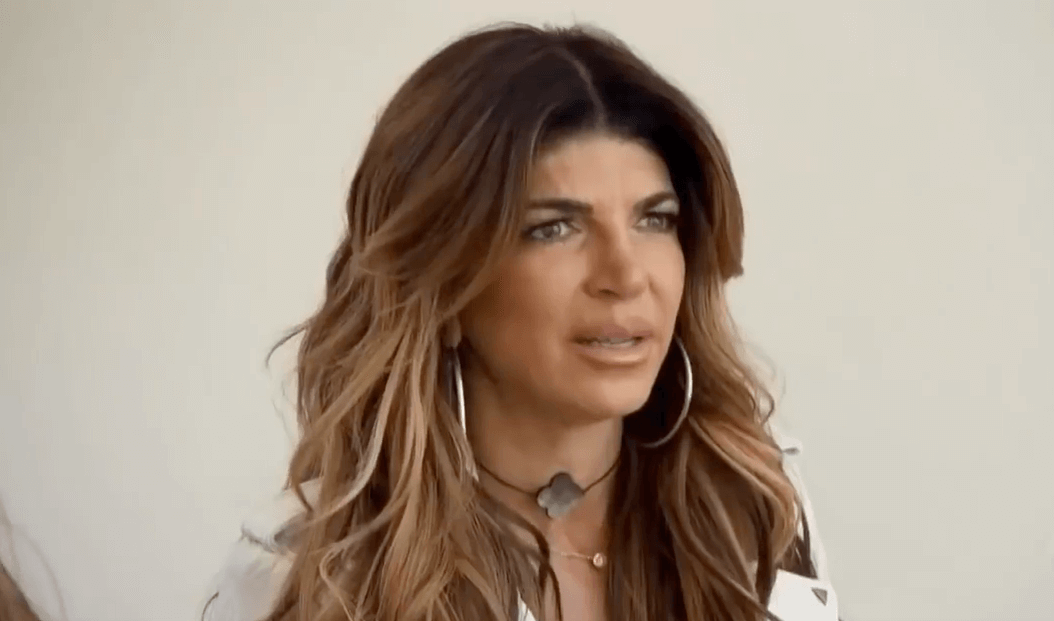 Meanwhile, Marge tells Dolores she doesn't even recognize Teresa. She doesn't feel the same way about her old friend. Melissa understands Marge's point of view. But she also knows things won't be calm until Marge and Teresa have buried the hatchet. 
The ladies meet back up in the kitchen to eat sub sandwiches and drink wine. A lot of wine. Marge sits by Teresa and approaches her about their crumbling friendship. Teresa has a special place for Marge in her heart. But Marge can't figure out why Danielle is so important to Teresa. Teresa points out that although Danielle has treated everyone else in her life like shit, she hasn't done anything to Teresa. Marge responds that Charles Manson never did anything to her, but she wasn't going to invite him into her friendship group. Just one problem: Teresa doesn't know who Charles Manson is. Oh, dear.
Back to Danielle. Jennifer explains that Teresa hasn't seen the bad side of Danielle. Marge cries bullshit. She's seen how Danielle has treated her firsthand. But Teresa points out that Margaret threw Danielle's husband in the pool last season, and then threw water on Danielle a couple weeks ago. 
Question: Has Marge ever thrown Teresa in the pool or poured water on her? No. Therefore, by Teresa's own standards, she should be neutral because Margaret has never harmed her. Right?
Margaret repeats all the shit-talking Danielle subjected Marge to — like saying her kids didn't want to be around her. What would Teresa do if someone said that to her? Teresa admits she'd go ballistic. 
Teresa Giudice won't shut out Danielle, and she resents Marge for telling her to choose between the two women. In fact, Tre insists she didn't pick sides. But she did when she ran after Danielle to comfort her. Why didn't she stand up for Marge, too? Faced with a logical argument, Teresa gets up from the table and storms off to her room, whining, "I can't. I don't want to talk to her anymore. I'm done!" Jen goes to Teresa. Dolores urges calm. Melissa says things need to settle down. And Jackie thinks Marge is beating a dead horse. A dumb horse might be more apt.
The women split apart to unpack. Melissa packed a jeans jacket in every color. Jen brought nothing but Chanel. Dolores calls Little Frankie. He's shirtless, so that's a bonus. He's been talking to Gia and plans on taking her to prom.
As they're getting ready for dinner, Marge vows not to fight for the remainder of the weekend. And while the other women are occupied, Jen takes her Chanel-clad self to the kitchen and finds the tequila. Uh oh. Tequila and Jen are a toxic mix.
After Jen pours everyone a shot, Marge and Teresa peacefully coexist. For now. And the women head off to dinner in two separate cars. Teresa says she's learned that sometimes friendships don't work out. Maybe she and Margaret have reached the end of the friendship road. She says people come into your life for a reason and well, she can't remember the rest. So, she calls Dolores. Dolores says friends come for a reason, a season, or a lifetime. "Is she talking about me," Marge wonders? Um, yeah. Yeah, she is.
At the restaurant, the women declare the site "adorable" and start with more wine. Teresa says she's been seeing a nutritionist and daughter, Milania, has been going with her. They're now gym buddies, and Milania has slimmed down. Teresa says Milania is happier and more confident since working out and eating healthy food.
Juicy Joe calls right after the women order dinner. He wants Tre to ask Dolores a specific question, so Teresa puts him on speaker. He says that Dolores needs to find Teresa a nice doctor boyfriend, then she and Juicy can have a happy relationship like the one Dolores shares with her ex, Frank. 
Melissa and Marge had stepped away from the table. When they return, Teresa explains what happened. Juicy has told her if they get divorced, she'll be alone, because she comes with too much baggage. The women disagree with Juicy, saying he's insecure. Marge says Teresa is still a hot piece of ass.
Teresa kind of apologizes. But not really. Still, they decide to put their crap aside because Teresa is going through so much drama. 
Teresa again brings up the prenup she signed. Melissa butts in and says that Jackie made her husband, Evan, sign a prenup. Now, Jackie finally admits that her family has money, and her parents worked hard for it. She's invested the money from her parents, and she's doing very well. The Hamptons house was brought as an investment property. 
Jen is fascinated. She has a million questions. What else has Jackie invested in? Is the Hamptons house in her name or does Evan own a piece of it, too? Does she own any more Hampton property? Ugh, Jen. Stop!
Jackie says that Evan makes a good income, but so does she because of her investments. Jen says middle Eastern culture makes her curious. She wants to know how much everything costs. Marge thinks Jackie should just whip out her bank statement. That's the only way Jen will be satisfied. 
The next morning, Tre hits the beach for her daily yoga session. Marge and Melissa discuss the situation with Teresa. Marge is done trying to talk about it, because it gets her nowhere.
Jackie facetimes her hubs. She tells him about the conversation from the night before. Evan agrees that it's rude to discuss money.
Melissa heads to the kitchen to make breakfast. Bacon and avocados and eggs. Jackie drinks coffee and settles for puffed quinoa chips. Is her eating disorder back in play?
Dolores has made a turn where she and Jackie are concerned. Before, Dolores thought she and Jackie have nothing in common. But now she sees a future for their friendship. Jackie is relaxed and hospitable and generous. That's good enough for Dolores!
Jennifer Aydin got up early to send pics of Jackie's house to her husband, Bill. She's going to do some research on buying a beach house. Melissa accuses Jen of being Veruca Salt. "I want a beach house. Where's my beach house, Daddy?"
The women agree to spend the afternoon shopping. They all gather, with the exception of Teresa, in the living room. They discuss the Teresa/Juicy marriage. Dolores says that he's always talked down to her, and Teresa just used to let it roll off her. But once you're away from it, you don't want to hear it again. So yeah, Juicy may have called Tre the C-word before, but she's not taking it anymore.
Once Tre is ready, they hop in two cars. Teresa, Dolores, and Melissa oooh and aaaah over the beach houses as they drive to town. They descend on a store and get ready to do some serious shopping. Marge and Jen find a home store so that Margaret can shop for Marge Sr.'s new apartment. Dolores wants summer dresses. Teresa wants accessories. And Jen wants a damn beach house.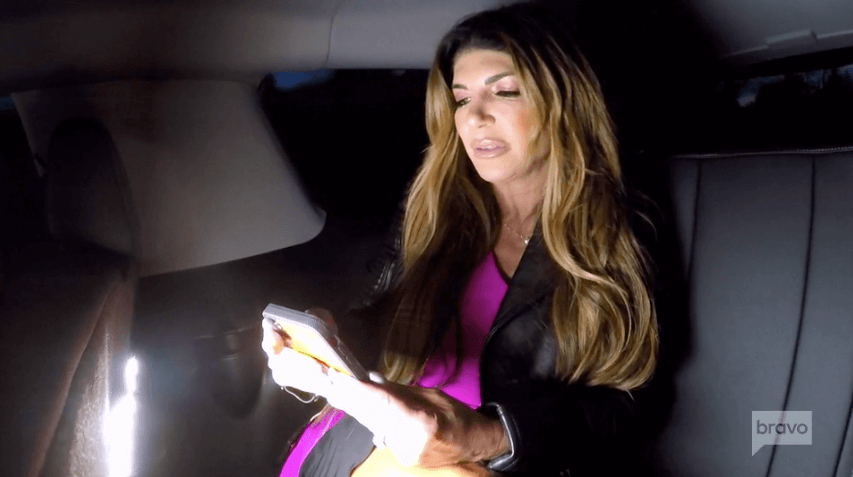 Melissa Gorga says Jen is so obsessed about money because she's new to it. Dolores understands. When you come from nothing, money is exciting. And Jen is so generous that Dolores gives her a pass.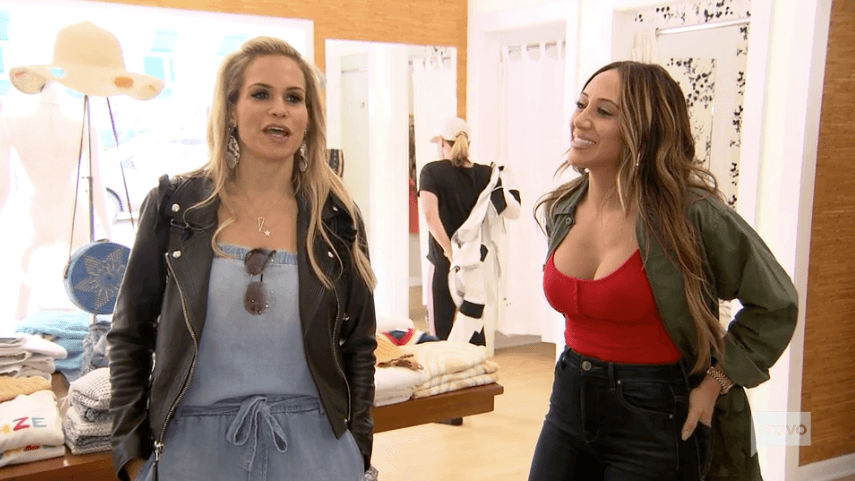 Marge and Jen look for a hostess gift for Jackie. Jen just can't believe that Jackie has so much money. Why has she kept quiet about it all this time? Marge tries to explain that talking about what you have is kind of gross. Jen doesn't get it. She wants to impress people with her cash. That's why she goes all out for her kids' parties. That's why she doesn't understand why Jackie had such a crappy pizza party for her kids' birthday. Maybe Jackie's just stingy.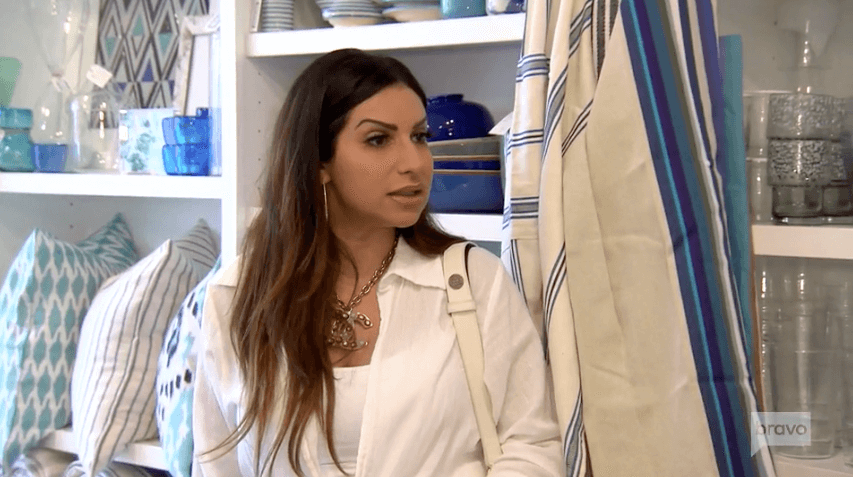 Marge claims that Jackie isn't a food person. It never occurs to her to put out a ton of food for kids to graze on because Jackie doesn't eat.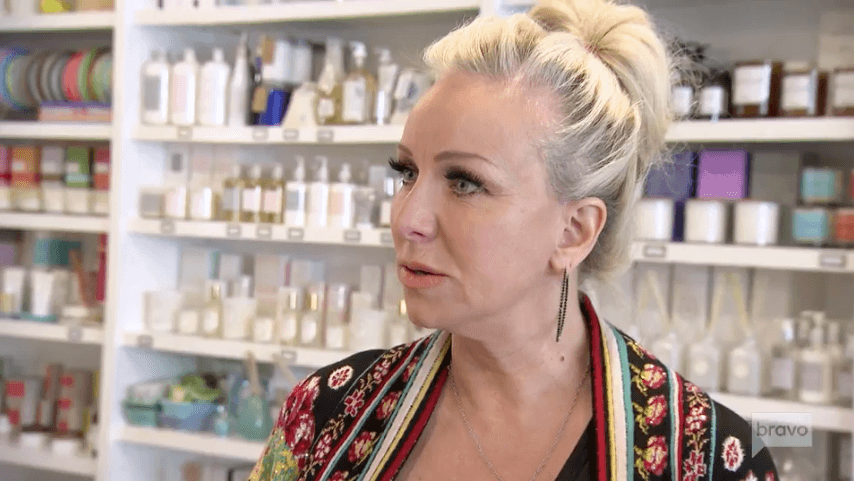 After they finish shopping, the ladies all meet together for lunch. They find an outdoor restaurant, but Jen is still bad-mouthing Jackie, calling her selfish. You can't take money with you when you go, so why not splash out a few bucks for the kids and their birthdays?
When Jen excuses herself to find the restroom, Marge wastes no time in filling Jackie in on all the shit Jen has been saying behind her back. Jackie is shocked. She wants to like Jen, but everything boils down to money with her. Jen comes back to the table, and Jackie confronts her. What's her problem with kids eating pizza?
Dolores says that not everyone aspires to throw their kids a lavish shindig. Jen says that Jackie just doesn't want to shell out the money. Cuz she's stingy! No, it's not about that. Jackie's kids wanted pizza and cake, so that's what she served. She doesn't give a shit what the adults think. The party wasn't for them.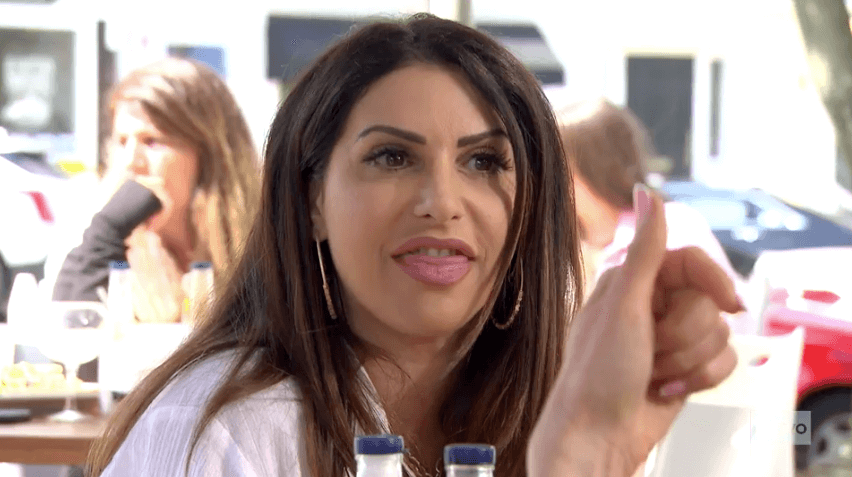 When Jackie rolls her eyes, Jen starts to become irritated. Her voice gets louder by the moment. She accuses Jackie of spending money on herself but not her children.  As the discussion continues, Jackie becomes angrier and angrier. She feels her parenting is being called into question. 
The other women try to check Jen, but she just keeps going. She says Marge is the one who brought it up, and by the way, Marge keeps talking about how Jackie never eats. 
Jackie asks if Marge was joking about her eating disorder. Marge agrees that she shouldn't make light of Jackie's food issues and apologizes. Jackie appreciates that Margaret can own up to her mistakes, unlike Jennifer, who digs her heels in further.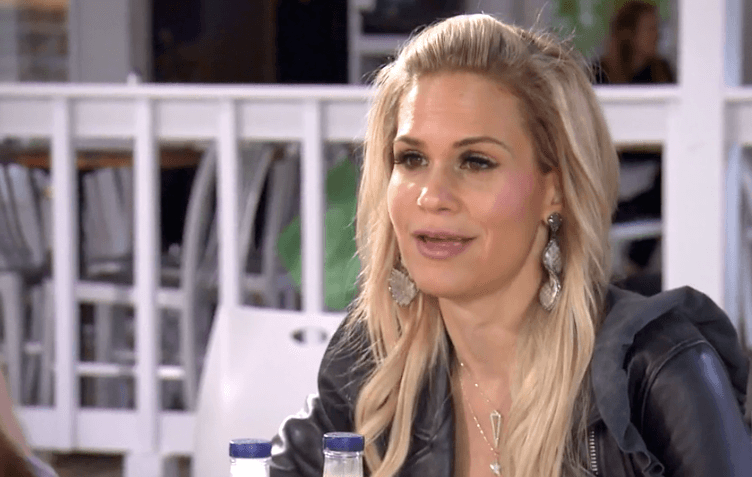 As usual, Teresa stands up for Jennifer. Hey, the girl is just speaking her mind. That's the Tre way of doing things. Melissa says Teresa has no filter and blurting stuff out is just ignorant. Amen, Melissa! 
Melissa says that the rest of the ladies are throwing money on their kids' birthday parties and guess what? Jackie's kids will be set up thirty years from now, because she's a saver. 
And then Jen goes left. Is Melissa saying Jen's kids won't be successful in thirty years? Melissa says, "Bitch, what are you talking about?" Jen doesn't want to be called bitch, and as Melissa starts talking to Dolores, Jen throws silverware at Melissa to get her attention. Both women stand up and start screaming at each other.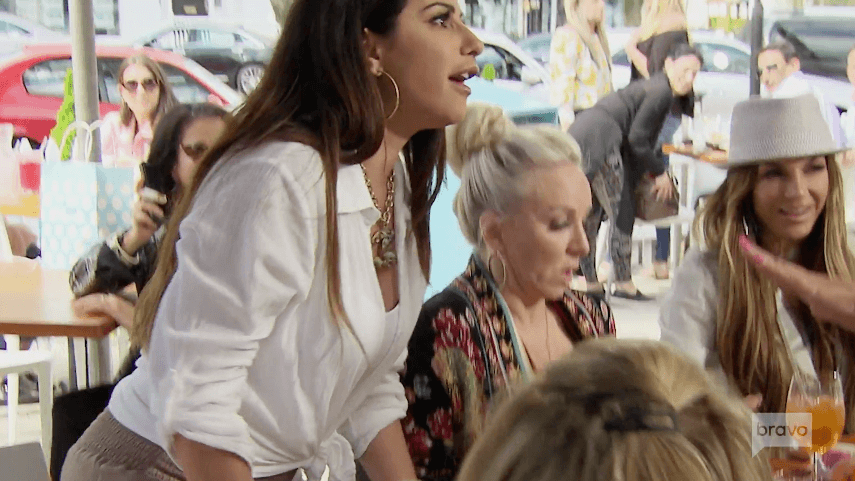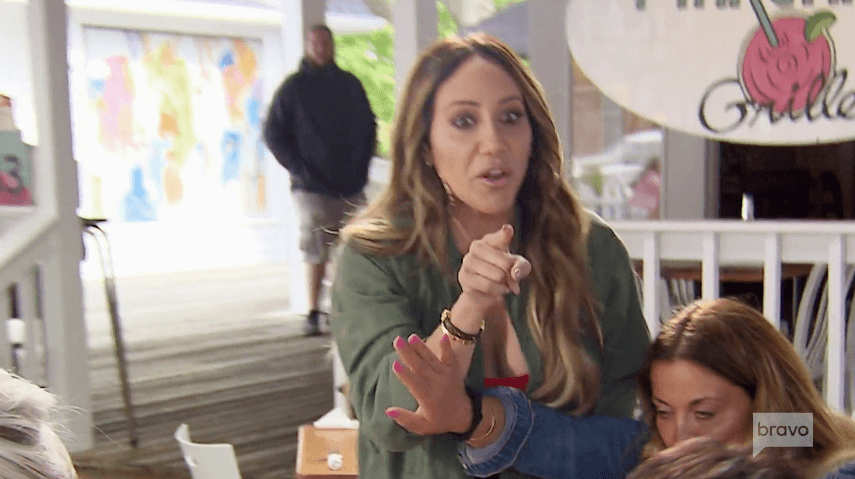 And that ends our volatile episode. So, do you think Marge and Teresa have patched things up for good? Is Jackie stingy for serving pizza? Or is Jen right—should Jackie loosen the purse strings?
Stay Connected With All About The Tea: Twitter Ι Instagram Ι YouTube