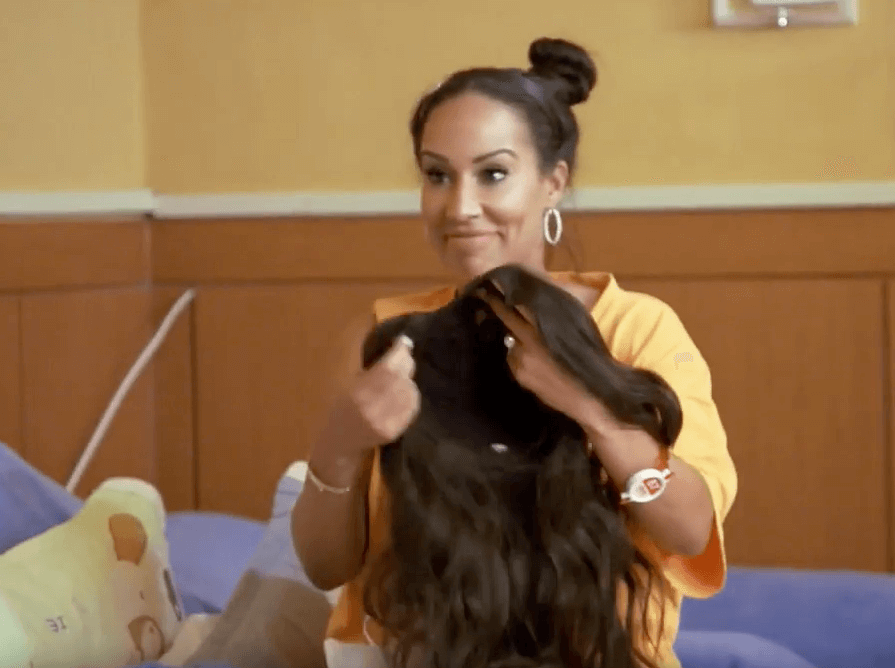 Kenya Moore's Hair Is Fake!
Welcome back to an all-new episode of The Real Housewives of Atlanta. This week the ladies are finally back in Atlanta after a chaotic Carnival in Toronto. 
An expecting and very emotional no real storyline Eva Marcille spends the entire episode stressing out over what her attorney husband, Michael, even refers to as a "routine court procedure." To make a long story short, they're finally changing Eva's daughter's last name to match Michael's. Just as Michael suspects, the court proceeding goes smoothly and the request is granted. Afterward, they host a name-changing party that's eerily reminiscent of RHOC's Heather Dubrow's name change shindig but luckily this time no one ate the bow off of the celebratory cake. Phew.
Kandi Burruss, Porsha Williams, Tanya Sam and Marlo Hampton meet up for a nice spa day. It appears, however, that the employees at the spa know what they're getting into with this group as they make all of the ladies all put on matching orange jumpsuits upon arrival.
The ladies discuss Kenya Moore hinting around in Toronto about Tanya's man getting caught with his hands in the cookie jar. Tanya is adamant that Kenya has nothing on her beloved Paul but she DOES have something on Kenya. The ladies are all ears as Tanya Sam reveals that Kenya Moore All Natural Hair Care herself left a wig behind in Toronto and pulls it out for a friendly game of show and tell.
Of course, Marlo has a field day with this revelation snatching the wig to try it on before exclaiming that she's calling TMZ. Kandi reluctantly agrees to be the bearer of bad news wigs and take it back to Kenya Moore.
Porsha Williams has a sit down with her Mama Diane and her sister Lauren, explaining that she and Dennis are now re-engaged and have plans to work out their issues. She further explains that Dennis has plans to have a conversation with both of them to address the issues and apologize and take accountability for his actions. Lauren doesn't seem too excited to see Dennis, asking if the meeting is mandatory. Dennis is going to have his work cut out for him, that's for sure.
Kandi meets Cynthia Bailey and Kenya for lunch dressed in head to toe snakeskin. Will snakegate ever die? Kenya is already crabby over the waiter forgetting her crabcakes before the subject of the forgotten wig comes up. Once Kandi tosses the bag containing the wig across the table, Kenya becomes enraged, explaining that she has a "very successful hair care line" and Tanya bringing it back to all of the ladies was her way of trying to embarrass her. Ladies and gentlemen, I'd say Tanya's plan worked. Well done, Tanya Sam.
It's finally the day of reckoning for Dennis McKinley as he and Porsha prepare to sit down with her mom and sister. Unfortunately, Porsha also has to deal with a ghost from relationships past when Dennis announces that his mom, Gina, will also be in attendance for the "family meeting." DUN DUN DUN DUNNNNN.
The family starts out VERY awkward as one would expect. A visibly nervous Dennis immediately asks the ladies if they would like anything to drink before helping himself to a tall glass of Hennessy. "Hennything can happen" right Porsha?! A strange standoff of sorts ensues when Gina walks in and reaches for baby Pilar straight out of Mama Diane's arms. Diane does eventually, albeit reluctantly, relinquish the child.
Once everyone is seated for dinner Dennis cuts straight to the chase, apologizing and taking accountability for his infidelity.
"We really couldn't get to this point without y'all helping with PJ so I really appreciate that," Dennis said. "Porsha has been through some rough times in the last two months, dealing with my infidelity and I just want to apologize to everybody. We got a lot more work to do but we are family so I think, at the end of the day, I think it's very important we make a commitment to stick by each other during the downs and root for each other during the ups. Because the ups are easy."
Dennis also makes sure to mention that they are all family and there is no need for him to be blocked from anyone's phones especially while Pilar is in their care. Ahem, Diane and Lauren. The opened door allows both to tear into Dennis — with Lauren pointing out her own experiences with unfaithfulness in a relationship.
"I told you about my issues with [my daughter's] dad and how hurtful it is for me to have to be a single mom," Lauren said. "How could you do that to her? I felt like you knew better."
Added Diane: "I did not wait all these years for my daughter to be a baby mama. And when all this happened, it just felt like here I thought she had found Mr. Right and now they're broke up so now she's joining the rest of us in the statistics. I didn't want to speak to you because I was hurt, that's all."
Luckily for Dennis, both Ms. Diane and Lauren seem open and responsive to his attempt to make amends.
Gina, however, is uncharacteristically quiet. I'm very interested to know her true THOTS on the re-engagement.
"Dennis sitting down with my mom and my sister is a chance for him to really put his money where his mouth is," Porsha Williams explained in a talking head confessional. "This is a time to look them in the eyes and let them know he understands what he did to his family."
"He needs to have an opportunity to take full accountability," she added, telling Dennis, "You are doing very good, we are on the right track, but it still doesn't change the fact that you caused this. Just remember that."
The dinner ends with a waterworks show with not a dry eye at the table. Dennis walks around the table hugging each of the women before taking baby Pilar upstairs for a fresh diaper change. He might need to check his own drawers too after that stressful situation.
Porsha Williams later confesses that she's never been with a man who's cared enough about her to want to sit down and work things out with not only her but her mom and sister and that only reaffirms her decision to take him back. Here's to hoping that Porsha's instincts are right.
Stay Connected With All About The Tea: Twitter Ι Instagram Ι YouTube