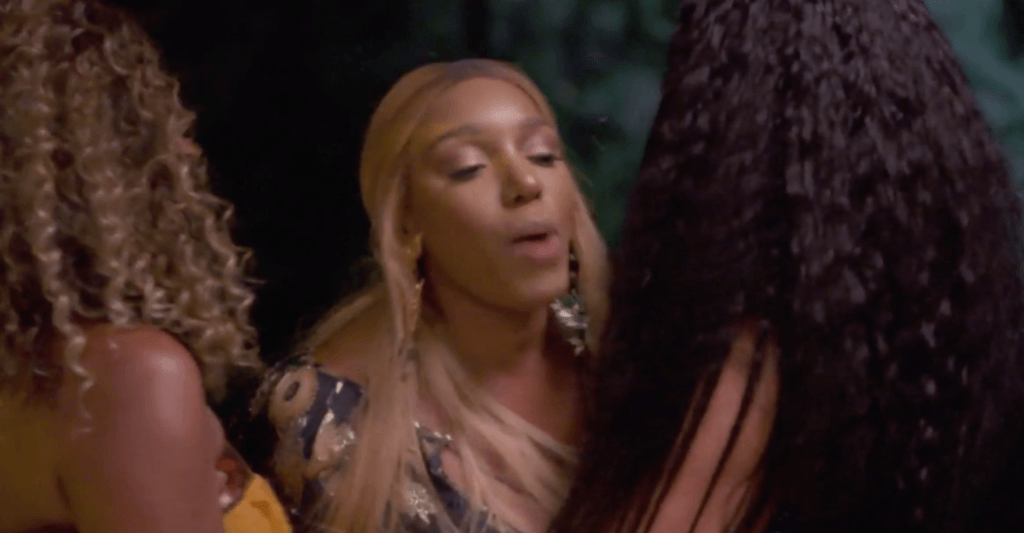 The feud between NeNe Leakes and Kenya Moore heated up on Thursday, on social media!
The Real Housewives of Atlanta OG dragged the former Miss USA — revealing that she wishes she had spit on Kenya Moore during a heated altercation that took place during the cast trip in Greece.
"She need 2 be spit on wit all the horrible things she has said & done! From constantly startin shit wit me all season, lying on me, sayin I'm on drugs & bipolar. Plus that recent tweet she posted so enjoy the moment! I DID the act but DIDNT SPIT! I Wish i had tho! No regrets" NeNe tweeted on January 16.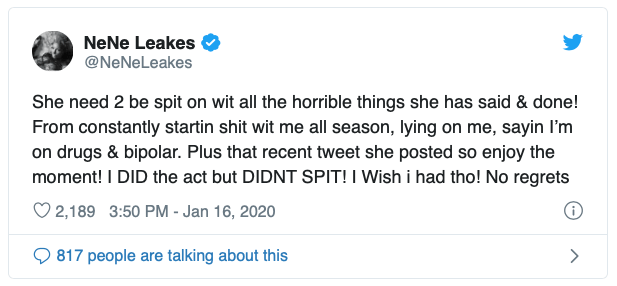 NeNe Leakes is referring to the Real Housewives of Atlanta midseason trailer that shows NeNe being held back from knocking Kenya's head off. In the clip below, NeNe appeared to gather saliva in her mouth and gesture as if she were spitting but never did actually spit on Kenya. 
Read Also: Kandi Burruss Goes Off On Kenya Moore For Ruining Cynthia Bailey's Surprise Proposal!
The former Miss USA had previously accused NeNe Leakes of spitting on her in several interviews. Additionally, Kenya Moore labeled NeNe a "snake" for in  the SnakeGate scandal this season about an alleged audio recording that involved Cynthia Bailey bashing NeNe.
Kenya Moore also has recently made accusations about NeNe's mental health and alleged drug usage — NeNe addressed the rumors in a video posted to her YouTube page on Tuesday, "I've never done drugs in my life, never, ever, ever."
"If anybody ever insinuates or says I am on drugs, it's only to be malicious," NeNe said. "Everyone around me clearly knows that's something I'm 1,000 percent against. All of my cast members know that as well. I don't do anything like that and they all know that. … I think it's jacked up when people try to make labels to try to say things that aren't true to make people look bad. It's crazy."
"Listen, I would tell you myself if I was on drugs, but that's just not something I would do," Leakes added. "I have kids. If I was on drugs, I probably wouldn't have half the things I have because people on drugs get rid of their money."
In the clip below of the midseason trailer, NeNe tells Kenya, "You ain't gonna do nothing with me, ma'am!" NeNe Leakes shouts Kenya Moore while being separated by security. "I ain't never gonna be what you want!"
Also in the trailer, during a cast trip to Greece, Kenya Moore tells NeNe Leakes to "please go to jail again" (a reference to Leakes' time spent behind bars prior to her reality TV fame).
"You is a dumb-ass bitch!" NeNe barks back. Press play below to watch the midseason trailer.
Real Housewives of Atlanta airs Sundays, 8 p.m. ET, on Bravo.
Stay Connected With All About The Tea: Twitter Ι Instagram Ι YouTube