Vanderpump Rules
RECAP: Newbie Max Boyens Caught Lying About Being Part Owner of Lisa's Restaurant On 'Vanderpump Rules'
Welcome back to an all-new episode of Vanderpump Rules. Tuesday night's episode kicks off with Brittany Cartwright getting glammed up for a boudoir shoot as a wedding gift for her future husband, Jax Taylor. Thankfully she executes her poses way better than her pronunciation of the word "boudoir."
Stassi Schroeder and Lala Kent stop by to help Brittany with the shoot and cheer her on while she splashes around naked in a bathtub full of Mamaw's beer cheese bubbles. While there, Lala and Brittany catch Stassi up to speed on Katie Maloney-Schwartz and Tom Schwartz's housewarming party gone cold.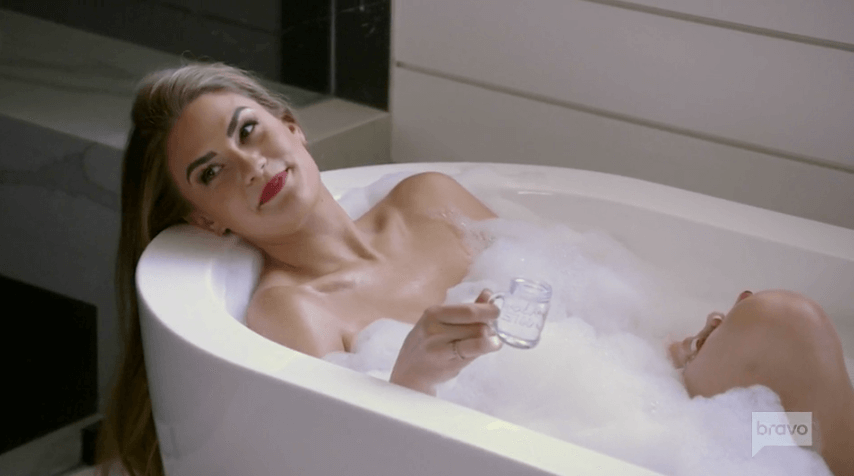 Brittany Cartwright only seems concerned with how all of this drama will negatively affect her wedding that's going down in less than a month. According to Brittany, Carter has no business being at any of the wedding festivities if he's not with Kristen Doute as he was only invited as her "plus one."
Somehow, Kristen's other ex-boyfriend, the white Kanye himself aka James Kennedy comes up in the conversation. Lala confesses that she has plans to meet up with James in the studio later. Lala admits that she genuinely misses having him as a friend and the program she's in encourages forgiveness so she's doing this for herself.
Back at Sur, Scheana Shay seems to be taking a page out of Vintage Stassi's book demanding that Dayna Kathan polish every single glass on the patio. Oh, the memories. Dayna eventually has enough and asks Scheana what her problem is but, of course, Scheana keeps up with the passive-aggressive shtick, claiming that she has no problem with Dayna sleeping with her leftovers.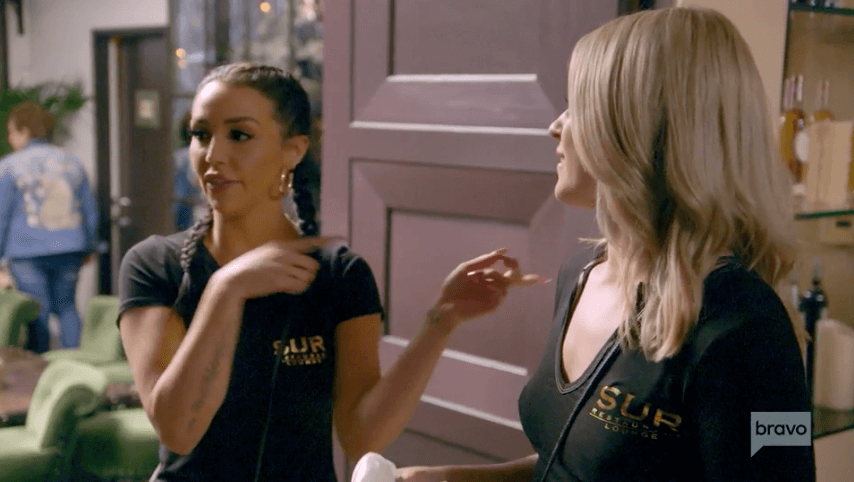 While in the studio, James Kennedy confesses to Lala that he is going on 27 days sober and admitting that he's in a much better headspace and doesn't foresee having any more angry outbursts with others in the group. Could it be that James has finally turned over a new leaf???
We finally get to lay eyes on newcomer Danica Dow, an assistant manager at Sur who is currently suspended for shoving her boyfriend while on the clock after he suggested they engage in a threesome. Yep, something tells me she's gonna fit rightttt in.
Lala visits Lisa Vanderpump at Vanderpump Dogs and recounts her drama with Kristen at the housewarming party. Lisa refers to Kristen as desperate explaining that she doesn't possess the proper tools to have a healthy relationship. Ouch.
Meanwhile, across town, Kristen is trying on used vintage wedding dresses with Brittany, Katie and Scheana for Brittany's upcoming bachelorette party. Oh, the irony. Katie eventually apologizes for yelling at Kristen and the two bury the hatchet. Well, at least for the time being anyway.
Newbie Max Boyens is caught making false claims to own a part of TomTom in an effort to get laid. But somehow Scheana is the "crazy" one in this scenario??? Sure.
Jax Taylor and Brittany pay a visit to Kyle Chan, jewelry designer to the Vanderpump kids, to pick out wedding bands. While there, they decide to make Jax the bearer of bad news when it comes to disinviting Carter to their wedding festivities.
We also learn that Ariana Madix has had a change of heart and now misses being behind the bar at Sur. She resolves to get a few of her shifts back- but first, she must kiss the ring. She and Lisa Vanderpump engage in an awkward conversation regarding the less than positive things Ariana has said about Lisa recently, but nevertheless, Lisa still seems open to the idea of hiring her back and tells Ariana she will think about it.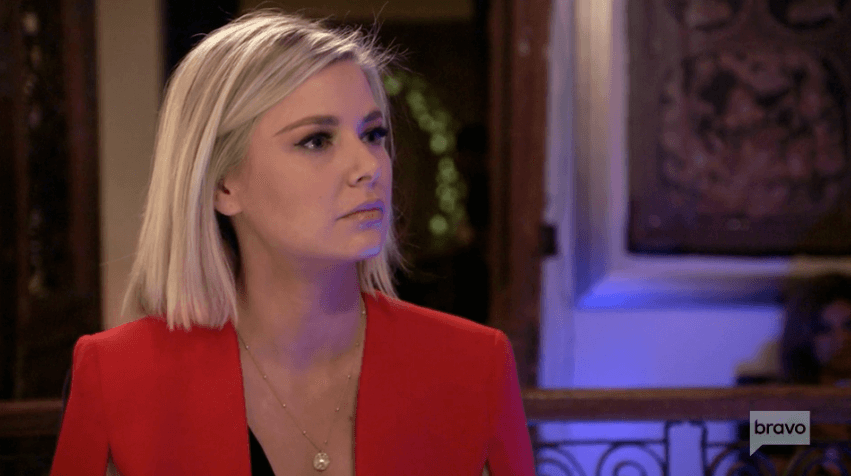 While the rest of the group go out for an evening of watching Dayna perform standup comedy, Stassi and Katie enjoy a quiet evening in while renovating Stassi's bedroom in… Katie and Schwartz's house. The guest room is complete with all-white bedding, a cowhide rug and a Yankee candle. Now, throw in a bottle ranch and there's a good chance Stassi never leaves.
The following day while helping Kristen pack up her hoarder's paradise apartment, Jax and Katie are privy to a phone call between Kristen and Carter that sounds like anything other than a couple who is broken up. Jax doles out some unsolicited and downright confusing advice referring to Kristen as a cow and Carter as a man enjoying the milk for free.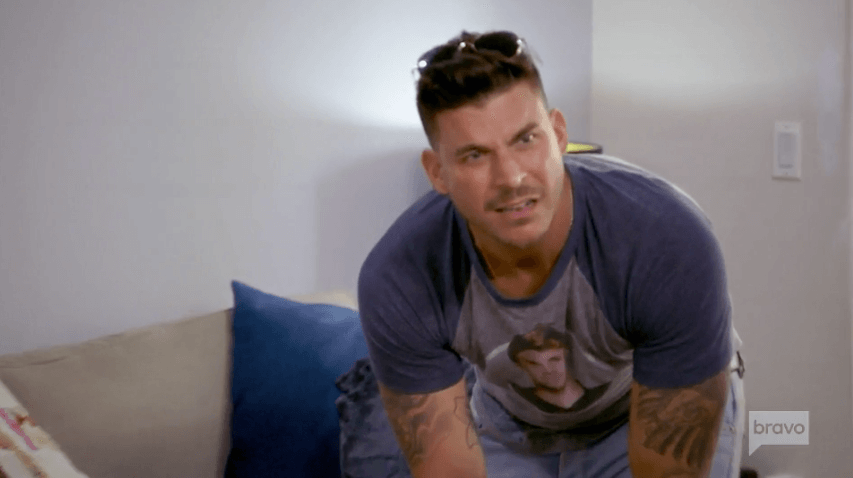 Kristen, however, is quick to remind us all that though Jax may be riding his high horse as an almost married man, at the end of the day he's still Jax Taylor. BURNNNN.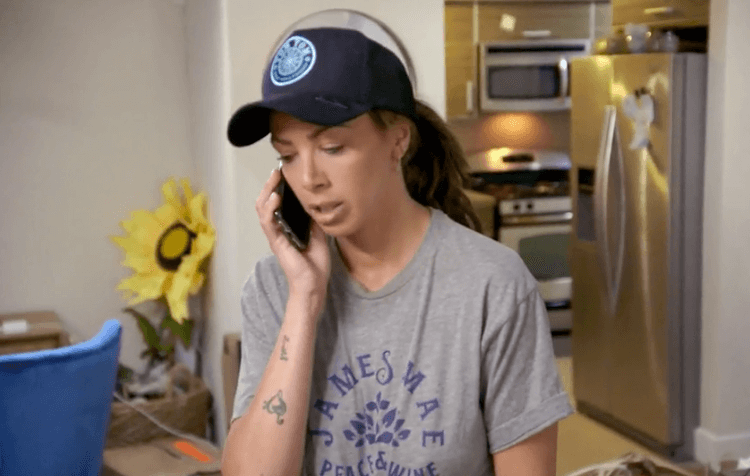 The episode wraps with Jax Taylor advising Carter to give Kristen some space — citing that's the whole point of "a break" and then quickly disinviting him to his bachelor party. Will Carter somehow manage to worm his way into Kristen's new house and the joint bachelor/bachelorette party in Miami? Tune into Vanderpump Rules next week to find out.
Stay Connected With All About The Tea: Twitter Ι Instagram Ι YouTube