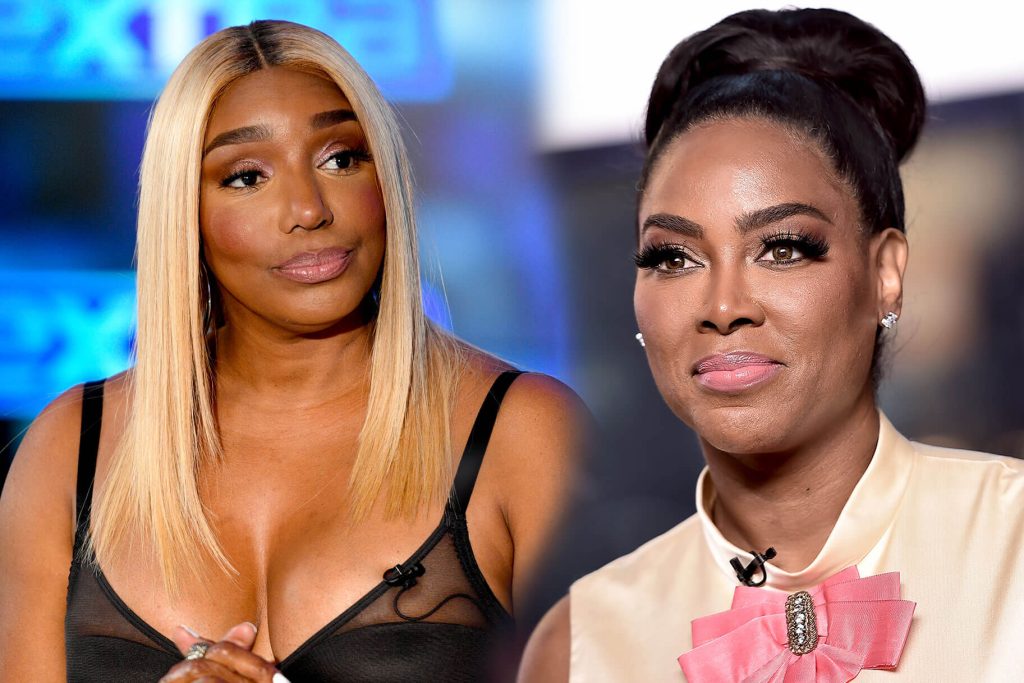 NeNe Leakes and Kenya Moore's explosive on-screen fight on Sunday's episode of The Real Housewives of Atlanta spilled over to social media. Producers on Sunday's Real Housewives of Atlanta had to restrain NeNe Leakes after she nearly got physical with Kenya Moore during a heated argument.
"You shut the f**k up! You shut the f**k up! You got the wrong motherf***ing bitch," yelled Leakes while trying to swing at Moore as producers cut her off. "I will f**k you up."
During the episode, NeNe took a jab at Kenya's fake butt, "What I'm mad about, blew-up booty, is that you continue to provoke someone and then you wanna act like you're a victim. You're not a victim, blow-up booty," Leakes later told the camera, talking about Moore. "Don't make me have to stick a pin in that fake butt and push the air out, okurrr?"
Kenya Moore responded on Twitter, "Does she own a mirror? On her 6th nose job always coming for the pretty girls on the show #byeugly #byewig #byesnake #RHOA."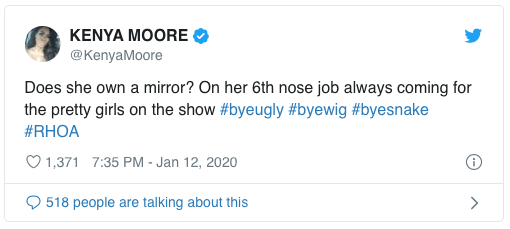 Before the episode aired, Kenya Moore encouraged her followers to tune in, saying, "If you haven't figured it out yet, there are 2 [snakes] not one!"
Kenya then went on to retweet the following shady comments about NeNe Leakes:
"Nene is the biggest pig out there talking about someone else being fat 😂."
"I'm here for kenya. Bihh get in nene ass lol like bihh you still mad that she didnt tell you she inviting her friend to her own party. Say what tf you gotta say or shut up about it I hate a beat around the Bush ass female."
"Kenya was right. There was ample opportunity for Nene to say something. PERIOD! There was plenty of time for nene to say something. F–k that bitch."
NeNe Leakes Blasts Andy Cohen For Reworn Dress Diss, Andy Claps Back & NeNe Throws More Shade!
NeNe Leakes fired back with, "I hope y'all are watching with clear eyes and open ears."

She also retweeted the following messages about Kenya Moore:
"There goes Kenya meddling in @NeNeLeakes and Cynthia's relationships."
"Everyone so quick to blame @NeNeLeakes but yet Kenya has a history for provoking people and shit."
"@NeNeLeakes was just trying to make peace! I'm not sure why the other ladies for cannot see #KenyaMoore for who she is 🙄! It's making the show look scripted."
"Kenya knows she's not about the life. I wanted @NeNeLeakes to drag that f–king bitch."
"So proud of you @NeNeLeakes! You really kept your composure and didn't drag Kenya down the hall 👏🏾👏🏾👏🏾."
The Real Housewives of Atlanta airs Sundays, at 8 p.m. ET, on Bravo.
Stay Connected With All About The Tea: Twitter Ι Instagram Ι YouTube