90 Day Fiance
'90 Day Fiance' RECAP: Anna Sobs As Mursel Dumps Her & Natalie Admits She's Not In Love with Mike!
After a two-week-long hiatus, 90 Day Fiance is finally back. PHEW! Let's get started!
90 Day Fiance: Michael Michael Ilesanmi and Angela Deem
The episode kicks off with Michael Ilesanmi anxiously awaiting Angela Deem arrival's at the airport in Nigeria with a cake to surprise her. Unfortunately, the cake didn't sweeten things up as much as Michael probably hoped because on the way to the hotel the two get into a fight when Angela learns that Michael left out a crucial part during the interview failing to tell the officials that he and Angela have already had an engagement ceremony in Lagos. Angela seems to think this could be a major reason as to why he was denied the visa.
The next morning over breakfast, Michael drops a bomb on Angela that he has been advised by a Nigerian immigration attorney that their best plan of action is to get married in Nigeria. Unfortunately, Angela isn't budging on her stance and tells Michael very matter of factly that it's not happening. After much prodding, he's eventually able to reason with her a bit and she reluctantly agrees to consider it as a last resort.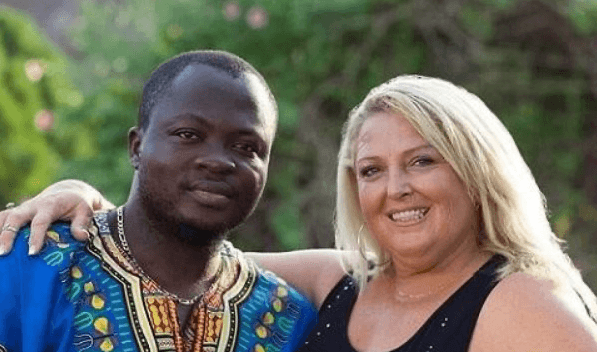 90 Day Fiance: Michael Youngquist and Natalie Mordovtseva
Tensions are running high between Michael Youngquist and Natalie Mordovtsev with no real resolution in sight. When asked by the producers if she loves Michael, Natalie grows very quiet before admitting that she can't say that she loves him yet and elaborates that love is something that takes time to develop. Michael storms out of the interview ripping his mic off.
Things go from bad to worse when Natalie takes her ring off and throws it in Michael's suitcase. Hey, at least now he can try to pawn it off and pay down some of that credit card debt.
The two spar back and forth for a while and Natalie demands that Michael apologize to her. Unfortunately, that doesn't happen and Michael leaves for the airport in a huff.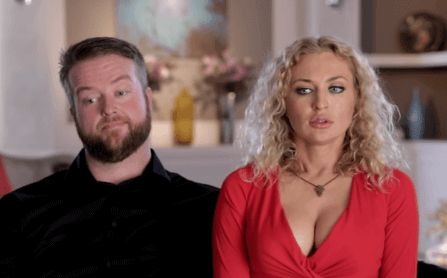 90 Day Fiance: Michael Jessen and Juliana Custodio de Sousa
Michael Jessen surprises Juliana Custodio de Sousa with a new set of wheels, bike wheels that is. Juliana is tickled to death with her new mode of transportation, explaining that she now feels a sense of freedom to be able to go anywhere and do anything. And hey, it's a great workout too.
Juliana pays Michael's ex-wife, Sarah a visit to return Cece's cheer bag that she forgot at their house. The two women bond as Juliana confides in Sarah about her past as a former model at fifteen while living in horrible living conditions and her arranged marriage to a psychopath at seventeen.
Later the two go together to have Juliana's wedding dress altered and the whole situation gets a little too awkward in my opinion. Sarah reminisces on her wedding dress to Michael years prior and later comments that Juliana's marrying into a very big family. Yep, one big happy family with the ex-wife living two doors down the street. How quaint.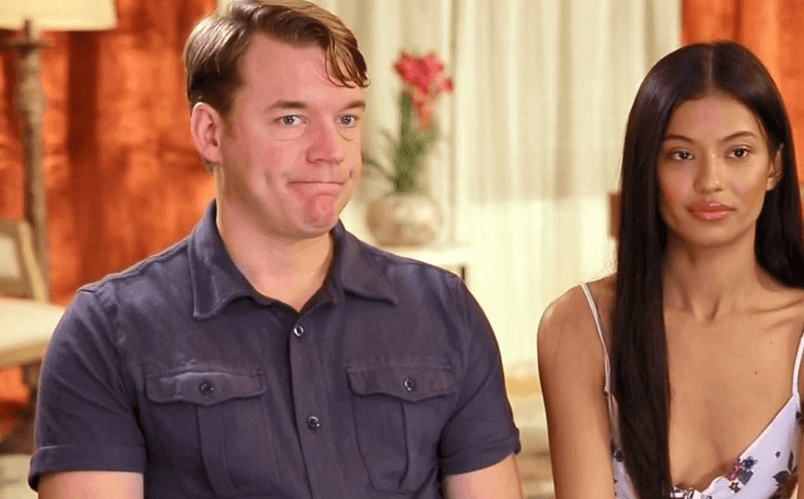 90 Day Fiance: Anna Campisi and Mursel Mistanoglu
We learn that Anna Campisi sent Mursel Mistanoglu to a hotel after announcing his plans to cancel the wedding and go back to Turkey. She's still in disbelief that he can't stand up to his family for her. Mursel is adamant that he will love Anna for a lifetime but she is having none of it telling him that she wants him gone and that he is never to contact her again. Finally, Mursel slings his man purse over his shoulder and walks out of Anna's home and heart forever…
Or so we thought. The next day Anna has a change of heart and decides to drive Mursel to the airport, later admitting that she was hoping if she took him he would have a change of heart and decide to stay. But alas, Mursel got back on the plane to Turkey and that appears to be all she wrote.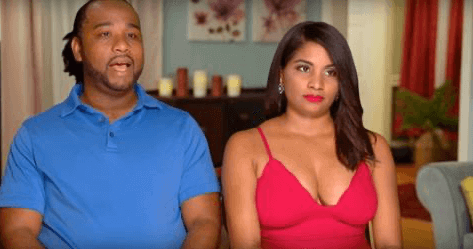 90 Day Fiance: Blake Abelard and Jasmin Lahtinen
Jasmin Lahtinen takes her sweet time applying her 74 layers of contour while getting ready for Blake Abelard's performance. Blake grows more anxious by the minute before they finally head out. They finally arrive at the nightclub, late of course, and none of his work family is very pleased.
During her talking head interview, Jasmin makes it very clear that she doesn't like to go out to nightclubs and she doesn't even like rap music for that matter.
Blake's friend Rita pulls him aside and expresses her concerns about Jasmin's lack of support for Blake's career noting that during his performance she sat at the table sipping water and appearing very disinterested the entire time. Blake confesses that he does expect Jasmin to be more supportive and that it could eventually be a deal-breaker for him.
A few days later while in the studio, his co-workers and friends confess that they have some serious doubts about Blake and Jasmin's relationship. Blake dismisses their concerns, stating that she's just culturally different before abruptly leaving the session. That went well.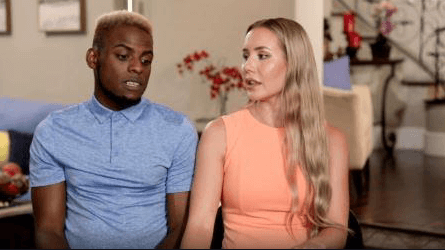 90 Day Fiance: Syngin Colchester and Tania Maduro
Tania Maduro finally comes back from her extended trip to Costa Rica and immediately takes a big ol' whiff of Syngin Colchester's armpits. Ah, home at last.
Unfortunately, the lovey-dovey reunion doesn't last long because the next day as they head back to Colchester the two get in a horrible argument over Syngin's ambition or lack thereof.
Tania expresses disappointment that Syngin didn't take the woodworking class she told him to while she was gone but Syngin pushes back stating they didn't have the money to do so.
Later Tania admits that she is stressed about their future because she's unable to accurately gauge his work ethic. With Syngin not being able to work during his 90 days here she ultimately has to lead on blind faith that once he's able to get a job he'll follow through and stick with it.
Next week on 90 Day Fiance, the drama continues to unfold for these star-crossed lovers.
Stay Connected With All About The Tea: Twitter Ι Instagram Ι YouTube