Sister Wives
Janelle Brown Addresses Why Meri Didn't Stay With One of Her 'Sister Wives' After Rental Drama!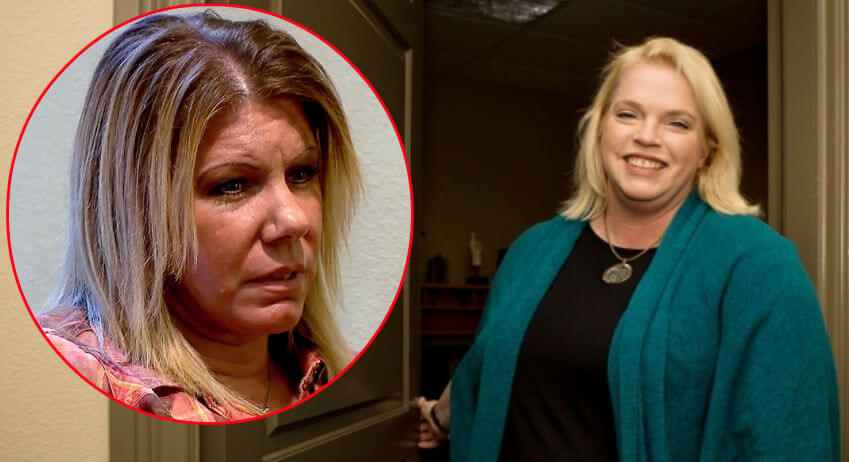 The season 9 premiere of Sister Wives had many fans questioning why Meri Brown's family didn't offer her accommodations after she was forced out of her Flagstaff rental by disgruntle neighbors.
Janelle Brown explained the situation on Twitter when responding to a fan inquiry, "A lot of us don't understand why Meri couldn't stay with you or Robyn?" The person wrote.
Janelle Brown responded, "Meri runs a business that takes a lot of room and we have all moved into smaller homes compared to what we had. The bedrooms are full. We didn't have an option #sisterwives."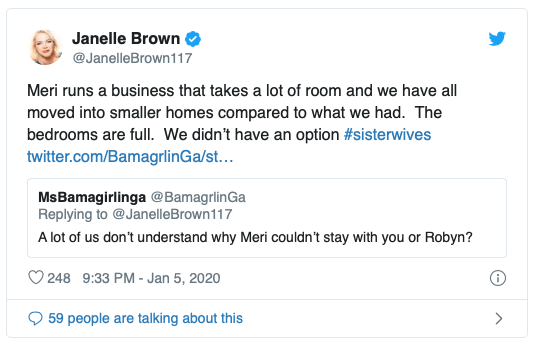 Christine Brown also tweeted about the situation as the episode aired. She wrote on Twitter, "It's just sad that @MeriBrown1 is by herself in our cul-de-sac. Super lonely! We really missed her A LOT!!" and mentioned on the second episode how badly she felt about Meri being all alone back in Vegas.
Additionally, she retweeted one fan comment that read, "Watching @MeriBrown1 have to move back out of that house is just heartbreaking. Shouldn't have ever happened."
Some fans did not believe Janelle Brown's explanation and called out the TLC star.
"What do you mean?? Robyn @LuvgvsUwngs got the biggest home..6,000 SQ feet, yet there's no room to put up @MeriBrown1 temporarily? It would be really nice to see you all fighting to keep Meri with all of you for once, sadly with each season she gets pushed further & further away!"
Another wrote, "Haha bullshit."
One person believes their actions were prompted by different reasons, "It's because they really can't stand Meri! Their acting skills are so poor, it's written all over their faces in each episode! I wish Meri would pack up and leave every single one of them!"
Do you believe Janelle Brown's reason for kicking Meri to the curb? Sound off below!
Sister Wives airs Sundays, at 10:00 pm ET, on TLC.
Stay Connected With All About The Tea: Twitter Ι Instagram Ι YouTube