This week's episode of The Real Housewives of Atlanta picks back up in Toronto on the rooftop bar. NeNe Leakes had just made her dramatic arrival.
Cynthia Bailey, however, doesn't miss a beat as she finishes reaming Kenya Moore for spoiling her engagement surprise. Miss USA retreats like a puppy with a tail between her legs. Something tells me she doesn't want problems with ANYONE else, especially now that NeNe's back in the mix.
Nene Leakes remains quiet while casually sipping on her cocktail. Later in her talking head confessional, she does admit that all of the engagement talk left her feeling some type of way knowing that she wasn't there to share in the special moment.
The ladies finish their beverages and then pack up and head to The King and Queen Showcase, the event that officially kicks off Carnival, The ladies dance the night away before eventually making their way back to the hotel.
Nene Leakes, Marlo, Yovanna and Kandi Burruss decide to keep the party going as they congregate back in NeNe's room. The recording scandal comes up in conversation and Kandi confesses that she feels like she's in the middle and vows to get to the bottom of it, one way or another. She asks NeNe who was behind the recordings but of course NeNe's lips are sealed.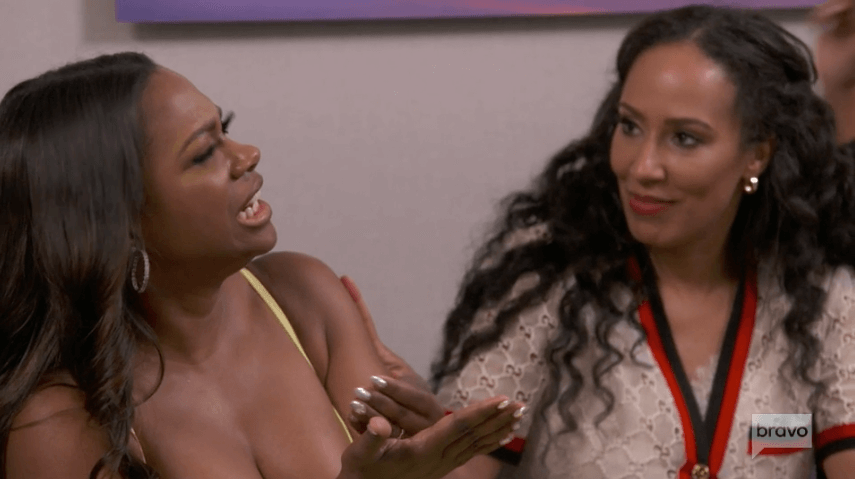 The conversation turns to the card NeNe sent to Cynthia and how it mysteriously ended up in the blogs. NeNe denies having anything to do with it, stating she never talks to the blogs. She then points the finger at Kenya Moore, stating that she has a long history of doing just that.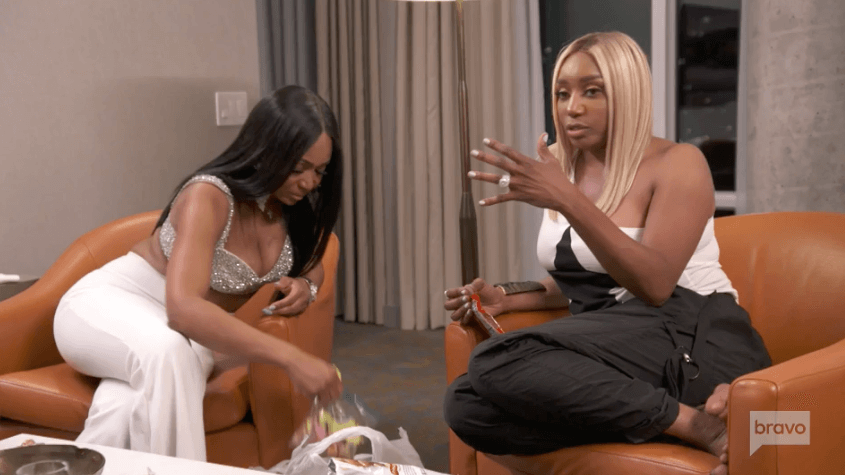 Tanya Sam may be known for her next-level personality but when it comes to creating the ladies haute couture costumes for Carnival, that over the top persona comes in quite handy. The costumes ARE GORG!!!! While picking up their costumes, NeNe and Cynthia are like two ships passing in the night. As NeNe walks in the room, Cynthia promptly walks out. Awkward.
NeNe Leakes asks that Eva Marcille sit down and talk with her and the entire room practically stops to stare and eavesdrop. NeNe starts off by owning her part in the demise of their friendship. Eva accepts the apology and the two hug it out. Ah, finally.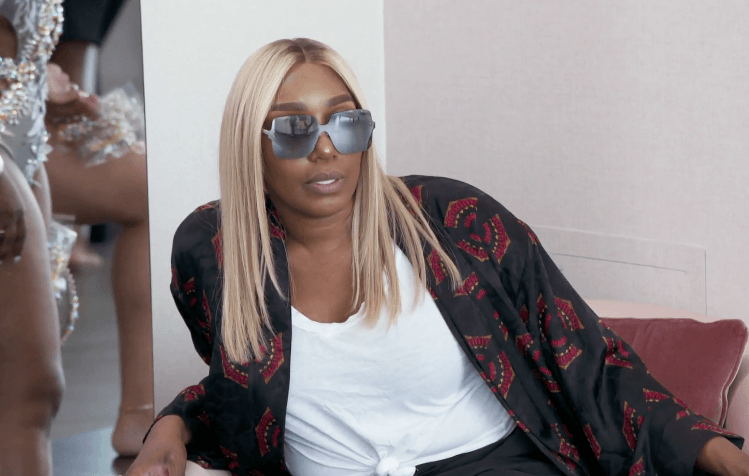 The ladies board the bus to head out for day two of the trip and Tanya Sam drops a bomb on the ladies. She's planned for all of the ladies to participate in something called Edgewalk, where participants actually walk around the edge of a skyscraper while strapped to a harness. To say the ladies aren't feeling the activity would be an understatement.
Once they arrive, Eva confides in Cynthia and Kenya that she and NeNe made up. Of course Kenya Moore seems incredulous, asking if Eva felt that NeNe's apology was sincere. Eva is adamant that she thought it was — noting that NeNe took complete ownership of her actions.
At the last minute, Cynthia appears that she's gonna chicken out admitting that drinks and food with NeNe sounds WAY better than sticking her toes over Toronto. Thrill seeker Kandi, however, gets a gold star for the day as the bravest housewife of Atlanta.
While the rest of the ladies are participating in the skyscraper cakewalk, NeNe and Eva continue to bond while they discuss NeNe's drama with the other women. NeNe shows genuine remorse for the way things ended up with Porsha Williams but admits she could care less about Kenya as they were never friends.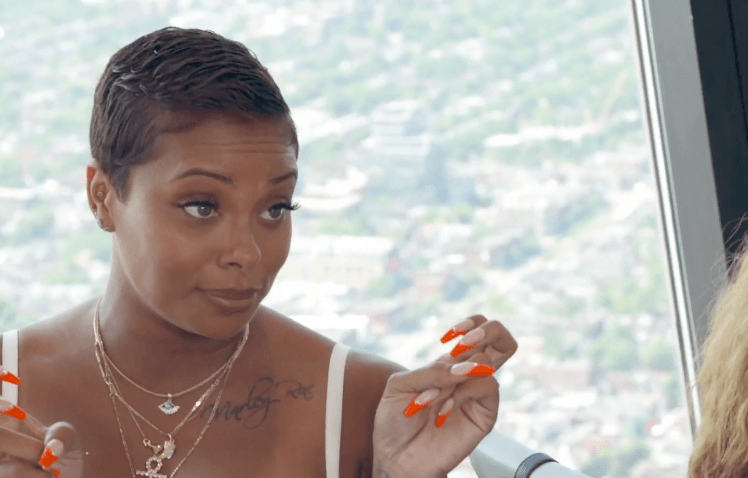 Once everyone's back on land the ladies board the bus and head back to the hotel to get ready for a friends and family rooftop dinner that Tanya has planned.
While getting her makeup done, Porsha is surprised with a beautiful flower arrangement by Dennis. Little does she know, she's in for a bigger surprise than just flowers.
A few doors down Dennis McKinley appears out of nowhere at Tanya's doorstep proclaiming he's here to get his girl back before pulling out the infamous engagement ring and sharing his plans to get down one knee, again. Could this have anything to do with Porsha making Dennis believe that she was going to a rooftop party later that evening with the likes of Drake and Lebron James? Probably.
The ladies have some good old fashioned fun impersonating one another on the bus ride over to the friends and family dinner. Yovanna's impersonation of Porsha seems to fall flat, however, after insinuating that Porsha walks around asking for fried chicken and deviled eggs all day. Gross.
Kenya, Kandi and Porsha meet at the bar and devise a plan to get to the bottom of the Snake Gate. The first order of business, interrogating That B***h Yovanna.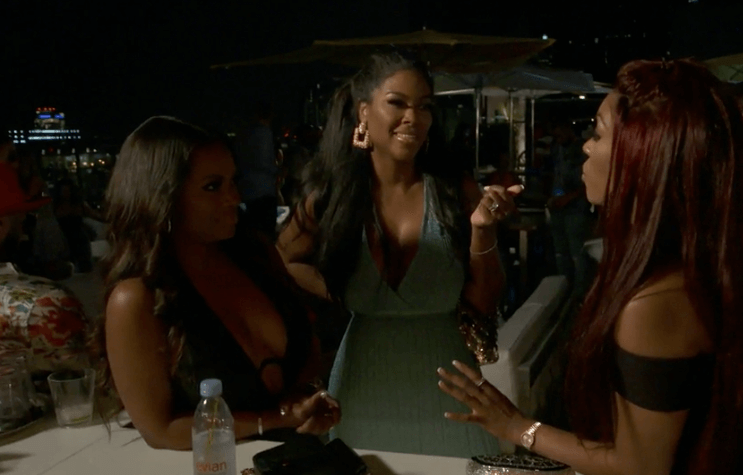 Maybe it's the drinks or the fresh air but Nene Leakes and Cynthia share a heartwarming moment together out on the rooftop. Cynthia thanks NeNe for the card she sent her and NeNe congratulates Cynthia on her recent engagement. Maybe that friend contract will be reinstated after all…
The three detectives continue to work on their suspect, Yovanna, but get nowhere. Tanya Sam takes a moment to thank everyone for coming before announcing the special guest of the evening, none other than the hot dog king who currently resides in the dog house, Mr. Dennis McKinley.
Will Dennis really get down on one knee? Will Porsha Williamssay yes??? And the question we all really want to know: did the ring get an upgrade????? Tune in next week to find out.
Stay Connected With All About The Tea: Twitter Ι Instagram Ι YouTube