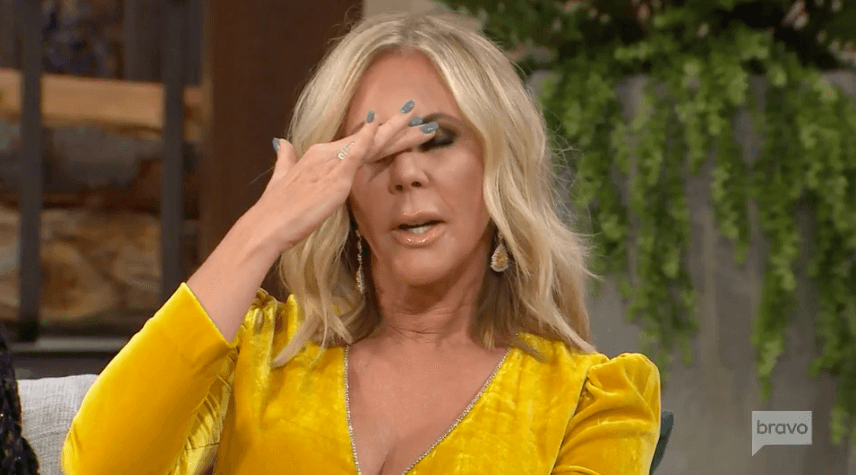 Welcome back to the reunion (part 2) of the Real Housewives of Orange County. This week, we dive right back into the drama, starting with Kelly Dodd and Vicki Gunvalson's rocky relationship. When they met, on Kelly's first season, the two became instant friends. But when Kelly and her husband, Michael, divorced, Vicki's fiancé, Steve, set Michael up on dates. Kelly became angry and jealous, and it's been contentious between these two ever since.
But what really broke the bond was when Vicki intimated that Kelly Dodd was a coke head. Yeah, that might break up a friendship. But Vicki's not the only one who's tired of Kelly's crap. Shannon Beador reached the end of her rope when she tried to set up a day for the ladies in LA in order to show Gina Kirschenheiter a good time, and Kelly told Gina to shut the f*ck up. Shannon's tired of Kelly's rude behavior. But Kelly thinks she's done nothing wrong. Shannon says she and Kelly worked through their issues, but when she found out that Kelly was talking behind her back, she gave up trying.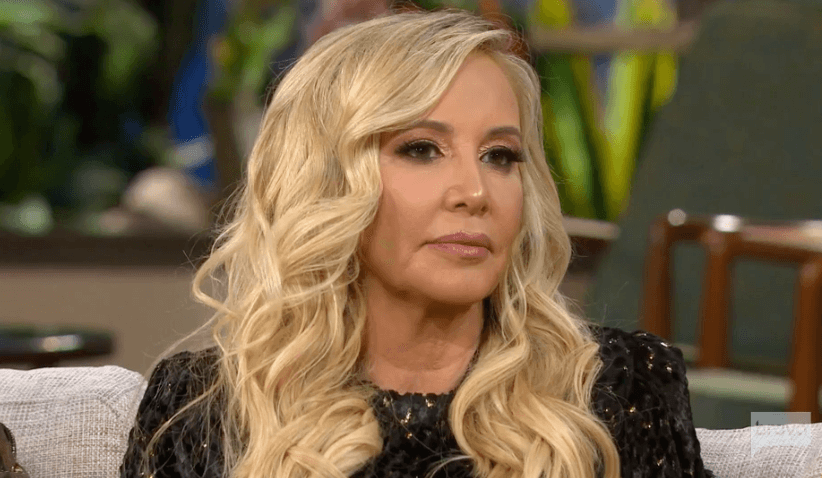 Braunwyn Windham-Burke made her debut this season. Other than having 18 children, a love of threesomes, and a whackadoodle for a mother, she's been unremarkable. Rowan, Braunwyn's daughter, suffered from severe OCD. But she pulled herself together to start her own fashion line for dancers.
Which brings us to our next segment: the crazy fashion show. Braunwyn's mom got in an argument with security. Braunwyn and the event director got in a heated discussion. Then Kelly placed herself in the middle of the fight. Somehow, Kelly didn't go ham on the coordinator. Why? Because there were kids at the fashion show, and if Kelly has a soft spot for anyone, it's kids. Braunwyn's young son even wants to marry Kelly when he grows up. There might be an age difference, but I'll bet they'll have same maturity level.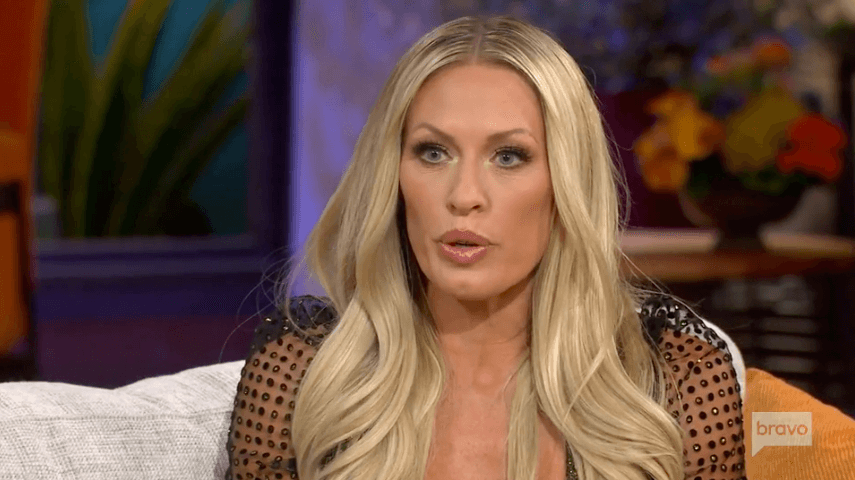 Braunwyn had real problems with Vicki. Vicki thinks Braunwyn tried to come for her. Also, she doesn't approve of Braunwyn's threesomes. It's cheating, in Vicki's eyes. Andy was quick to point out that Vicki admitted to cheating on her ex, Donn. Vicki insists she was wrong. And Braunwyn insists that if everybody's consensual, it's not cheating.
More importantly, Andy tries to get to the bottom of Sean's fugly necklaces. He gets them in Hawaii every year, handmade and with a blessing. Gina says that's fine, but he still needs to accept the ridicule thrown his way. Agreed, Gina. Agreed!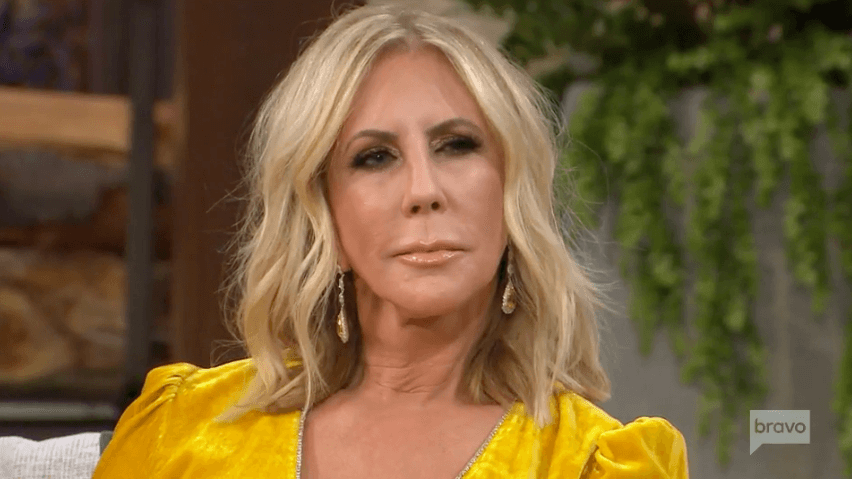 Burning Man has a lot to answer for, but the most egregious thing it's responsible for is Dr. Deb's shiteous clothes and hair. Before Burning Man, Dr. Deb used to wear conservative suits. Braunwyn thinks her mother lost her looks in her late 40s and now wears bizarre clothes and hair for attention. Ooo. Losing her looks? I have a feeling Braunwyn may be getting a lump of coal in her stocking for that comment.
She also admits that she and Dr. Deb haven't spoken for 2 months. Deb didn't like all the attention Braunwyn got from the show. Braunwyn feels angry and hurt by her mother, but her mom doesn't acknowledge Braunwyn's feelings. She's finally starting to deal with her pent-up emotions after watching this season.
Family life is getting better for Tamra Judge. Her sons, Ryan and Spencer, are finally getting along. Ryan isn't as depressed as he was on the show this season, and he might be back with his baby mama. At least he's posting pics of the two of them together. And as for Tamra's estranged daughter, Sidney, things are also on an upswing. Professionally, Tamra and husband, Eddie, have started a CBD business. Well, them and half the world. But apparently, it's going well.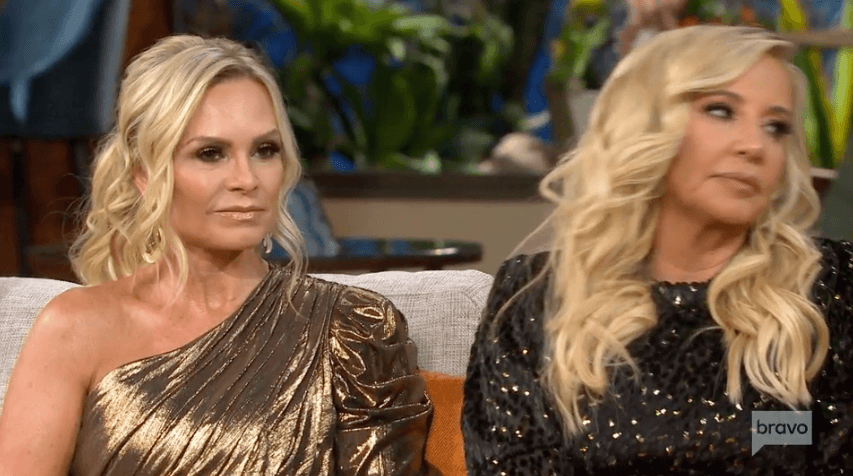 The other women think Tamra is too mercurial. They can't quite figure her out. She changes her opinion on a dime. And is she a manipulator? (Hint: yes!) She does talk about everyone behind their backs. Even her bestie, Shannon. But when it came to those train rumors, Shannon, Vicki, and Tamra pointed fingers at each other. So, who spilled the tea? Well, Tamra put it out there on camera. And when Braunwyn told Kelly, it all exploded. Still, Tamra says she defended Kelly during the season.
What bothers Emily Simpson is the fact that Tamra called Emily Shrek. When Kelly tries to butt in, Tamra tells her to shut it — because Kelly referred to Emily as Fiona. None of this is all right. Emily is married to a drip of a human. Be nice to her, she gets very little kindness at home!
Tamra says that Emily and Braunwyn hurt her feelings when they all got together and talked about how manipulative Tamra can be. Um…they weren't wrong. But Tamra maintains that if someone says it on camera, it's fair game to repeat.
Kelly admits that Tamra owns her shit (since when?!), whereas Shannon denies her behavior. Shannon wonders what she did that made Kelly hate her so much. They'd become friends, and now they can't even speak to one another. Kelly says Shannon talked about her all season. Shannon thinks she's trying to make Kelly a better person.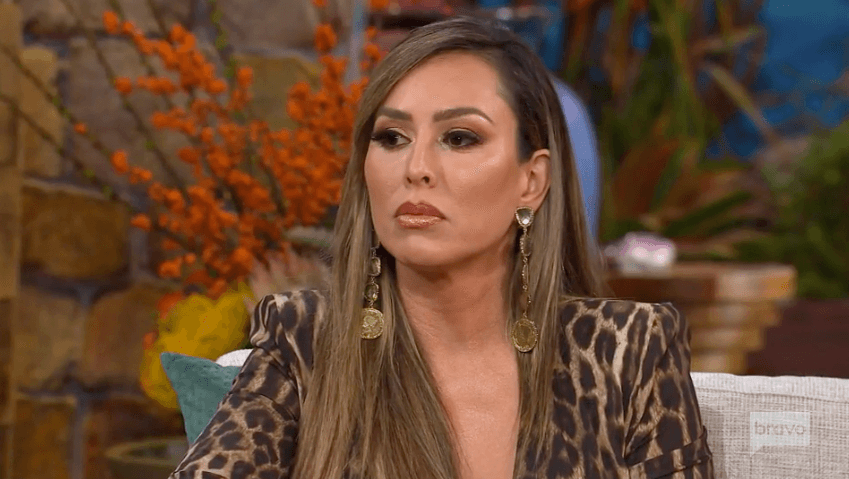 When Kelly Dodd confronts Shannon about hiring a private investigator during her first season, Shannon screeches that it's not true. She's worried about Kelly because she seems so paranoid. But Kelly feels that everyone is out to get her, and she's under a barrade barrage (Andy had to correct her) of insults and rumors.
That video leak showing Tamra talking about Kelly pushing her mom down the stairs is what drove Kelly to tag Jim Bellino and mention his lawsuit against Tamra and Shannon. She offered herself as a character witness. After that, Shannon wants to wash her hands of Kelly. Shannon's lost a quarter of a million bucks on this thing, and Kelly piling on wasn't helpful. Kelly still says the women should have kept their mouths shut.
Now, we turn back to Vicki Gunvalson and Kelly. Kelly has had to deal with Jolie getting bullied online because of the rumors Vicki repeated. As for Vicki, she's had enough of Kelly making fun of her looks and is afraid of Kelly's abusive anger. When Kelly got in a bar fight, Vicki got in touch with Kelly's victim. As they're watching the footage, Kelly laughs at her own nasty jibes.
For as much as Kelly preaches accountability, she takes none for her own actions. And Vicki snaps back that when Kelly says she wants dick, that must embarrass her daughter, as well. And as for those coke rumors, Vicki doubles down, saying even Kelly's brother cosigned those.
Vicki says that she didn't actually accuse Kelly of doing coke, she simply said, "At least I don't do cocaine." Also, a woman in the salon chair next to Vicki's told her about Kelly being barred from Jolie's school. Kelly says it's a lie.
EXCLUSIVE: Kelly Dodd Banned From Daughter's School Over Violent Fight, She Ran the Victim Off the Road & Eyewitness To Kelly Pushing Her Mom Down the Stairs Revealed!
Tamra has been in the same spot as Kelly. Vicki repeated rumors about Tamra and Eddie. Tamra managed to forgive Vicki and rekindle their friendship, but even she agrees that Vicki was unkind to repeat stories she's heard. (Even though Tamra was the one who actually voiced them on camera this season.)
Gina jumps in and is the (boring) voice of reason. She thinks both women have committed low blows and it needs to stop. She thinks Kelly and Vicki are too similar. Vicki disagrees, saying her own hands are clean.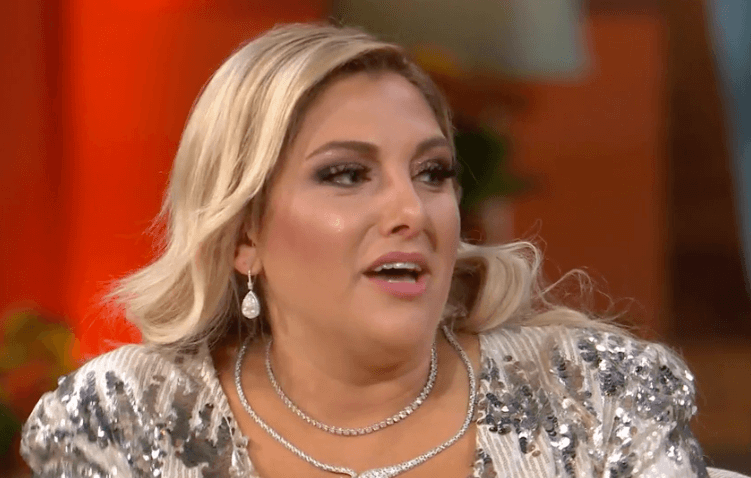 When Shannon agrees that Kelly needs to own her stuff, Kelly tells her to shut up and asks if she's been drinking again. She then says that Shannon's daughter called Kelly at 3 a.m. and said her mother was out with guys, drinking, and driving. Shannon maintains that she's tired of everyone painting her as a drunk. Shannon admits that since her divorce, she got really drunk 8-9 times. One night, she got locked out of her phone. She called her daughters, crying hysterically, and the only number she could remember was Kelly's.
Finally, Kelly Dodd confesses that she fought dirty when it came to Vicki. She wants Vicki to have a good life. Vicki says the same for Kelly. Vicki complains that her life has been hard and she's had to work for everything she has. Vicki now says that they both need to put down their weapons and stop fighting. I hope they can accomplish it.
Backstage during a break, Vicki and Kelly hug it out. Kelly states that she hates being backed into a corner and that's why she lashes out.
The trip to Florida comes up next. We see flashbacks — all the fights and the falls. Braunwyn says the trip wasn't a success. Vicki and Braunwyn got along, but it wasn't enough to make them friends. Vicki very much disapproves of Braunwyn, what with the girl on girl kissing (her friend, Tamra, was the second set of lips in that scenario) and she doesn't like the nudity. Again, it doesn't take much for Tamra to whip her clothes off and flash the camera. Vicki says she started this show, so she doesn't approve of Braunwyn's behavior. The OG of the OC has spoken!
So, that ends this episode. Did any of the women truly take accountability? And why does Tamra get a pass for girl kissing and naked shenanigans, but Braunwyn doesn't?
Stay Connected With All About The Tea: Twitter Ι Instagram Ι YouTube