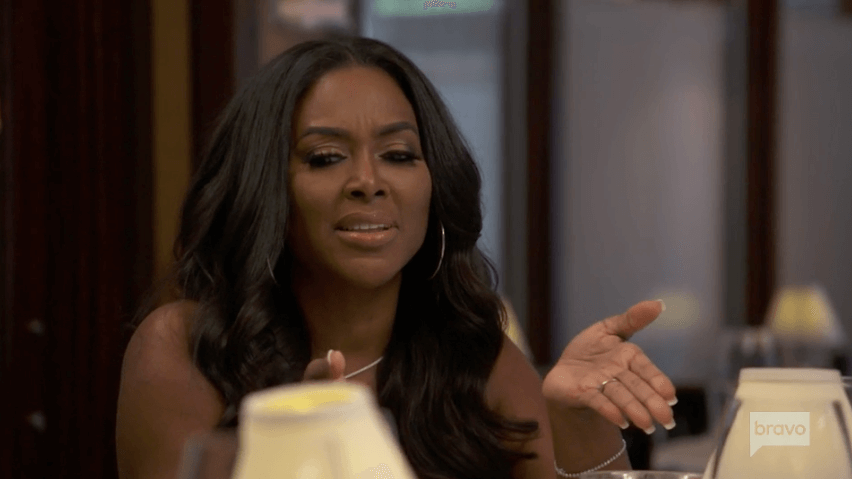 Welcome to an all-new episode of The Real Housewives of Atlanta. I SMELL WEDDING BELLS.
This week's episode opens with a montage of CHILL footage and Mike Hill asking for Cynthia Bailey's blessing to ask for her hand in marriage in the very near future.
Meanwhile things seem to be business as usual at the Williams/McKinley household  now that Porsha Williams and Dennis have resolved to work out their differences. Porsha is adamant, however, that the cookie jar is still closed. For now anyway… Once Dennis makes good on his promise to upgrade the engagement ring he took back, maybe she will reconsider.
Cynthia Bailey meets Marlo Hampton for lunch to discuss what she refers to as "snakegate," admitting that she wouldn't be surprised if Marlo is the one behind the recording NeNe Leakes has of her. The two engage in a little small talk including the disrespectful show Kenya Moore put on at Marlo's wig launch. Cynthia maintains that although Kenya did make quite the entrance, Marlo did choose to invite her.
Cynthia eventually gets down to business and asks Marlo if she was behind the recording. Marlo admits that she did hear about the recording but denies having anything to do with it. Marlo seems genuinely hurt that Cynthia thinks she has anything to do with it but bounces back quickly after Cynthia extends to her an invite for her wine cellar launch. All's well that ends well I guess…
Kandi Burruss and Todd Tucker spend some quality time checking out the new location for his new scheme their newest venture, Ole' G. Kandi is skeptical about all of the business deals Todd has lined up and his ability to execute them all but Todd just thinks she's a "hater."
The guests start to trickle in for Cynthia's wine cellar launch party with Kandi, Marlo and Porsha arriving first. In a shocking turn of events, Cynthia receives a congratulatory note from NeNe Leakes that leaves her in tears. Maybe there's hope for the two after all.
Kenya Moore finally arrives to the party, this time sans marching band. Hallelujah! Cynthia Bailey eagerly shows off to Kenya the card NeNe sent her but Kenya is quick to squash any good vibes Cynthia has by immediately pointing out the lack of an apology in the card.
In true Kenya Moore fashion, she takes it upon herself to ruin any element of surprise and reveal to Cynthia she has a sneaking suspicion that Mike is going to propose to her tonight. These coming mere moments after Kandi tips her off that something BIG is coming later in the evening. Wow, Kenya, just wow! Thanks for ruining EVERYTHING. This is almost as bad as Marlo's wig launch party.
FINALLY, a very pregnant Eva Marcille makes her grand entrance with husband in tow and as fate would have it, it appears that she and Marlo are in a good place with one another. Eva and Kenya also appear cordial. Am I right in declaring that hell has indeed frozen over? Riddle me this though- other than being pregnant, does Eva have any semblance of a storyline whatsoever? No? Okay. Just checking.
Cynthia takes a moment to address her guests and thank them all for coming. But the real moment comes when Mike takes a moment to PROPOSE not only a toast but also marriage to Miss Bailey. Finally, Cynthia is no longer thirsty. It's time to CHILL.
The following evening, Marc and Kenya Moore meet Cynthia, Mike, Kandi and Todd for a triple dinner date. Ladies and gentlemen, let the fireworks begin!!!
On the way to dinner, Kenya confesses that she may have ruined the surprise to Cynthia the previous evening. Marc doesn't mince any words and accuses his wife of snitching. Honestly, he's not wrong.
The couples arrive at dinner and exchange a few pleasantries before getting into deeper conversation and swapping engagement stories. Kenya is quick to put Marc on blast for his proposal to her or lack thereof. Marc admits that their engagement wasn't as romantic as it could have been but says that he made up for it on their wedding day. Kenya agrees, citing that their wedding day was one of the happiest days of her life, coming in only second to the day she won Miss USA. Wonder where the birth of her daughter places on that totem pole?
The conversation then turns to prenuptial agreements with Kandi confessing that the prenup almost broke her and Todd. Once again, Kenya seizes the moment to throw Marc under the bus, stating that Marc never wanted a prenuptial agreement. Marc explicitly denies that they ever even had a conversation about one, stating that if they did he would've called off the marriage on the spot. Hmm… something's not adding up here…
The conversation starts to turn ugly as Kenya and Marc continue to spar with one another in front of the table and an exasperated Marc even goes as far as to say that Kenya's issues with NeNe  Leakes are not his own and he has respect for NeNe Leakes. 911. SHOTS FIRED. A seething Kenya sits at the end of the table and orders another drink. In my opinion, the entire table could use another round after what just had to endure.
Tune in next week as the drama continues.
Stay Connected With All About The Tea: Twitter Ι Instagram Ι YouTube