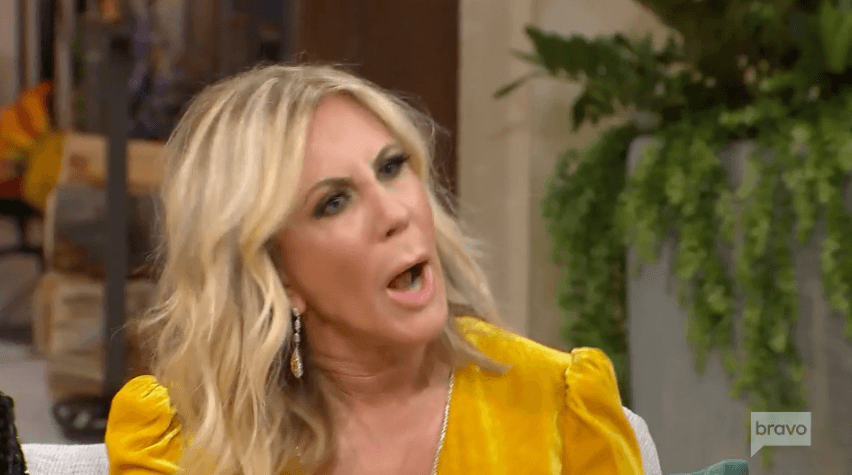 Tonight, we begin the first part of the Real Housewives of Orange County reunion. As we get a backstage peek at the ladies, we see that Shannon Beador forgot her spanx and had to return home for them. Vicki Gunvalson is desperate to show her stomach incisions to Andy Cohen, who wants no part of it. And Kelly Dodd knows she's at war with the Tres Amigas.
But as we gear up to discuss season 14, the ladies look relaxed on the sofas. Emily Simpson is here despite having a full hip replacement just 10 days ago.
We start the episode by welcoming back Fun Shannon. She lost a few pounds before filming. Of course, she dropped 180 lbs. in the shape of her douche of an ex-husband, so that must be liberating. The women are happy that Shannon found her joy again. On the home front, Shannon's daughter, Sophie, got early acceptance to Baylor and is working on a book about divorce from a kid's perspective.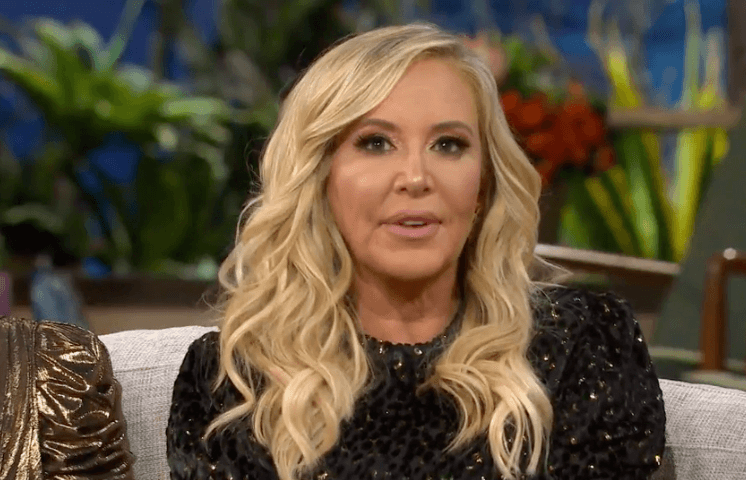 Shannon won't discuss the exact amount of her settlement from David. She expected more, considering the lifestyle they'd led for the last 17 years. But she can't complain — at least not in public.
Shannon tells Andy about her new boyfriend, John. He's a good dad to his own children, and he likes her kids, too. Shannon feels peaceful. Kelly, Tamra, and Braunwyn admit they like John. He watched Shannon's crazy performance last season and he didn't run, screaming in terror. So, that's good. And Tamra thinks Shannon and John will eventually get married.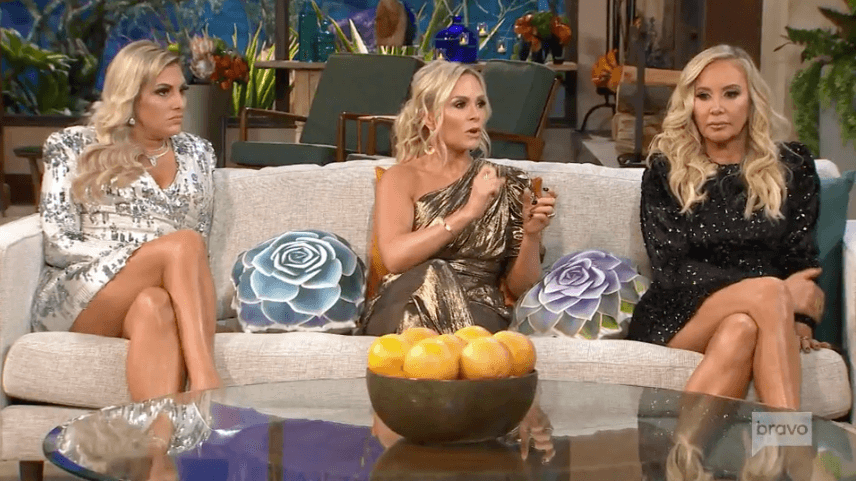 Backstage, Vicki Gunvalson is upset that she isn't on the couch. She will join the others later, as a friend of the Housewives, but she isn't happy with her new status. She says the show has gone downhill since she's not in charge. She feels like a has been. Steve tries to calm her down, but he's not having much luck.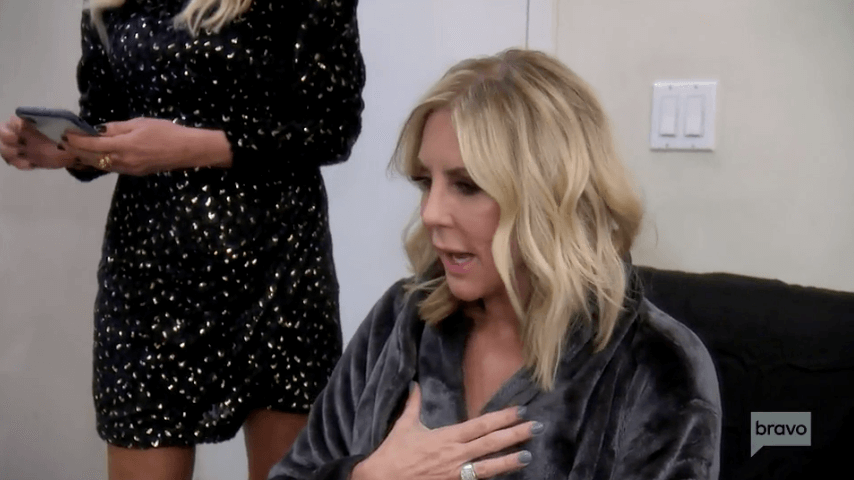 On the couches, Andy examines Gina Kirschenheiter and Emily's friendship. They had a glitch earlier this season. Emily felt jealous that Gina became friends with the Tres Amigas. Then there was that stupid fight when Emily tried to set up Gina with Shane's cousin. He had a girlfriend, and Gina thought it was a pity date. Emily insists that she didn't know he had a girlfriend. Tamra stated on Watch What Happens Live that Emily knew he was in a relationship.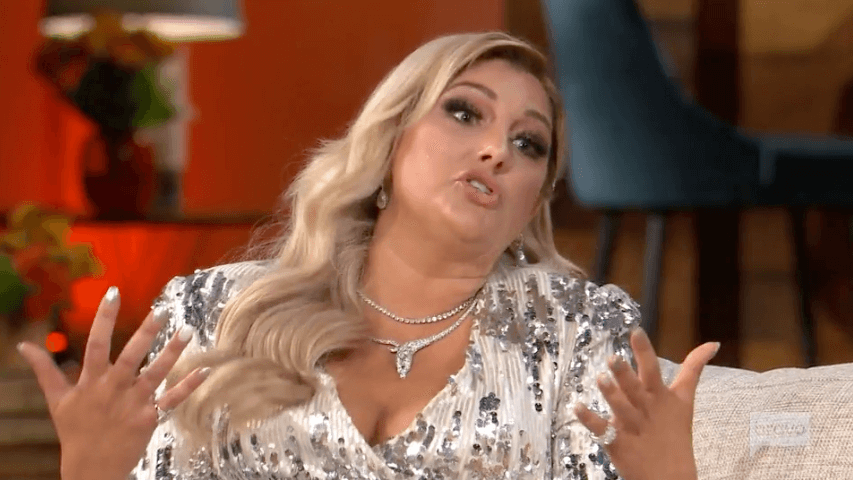 Fast forward to now. Gina says she's confused by Emily. Emily admits that she can be insecure. Gina says her life was on fire and she needed Emily's support this season. But Emily was upset that Gina didn't accompany her to Las Vegas. Emily feels hurt that Gina made fun of her getting onstage to dance with strippers. Kelly chimes in, and as she's talking, Tamra calls her a bitch under her breath.
Emily and Gina each think the other is judgmental. Emily felt disappointed in Gina's DUI. Where's the support? Emily says she can't possibly support that kind of decision. She saw a change in Gina and there was a real distance as she grew closer to the Tres Amigas.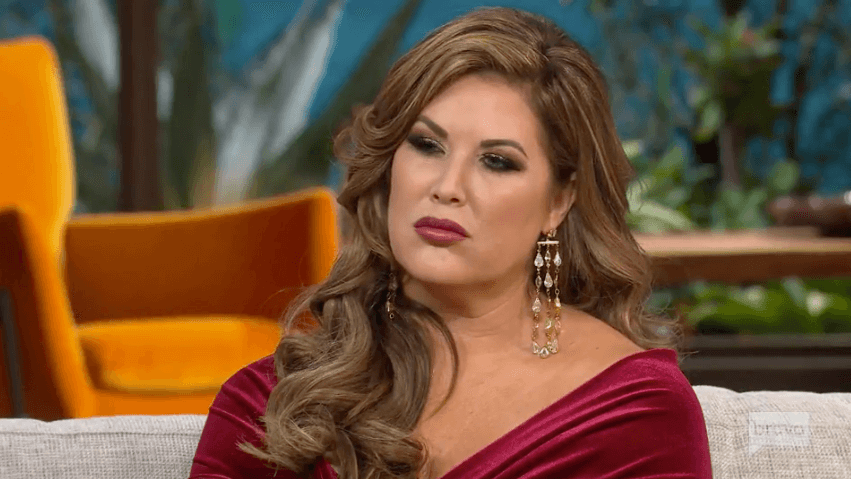 Is there hope for these two? Of course. Gina gets up and gives Emily a big hug. She sits next to her buddy and they tear up and apologize to each other.
Kelly Dodd again pipes in. She says Shannon and Tamra don't like the new girls in their first year. The second year, they're more accepting. As Braunwyn states her opinion, Tamra and Kelly quietly call each other names. 
Vicki Gunvalson finally joins the women and sits next to Andy. He admits Vicki almost didn't come today. She threatened to sue Bravo over comments Kelly made, referring to Vicki as a conwoman. The heart of the matter is the insurance company that hired Vicki as a spokesperson. The company went out of business, and a woman didn't get paid for her claim. She's suing Vicki. Vicki maintains that she will take on anyone who besmirches her reputation. She's spent years building up the business and won't let Kelly take her down. She and Kelly begin screeching at each other. Kelly brags that she owns 25% of a water company. And she's not afraid of a little lawsuit.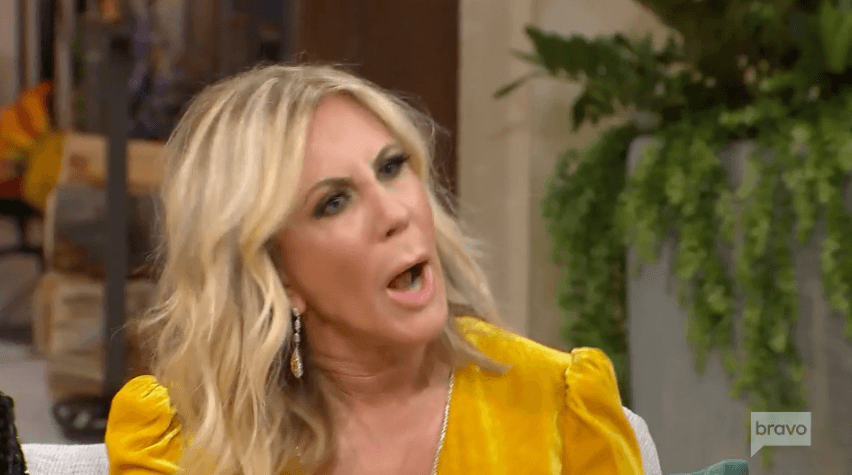 Next, they discuss Vicki's relationship with Steve. We see flashbacks of Donn and Brooks. As we trip down memory lane and Brooks' cancer scam, Vicki admits she's made some mistakes in her love life. Now that she and Steve are engaged, she feels at peace.
Emily made a joke that Vicki bought her own engagement ring. Vicki doesn't think it's funny, but Emily points out that Vicki's brother, Billy, was the one who told them it was true. Apparently, he had a lot to say the night of the engagement party. He even questioned whether Steve truly wanted to get married again.
Andy asks the women who are divorced if the show is part of the reason for the demise of their marriages. Each said no. Shannon insists that she and David would have divorced right after she found out about the affair. But since she was on TV, she felt even more pressure to keep her family together. Braunwyn says the show has brought her and husband, Sean, closer together.
The group breaks for lunch. Vicki takes a selfie with Andy. Kelly wanders offstage, muttering how much she hates Vicki. Tamra makes fun of Kelly's teeth, and Shannon thinks Kelly has a big ego. 
Meanwhile, Kelly and Braunwyn gossip about Vicki and all the rumors that she perpetuated. Kelly is angry that the rumors hurt her daughter, Jolie. For her part, Vicki is tired of Kelly calling her a pig.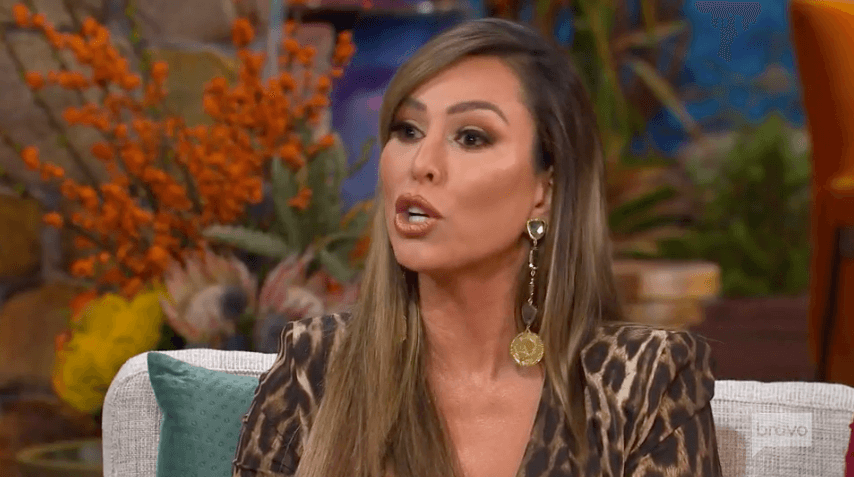 After lunch, we are treated to a flashback of the spa trip Shannon planned for the ladies. But you'll remember that it wasn't the zen experience she was hoping for. Kelly talked about dongs and the desire to have her water in Costco. Then she bonked Shannon on the head with a mallet. 
Kelly says she thought hitting Shannon on the head was a joke. Shannon says she had a bump on her noggin, but Kelly thinks Shannon is a hypochondriac. Tamra doesn't quite agree that Shannon overreacted, but once Shannon gets something in her head, she needs to get it checked out. Kelly calls Shannon predictable. And since Shannon drank alcohol that night, she couldn't have had a concussion.
Emily stands up for Kelly. Shannon is beside herself that as an attorney, Emily thinks hitting someone is all right — even if it is a joke. The names keep flying back and forth between Shannon, Tamra, and Kelly.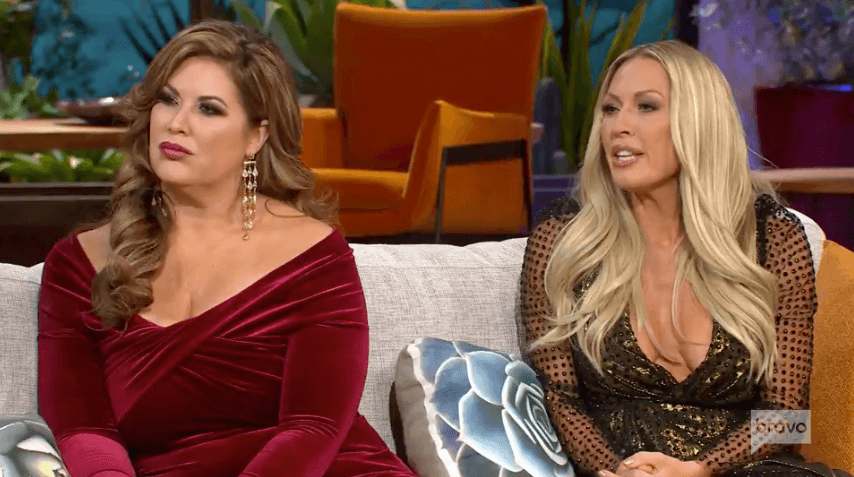 On to another beef, Gina and Braunwyn had a contentious relationship this year. Gina didn't like Braunwyn referring to her as a little sister when Kelly bonked Gina on the head. But Braunwyn feels like she can't say anything to Gina with it being misconstrued.
On that same trip, Kelly called Gina an unaccomplished woman. Then she goes on to say that she sold 5 homes in Arizona and had a cool million in the bank when she married Michael. Vicki claims that Kelly isn't a businesswoman, but Kelly claps back that she just got her product in Walmart this week. She accuses Tamra and Vicki of being jealous.
As the women shout at each other, Andy looks bored. He doesn't even try to rein them in.
Gina talks about letting go of her marriage. She then tells Braunwyn that she never meant to hurt her feelings. They agree to keep trying to communicate with each other.
But they're not the only ones with bad history. Tamra and Emily weren't friends this season, either. Tamra thinks Emily is closed off. Emily doesn't like how the Tres Amigas gang up on Kelly. Vicki points out that Kelly isn't exactly innocent. She's said hateful things to Vicki and took to social media to make fun of the OG.
When Vicki Gunvalson says she was hurt when Kelly drew a picture of a pig on a car, and then wrote Vicki's name next to the drawing, Braunwyn jumps to Kelly's defense. According to Kelly, she was pushed so far, she merely retaliated. Vicki insists she's the injured party, not Kelly!
And that ends the first part of the reunion. Part two will be on next Monday.
So, do you think Kelly was right to harass Vicki? Was she backed into a corner? And should Vicki have been demoted this year?
Stay Connected With All About The Tea: Twitter Ι Instagram Ι YouTube