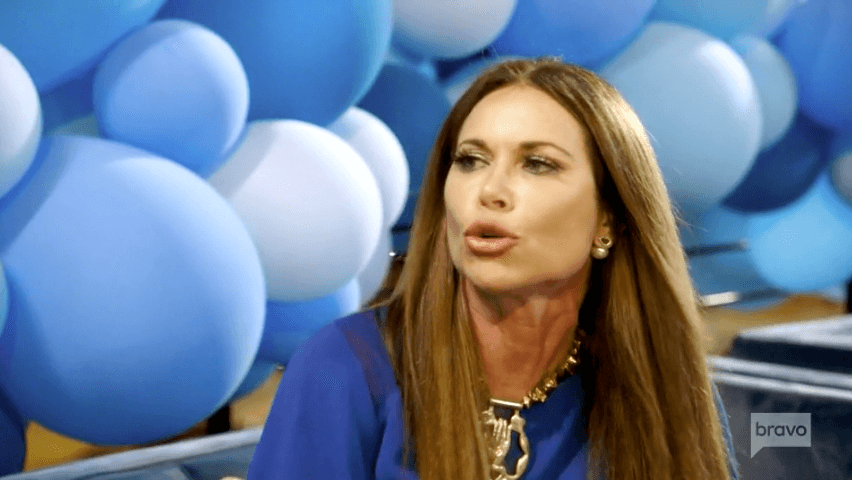 Welcome to the episode we've all been waiting for… the season finale of The Real Housewives of Dallas. The ladies of Dallas have certainly earned their spot as one of the new favorite Housewives franchises and the season finale does not disappoint!
The episode opens with the hostess with the mostess Stephanie Hollman serving LeeAnne Locken an extravagant platter of… chips. Sorry LeeAnne Locken. That's what you get when you visit someone's house right after they get back from an extended trip to Asia.
LeeAnne Locken wastes no time in rehashing the Thailand drama. Stephanie lends a listening ear but also stands firm in her convictions that the comments LeeAnne made about Kary Brittingham in Thailand were wrong. Stephanie advises LeeAnne that although she had every right to feel the way she did, she needs to watch how she reacts once she's been hurt.
Meanwhile, Kameron Westcott and Kary also discuss the dinner from hell over local French cuisine. Kary admits that she was surprised when Kameron came to LeeAnne's defense after the girls stood up for her at the table. Kameron explains that she wasn't so much as sticking up for LeeAnne as she was trying to diffuse the confrontation at dinner in an effort to make LeeAnne not feel like she was being ganged up on. Kameron did acknowledge LeeAnne's apparent jealousy on the trip saying that she thinks LeeAnne was feeling some type of way about her and Kary's budding friendship and it caused her out to act out.
Later in Kameron's talking head interview, she confesses that she wrestled with the decision to relay the hurtful things that LeeAnne said about Kary on the trip but admits she ultimately decided against it to keep from hurting her.
Across town, Brandi Redmond takes her precocious albeit sassy daughter Brooklyn to her cheerleading tryout in hopes that she makes the national squad. Brandi confides that cheerleading has been a way for her and Brooklyn to bond after what has been a very trying year for their mother-daughter relationship. Lucky for Brandi and Brooklyn it looks like all of their hard work (both on and off the mat) has paid off.
While out to dinner with Eduardo, Kary proudly shows off her new website for her jewelry line. Unfortunately, he doesn't seem to give her the reaction she was hoping for. Kary divulges that his lack of empathy is a point of contention in their relationship and leaves her frustrated. Maybe he'd be more excited if she took a page out of LeeAnne's book and started referring to the necklaces as anal beads?
The two butt heads over Kary's perceived lack of independence and financial security in their marriage, with Kary citing that every time they argue he's quick to point out that the house and money in the bank account belong to him. According to Eduardo, however, his hands are tied as the house and his money are tied up in a trust. Hopefully Mama Dee isn't at the helm of his trust too. Now that would be a true disaster.
Kary Brittingham drops a bomb in her talking head admitting that she's unsure if she and Eduardo will stay married forever. She professes that he is going to have to give her some sort of security or eventually she will have to move on. That sounds like an ultimatum to me…
D'Andra Simmons meets Mama Dee for lunch and catches her up to speed on the trip to Thailand and the drama with LeeAnne. The conversation eventually turns to business and Mama Dee proclaims that she is actually very proud of D'Andra and all of her accomplishments, minus her uncanny ability to eat so many doughnuts in one sitting. D'Andra seems taken aback by the sincerity of her mother's words, so much so that she's even willing to overlook Mama Dee's unwillingness to loan her any money. I can't help but wonder though… who picked up the lunch tab? Or did they go dutch?
Back at the Westcott residence, Kameron confesses to Court that she's worried about the evening's festivities with all of the ladies after the way things were left in Thailand. She confides in Court about the remarks LeeAnne made about Kary and the predicament she finds herself in as Kary's friend. Court is adamant that Kameron cannot tolerate racism and that she should be honest with Kary. 
Kameron Westcott takes Court's advice to heart on the ride over to pick up Kary and Eduardo. She immediately drops the bomb on Kary the minute she and Eduardo step foot in the car. Geez Kameron, couldn't you at least let them get their seatbealts on first? She reveals that she's had something hanging over her head and wasn't completely honest with Kary when she was asked if LeeAnne had ever said anything about her. Kameron blurts out that LeeAnne called her the C-word, claiming she never told her before because she hates that word and didn't want to repeat it. It appears that she's fine to stop there but Court prods her along to tell Kary the rest of the truth. Kameron goes on to reveal the comments LeeAnne made about Kary being a "Chirpy Mexican" and it's safe to say that Kary is none too pleased.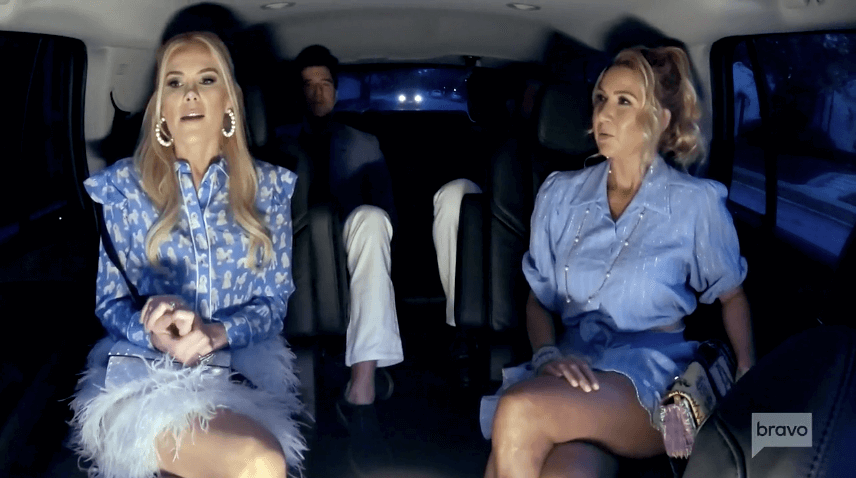 Kameron Westcott and Kary finally arrive at the party and Kameron immediately whisks LeeAnne away to talk. She asks LeeAnne to clarify her remarks regarding Kary's ethnicity but LeeAnne doubles down claiming not to remember making such remarks. Kameron also takes the moment to assert that she is not afraid of LeeAnne, and if anything LeeAnne should be afraid of her. OKAY, WHO IS THIS PERSON AND WHAT HAS SHE DONE WITH THE REAL KAMERON???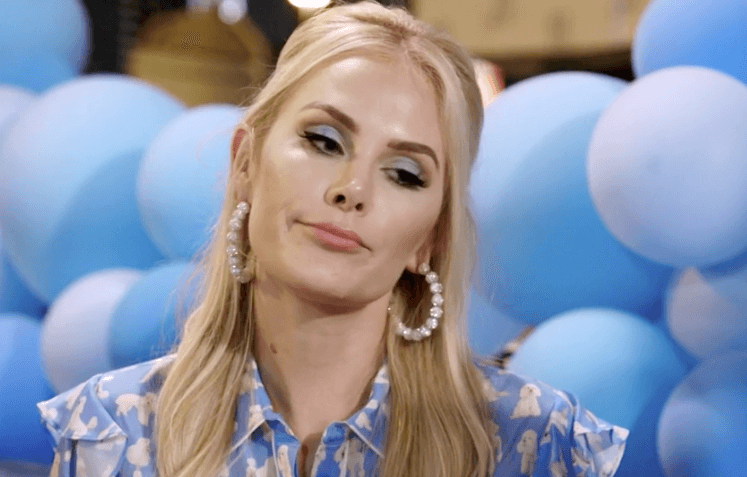 In the midst of Kameron finding her newfound voice, Kary strolls over ready to pounce. LeeAnne offers her a seat but Kary refuses. Instead she plants herself squarely across from her and immediately gets down to the business at hand.
When pressed by Kary about the comments that were made, LeeAnne takes ownership of the comments but denies that they were meant to be taken in a derogatory way. The rest of the ladies make their way over to bear witness to the drama underway. Stephanie steps in, confessing that she too has been privy to LeeAnne making hateful remarks about Kary. Of course, in true fashion, D'Andra seizes the moment to pile on as well. Insert eye roll here. Devoid from the conversation, however, was an actual apology on LeeAnne's part for the words that were used or the way they may have been perceived.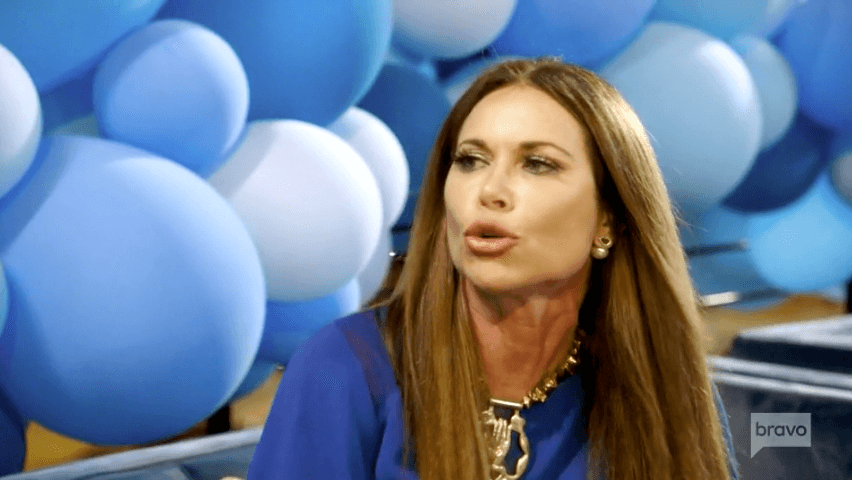 Kary Brittingham seems to have had enough, stating that the altercation simply wasn't worth it and excuses herself to grab a drink at the bar. Stephanie, Brandi, and D'Andra follow suit and the ladies drown the drama in a well-deserved tequila shot.
Court meanders over to Kameron and concocts some phony excuse to steal Kameron away from LeeAnne, later confessing that he wants Kameron to stay far away from LeeAnne due to her racist comments. Okay, Court. Now YOUR nose is growing.
LeeAnne Locken eventually makes her way over to Kary and offers an apology stating that "if calling a Mexican offends her" she will not do it again. It's clear, however, that Kary doesn't accept the apology with strings attached and storms off.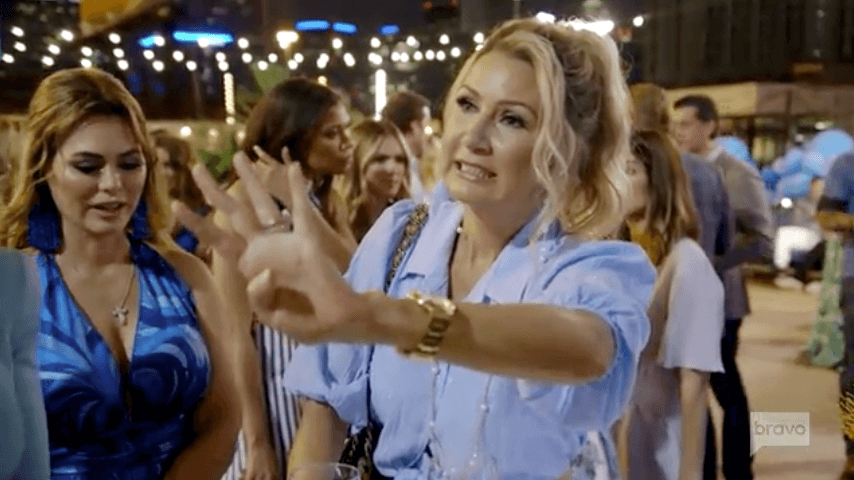 The rest of the ladies dance the night away relishing in their friendships with one another. One thing's for sure, there will be plenty to discuss as the reunion. Oh, and rumor has it, there's going to be props… WATCH OUT.
Stay Connected With All About The Tea: Twitter Ι Instagram Ι YouTube