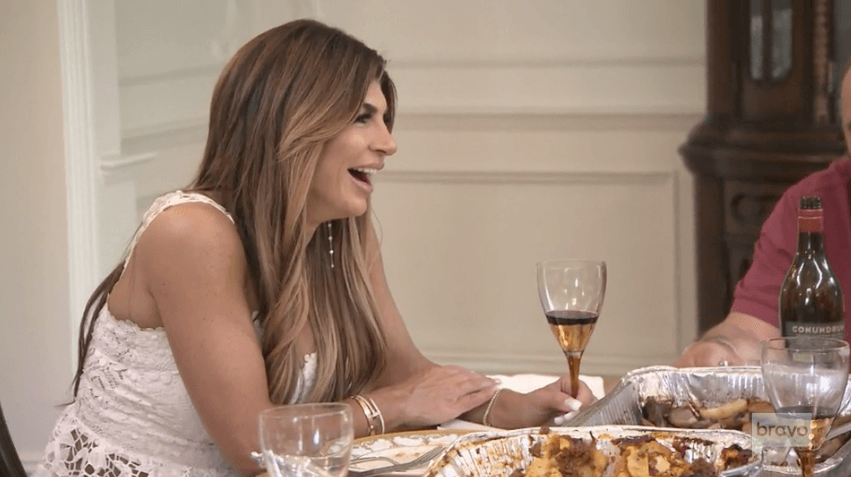 The Real Housewives of New Jersey are in crisis this week, especially the Giudice and Gorga families. Joe Gorga comes home to tell wife, Melissa, that Juicy Joe Giudice lost his appeal with ICE and will soon be deported unless Teresa Giudice decides to try and appeal one last time. Milania and Audriana don't know about their dad yet, but the Gorgas worry the girls will learn from the internet or the kids at school. They believe Teresa needs to tell her kids as soon as possible.
Dolores Catania and her ex, Frank, pull up to a lighting store in a stinky car that reeks of wet dog. Frank complains, but Dolores blames it all on young Frankie, who is neglecting his chores. Smelly cars aside, they need outdoor lighting for the house they're building for David, Dolores's boyfriend. It's still up in the air whether Dolores will actually move in with him, but for now we're pretending that's going to happen, so there you go.
As they putter around the store, Dolores gets a text about Juicy Joe's denied appeal. While she understands loyalty, Dolores thinks Teresa shouldn't try for a third time. It's a losing battle. Enough already!
Joe Gorga worries that Teresa Giudice is wasting money if she attempts another appeal. Those girls need things, like cash for nail salons and college tuition. And don't forget the new pool. If Teresa spends it all on legal fees, she's going to be in financial trouble — again. But Melissa has a different take on the situation. Teresa has to fight for Joe on behalf of her daughters. They need their dad.
At Jennifer Aydin's house, chaos is the norm. Little Olivia isn't interested in doing her homework, not even if the nanny helps. And don't even get her started on music lessons. It's all too much for the 6-year-old, so she marches upstairs to lie down. Meanwhile, Gabriella is having trouble at school. Pre-adolescent girls are horrible, and Gabriella's ex-friends are no different. They're icing her out and spiking her head with balls. Jennifer tries to encourage her daughter, but parental advice is pretty useless in the face of bullying.
Gabriella isn't the only one in the family who has suffered. Jennifer's brother, Steve, is a music teacher. In her parents' culture, that's strike one. Why isn't he going into the jewelry business with his dad? Because musical theater called to him. And that leads us to strike two, in their eyes. Steve is gay, and Jen's parents can't openly acknowledge the fact. Steve seems unbothered by his parents' negative reaction. He's found his tribe, and when he finds his soul mate, he'll deal with it then.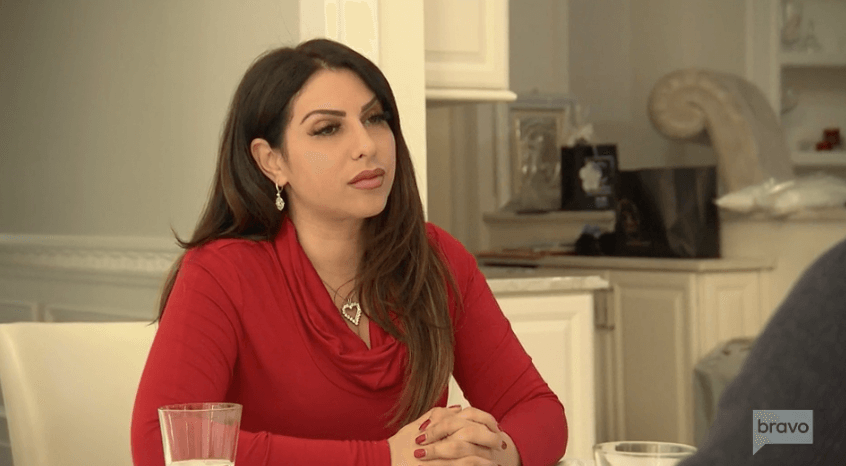 Gabby overhears her mom and uncle speaking, so when Steve takes Olivia into the living room for her piano lesson, Gabby asks her mom if Steve is gay. Yep, he sure is. Gabby's cool with it. And even Jen is bucking her cultural tradition on this one. She loves Steve just the way he is.
Teresa Giudice meets up with Danielle Staub for cocktails. Fortunately, she isn't pissed that Teresa told the other women that Danielle and her soon-to-be-ex, Marty, slept together. That was supposed to be a secret, but Teresa blurted it out at the dinner table in Jamaica.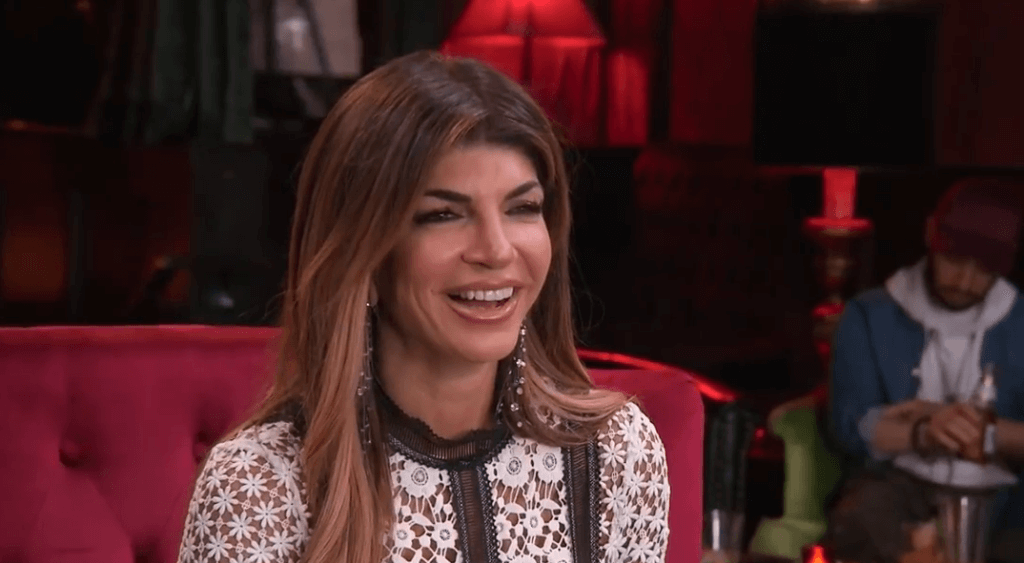 They discuss Teresa's family dysfunction, and Teresa admits that Milania overheard her talking about Joe's failed appeal. As the daughter closest to Joe, Milania was naturally upset. But Teresa maintains that she won't tell Audriana yet. Her youngest doesn't watch the news, so how will she find out? Oh, dear. Teresa's always been a few gallons shy of a full pool, but surely she understands by now that kids talk. Audriana will hear the news from her classmates or by eavesdropping on her sisters. Shouldn't Teresa be the one to break it to her?
'RHONJ' RECAP: Margaret Josephs Destroys 'Duchess of D*cks' Danielle Staub For Betraying Her Friend!
Danielle Staub gives the latest tea about her and Marty. They're not really back together, despite recently having sex and still living together in the same house. Danielle's "fiancé" Oliver is still in the picture, too. Danielle says she regrets hurting and humiliating Marty. But bottom line, she wants that house. It's a great price and something she can leave her daughters. And since Oliver is underwriting her loan, it looks like owning the house might be in Danielle's future.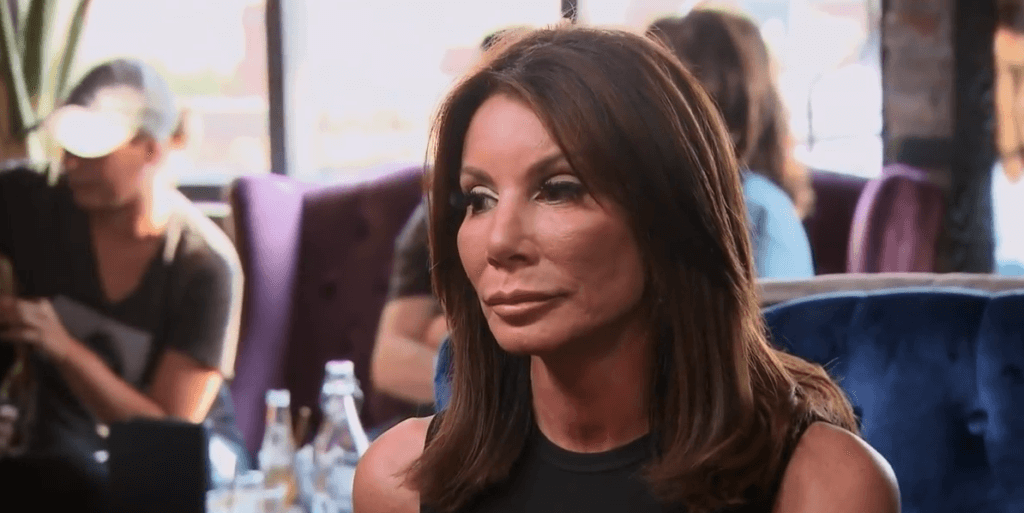 If she doesn't get the house, she can come and stay with Teresa. But with all the drama Teresa has going on, Danielle doesn't want to impose on the table flipper. Or maybe she realizes that the longer she squats in Marty's house, the stronger her rights will be?
Over at Margaret Josephs' place, she and husband, Joe, discuss Marty's sex life. Though Marty trash talked Marge last season, he reached out to them after his split with Danielle and admitted they were right about her all along. She's a cruel woman who has tried to ruin his reputation and messed up his relationship with his kids. Naturally, they invite him over to interrogate him about the sex rumors, but Joe doesn't believe Marty would be dumb enough to hook up with Danielle again. 
Marty arrives and settles in to drink wine and nibble on a cheese tray. Marge explains that she was angry when she heard Danielle saying she and Marty had sex, because she feels protective over him. Marty doesn't like his personal life bandied about with the bread basket, but things are now peaceful at the house. Marge believes Danielle is playing nice because she wants to stay in that house. The court gave her 30 days to come up with 2 million dollars if she wants to retain the property. Otherwise, Danielle will have to get the hell out so that Marty can sell. 
Marty says he's moved past being angry with Danielle. And while he refused to answer directly about sleeping with her, we can all infer his stuttering to mean that yeah, they've been hitting it. He believes she's getting her life together. Marge is struck silent for a full 15 seconds. How can Marty be such an idiot? Because little Marty has been doing all his thinking for him, obvs.
Next, we catch up with Jackie Goldschneider, who explains her parents' odd living situation. Though married, her mom and dad don't live together. As she pulls up to her father's house, two of Jackie's kids run inside and greet their grandad. Jackie goes through his fridge and cleans out all the expired food. 
Her dad's true love is gambling. As a teenager, she'd use a fake ID and go to the casinos with him. But having a gambling addiction isn't good for his health, not because he loses too much, but because he stays out at all hours in a smoky environment.
He takes her downstairs and shows Jackie and her kids a video of her junior prom. Jackie was a big girl back in the day. Between her parents' troubled marriage, her learning-disabled brother, and her volatile relationship with her sister, Jackie took comfort in food. Weighing over 200 lbs., she finally took such control that she developed a serious eating disorder. Jackie maintains she almost died, but her dad thinks it was worth it to look good. He seems clueless at the hell Jackie went through and how hard it was to conquer her fear of food.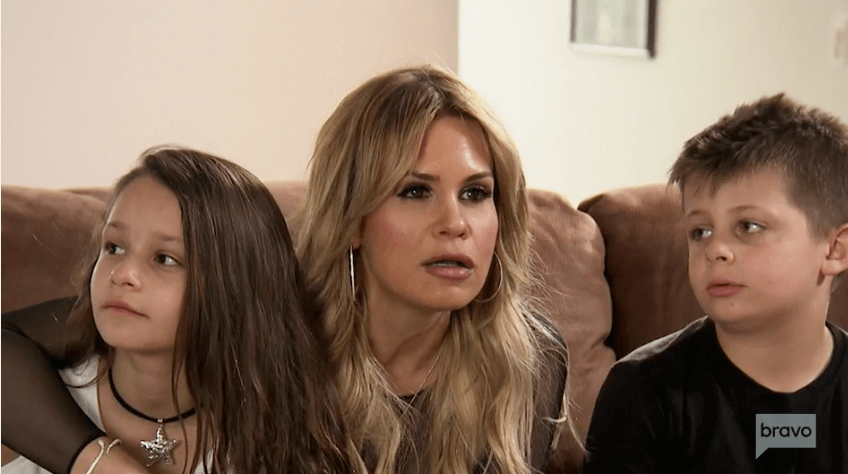 Back at Teresa's place, she's getting ready for Easter. Gia helps her put the baskets together. They discuss Juicy Joe's legal woes. The previous day, he called Gia five times to complain about his situation. 
Joe Gorga steps into the house. The three of them discuss the situation, and Joe lays it out on the table. Juicy is deteriorating in ICE custody. After serving his time, he should be home. He's staying incarcerated to pacify his girls. Joe tells Gia that she needs to let go of her dad — that it's for his own good. Give him the option to free himself, because he's miserable where he's at. The whole conversation sounds like they're talking about putting down a beloved pet. Teresa tries hard to squeeze out a few tears, but she can't manage it. Instead, she scrunches her face as much as her fillers will allow and narrows her eyes. Points for trying though, right?
Easter arrives and Teresa is making lamb. She comments that she and Gia are going to go talk to Joe later and discuss his situation, but for now, they're keeping Audriana in the dark.
At Dolores's house, she has dinner catered. She scatters plastic eggs around the front yard. Frank makes a smart remark that the house will soon be his after she moves in with David. But in reality, Frank isn't convinced that David will offer Dolores a commitment. She says she won't move in with him without a ring on her finger. We'll see.
As her family shows up for dinner, Frank keeps nibbling at the food. Dolores's dad isn't following his diet, either. He had a heart procedure a few months ago, and he's supposed to be watching his carbs. But his love of bagels is strong.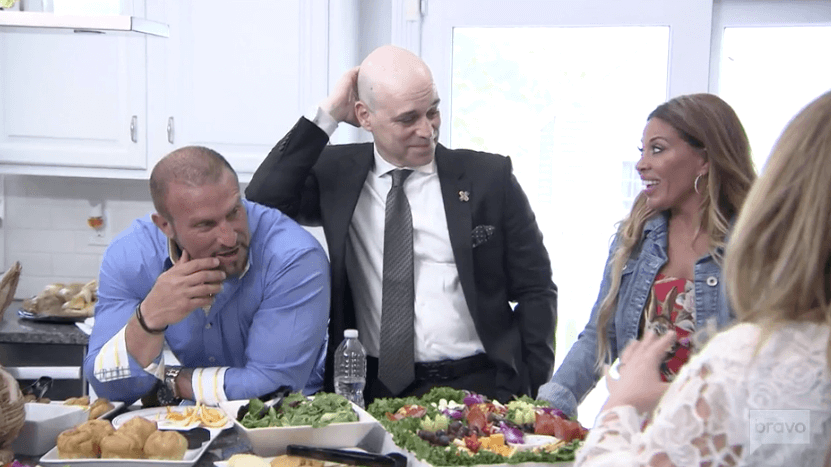 We watch Dolores's nieces and nephews scramble for the eggs outside. Inside, the family waits for David. He finally arrives, and Dolores's dad quizzes David about cementing their relationship. David remains noncommittal.
The Gorgas arrive at the Giudice residence. Melissa brings sprinkle cookies. Ha! Take that, Teresa. Baskets are handed out, chocolates are eaten. But Teresa is concerned that Nono may have pneumonia again.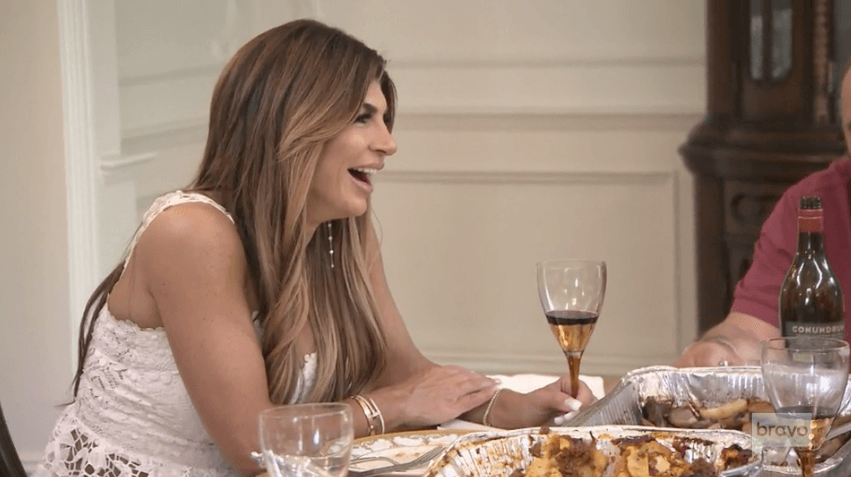 Melissa and Teresa get the food onto platters. As they're dishing up meatballs, Teresa admits that she cries herself to sleep most nights. Then she prays over the food and mentions her mother until Nono breaks down in tears. As they're eating, Juicy calls and talks to the family. Audriana speaks to her dad and tells him how much she's grown. There's some laughter around the table, then things get real. Joe Gorga starts tearing up, telling Juicy to stay strong. Gia, Gabriella, and Milania start crying. Milania looks on the bright side, saying next year they'll all be together.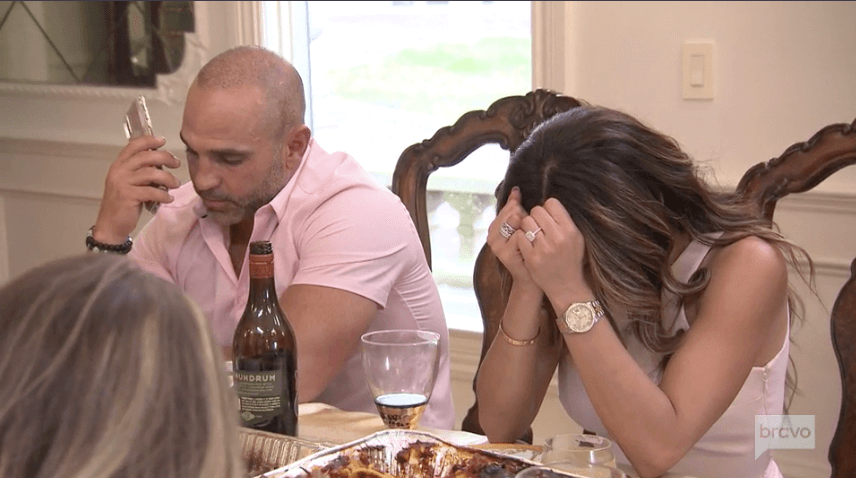 Audriana begins to sob, and Gia takes her away from the table. She's a damn good big sis. Teresa joins the two girls. Audriana isn't as clueless as Teresa believes. She wants to see her dad before he leaves. She flat out asks if he's getting deported. Teresa assures her there's still a chance that Juicy might come home.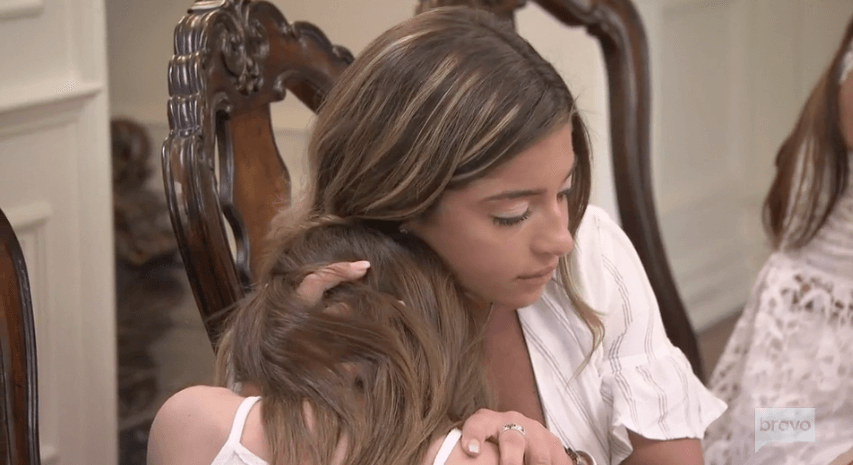 Joe Gorga encourages Teresa Giudice to take Audriana to lockup to see her dad. Teresa maintains she's too young to see her old man behind glass. It will be too traumatizing. Teresa thinks if she keeps the truth from her baby, Audriana won't feel hurt.
Nono is feeling ill and has to go lie down with his oxygen mask. The whole family is being affected by the tension of Juicy's incarceration.
So, do you think Teresa Giudice should be honest with Audriana? And I guess we've all heard the news that Teresa and Joe are calling it quits on the marriage. Thoughts?
Stay Connected With All About The Tea: Twitter Ι Instagram Ι YouTube