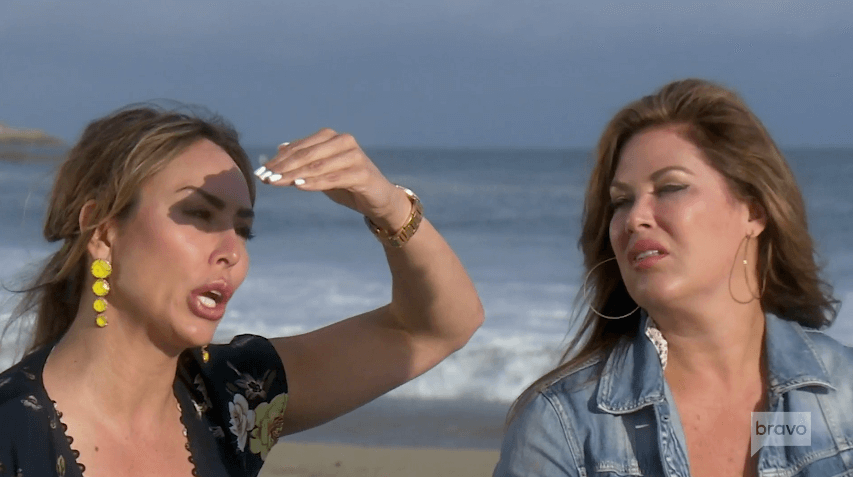 Kelly Dodd Seeks Anger Management For Her Violent Outbursts!
Like all fun and games on the Real Housewives of Orange County, it always ends in tears and there's usually a hospital visit. This time, Vicki Gunvalson gets carted away in an ambulance after taking a tumble in Key West while on vacay with the girls.
The next morning, we find Vicki Gunvalson lying in bed with a bandaged knee. That's what happens when drunken skinny dipping is involved. But at least Vicki got out of going to Ernest Hemingway's house, because she's not a fan. Well, technically, she didn't really know who he was to begin with, so no big loss.
Emily Simpson, Braunwyn Windham-Burke, and Kelly Dodd, however, are raring to go see where the writer's home. As the women talk about Vicki's accident the night before, Kelly is certain Vicki's faking her injury. 
Rusty, the tour guide, takes the trio through the gallery of wives. Hemingway had several. Emily thinks Vicki could have a gallery of husbands. Kelly calls Hemingway a "big dick daddy". Yes, just as he would want to be remembered, I'm sure.
While dead writers may not be Vicki's cup of tea, she's not afraid to get on a boat later for parasailing. Despite the fact she can't even walk on crutches. She falls again, and when Shannon Beador tries to school her on how to use them, she stomps on Vicki's bad leg. 
Gina Kerschenheiter, Kelly, and Braunwyn plan to spend the afternoon jet skiing. Gina and Kelly inadvertently wear the same swimsuit. But Kelly's boobs win the "who wore it best" contest. Emily is a jet ski pro because she used to date a drug dealer who had a stable full of them. Gina, on the other hand, barely puttered through the water.
Instead of jet skis, Braunwyn joins the Tres Amigas. Vicki has to be wheeled into the van and plopped onto the boat. No parasailing for her! And Shannon isn't too sure about flying in the air either, but she holds on tight and manages to survive. Barely.
Kelly, Gina, and Emily aren't impressed with their castmates taking to the skies. Instead, they're fixated on the shark circling them. But the guide reassures Gina it's just a hammerhead. They're perfectly harmless! Gina cries hysterically and clutches a starfish as a weapon. Not kidding!
Once Gina, Emily, and Kelly Dodd are back on land, they waste no time in slamming Vicki. Kelly suggests she'd be better off in a convalescent home. Gina doesn't know what that is. Old folks' home, honey. Maybe these women need a word of the day calendar?
On the ocean, the Tres Amigas and Braunwyn talk about Kelly's anger issues. She admitted to the women the night before that her temper is out of control. Vicki thinks Kelly just needs a good exorcism. Tamra Judge thinks Kelly pushes people away. It's a defense mechanism.
The question both teams are asking: will they all be able to get along during the boat cruise scheduled for later that night? Yep, you bet!
That evening, Vicki is hobbling on a bandaged foot, but she's getting aboard the boat on her own steam. Let the booze cruise commence! Vicki hands out sparkly hats she had labeled for each woman's personality. Kelly Dodd is Krazy AF. She claims they're poking the bear, but the rest of the women take their hats gracefully and played along. 
Emily and Kelly have a private talk near the railing. Emily admits she's losing her temper more at home — even in front of her kids. And now her daughter, Annabelle, is modeling that behavior with her younger brothers. Kelly suggests they go to anger management together. Kelly admits she's defensive and reactive. She's tired of living life that way.
Tamra Judge  strolls over to the pair and inserts herself in their conversation. Kelly apologizes to Tamra for being angry and leaving nasty text messages. The other women gather around as Tamra promises she'll never repeat anything that Kelly tells her again. From now on, Tamra's lips are sealed. Riiiight.
Tamra tries to get Kelly and Vicki to come to a truce — another one — but they start rehashing old arguments. Kelly walks away, and Vicki insists she did nothing wrong. The other women try to defuse the situation by drinking more, because tequila solves every problem.
Back in Orange County, Braunwyn tells her husband, Sean, about her trip to Florida. Shannon and Tamra are more interested in finding a venue for Vicki's engagement party. But the space they find isn't meeting Shannon's exacting standards. Not the windows or the tables or the chandeliers.
Gina has some girl time with her daughter, Sienna. They paint ceramics and Sienna relays her future plans. She wants to be Batgirl when she grows up. Don't we all, kid?
Later, Tamra and Eddie join Braunwyn and Sean for dinner in Newport. Shannon arrives with her new man, Ken AKA as Babe. He doesn't live in Cali, but has come to town to hang. Discussion turns to Key West and the broken bond between Kelly and Vicki. The women agree that the two have slung low blows. Tamra and Shannon admit they've felt the stings of Vicki's barbs in the past. It's hard to get past the ugly words.
They also talk about Kelly and Emily's plans to go to an anger management class. One class? No. Shannon thinks Kelly is going to need more than that to gain some self-control.
Braunwyn shares that she received an invite to Vicki's engagement party. Kelly will also be invited. They all agree it's the right thing to do. 
Meanwhile, Kelly and Dr. Brian head to the batting cage. Kelly cleans the doc's clock, then they talk about Vicki's upcoming engagement party. She complains about being poked by the women on the trip to Florida. Brian tells her that if she doesn't trust Vicki, there's no reason to try and salvage the friendship.
While Kelly Dodd's friendship with Vicki is done-so, the relationship with Brian is flourishing. He even suggests they find a place together. But Kelly isn't moving in without a ring and a date. He remains noncommittal.
At Gina's old house, her kids are packing up toys and Halloween decorations. She's as conflicted about leaving the house as she is about divorcing Matt. Sidenote: Gina took out those God-awful hair extensions and looks ten years younger. As she facetimes with her mom, she confesses that she and Matt are no longer planning to divorce. She feels Matt is really involved in the marriage for the first time in a long time. She wants to fight for her family. 
Over at Tamra's house, her son, Spencer, has dyed his hair green and it looks a little crazy. Because of his bad breakup, he's gotten three tats and a septum piercing. Is he trying to repel the ladies? Anyway, Ryan strolls in. He and Spencer haven't talked since their social media fight.
Tamra wants them to work it out. But Ryan's feeling hurt that his younger brother called him a racist. Once again, Ryan complains that Spencer had all the advantages in life that Ryan never got. Boo freaking hoo. Simon tried to set boundaries and help Ryan, but the kid didn't want to follow the rules. Non-compliance leads to fewer advantages. Own your shit, Ry! Spencer blames the argument with Ryan on Tamra. She was being mean to everyone because of stress of her lawsuit with Jim Bellino. Now, Spencer insists his mom doesn't support him, but she claims she's stayed up the last few nights talking to him until 4 a.m., trying to help him with his breakup.
Tamra admits her family is effed up. Ryan and Spence aren't speaking to their respective fathers, and Sydney doesn't have contact with Tamra. But it doesn't look like anything will be solved any time soon.
TV therapist, Dr. Dow, meets with Emily and Kelly on the beach. Does he not have an office? But Emily doesn't mind, plunking herself down on the sand to complain about her marriage to Shane. She says she's defensive and quick to anger every time Shane pops off. Emily blames her anger on her lonely childhood. Her single mother didn't take care of her, and it left Emily feeling defensive. As for Kelly, she had a great childhood, but her mother's quick temper rubbed off on Kelly. 
Dr. Dow has them close their eyes and picture the people they love the most. Then they must identify the people who bring up anger. Kelly and Emily repeat some affirmations, but like Tamra's family dysfunction, nothing is solved. Kelly still wants to punch Vicki in the face.
Kelly Dodd has been avoiding Vicki, but Dr. D. thinks she needs to be around Vicki and not lose her shit. Is it possible? Well, not if history is anything to go by. But the engagement party will be a good test for Kelly to keep her cool.
And that ends this episode of The Real Housewives of Orange County. So, do you think Kelly will be able to maintain her composure at the party? Will Emily be able to stay married to Shane? And will Tamra be able to keep her clothes on for once?
Stay Connected With All About The Tea: Twitter Ι Instagram Ι YouTube