On this week's episode of Married To Medicine, the drama continues in beautiful Mexico as the couples deal with the aftermath of strippergate.
Toya Bush-Harris wastes no time calling the men out, stating that Eugene already told her they all received lap dances the night before. The men remain rather coy, but ultimately appear very guilty regarding their transgressions. In this particular situation, Quad Webb appears to be the real winner since she currently doesn't have a husband.
Cecil makes it a point to announce on the bus in front of Dr. Heavenly Kimes that Daddy Damon did not want to participate in the outing to the gentlemen's club. I appreciate what you're trying to do here Cecil but- LIAR LIAR PANTS ON FIRE.
In a true feel-good moment, the Married To Medicine couples put their differences aside and switch gears in order to fulfill their mission of giving free medical care to the local citizens of Cabo San Lucas. Dr. Contessa Metcalfe admits that this is the work she's truly passionate about and would even do without any payment.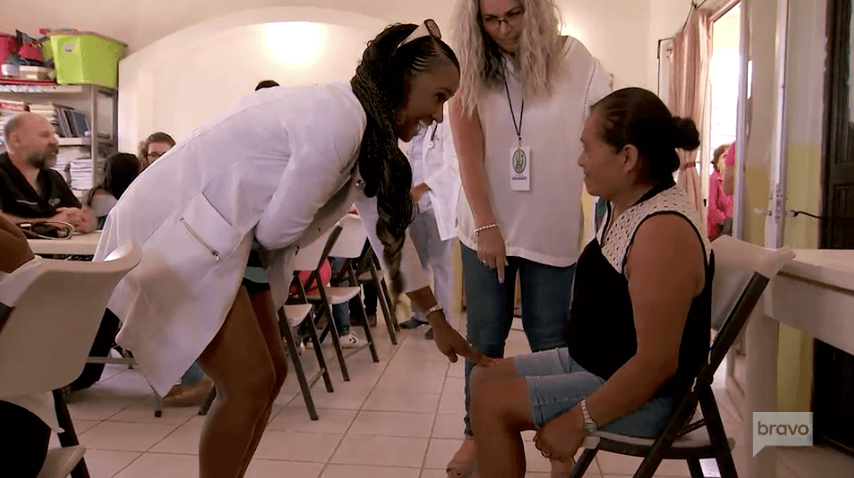 Back at the hotel, the couples meet for some good old fashioned team building activities followed by a beautiful lunch on the beach. The competition proves to be pretty fierce and any hopes of team building are left waiting in the sand.
Dr. Simone Whitmore never misses a moment to be messy and proceeds to pair each of them up with someone they've had some beef with in the past. Team "Dariah" aka Damon and Mariah Huq take home the W, and Mariah is quick to point out that Damon did not cheat this time. Oh, the shade.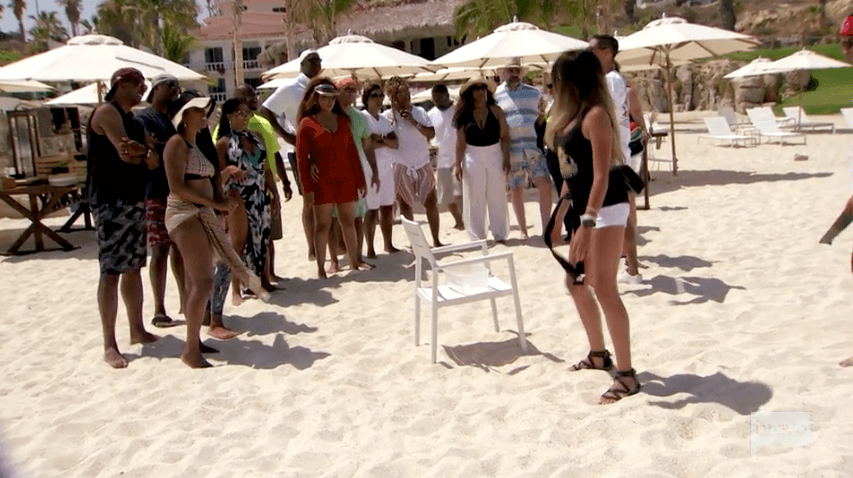 The conversation turns back to strippergate with Dr. Jackie Walters admitting she's never been to a strip club. Heavenly confesses that she doesn't like them because she knows what goes on in those places. In an interesting revelation, Contessa reveals (unbeknownst to  Scott) that she accidentally stumbled into a swingers club once. Oops.
Later in the evening the couples celebrate the Day of the Dead by painting their faces. Everyone, except Cecil who spent too much time watching basketball and was unable to get his painted. Simone seems none too pleased.
Quad stuns most of the group, coming out dressed as a dead bride, complete with a white dress and all. The irony is certainly not lost on Mariah.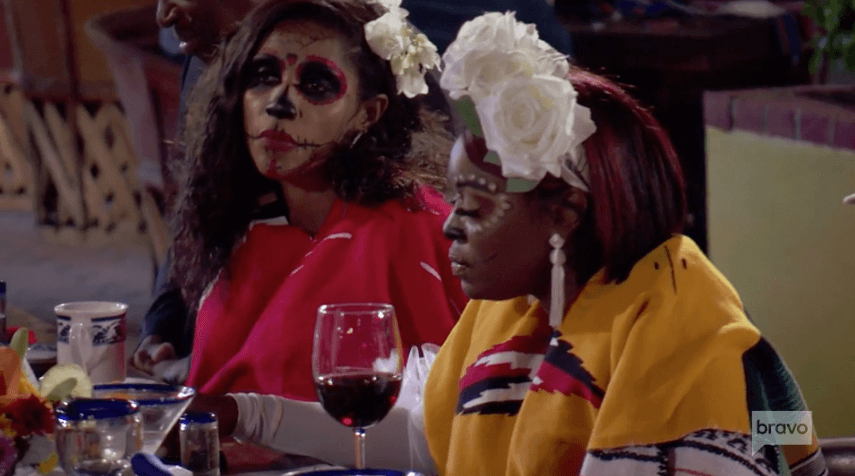 In an effort to right a wrong from seasons past, Simone takes a moment at dinner to share with everyone a heartfelt love letter she wrote to Cecil. Cecil seems genuinely moved and appreciative of the gesture, stating that "it was worth the wait." Better late than never I guess.
Simone then takes the opportunity to encourage the couples to share with the table something they would like to leave in Mexico and something they would like to resurrect and take home. Buffie Purselle states that she would like to leave pettiness in Mexico and resurrect empathy.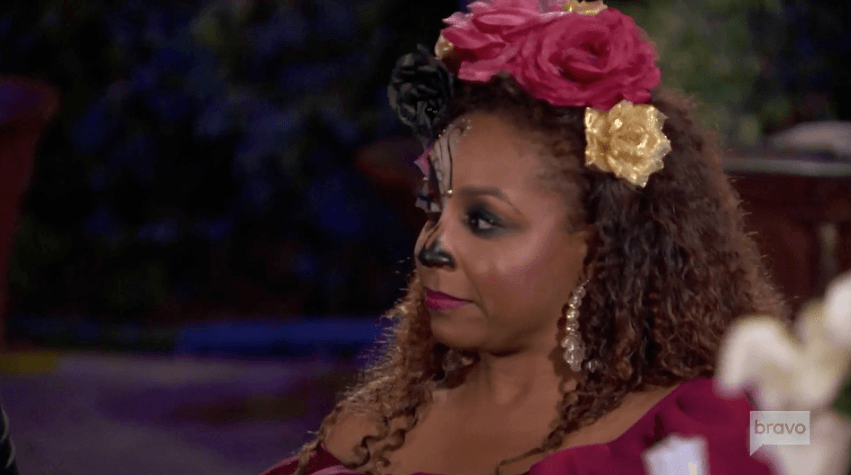 A triggered Jackie counters back that she would like to leave toxic friendships in Mexico and take home authentic friends. SHOTS FIRED.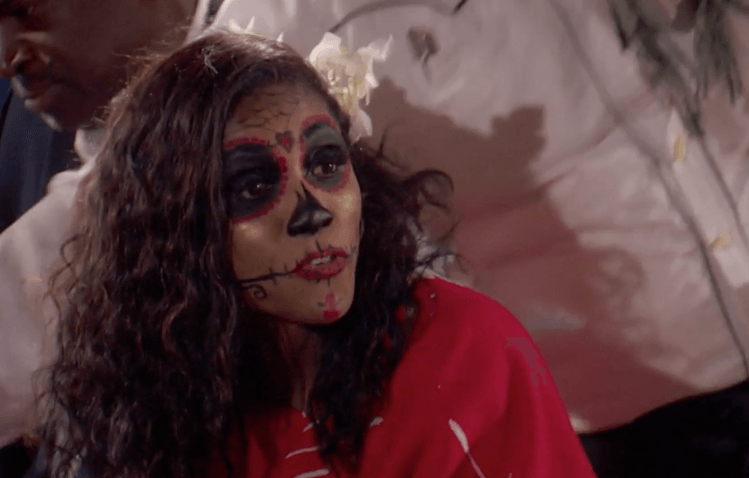 In an effort to lighten the mood (or maybe not) Heavenly asserts that she would like to leave all strip clubs in Mexico. Later in the talking head, Heavenly admits that she knows her husband loves her and would never stray and tells Damon that she forgives him for going. HALLELUJAH. Damon can sleep with both eyes shut again.
Back in Atlanta, the couples adjust to life post-vacation, hopefully with a renewed sense of appreciation for their spouses and their friendships with one another. Here's to hoping, anyway.
Quad Webb meets with her divorce attorney, who unfortunately does not come bearing good news. According to her attorney, Gregory did not meet the deadline for getting his taxes done. Quad admits that while being married to him, she handled everything, so this news does not really come as a shock to her. The attorney explains that she is still able to file her returns separately and he does have the settlement agreement with him for her to sign. According to the attorney, once she signs and he has it in front of the judge, the divorce can be finalized. FREE AT LAST.
Quad confesses that no one gets married with the intention of getting divorced but she still maintains that the relationship had become very toxic and she was no longer happy so unfortunately, this was the right decision for her.
Meanwhile, an ever-patient Curtis waits for Jackie to arrive at a home design center. Her tardiness prompts him to bring up her constant busy schedule and what he perceives as the beginning of another lack of work-life balance on her part. Jackie is taken aback and surprised by this revelation but seems to take his words into consideration. I guess only time will tell if she actually does slow down.
Back at the Metcalfe residence, Contessa and Scott sit down and discuss the Mexico trip. Scott maintains that he had a good time though Contessa doesn't really seem to believe him.
In an effort to work on their marriage, they have arranged for a therapist to pay them a house call. Contessa confesses that she's still struggling with the issue of leaving her program. Scott tells Contessa that if she wants to go back, she should but not without following up that "the kids are just going to have to suffer for another year."
The therapist tries to explain that the kids are a separate issue, but Contessa is adamant that they aren't to her. She reveals that she believes that Scott turned the children against her by making them feel like the program was unnecessary. Scott denies that accusation but Contessa makes it clear that she doesn't think that's true. The session wraps and the couple admits that they still have a long way to go. Godspeed.
Next week on Married To Medicine the drama continues to unfold.
Stay Connected With All About The Tea: Twitter Ι Instagram Ι YouTube