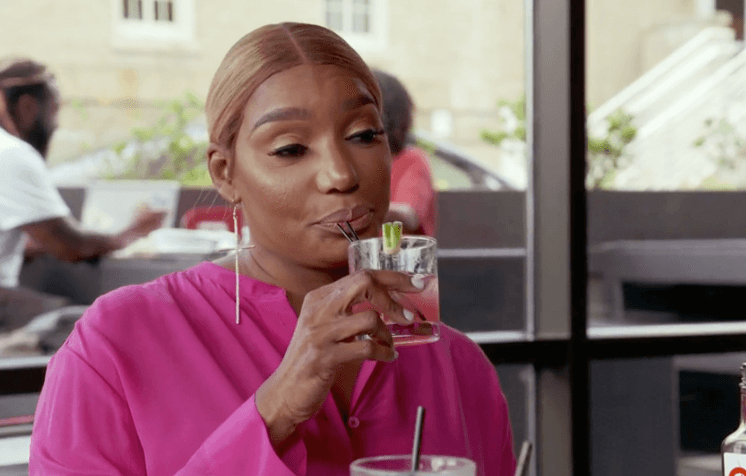 Cynthia Bailey Dragged NeNe Leakes On Secret Audio Recording!
This week's episode of The Real Housewives of Atlanta opens with Porsha Williams and Tanya Sam meeting up to get shock therapy- oops, I mean Emsculpting treatments together. The conversation turns to Marlo's Wig Launch party and we learn that Marlo Hampton has decided to invite all of the ladies, including Kenya Moore and Eva Marcille. Porsha, however, is adamant that Kenya will not be in attendance. Never say never.
While Porsha's lying helpless in the supine position receiving her treatment, Tanya changes into a Carnival-themed costume and surprises Porsha with the news that all of the ladies will be taking a trip to Canada for the Toronto Carribean Carnival. Canada will never be the same.
Meanwhile, at the Burriss/Tucker residence, Kandi Burruss and Todd have a serious conversation with Todd's daughter, Kaela, about her intentions of moving to NYC to chase her fashion dreams. Todd confesses that he's proud of Kaela and her newfound aspirations but Kaela seems to resent the comment.
According to Kaela, Todd has not always been very supportive in the past and she calls him out on his lack of communication skills. Todd apologizes and vows to make an effort to do better but Kaela doesn't seem so sure.
Across town, NeNe Leakes meets Kandi Burruss for lunch. Nene shares the great news that Gregg's cancer is in remission and in turn, Kandi reveals the good news about her baby girl on the way. The two seem to bury the hatchet and reconnect over their good fortune and blessings.
The lunch conversation turns to Porsha and the rumors circulating around about Dennis and the possibility of Porsha needing a rabies shot. YIKES. NeNe also mentions the Pride March in NYC and bumping into Cynthia on the float. NeNe eventually drops a BOMB and reveals that she and Cynthia share a mutual friend who actually possesses a recording of Cynthia saying some nasty things about Nene. Kandi is left stunned and speechless.
NeNe Leakes also confesses to Kandi that she's been seeing a life coach and one of the biggest takeaways she's learned so far is that she can only take responsibility for her own actions and she simply can't worry about the actions of others.
A few days later Cynthia meets Kenya and Kandi at a local hardware store and reveals that she has big plans to build herself a fabulous closet complete with Cynthia Bailey wallpaper, just like at her old house with Peter. Oh, the memories.
Kandi wastes ZERO time enlightening Cynthia with the information NeNe dropped at their lunch together. Cynthia seems unphased by the tea (because she knows she's been caught), then doubles down and tells Kandi that Nene can take those recording and stick them up her a**. Maybe Nene's not the only one in the group would could learn a thing or two from a life coach.
Back at home, Cynthia Facetimes with Eva Marcille while getting ready for Marlo's wig party. Eva informs Cynthia that she received a text from Marlo inviting her to her event, expressing her sincere wishes that she come. Eva admits that she didn't respond to the text but does wish her well. Cynthia speeds Eva up on the latest drama with Nene and her claims that a mutual friend recorded her talking trash. Cynthia reveals that she has a couple of suspects in mind as to who "the friend" may be including that bitch Yovanna and, because of her track record, even Marlo. She maintains that she is going to the launch anyway, and will support Marlo until if and when she finds out that Marlo had anything to do with the audio recordings.
On the day of the party, Porsha, Tanya and Shamea carpool together. Porsha is adamant in the car that she will have zero to do with Nene after their falling out and has no plans to even say hi to her. This should be interesting…
Kandi, Cynthia, and Yovanna are the first to arrive at the party. Awkward. The three sit down and Kandi immediately cuts to the chase and asks Yovanna if she's the one who recorded Cynthia. Yovanna vehemently denies it, and Cynthia seems to take her at her word. So I guess that just leaves Marlo?
Munty Marlo makes a fabulous grand entrance to her party with a nephew on each arm. She takes a moment to thank all of her guests for coming before inviting them to walk around and try on all of her wigs.
Unfortunately for Marlo, however, it's NeNe's entrance that seems to be the one everyone was waiting for. NeNe arrives fashionably late and the whole room turns around to watch as she struts in. Ladies and gentlemen, THE OG HAS ARRIVED! Nene greets all of the ladies with kinds words and cheek kisses, including Cynthia. Well, everyone except Porsha, who true to her word hits NeNe Leakes with an old fashioned SWERVE.
The ladies all seem to genuinely be enjoying the party and each other's company, but in true Housewives fashion, the vibe doesn't last long. Kenya storms into the party with a "two-piece" marching band and poster boards in tow, chanting "Kenya Moore Hair Care" and "Edges Matter" while simultaneously passing out her products. Wonder if these containers actually have product in them this time instead of just water? Later in her talking head interview, Porsha admits this is too much, even for messy Kenya. 
In an effort to turn lemons into lemonade, Marlo greets Kenya Moore with opens arms in front of her party guests and agrees that edges do matter. Somehow, Kenya gets hold of the microphone and proceeds to endorse her product while also working overtime to shade Marlo and her wig line. In the famous words of Nene, "so nasty and so rude."
Kandi pulls Kenya aside and calls her out for being shady. Kenya denies any shade, citing instead that she's a businesswoman and she simply seized the opportunity to market her product to women who are wearing wigs to cover up their natural hair. Nice try, Kenya.
Marlo invites Kenya to participate in the games she has planned but Kenya refuses. Marlo then snatches Kenya's drink out of her hand before demanding that security escort her out.
On a more positive note, it appears that the life coach is definitely doing NeNe some good as she makes the decision to take herself out of the volatile situation and leave the party early. Unfortunately, the other ladies don't seem to see it that way and criticize her for abruptly leaving her friend's event. What's the old saying- "you're damned if you do and damned if you don't"…?
Kenya Moore makes a swift exit before the remaining ladies sit down to discuss the drama. Cynthia still seems to be coming to Kenya's defense stating she was excited to see Kenya arrive at the party, but Porsha is quick to call her on it. According to Marlo, Kenya's actions are nasty and evil and they can never be friends again. She even goes so far as to say that she respects Eva more for choosing to stay home versus Kenya coming to the event only to cause drama and be shady. Oh what a tangled web these ladies WEAVE.
Tune in next week as the drama continues to unfold…
Stay Connected With All About The Tea: Twitter Ι Instagram Ι YouTube