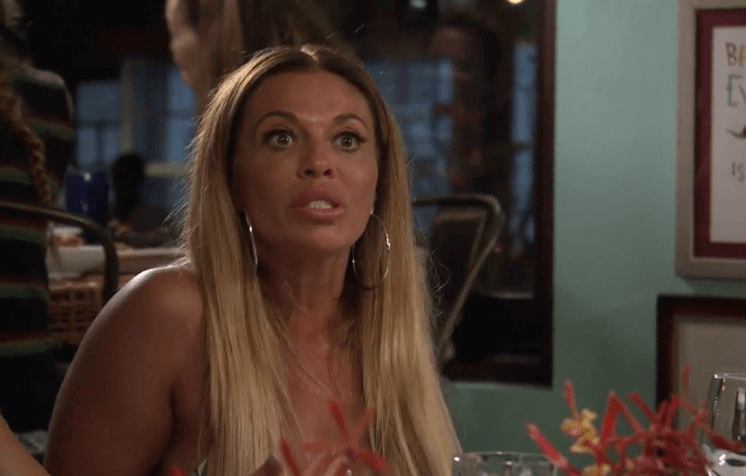 Welcome back to the Real Housewives of New Jersey. We're still in Jamaica, celebrating Jennifer Aydin's birthday. So far, that ladies have been on their best behavior. But I have a feeling all that's about to change. Here's hoping!
The women wake up in the morning and call their loved ones back in Jersey. Dolores Catania can't get ahold of her doctor boyfriend, so she calls her back up — her ex-husband, Frank. He always answers, probably because he's been disbarred and has nothing better to do. Teresa Giudice calls daughter, Gia. Jackie Goldschneider quizzes her husband over school runs, and she also complains about dinner from the night before. She found out Dolores isn't her biggest fan. In fact, Dolores doesn't consider Jackie a friend at all, and Jackie can't quite get over it.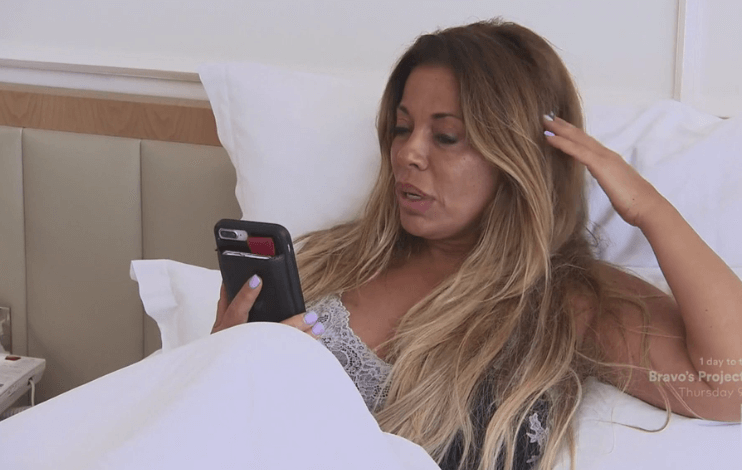 Dolores Catania takes Jennifer to task over dropping the "I'm not really friends with Jackie" bomb at dinner. But Jen isn't sorry. She blames the tequila for her big mouth. Dolores claims she can let things go, but will Jackie be able to move on? Mmm, not likely.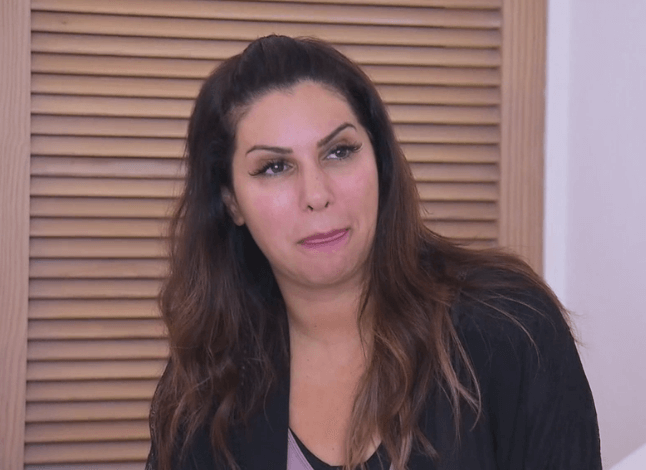 Margaret Josephs confesses to her husband, Joe B., that she made a joke about the toy boy rumors, comparing 21-year-old rum to Teresa's new boyfriend. Whoops! When Melissa Gorga relates the story to her husband, Joe, he admits it takes Teresa a few hours to process, and when she figures out she was insulted, she'll come unhinged.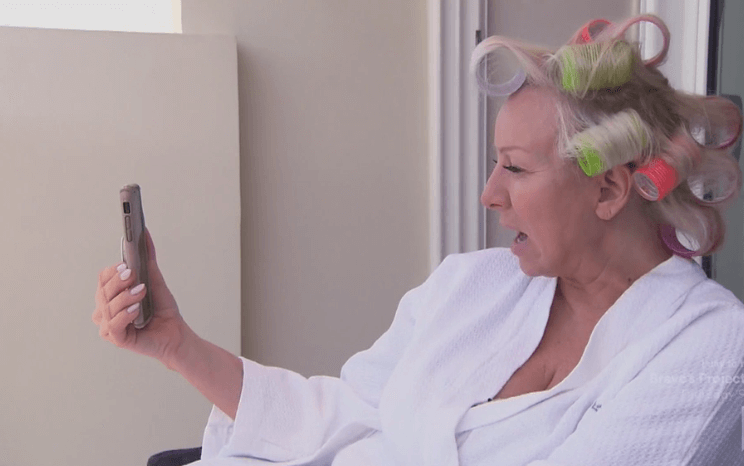 In the swanky villa, Teresa, Jennifer, Dolores and Melissa sit down for breakfast. When Melissa offers to check on Margaret and Jackie (aaaaaalllllll the way on the other side of the resort in a shared room), Teresa wonders why Melissa is playing nanny to the other women. Common courtesy? You should look into it, Teresa. It's a thing.
Melissa is still going on about having one last baby. Jackie arrives in the living room just in time to shut Melissa up about her reproductive issues. Jackie's is still upset about the previous night and thinks Jennifer is the star shit stirrer in the group. Jackie thought Dolores was her pal, but now she feels hurt and disappointed to find out how Dolores truly feels about her. Dolores believes Jackie was raised not to value family above all else. That's what's keeping them from being BFFs. But Dolores is a hypocrite, saying that kids, husbands, and families are out of bounds, but Jackie's upbringing is open for discussion.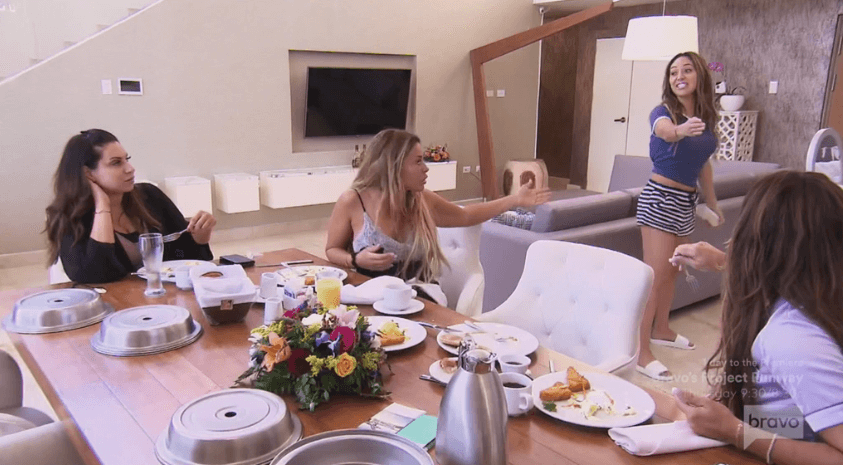 Marge thinks Melissa should speak to Dolores Catania. How can she not be friends just because she and Jackie have some differences? That's just ridiculous! On to other topics, Margaret thinks she's off the hook with Teresa, who didn't even blink, blink, blink at the comment about not indulging in anything over 21. But Melissa says Teresa is just a slow thinker. She'll be angry about it by this afternoon, don't worry!
Jackie, Marge, and Jennifer head to the beach to ride horses in the ocean. They have to put on floaty belts, in case they get thrown into the water. Here's the problem with horses. They stink and leave poop everywhere. As the horses go deeper into the ocean, the beasts grunt and moan. And the horses aren't that happy either. Jen gets tossed into the horse shit-filled water with her mouth open. Fun!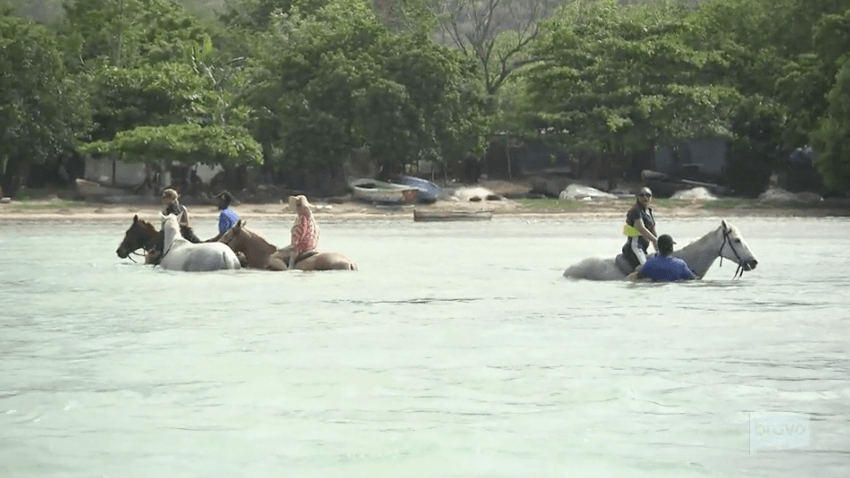 Melissa, Dolores, and Teresa also head to the beach, but the only thing they'll be riding is a lounger. They talk about times at the Jersey Shore back in the old days. Now, they're more sophisticated, drinking cocktails by the water. Uh huh.
Teresa Giudice asks if Dolores and Melissa think Juicy Joe will be able to come home from ICE. Melissa isn't hopeful. Though she keeps her feelings to herself, she sees the writing on the wall. There's no happy ending for the Giudices.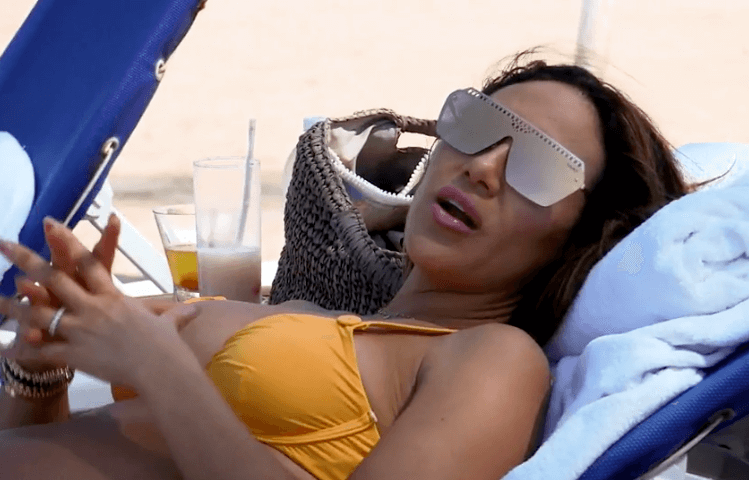 Once they're back on terrafirma, Jennifer, Jackie, and Marge indulge in some cocktails. Jen give the ladies a heads up about her upcoming roast of the other women. She calls it a comedy night. But Jackie wants to talk about the Dolores situation instead. She's bothered, but at least she and Teresa have declared a truce. 
Margaret empathizes with Teresa, who, according to Marge, is being strong for the rest of the family. She has an absent husband and a ton of legal fees.
Jennifer turns it around and asks Marge about her own legal woes. Margaret was sued by Vineyard Vines for copyright infringement. She still owes them 100k and has declared her company bankrupt. She has her family and employees to take care of, so life is stressful for her, too.
On the other beach, Teresa, Dolores, and Melissa grab a bite of lunch. Melissa brings up Jackie. But Dolores is tired of tiptoeing around the other woman. Jackie's too delicate, and it's getting on Dolores's last nerve.
This is when Teresa's brain synapses finally start firing. She brings up Margaret and the dig about the 21-year-old. She's tired of Margaret's bullshit. Doesn't she have any respect for Teresa at all?!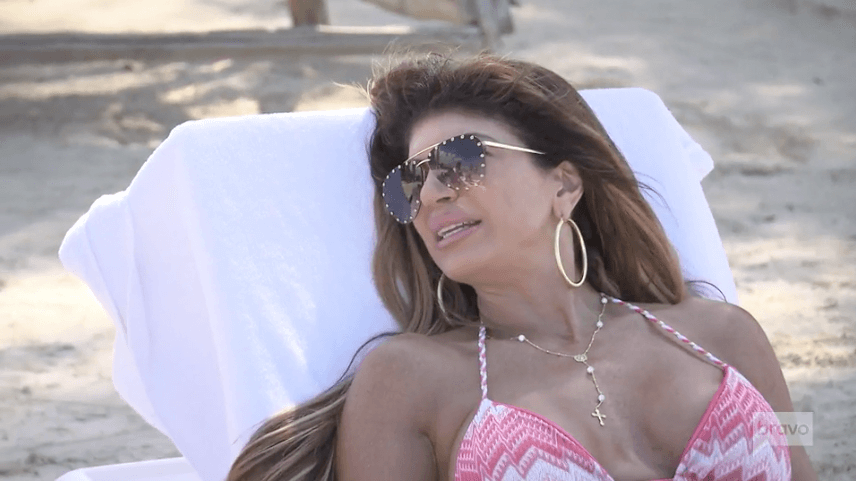 Back in Jersey, the men are meeting at Bill's house in Paramus for a poker night. Joe B., Frank, and Joe Gorga arrive for a round of cards. Talk turns to sex, and Joe B. says that at 63, he still needs sex 2-3 times a day. Joe Gorga needs to drain his poison 8 times a day. Yikes!
The guys grab the food and head out to the pool house. Jackie's husband, Evan, finally shows up. The men are still talking about S-E-X. Bill thanks Joe Gorga for getting Jen drunk the night of Melissa's party. Seems tequila is an aphrodisiac and a truth serum for Jen. Sex is about a once a month event for the couple, but that night was a good one.
Back in Jamaica, it's time for the women to all come together for Jen's birthday dinner. Jackie asks Marge to keep her away from Dolores. I have a feeling that's not going to help.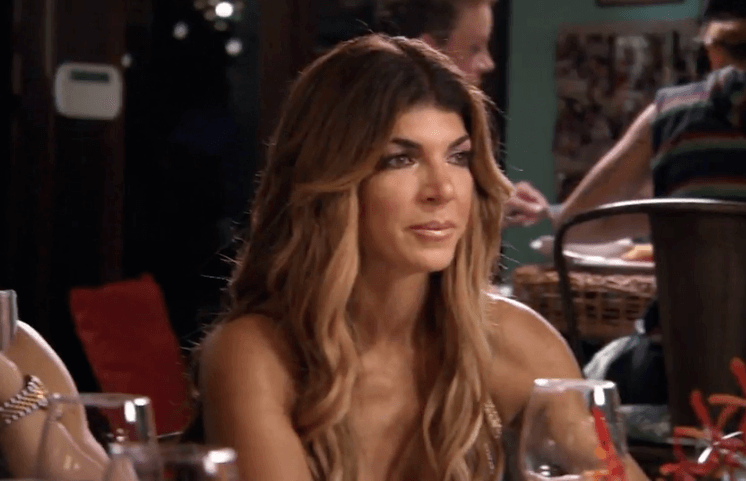 At the restaurant, Teressa sees a sign, stands up, and grabs it. It reads: Any woman can have the body of a 21-year-old as long as she buys him a few drinks first. She flashes it at Margaret. Yeah, it's about to hit the fan. Teresa Giudice admits she was offended by Marge's comment. Marge apologizes immediately and says her comment was unintentional. Teresa says she's smart enough to understand when she's being insulted. Well, eventually she is.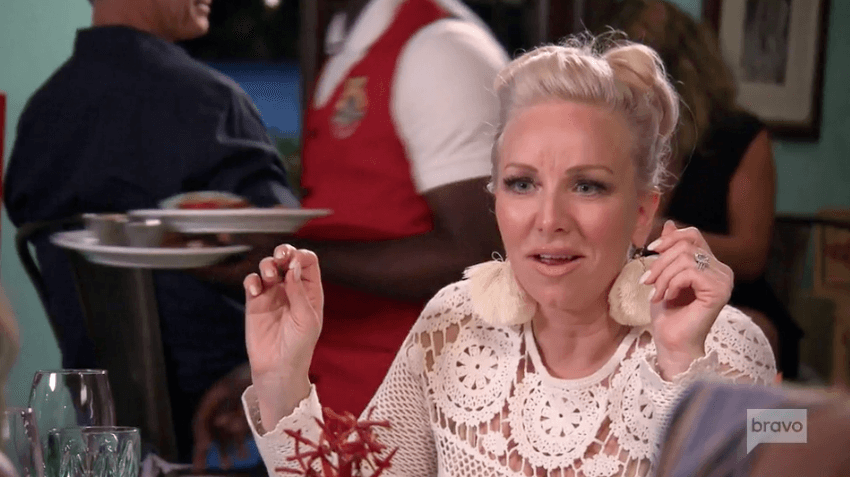 Once again, Jackie picks at her food as Dolores confronts her. Why is Jackie so upset? Because she feels judged and disliked by Dolores. But Dolores puts this out there: she doesn't want to be closer to Jackie. Jackie's too soft, her feelings are too fragile, and she gets on Dolores's nerves. They're different, and that's all there is to it. Not so fast, D. Jackie calls bullshit! These women fight over the dumbest stuff all the time, and Jackie is the problem?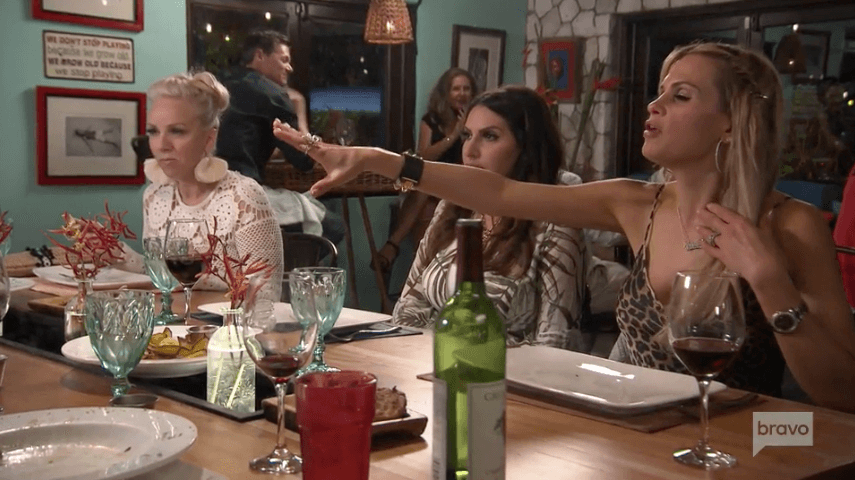 But Dolores Catania isn't done. She says everyone feels the same way about Jackie. Ouch! She tries to throw Melissa under the bus, attributing comments to Melissa that Dolores herself made. But Ms. Gorga isn't having it. She likes Jackie. 
Jennifer butts in, saying everyone judges, so what's the big deal? Jackie tries to shut her down, but Jennifer continues to state her opinion. Marge tells Jen the whole Dolores/Jackie fight is her fault. Jen's the one who opened her big mouth about Dolores's true feelings. Melissa backs that up. There would be no disagreement between the two women if Jen hadn't mouthed off. 
Dolores says she's incapable of coddling someone who carries a grudge. Whoa! Have you met Teresa Giudice? The woman has a hamster wheel for a brain. She literally can't get past things and holds onto them for years. Jackie has been upset for a day, Dolores. A. Day.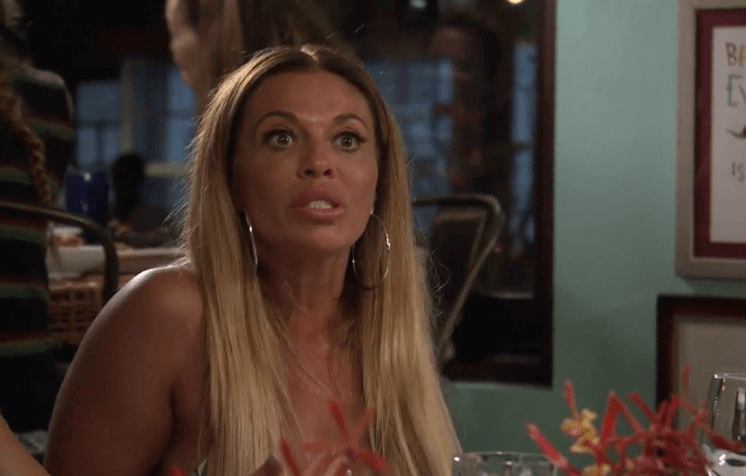 Margaret Josephs thinks Dolores is being bitchy. Who wouldn't be hurt by this stuff she's saying? 
Dinner ends on a sour note as the women go back to the hotel. Jackie and Marge trudge to their room, while the other women settle into the villa. Teresa pours rum shots for everyone. Dolores blames the night going south on Jackie. Melissa defends Jackie. And even Jennifer says Jackie must have felt ganged up on. Dolores couldn't care less.
Back in their room, Jackie thinks Dolores was trying to isolate her from the group. And saying everyone felt the same way was a lie. Jackie's close with Margaret and Melissa, but Dolores tried to pit Jackie on one side and the rest of the women on the other. It was unnecessary. 
And that ends our episode. So, do you think Jackie had a right to be hurt? Was Dolores on target or was she being a mean girl?
Stay Connected With All About The Tea: Twitter Ι Instagram Ι YouTube