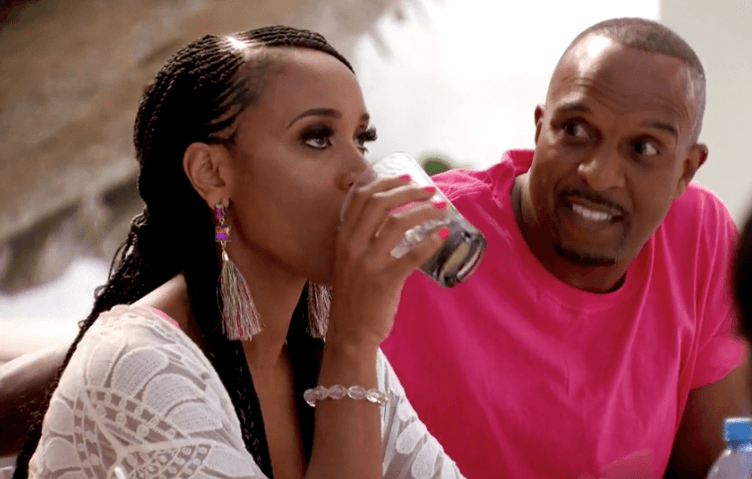 Welcome back to another episode of Married To Medicine.
The show picks back up with the Married To Medicine couples playing a friendly game of Messy Boots. Although the questions are not meant to be taken personally it's hard not to draw some serious parallels from the questions to Dr. Contessa Metcalfe and Dr. Scott's marriage. Scott has an open mouth insert foot moment by making the statement that women seem to have the propensity to yell, especially when slightly angry. Oops.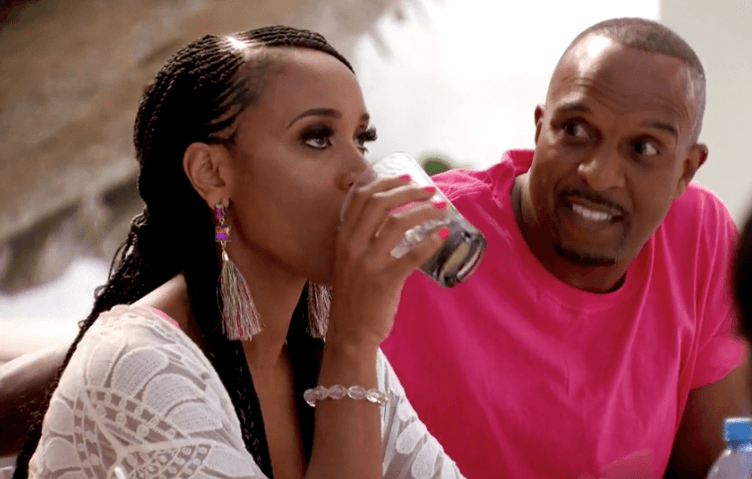 The couple continues to spar with one another on almost every question, airing out their dirty laundry for the entire group to witness. The last question regarding a spouse's decision to change careers or go back to school causes a major debate and results in Contessa storming away from the table and much to everyone's surprise, Scott does not chase after her.
Instead, Buffie Purselle is the one to run after Contessa and check on her. Contessa confides in Buffie that Scott has a very specific view of what a wife and mother is and that he never came to Nashville with the kids even one time while she was enrolled in her program.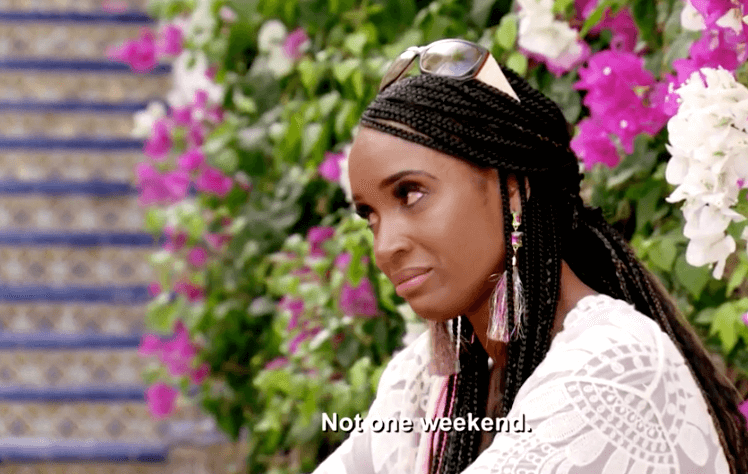 Then she reveals that she actually quit her military career for him. Buffie asks why Contessa doesn't call him out but she says she just doesn't want any problems.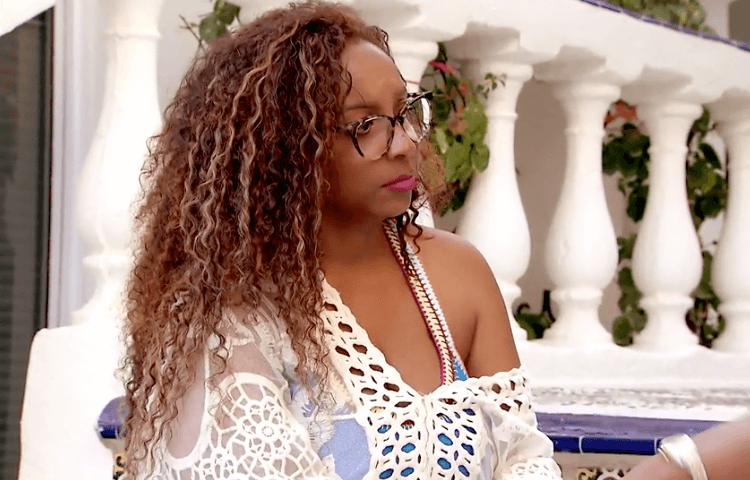 Back at the table, Quad Webb advises Scott that he has not one but two jobs. He must be a good father and a good husband. Pretty sond advice, to be honest. Hey, maybe Dr. Simone Whitmore knew what she was doing after all by allowing Quad to come.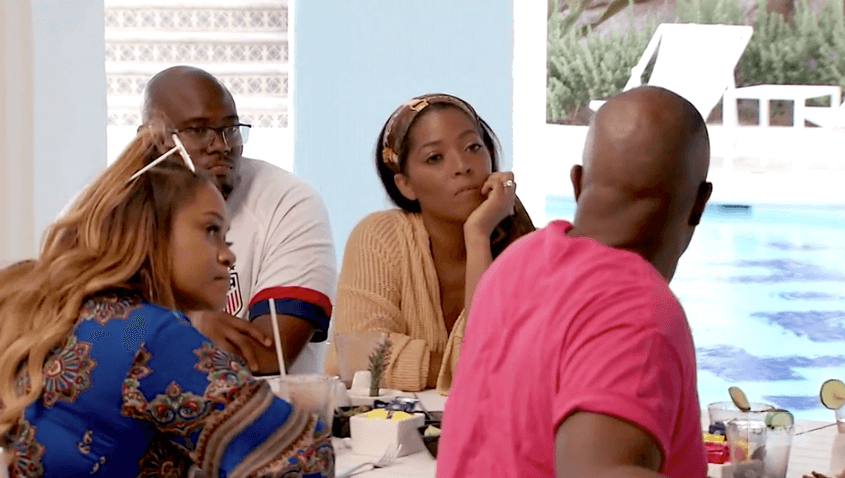 In a talking head interview, even Dr. David admits that if Contessa and Scott continue to operate their marriage with a lack of communication that his prognosis for them as a couple is not good.
Later Simone and Cecil discuss their plans to host the men and women separately for the evening. In an effort to demonstrate how much she loves Quad, Simone says that she has planned a "Living Single Celebration."
Unfortunately, Cecil's plans for the men aren't as innocent. He reveals that he's planned a surprise trip to a local gentlemen's club after dinner. Simone seems unbothered about Cecil's plan, as she says it will never compare to the Sip n' Paint the ladies participated in a few weeks back. Challenge accepted, Simone.
Dr. Jackie Walters and Buffie find themselves awkwardly waiting for the other ladies to arrive at the Living Single Celebration. Jackie uses the quiet moment to admit that she realizes now that she made her own pain Buffie's purpose by sharing her struggles with infertility so publicly and she acknowledges that she was wrong in doing so. So I guess that's an apology…?
Before dinner, Simone announces to the ladies that the intent of the dinner is to celebrate and rally around Quad for her strength during such a hard time in her life. Dr. Heavenly Kimes presents Quad with a touching speech and an unfortunate looking crown and a rechargeable vibrator to go with it. For entertainment, the ladies participate in an innocent game of Shag, Marry, Kill where we're also privy to a very special little nugget, when Heavenly alludes to Quad having a fling with rapper and actor, Common. JUICY.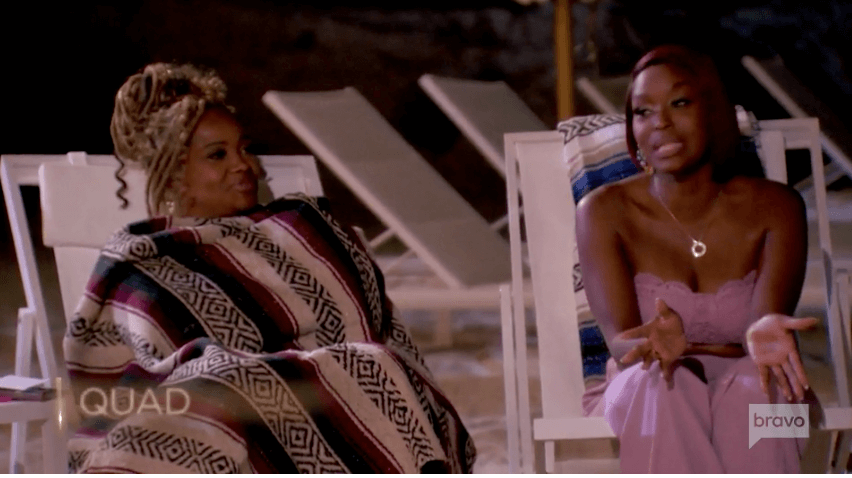 Meanwhile, the men arrive at dinner and eagerly make a toast to "no yelling women." Let the debauchery begin. The conversation turns to threesomes and the men all seem to agree that although it may initially sound like a good idea, dealing with two women and the attitudes that come with doesn't sound so fun after all. Then Cecil informs all of the men that the night is just getting started and that he has a surprise for them. The men all file back onto the Groupon bus and in a surprising turn of events, they actually make it to the strip club without it breaking down. Once they arrive and figure out where they are, Damon declares that he has miraculously just got a little more energy.
Once inside the strip club, the men waste no time settling in with whiskey, cigars and lap dances while Eugene toasts to "REVENGE OF THE SIP N' PAINT." It's Heavenly's precious Daddy Damon, however, who proves to be the strip club magnet, attracting all of the ladies to give him lap dances. One stripper even propositions him for sex. YIKES. In his defense, however, he does decline.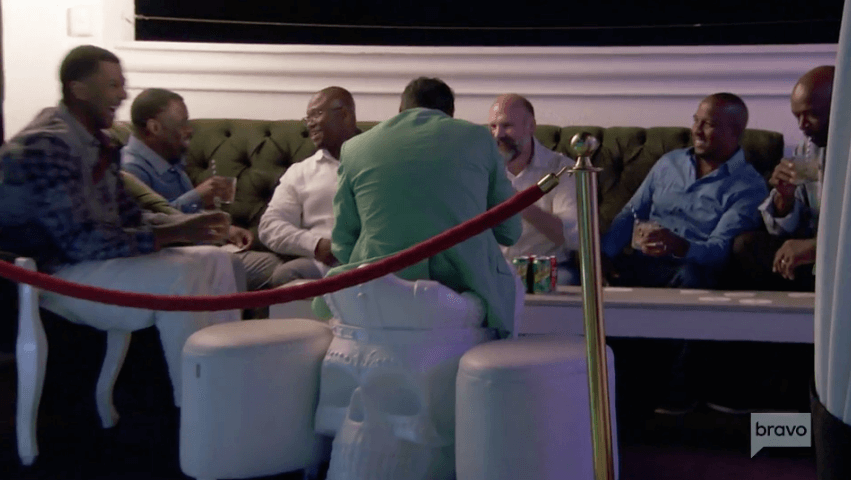 Early the next morning, word spreads like wildfire amongst the ladies regarding the men's whereabouts the previous night and Heavenly is none too pleased. She wakes a sleeping Damon and demands to know what he did the night before. Damon comes clean and admits to going to a strip club but that's not enough for Heavenly. She presses further and demands to know more. He eventually admits that the strippers may have been sitting on his lap at which point Heavenly storms out of the suite.
Later a fuming Heavenly meets Simone and Jackie to help organize medical mission bags for the surrounding community. Instead of admitting that she's angry with Damon, she behaves in a passive-aggressive manner leaving Simone and Jackie to get to the root of Heavenly's issue. Heavenly eventually confesses that she doesn't even like other women looking at Damon.
This episode of Married To Medicine closes with a seething Heavenly telling a producer in her talking head interview to leave her alone before yelling that she doesn't like other women's asses in her husband's face. HEAVEN HELP DADDY.
Married To Medicine airs this Sunday at, 9 p.m. ET, on Bravo.
Stay Connected With All About The Tea: Twitter Ι Instagram Ι YouTube