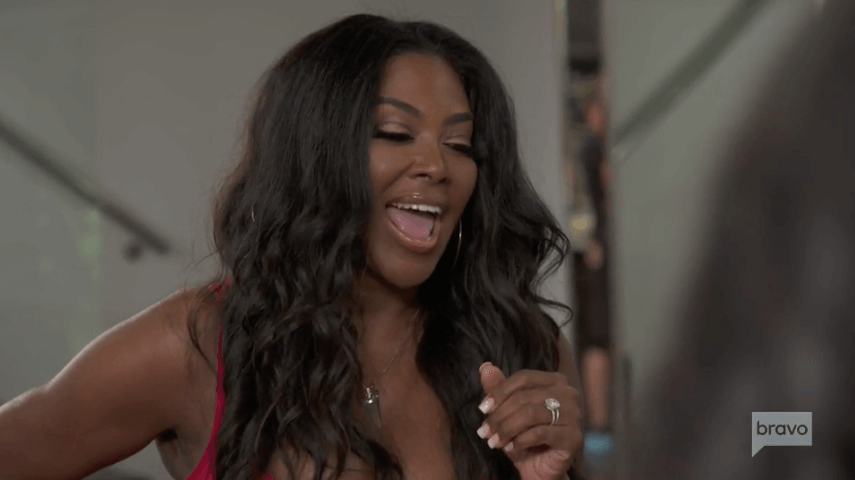 Welcome back to another episode of Real Housewives of Atlanta. This week's episode opens with Cynthia Bailey calling to invite Porsha Williams to her annual Bailey-Que. This year she instructs the ladies to "wear red or get read." Oh, and to leave the babies at home. Of course, Porsha tries to persuade Cynthia to allow baby PJ to come as she doesn't currently have a nanny but Cynthia says that if she allows, one she has to allow them all. Porsha's quick to point out that Cynthia doesn't need to worry about Eva Marcille bringing her children as she's probably still trying to get to know her. Oh, the shade.
Porsha Williams seems to be making more of an effort to get out of the house as she takes PJ to a Mommy & Me dance session. Something tells me the other moms in the class have never seen moves like Porsha's before. Kenya Moore and baby Brooklyn also make an appearance, but in true Kenya fashion, she refuses to take off her heels and really let loose. Porsha and Kenya take a break from dancing to sit down and commiserate with one another about their baby daddy drama. Porsha admits that she's having a hard time establishing boundaries with Dennis since he comes over often to see PJ and a tearful, Kenya confesses that Marc prefers for Brooklyn to always be in the bed with them and it's affecting their intimacy.
Meanwhile, Kandi Burruss and Todd drop Riley off at her first (not so modest) apartment in New York City where she will be interning for the summer. Much to Riley's dismay, however, she will have to freeze her own ice as the freezer does not come equipped with one. First world probs…
Back in Atlanta, NeNe Leakes is rushing around preparing for an intimate afternoon tea party for three. Marlo Hampton arrives first and quickly assesses the get together as an "apology dinner" for storming out on her during their lunch in NYC. Nene admits that it really bothered her when Marlo used the word "apology" and is adamant that Cynthia has a side to her that Marlo knows nothing about. Next to arrive is that bitch Yovanna from seasons past. Once settled in, the ladies waste no time turning the conversation back to Cynthia.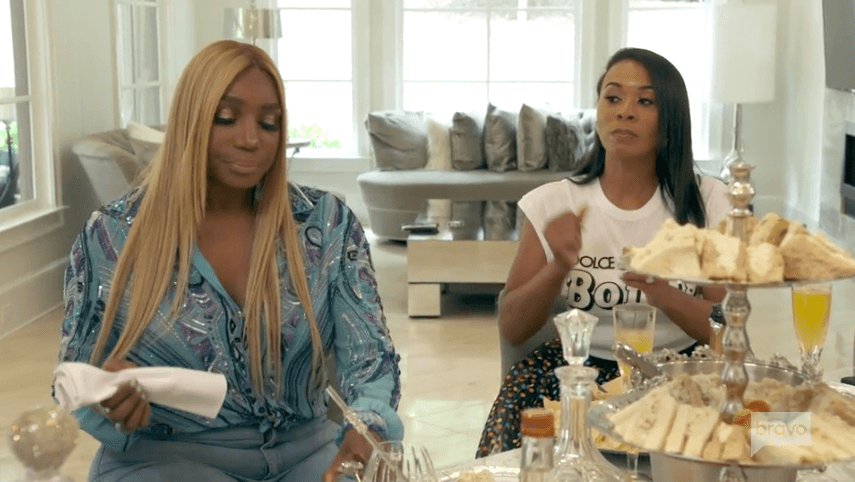 Marlo assures Nene that there's nothing wrong with her venting about Cynthia and says that she really does want the two of them to talk. Nene agrees that she would like to clear the air, as advised by her spiritual adviser but Yovanna is quick to reveal that just a couple of months ago Cynthia was referring to Nene as "toxic" and a "burden" and she has the receipts to prove it! Read those receipts, hunty!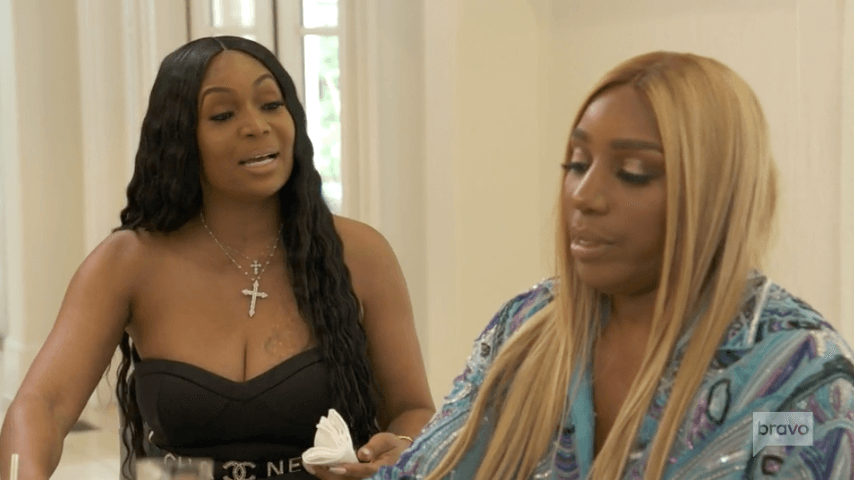 Porsha Williams is still on the hunt for a nanny and unfortunately, her search is not proving to be very fruitful. She admits to being somewhat picky but says she's really just trying to save the nanny, because "Mama Porsha don't wanna catch no case."
Kandi Burruss comes to pick up Kenya Moore for the Bailey-Que and Kenya reveals her shady plan to re-gift the doll that Eva gave her daughter at the Barbie party to Porsha's daughter PJ. It's safe to say, that's not going to go over well.
Back at Lake Bailey, the drama at the Bailey-Que is proving to be red-hot just like the ladies outfits. Eva Marcille arrives first, sans children just like Porsha predicted. The conversation immediately turns to Cynthia Bailey's no kids policy and the drama that has ensued because of it. Cynthia explains that Kenya was angry when she told her she couldn't bring Brooklyn. Then she received a phone call from a panic-stricken Porsha who said that she was trying out a new nanny and couldn't possibly leave baby PJ with her on the first day. Cynthia finally decided to give in and allow both baby PJ and baby Brooklyn to come, but it would seem that her newfound hospitality for the infants was too little too late in Kenya's eyes.
The rest of the ladies trickle in and things seem to start off smoothly with even Kenya and Eva exchanging niceties. In an interesting twist of events, Yovanna arrives at the Bailey-Que as well. According to Cynthia, she was hesitant to invite her as she only really knows her through NeNe, but admits that Yovanna has been really cool to her and was super supportive with the opening of her new wine cellar business.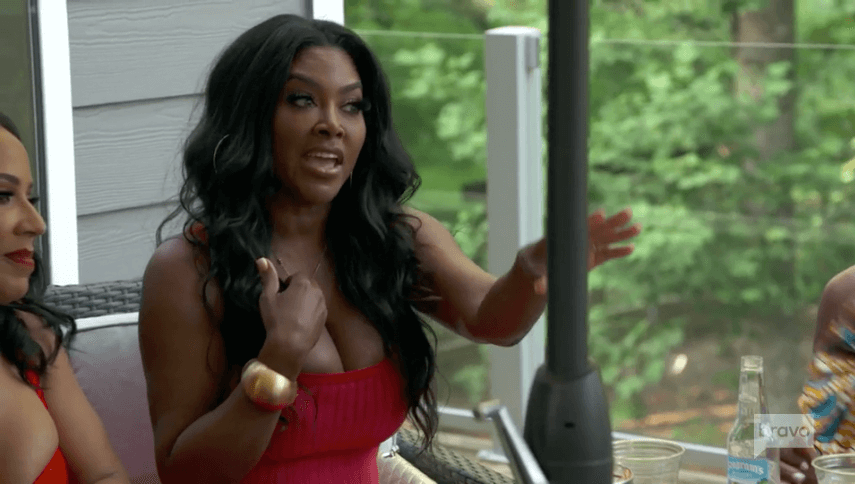 The conversation gets going amongst the ladies and Kandi Burruss asks Cynthia if she and Marlo are on good terms now. Cynthia admits that they are now since their dinner in New York and says she even invited her to the Bailey-Que.  It's not long before Nene comes up in the conversation and Yovanna appears to go to bat for Nene saying that she thinks Nene just felt it was sneaky that Cynthia showed more loyalty to Kenya. Cynthia, however, is adamant that nothing she did was sneaky. Yovanna digs her heels in deeper referencing the conversation the two of them had and the comments Cynthia made about Nene. Cynthia is left seeing red and something tells me it's not from the ladies' outfits.
Porsha Williams finally arrives with baby PJ in tow and Kenya wastes no time presenting her with the recycled doll from Eva. Porsha is not pleased to be the recipient of the gift and takes it upon herself to let Eva know about the regifting in hopes to mend things between the two.
Tensions rise as Kenya Moore accuses Eva of giving her daughter the doll with bad intentions after questioning Kenya's energy. Kenya and Eva continue to spar back and forth for a while before Kenya references Eva's accusations about Cynthia paying Mike to date her. Cynthia tries to interject and explain that they had moved past that but then Kenya abruptly turns and set her sights on Cynthia, screaming at her to stop interrupting her. Cynthia bucks up at Kenya and tells Kenya that she needs to stop. Eva ends the argument by telling Kenya to enjoy her noodles.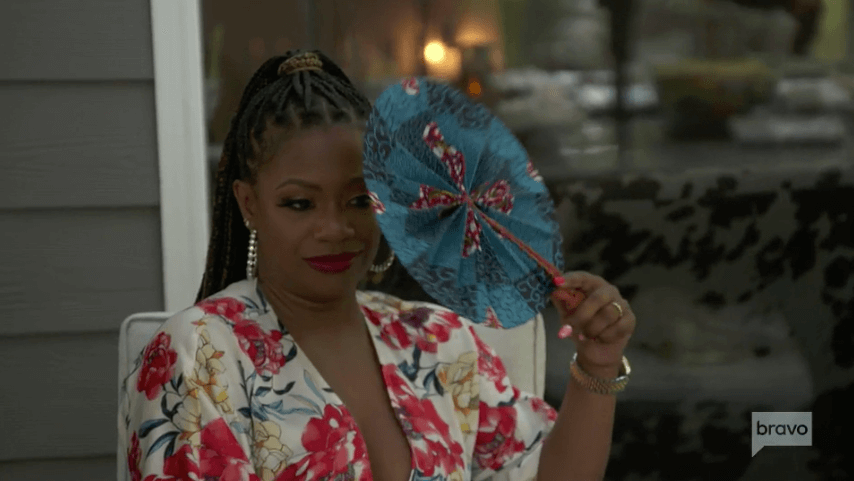 The tension quickly shifts from Kenya Moore and Eva to Marlo and Eva after Cynthia refers to Marlo as being a "beacon of light" during their trip to New York. Marlo declares she's OVER Eva's actions and Eva calls Marlo mean. Eva makes a swift exit but not before Marlo calls her a fraud, a fake and a liar. Hopefully the baby in her belly didn't hear all of that.
While Cynthia walks Eva out, the ladies discuss Cynthia's tendency to attach herself to friends who are more aggressive than her. They all seem to agree, however, that Cynthia is strong and opinionated in hr own right and Cynthia affirms that stating she doesn't have a problem getting anyone at the table together.
The Bailey-Que concludes with an awards ceremony. Shamea wins The Best Twerker Award, Marlo takes home The Shadiest Person award, Kenya wins The Best Read award, and, of course, The Thirstiest Person award goes to none other than that bitch Yovanna.
Next week on The Real Housewives of Atlanta the drama continues to unfold…
Stay Connected With All About The Tea: Twitter Ι Instagram Ι YouTube